Thanks for all precious Upvotes and Spotlights! (:D)
From Japanese anime Full Metal Panic! Invisible Victory (2018, the 4th season), an AS piloted by Sousuke Sagara, the protagonist of the story.



This is an Rk-91(the early type of Rk-92 Savage) with some parts changed into the ones of Rk-92. Sousuke repaint it with the colors of ARX-7 Arbalest he piloted before.
Control
the basic controls are the same to my Rk-92 Savage (click here)
Armaments
2x 14.5mm machine gun
Loginov BK-540 37mm Rifle
as before
And something new
Engineering Hammer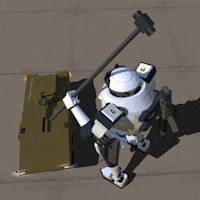 AG2 to activate this, FireGuns to attack, Trim to adjust angle.
(I have lengthen the handle but it is still dangerous if you stay too close to the target when you knock them to blast. So you'd better only use it to attack the targets you spawned instead of AA Tanks or Trucks.😓)(in fact I prefer the dagger but Crossbow hasn't ever use it in the anime.)
4x "HEAT Hammer" (replaced by rockets)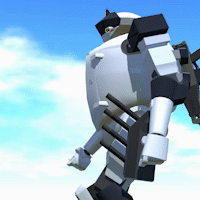 AG4 to activate this, Pitch to adjust pitch angle.
(Though I think it is possible to program a set of actions to let Crossbow whip out those small hammers and throw them out one by one like how it did in the anime, it is not so practical to do so in this game, so I use four rockets instead.)
feel free to express your opinion in the comment.
Enjoy it~
Specifications
General Characteristics
Successors

2 airplane(s)

+14 bonus

Created On

Windows

Wingspan

17.7ft (5.4m)

Length

25.5ft (7.8m)

Height

26.0ft (7.9m)

Empty Weight

2,965lbs (1,345kg)

Loaded Weight

3,142lbs (1,425kg)
Performance
Power/Weight Ratio

4.29

Wing Loading

2,335.8lbs/ft2 (11,404.5kg/m2)

Wing Area

1.3ft2 (0.1m2)

Drag Points

3195
Parts
Number of Parts

292

Control Surfaces

0

Performance Cost

1,189
---