Special thanks to my friend Ian Yashima for the amazing screenshots.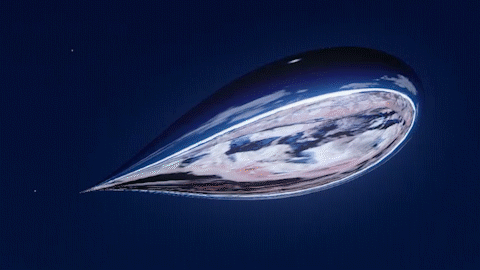 In 2016 I made the very first Droplet in this game, which gained lots of wows and downloads.
old version droplet
Today, with brand new technologies, I present you the 2022 version of the legendary Droplet.
---
Art Video
---
Info:
Droplet is an alien space probe from sci-fi novel The Three-Body Problem
The probe uses strong interaction force to bind atoms extremly tightly, forming an indestructible shell with absolute smoothness, and hence got the name "droplet".
Its advanced driving power, which human could not unterstand, can burst an incredible acceleration, and even make sharp angle turns without losing speed, against law of physics known by human.
In 2211, the first Droplet arrived solar system, and destroyed all 2000 starships of human space fleet, letting human really see the gap between ants and elephants.
---
Features:
Extrem high speed and maneuverability
Auto target chasing and striking ability
Absolute smoothness crafted with ultra high precision, not a single ridge or gap can be found on its shell
Immune to crash and gun attack (but not explosive weapons)
Improved manual control logic
Terrain auto-adapting ability
Capability to fly at all attitude and velocity.
No gyroscope nor rotators used, all rotation and movements are driven by 10 fixed jet engines, which run under FT codes.
While it is immune to crash damage, it is still vulnerable against explosive weapons, including the ones ignited by crashing, meaning the target you select is better without missiles and bombs.
---
Make sure to set Aircraft Reflections to Realtime for optimal visual effect.

---
Control:
Auto Mode:
AG1: target chasing
AG2: target striking (use with AG1 on)
(Not very ideal against surface targets like ships or cars due to terrain protect)
Manual Mode:
Throttle: speed
Pitch: pitch
Roll: steering
FireGuns: faster turn
AG3: surface mode
AG4: ultra speed
Here is an alternative version for AI that smashes everything it sees
---
There might be further updates if bugs are found
And don't forget to leave an upvote or comment if you like it, thank you.
Specifications
General Characteristics
Successors

4 airplane(s)

Created On

Windows

Wingspan

6.6ft (2.0m)

Length

11.5ft (3.5m)

Height

11.9ft (3.6m)

Empty Weight

5,137lbs (2,330kg)

Loaded Weight

6,943lbs (3,149kg)
Performance
Power/Weight Ratio

436.911

Wing Loading

1,720.3lbs/ft2 (8,399.2kg/m2)

Wing Area

4.0ft2 (0.4m2)

Drag Points

1791
Parts
Number of Parts

44

Control Surfaces

0

Performance Cost

225
---