Left to Right:
Mk.13 Aerial Torpedo
Mk. 118 3000lb Demolition Bomb
M117 750lb Demolition Bomb
Mk.84 2000lb Bomb
Mk.83 1000lb Bomb
Mk.82 500lb Bomb
Mk.81 250lb Bomb
FAB-500 500kg Bomb
FAB-250 250kg Bomb
FAB-100 100kg Bomb
BGM-109 Tomahawk
AIM-120 AMRAAM
AIM-9 Sidewinder
AGM-114 Hellfire
LAU-131 Rocket Pod
M260 Rocket Pod
Mk.4 FFAR


---
Background:
After posting the original, I realized that: yes, indeed, I didn't make the iconic M117 750lb demolition bombs commonly featured on a lot of Viet War planes. Or that absolute unit of a Mk 118 3000lb bomb, which is also something of that era. Plus, they look cool - if a lil' bit less aerodynamic than the modern ones.
Then I realized I probably messed up on the dimensions of the Mk.80 bombs as well - there's nowhere in hell for those rather petite "low drag" bombs to look that t h i c c (I started reflecting upon that after I made a few bombers and realized those bombs' sizes are rather ... off). So here's the upgraded one, with the M117 and Mark 118, plus the updated Mk.80s and Russian FABs.
---
Installation:
For the Mk. 118, grab the detacher (painted in red in this picture for highlighting). Remember that due to REASONS those "detacher-mounted" weapons cannot be ejected from other detachers if they're dropped "normally", so make sure to link them up with some other weapons and drop them with funky trees if you really wanted to eject them from a bomb bay or so.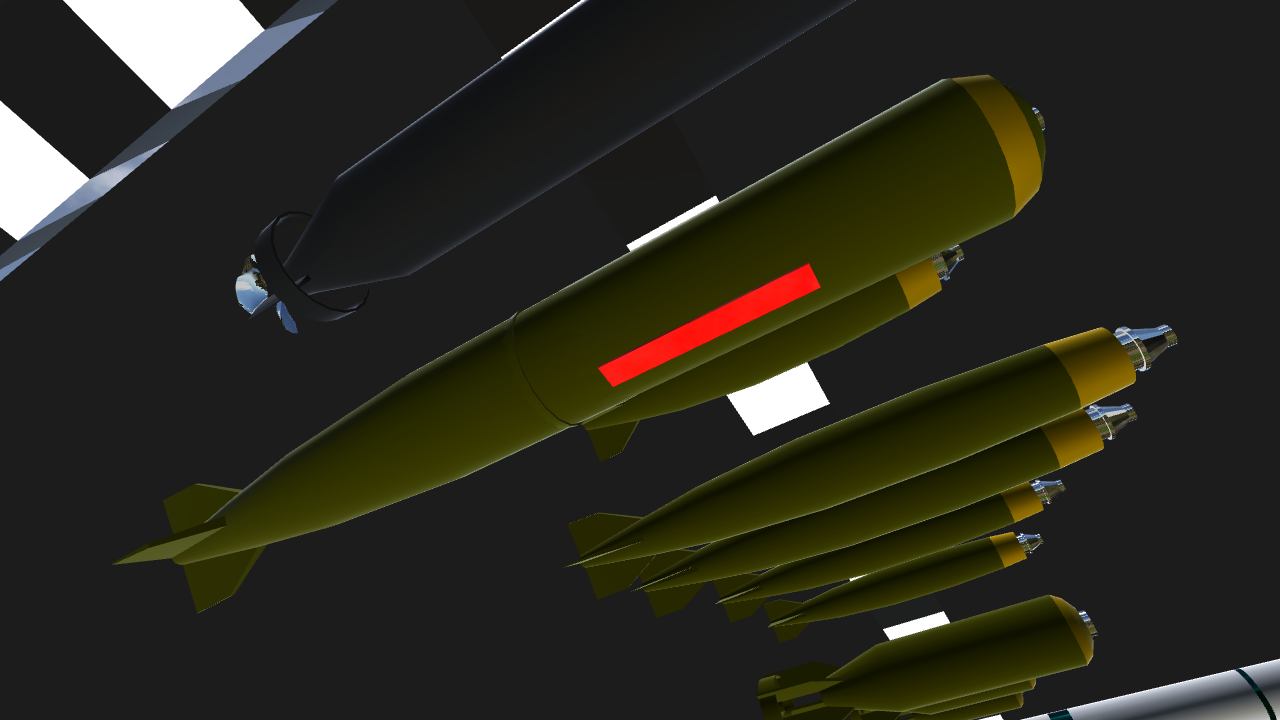 For everyone else, they're just XML-ed vanilla weapons, so use them like vanilla weapons.
Specifications
General Characteristics
Created On

Windows

Wingspan

44.3ft (13.5m)

Length

21.0ft (6.4m)

Height

3.7ft (1.1m)

Empty Weight

17,267lbs (7,832kg)

Loaded Weight

17,267lbs (7,832kg)
Performance
Wing Loading

N/A

Wing Area

0.0ft2 (0.0m2)

Drag Points

5789
Parts
Number of Parts

68

Control Surfaces

0

Performance Cost

435
---