Due to a series of errors and bugs reported about this aircraft I decided to release this version with all reported problems resolved.
---
Improvements:
Fixed air brakes
Fuselage bug fixes
performance improvement
Correction in series numbering
Better cooperation with AI
Resolved Vertical Stabilizer issues
---
This aircraft follows all the basic AI requirements. It is specially designed for Artificial Intelligence [AI] to simulate air traffic, it is able to land and take off with extreme precision at the main airports in the game, it is also a playable aircraft, you can enjoy air collisions, target shooting or just enjoy of a more realistic air traffic.
---
Tags: AI Planes / Auto Spawn / AI Air Traffic / Artificial Intelligence / AI controlled.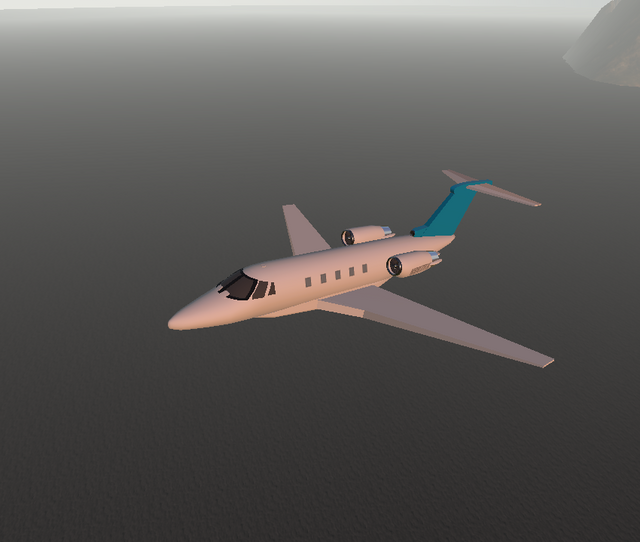 MAPA Aviation 2023
---
About the Aircraft:
The Cessna Citation III is an American business jet produced by Cessna and part of the Citation family. Announced at the October 1976 NBAA convention, the Model 650 made its maiden flight on May 30, 1979, received its type certification on April 30, 1982 and was delivered between 1983 and 1992. The cheaper Citation VI was produced from 1991 to 1995 and the more powerful Citation VII was offered between 1992 and 2000; 360 of all variants were delivered, while a proposed transcontinental variant, the Citation IV, was canceled before reaching the prototype stage. An all new design, the Citation III had a 312 sq ft (29 m²) swept wing for a 22,000 lb (10 t) MTOW and a 2,350 nmi (4,350 km) range, a T-tail and two 3,650–4,080 lbf (16.2–18.1 kN) TFE731 turbofans. Its fuselage cross section and cockpit were kept in the later Citation X, Citation Excel and Citation Sovereign
In 1974, Cessna studied a long range model 700 stretch of its original Citation I powered by three JT15Ds called Citation III, with a 17,500 lb gross weight, an 8,000 lb empty weight and a 7,500 lb fuel capacity leaving 2,000 lb for the occupants, and targeting 1978 deliveries. This would have gave it a transcontinental range.
Cessna announced the 10 to 15 passengers, $2.5 million Citation III at the Fall 1976 NBAA convention. Scheduled for 1980, the model then presented had a cruciform tail and a cockpit similar to previous Citations. It would be powered by two TFE731 and would be equipped with a supercritical 35° swept wing. Its maximum cruise was targeted for 470 kn, the long-range version had a 19,300 lb gross weight and would cover 3,000 nmi. The programme was to cost up to $50 million to launch.
By 1978 it had a new cockpit and a T-tail, the wing had an area of 312ft² (29m²) and an aspect ratio of 8.94, and an ER version targeted a MTOW of 18,300 lb (8,30 1kg) and an empty weight of 9,400 lb (4,264 kg). Assembly of the first production aircraft began in January 1979 and the first prototype made its maiden flight in May. However, the program was dealt a setback when the Federal Aviation Administration (FAA) enacted new type certification regulations stemming from the May 1979 crash of American Airlines Flight 191, in which an engine separation on takeoff caused cascading flight control and warning system failures. The new regulations required aircraft manufacturers to mitigate failures of other aircraft systems that could result from the failure or separation of a jet engine, and the FAA demanded that the Citation III be modified to comply, requiring Cessna to make extensive changes to the fuel system, to increase separation between hydraulic and flight control lines, and to increase system redundancy. These changes in turn required the capacity of the aft fuselage fuel tank to be reduced by 900 lb (410 kg)—11% of the aircraft's total intended fuel load—thus rendering it infeasible for the jet to meet its range target.
The second prototype first flew in April 1980. By July, certification was put back by six months and first deliveries were scheduled 11 months later than originally planned. $40 million were spent on R&D and $25 million for certification, for a total spending of $150 million by first delivery including tooling. By October, the two prototypes had logged 400 hours in 372 flights and FAR-25 certification was expected in April 1982 with first deliveries in October. The certification delays and loss of range caused by the design changes, together with economic factors stemming from the early 1980s recession, resulted in a number of early-order cancellations. Despite this, the initial late 1982 production rate of one per month was expected to grow to seven per month by 1985.
The FAA approved the type certificate of the Model 650 Citation III on April 30, 1982. It was the first aircraft with a supercritical wing to be type certificated in the United States. The aircraft is flown by a crew of two and it can seat up to 13 passengers but a typical corporate interior will seat six to eight passengers.
It was developed in seven years for $240 million. The first production model, owned by golfer Arnold Palmer, set time to altitude aircraft records of 12 min 1 s to 12,000 m (39,350 ft), and 23 min 43 s to 15,000 m (49,200 ft), and an airspeed record from Gander Airport to Paris le Bourget in 5 h 13 min, averaging 429 kn. Production continued for nine years until 1992, with a total of 202 Citation IIIs being built. By 2018, The Citation III/VI/VII can be had for $0.5-1.5 million.
The aircraft was equipped with a then-novel safety feature: in the event of an uncontrolled decompression of the cabin, the autoflight system's Emergency Descent Mode (EDM) activates (if the aircraft is above 34275 feet, the cabin altitude exceeds 13500 feet, and the autopilot is engaged) and places the aircraft in a 35° left bank for approximately 48 seconds to turn 90 degrees, and descends at VMO-10 until reaching an altitude of 15,000 ft (4,600 m). However, the pilot has to manually deploy speedbrakes and spoilers, and retard throttles in order to achieve maximum descent rate.
---
Images: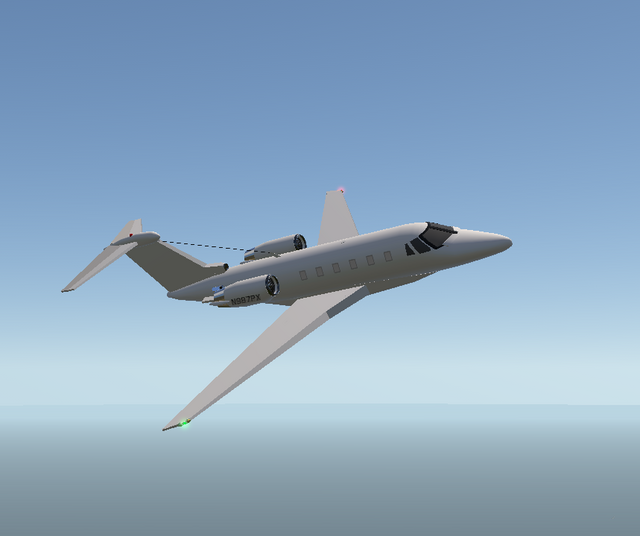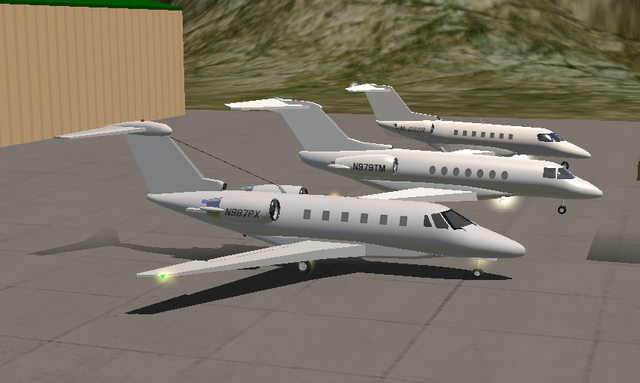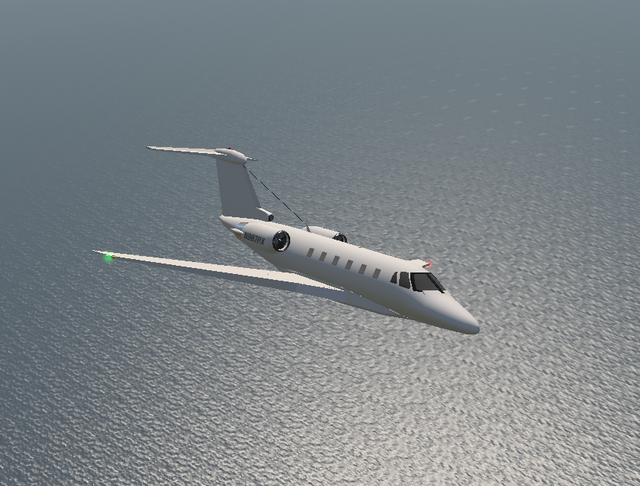 Actual Sample: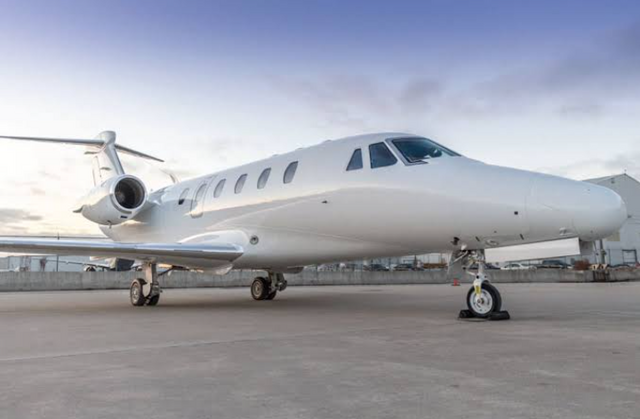 Image Credit: primeaircraft.com
---
Controls: Standard
Thank you for your attention, Good flight!
Specifications
General Characteristics
Predecessor

Cessna 650 Citation III/VI/VII

Created On

Android

Wingspan

81.1ft (24.7m)

Length

83.3ft (25.4m)

Height

25.8ft (7.9m)

Empty Weight

18,166lbs (8,240kg)

Loaded Weight

23,070lbs (10,464kg)
Performance
Power/Weight Ratio

5.844

Wing Loading

33.2lbs/ft2 (162.0kg/m2)

Wing Area

695.2ft2 (64.6m2)

Drag Points

5620
Parts
Number of Parts

93

Control Surfaces

7

Performance Cost

492
---