Update 1: Added stickers, signs, inscriptions, and NATO IR identifiers. Also simplified the gears. This particular tank belongs to the 2nd Regiment of the 912th 'Scythia Minor' Murfatlar Tank Battalion, based in Constanta county.
---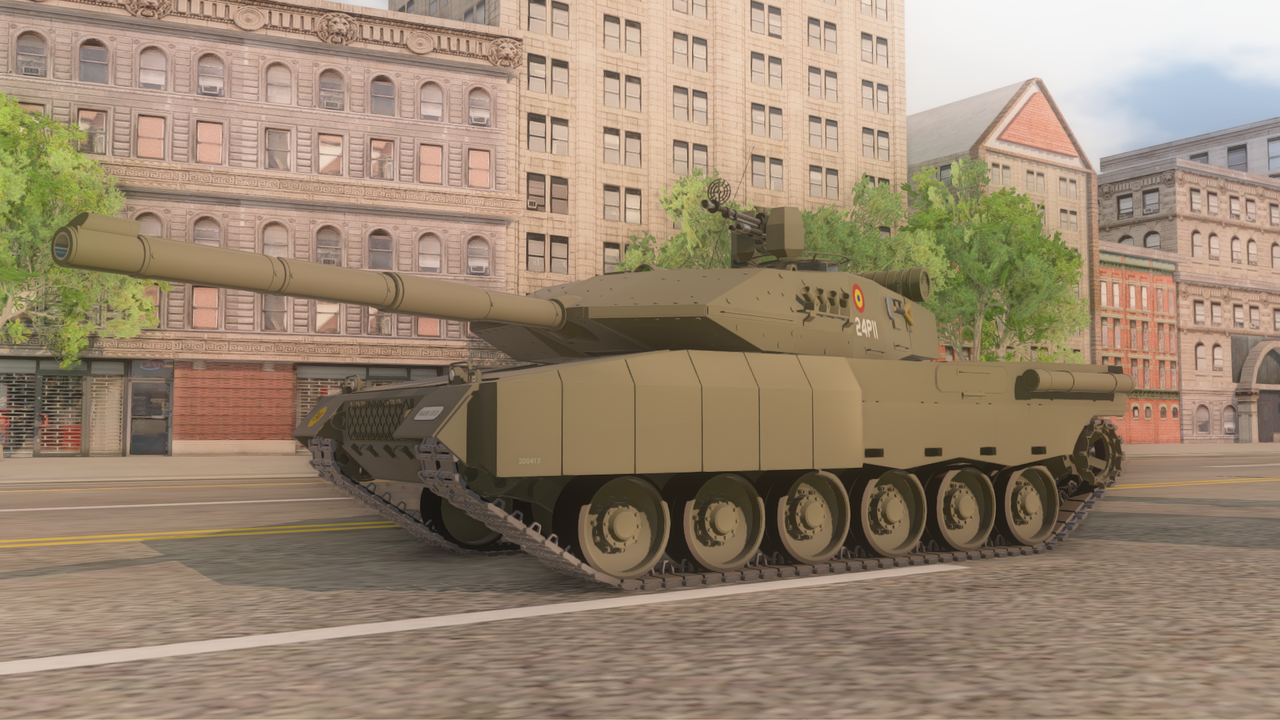 ---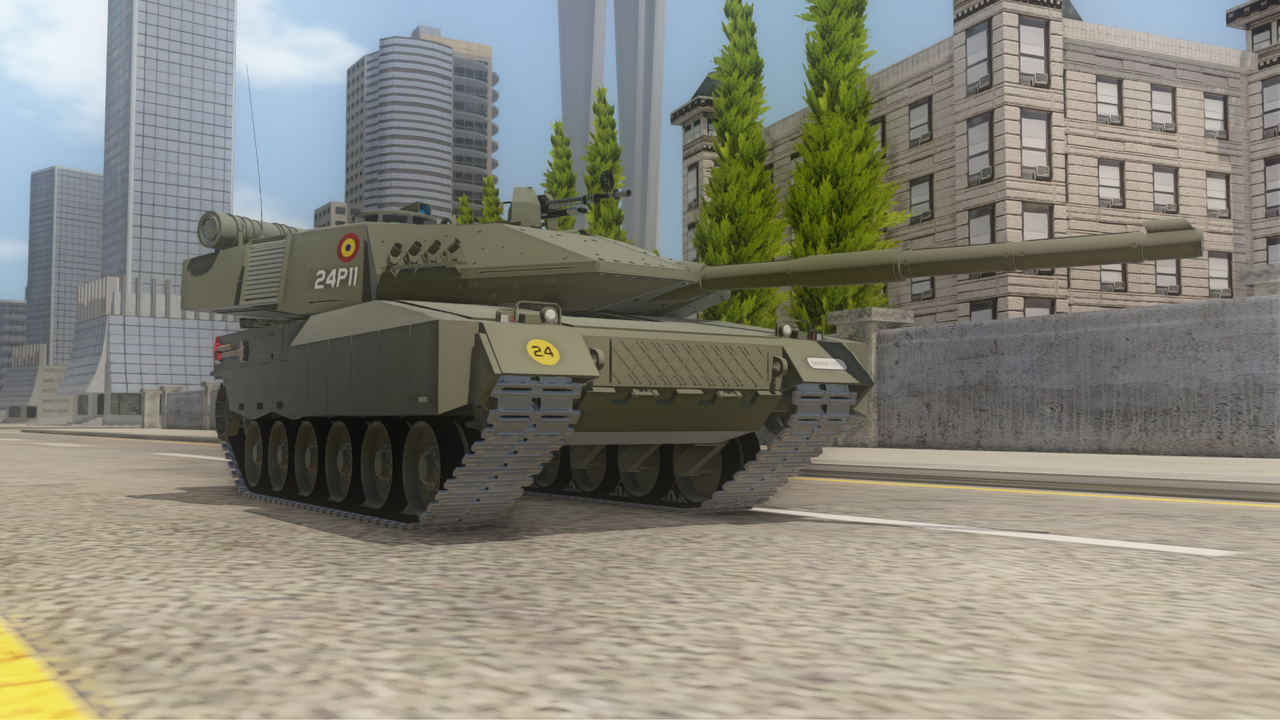 ---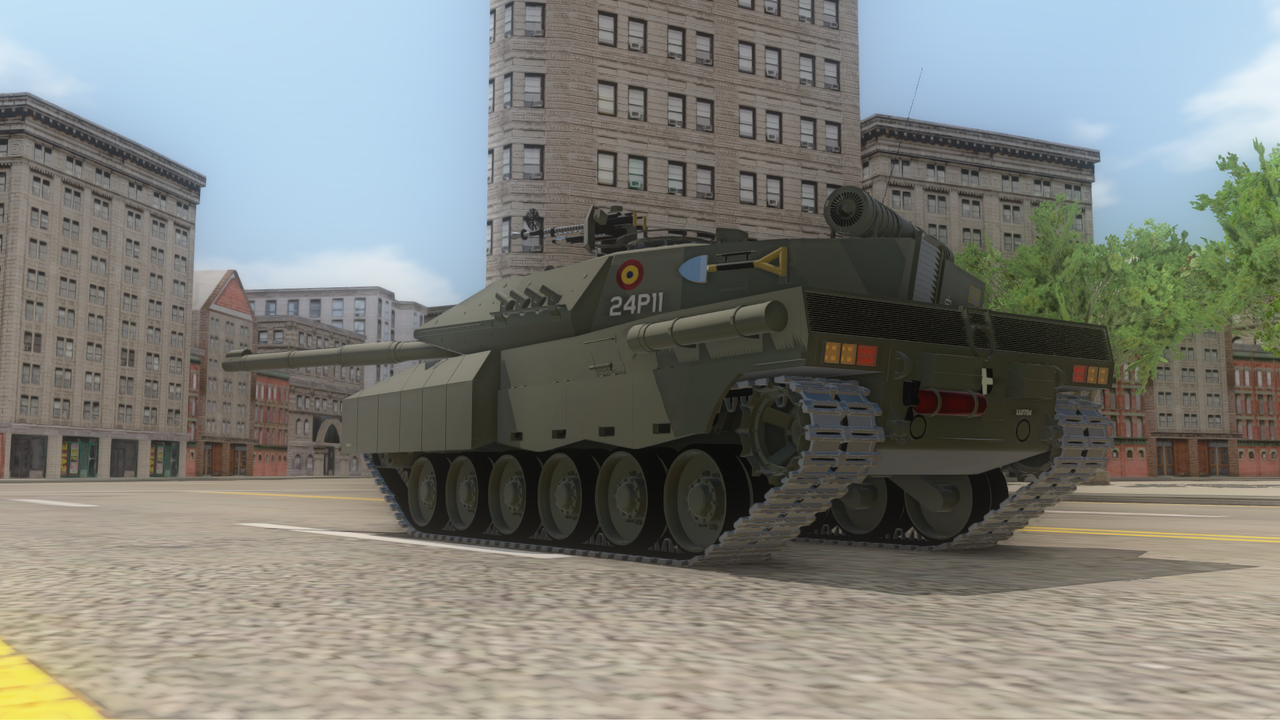 ---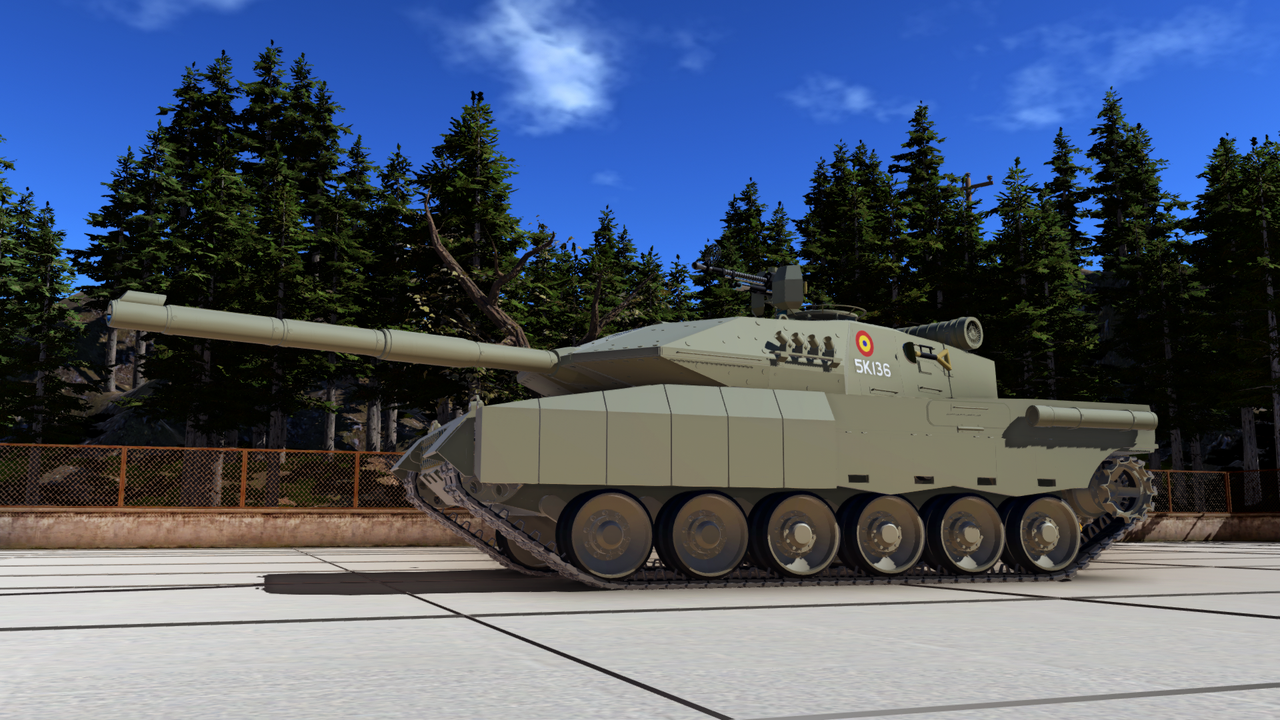 ---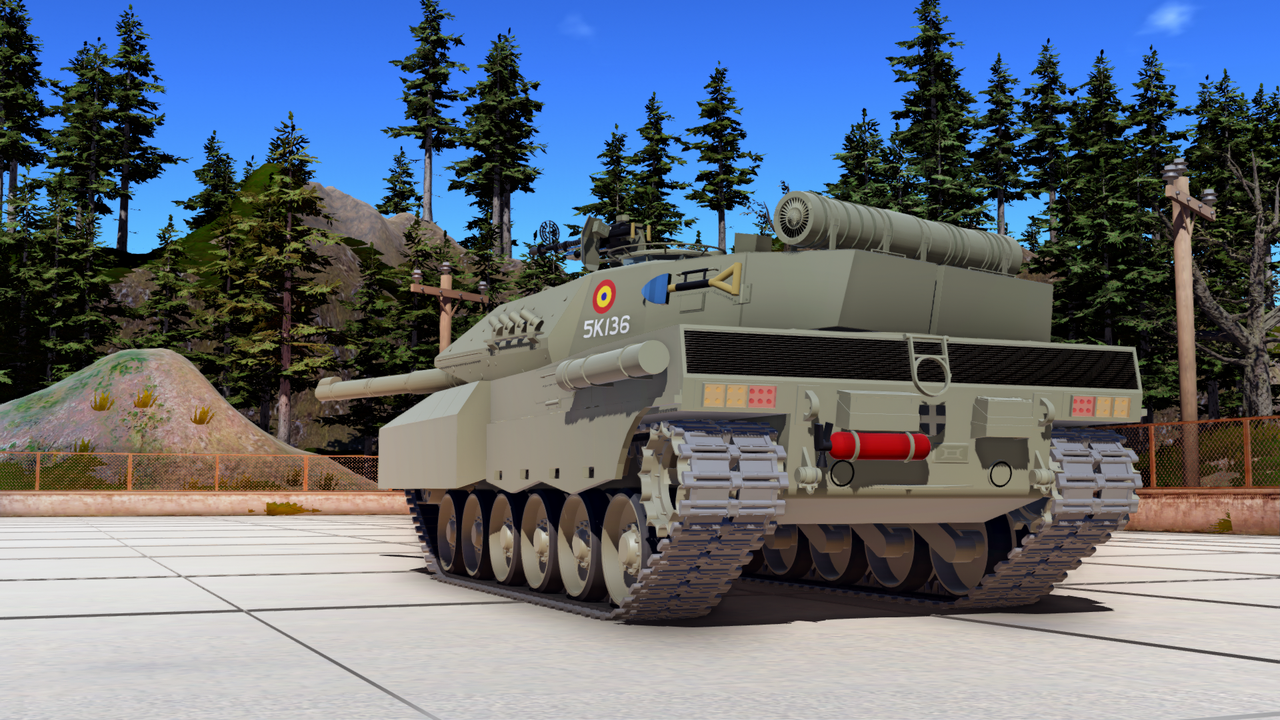 ---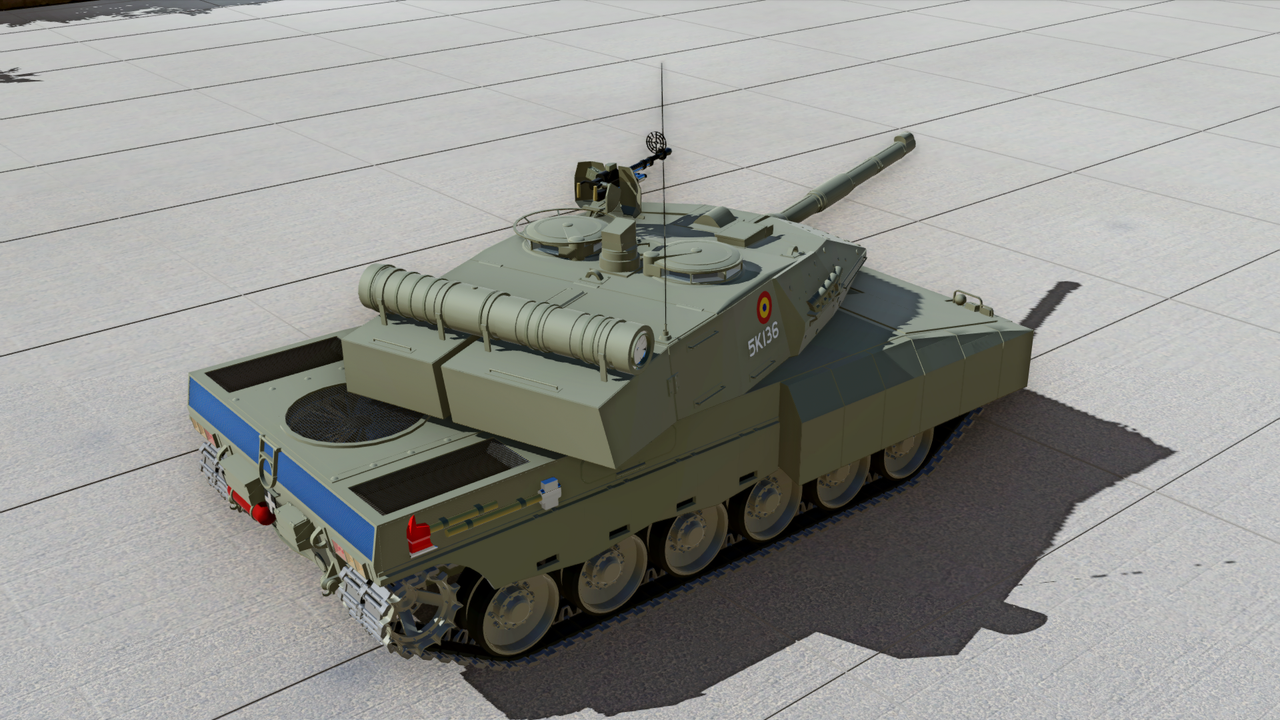 ---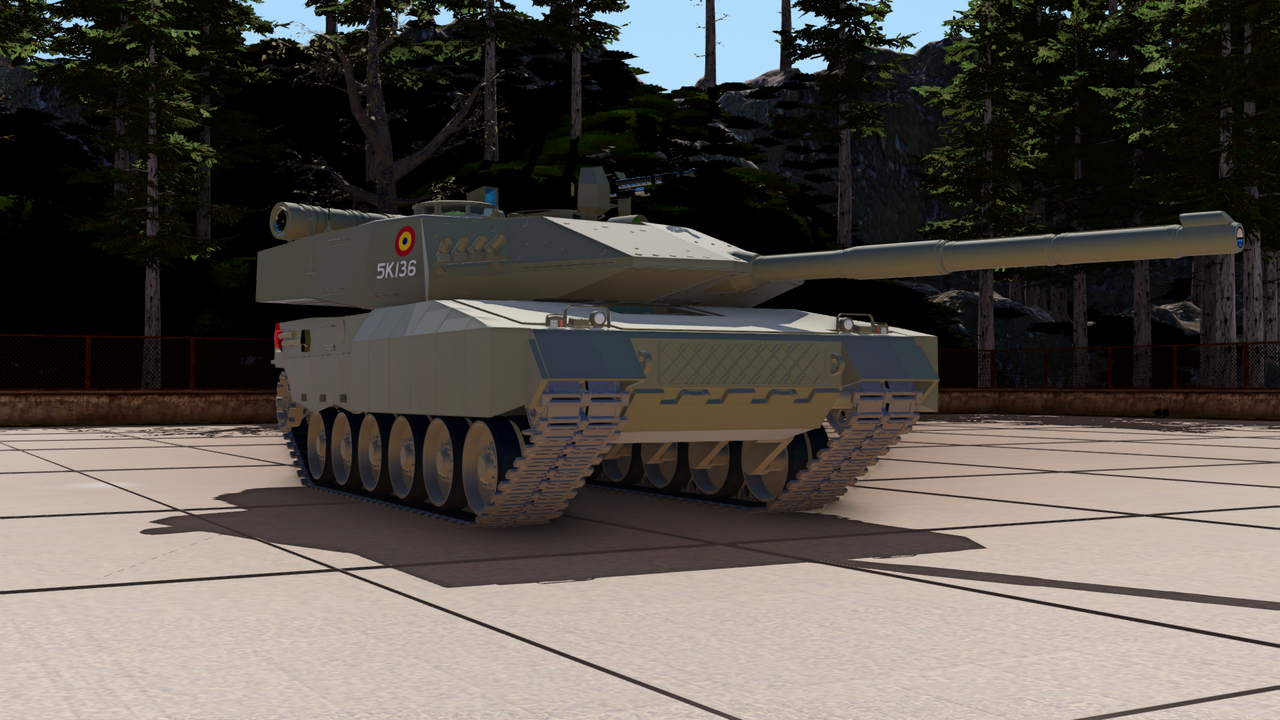 ---
---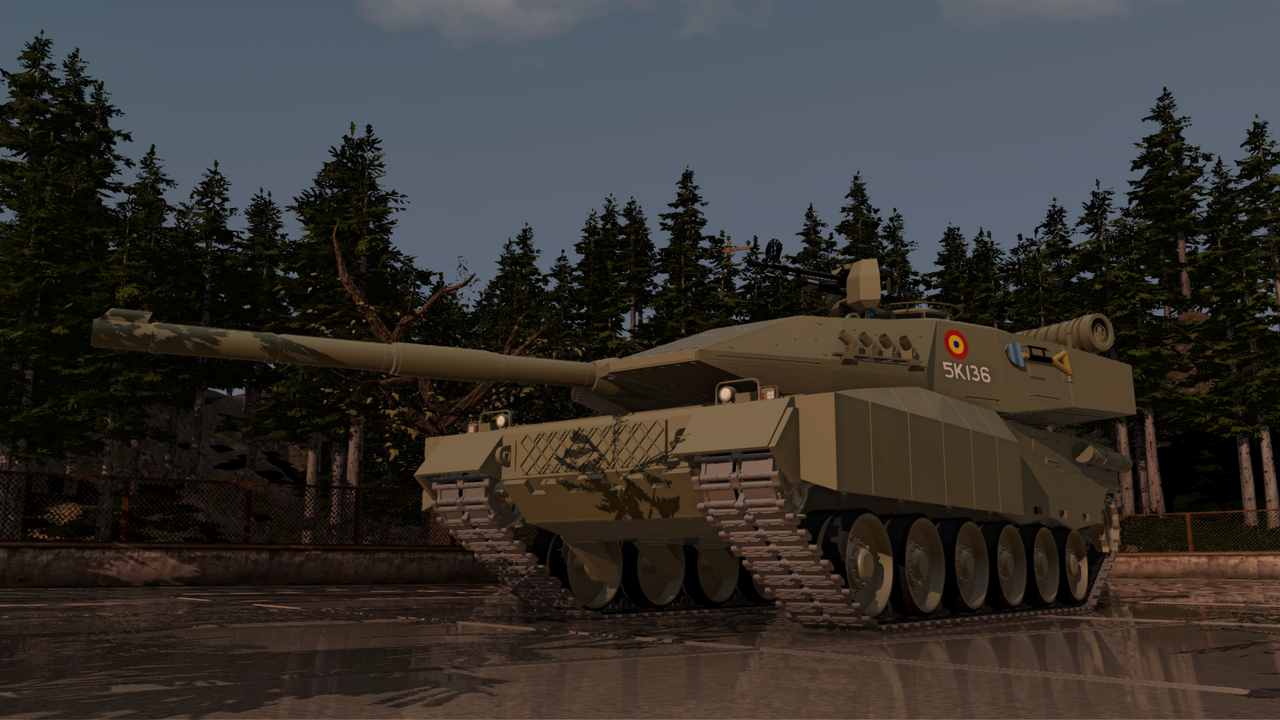 ---
Controls
---
See Craft Instructions ingame

---
Features
Realistic movement (thanks to kilometer-long FT expressions)
Works really well with the Zoom Mod
A gun with recoil and shell ejection AND smoke
Steering lights because why not :P
Nightvision for everyone (along with their own sights)
Automated target tracking (only for ground targets though)
Smooth braking once you lift the pedal
Realistic armor (based off of Wernster's model)
Realistic engine sound
Dual-plane stabilization (vertical one actually working on inclined planes too)
Smoke grenades
So many little details even I couldn't bother to remember lol


---
Specifications
---
Name: TR-55M1 "Zimbru" (Buffalo)
In service: 2002 - present
Designer:
KMW (hull layout and upgrade package)
Nexter (ammunition and automated ejection system)
IMI (electronics and FCS)
Vickers (turret)
FAUR (armament, powerplant and transmission)
UMB (initial requirements)
Iveco (powerplant)


Unit cost: ~ $3,6 million dollars/unit
No. built: ~ 300 (4 battallions)
Mass: 55,2 tonnes (TR-55) / 60,9 tonnes (TR-55M1)
Length: 11,3 meters (gun forward)
Width: 3,6 meters (without upgrade)
Height: 2,7 meters
Crew: 4 (commander, driver, gunner, loader)
Armour: 2nd/3rd generation composite, reflective NERA plates, combined with addon modular composite sideskirts
Main armament: 125 mm A555M1 smoothbore gun (50 rounds)
Secondary armament:
7,62 mm PKT (coaxial)
12,7 mm DShK (mounted on loader's cupola)


Engine: FIAT 12VS-TD (1500 HP @2600 RPM)
Power/weight ratio: 24,6 HP/tonne (55M1)
Transmission: THM-98 hydromechanic (5 forward, 2 reverse gears)
Suspension: Torsion bars with hydropneumatic shock absorbers
Fuel capacity: 1350 litres
Operational range: 400 kilometers
Maximum speed:
70 kph (forward)
50 kph (reverse)
---
The TR-55 - The Carpathian Buffalo
---
The TR-55 (nicknamed Zimbru - Romanian for buffalo) represents the crown of Romania's efforts to develop a domestic main battle tank on par with foreign designs. Its history, however, is a turbulent one, filled with delays and even forced use of outdated technology.
The need for a Romanian MBT of some sort arose in the 80s, once it became clear to then-President Nicolae Ceausescu that Romania's fleet of various T-55 modifications was soon becoming antiquated in the context of a modern battlefield. His efforts culminated in the procurement of 32 T-72s bought from the Soviet Union. It was something nonetheless, but they were too few and too expensive to import and modernize the entire fleet.
Thus, the TR-125, a locally modernized T-72, was born. Essentially, it was a T-72 which had its chassis lengthened by another pair of roadwheels and an improved, safer autoloader. Coupled with a locally produced FCS and a more powerful engine, the TR-125 would turn out similar to the Yugoslav M-84. But unfortunate times came ahead: right at the end of 1989, the entire Communist Bloc crashed, taking Romania with itself and plunging the country into near civil war. Ceausescu and his clique were swiftly ousted from power, transforming the decrepit Socialist dictatorship into a somewhat better democracy, albeit with its own set of challenges.
The Revolution brought about a new hope for the Romanian MBT program: starting with 1992, NATO entered the scene, bringing about superior expertise at the expense of bringing a few brigades in the Yugoslav Wars that had recently started. Companies like Krauss-Maffei-Wegman and Nexter soon took an interest in what the Romanians had developed during the Communist regime. After many negotiations, a new project, now called TR-2000, was born.
Unlike previous projects which were based on Soviet designs, the TR-2000 was a completely new design. With significant contributions from a consortium made up of KMW-Nexter-Iveco-IMI-Vickers, the Romanians managed to develop a tank that could strike fear into the core of a possible Russian invasion without a drop of sweat. Finally, in late 1996, the first prototype was built. Incorporating both Western and Eastern design philosophies, the TR-2000 proved more than adequate for the Romanian army, except for one thing: its unitary cost of $6 million dollars - a sum the Army could not afford, unless they sold a considerable part of their aging fleet of T-55s.
Two more years, until 1998, were needed until the initial design was dumbed-down in some regards (such as the removal of the Leclerc-style autoloader, in its place being put a traditional human loader); meanwhile, the aging fleet of TR-85s and other locally produced variants of the antiquated T-55 managed to find their new owners all around the world, some even going into the hands of Saddam Hussein, prompting a somewhat unpleasant protest from Vickers and IMI. It was around this time when KMW, in collaboration with FAUR (formerly known as the "23rd August" Heavy Machinery Factory), started developing an upgrade package similar to what the German Leopard 2 had recently received.
After many other undisclosed delays, the TR-2000 entered serial production in 2002 with the name of TR-55 (55 standing for its weight - 55 tonnes), soon finding its current nickname, "Zimbru".
About 150 were initially produced until 2008 at the FAUR facilities, ultimately receiving (after even more delays and financial problems) their upgrade package, thus giving birth to the best variant currently in service, the M1.
The Buffalo's combat history, although not that rich, is a subject for another day :)
---
This has been one of my longest-running projects ever made. Apparently, the first unlisted upload of this thing dates back to March 2020, right when the quarantine started. I initially wanted to upload it by July, along with a map made for tank combat, but motivation slowly dried as time went on and I encountered problems in its development. Besides, I entered my final year of highschool and, coupled with some terrible problems in my personal life (especially in the last 6 months), I didn't quite get the time to finish this tank as quickly as I had envisioned.
Nevertheless, once life had finally started to stabilize and the sh*tstorm had ended, I took back interest in the project, while also seeing an opportunity to take part in a challenge.
This tank (and the whole project actually) were, in a way, my life savers quite literally, along with a whole new set of hobbies such as poetry and photography. Had it not been for this project (AND this game), what happened a month ago may have happened even earlier. It's had quite a therapeutical effect on my mental health; it was an outlet for all the negative emotions that I had accumulated over time. Even so, it wasn't enough to save me from nearly dying (no joke), but here I am, still living, with a few health issues (thankfully none life-threatening), and finally managed to finish my longest-running project :)
Specifications
General Characteristics
Predecessor

CLOSED Tank Challenge

Created On

Windows

Wingspan

13.5ft (4.1m)

Length

36.9ft (11.3m)

Height

15.2ft (4.6m)

Empty Weight

69,491lbs (31,521kg)

Loaded Weight

134,410lbs (60,967kg)
Performance
Power/Weight Ratio

1.285

Horse Power/Weight Ratio

0.011

Wing Loading

5,534.5lbs/ft2 (27,021.6kg/m2)

Wing Area

24.3ft2 (2.3m2)

Drag Points

97
Parts
Number of Parts

1499

Control Surfaces

0

Performance Cost

4,305
---