This aircraft follows all the basic AI requirements. It is specially designed for Artificial Intelligence [AI] to simulate air traffic, it is able to land and take off with extreme precision at the main airports in the game, it is also a playable aircraft, you can enjoy air collisions, target shooting or just enjoy of a more realistic air traffic.
---
Tags: AI Planes / Auto Spawn / AI Air Traffic / Artificial Intelligence / AI controlled.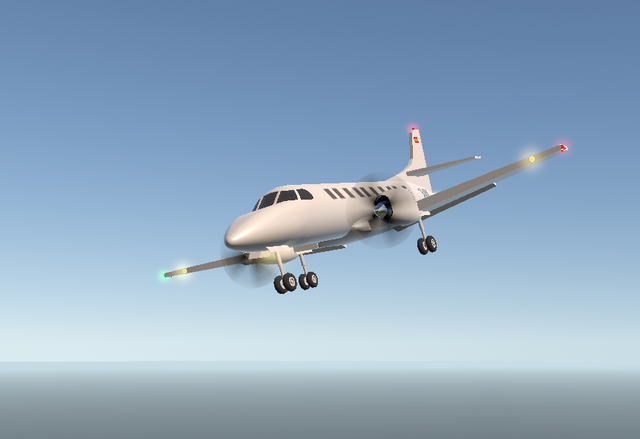 MAPA Aviation 2023
---
About the Aircraft:
The Fairchild Swearingen Metroliner (previously the Swearingen Metro and later Fairchild Aerospace Metro) is a 19-seat, pressurized, twin-turboprop airliner first produced by Swearingen Aircraft and later by Fairchild Aircraft at a plant in San Antonio, Texas.
The Metroliner was an evolution of the Swearingen Merlin turboprop-powered business aircraft. Ed Swearingen, a Texas fixed-base operator (FBO), started the developments that led to the Metro through gradual modifications to the Beechcraft Twin Bonanza and Queen Air business aircraft, which he dubbed Excalibur.
A new fuselage (but with a similar nose) and vertical fin were then developed, married to salvaged and rebuilt (wet) Queen Air wings and horizontal tails, and Twin Bonanza landing gear; this became the SA26 Merlin, more or less a pressurized Excalibur. Through successive models (the SA26-T Merlin IIA and SA26-AT Merlin IIB) the engines were changed to Pratt & Whitney Canada PT6, then Garrett TPE331 turboprops. These were marketed as business aircraft seating eight to ten passengers.
An all-new aircraft was built and named the SA226-T Merlin III with a new nose, wings, landing gear, cruciform horizontal tail and inverted inlet Garrett engines. Ultimately a stretch of the Merlin III was designed, sized to seat 22 passengers and called the SA226-TC Metro. Because FAA regulations limited an airliner to no more than 19 seats if no flight attendant was to be carried, the aircraft was optimized for that number of passengers. The standard engines offered were two TPE331-3UW turboprops driving three-bladed propellers. A corporate version called the SA226-AT Merlin IVA was also marketed and initially sales of this version were roughly double that of the Metro.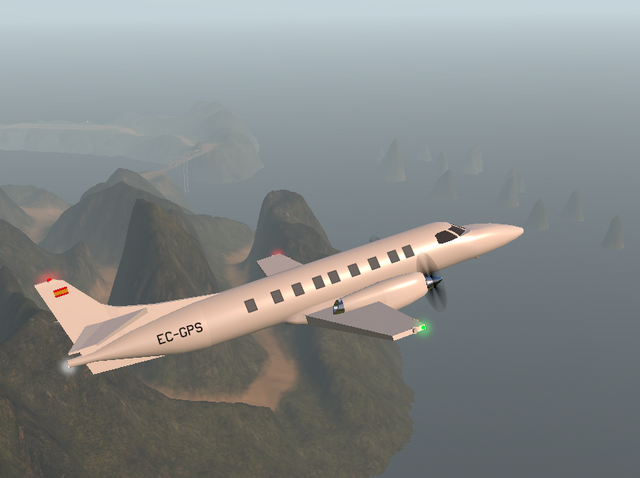 Prototype construction of the Metro began in 1968 and the first flight was on August 26, 1969. Swearingen Aircraft encountered financial difficulties at this stage, and late in 1971 Fairchild (which was marketing the Metro and building its wings and engine nacelles), bought 90% of Swearingen and the company was renamed Swearingen Aviation Corporation. At this point, the previously cash-strapped company was able to put the Metro into production.
In 1974, the original Metro models were replaced by the SA226-TC Metro II after about 20 Metros and about 30 Merlin IVAs had been built. Among the changes made were larger, squared-oval windows and an optional, small Rocket-Assisted Take Off (RATO) rocket in the tail cone, to improve takeoff performance out of "hot & high" airfields in the event of an engine failure.
The Metro and Metro II were limited to a maximum weight of 12,500 pounds (5,700 kg) in the US and countries using imperial units, and 5,700 kg in countries using SI units. The Metro II was re-certified as the Metro IIA in 1980 with a maximum weight of 13,100 pounds (5,900 kg) and the Metro II's TPE331-3 engines replaced by -10 engines of increased power.
The SA227-AC Metro III followed, also initially certified in 1980 for up to 14,000 pounds (6,400 kg), increasing to 14,500 pounds (6,600 kg) as engines and structures were upgraded. An option for up to 16,000 pounds (7,300 kg) was offered. Among external improvements to the Metro III were a 10 ft (3.0 m) increase in wing span, four-bladed props, redesigned "quick-access" engine cowlings and numerous drag-reducing airframe modifications, including landing gear doors that closed after the gear was extended.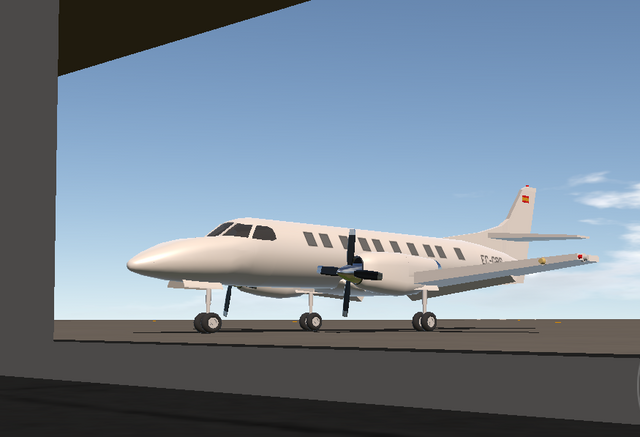 Once again a corporate version was offered as the Merlin IVC (the model name chosen to align with the contemporaneous short-fuselage Merlin IIIC). A version with strengthened floors and the high gross weight option was offered as a cargo aircraft known as the Expediter. Both the Expediter and the Merlin IVC were designated the SA227-AT. Finally, due to reliability problems with Garrett engines in the second half of the 1980s, the Metro IIIA was offered with two Pratt & Whitney Canada PT6A-45R turboprops in place of the Garrett units but none were actually delivered. A special model was the SA227-BC Metro III built for Mexican airline AeroLitoral, which took delivery of 15 of the 18 of this model that were produced.
Improvements beyond the Metro III provided better systems, more power and a further increase in takeoff weight. This design effort resulted in the SA227 CC (for Commuter Category) and SA227-DC models, initially called the Metro IV then renamed Metro 23, so named as they were designed for certification under FAR Part 23 (Amendment 34) standards. A Metro 23 EF with an external pod under the lower fuselage for greater baggage capacity was also offered as well as an Expediter 23 and Merlin 23. The SA227-CC was an interim model with TPE331-11U engines and only a handful were built.
Further development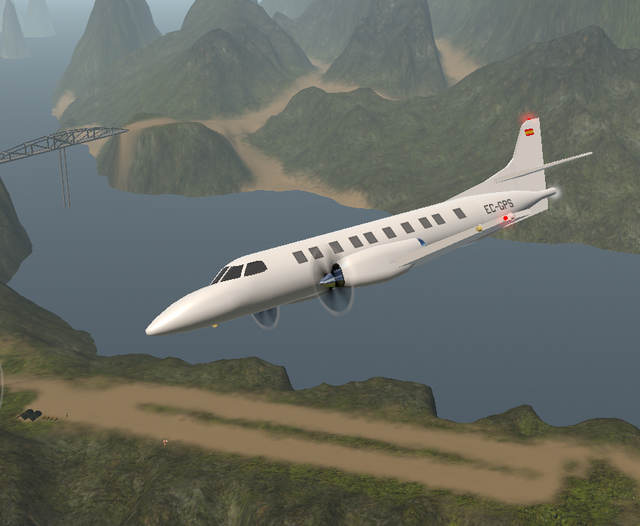 In the 1960s, Swearingen Aircraft developed a prototype SA-28T eight-seat jet aircraft with a flapless delta wing. It shared the tail and cockpit with the Merlin/Metro. The two engines were to be Garrett TFE731 turbofans then in development; they were originally to be mounted on the aft fuselage, however during the course of design work their location was moved to under the high-mounted wing. Early flights were to be undertaken with General Electric CJ610 engines fitted. Development continued after Fairchild acquired the company, but the project was shut down nine weeks from first flight. It was later cut up as scrap and the fuselage used as a Metro display at trade shows.
At the 1987 Paris Air Show, Fairchild released details of proposed developments of the Metro designated the Metro V and Metro VI. These versions would have featured a longer fuselage with a taller "stand-up" cabin providing 69 in (180 cm) of interior height for passengers; a redesigned, longer wing; engines moved further out on the wing from the fuselage; a "T-tail" and various system improvements. A Merlin V corporate version of the Metro V was also planned. The Metro V was to be fitted with the same engines as the Metro 23 and the Metro VI was to be fitted with more powerful TPE331-14 engines. The Metro VI was shelved within months of being announced due to a lack of customer interest, but Fairchild did not proceed with the Metro V either.
One version that did see the light of day was the Metro 25, which featured an increased passenger capacity of 25 at the expense of the baggage space found in earlier models; the deletion of the left rear cargo door, the addition of a passenger door on the right-hand rear fuselage, and a belly pod for baggage. A Metro III was converted as a Metro 25 demonstrator, it flew in this configuration in October 1989. Also mooted but not built was the Metro 25J, which would have been another jet-powered aircraft with TFE731s in over-wing pods.
The type certificates for Metro and Merlin aircraft are currently held by M7 Aerospace.
---
Images: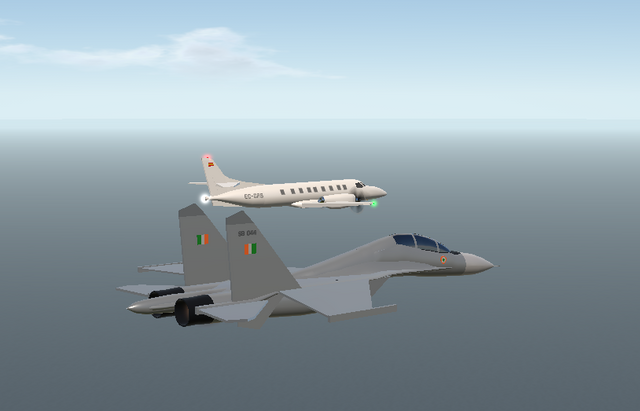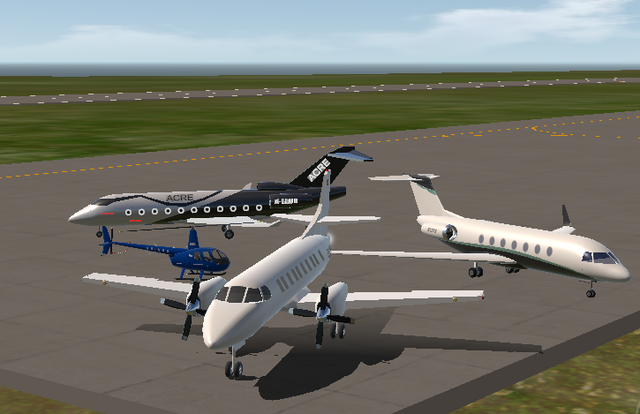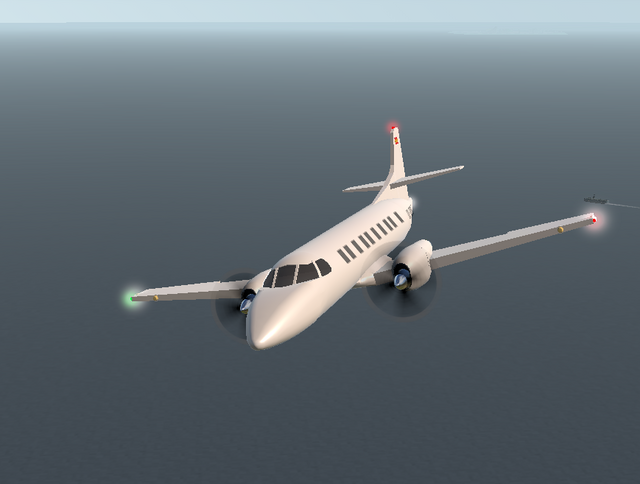 Actual Sample: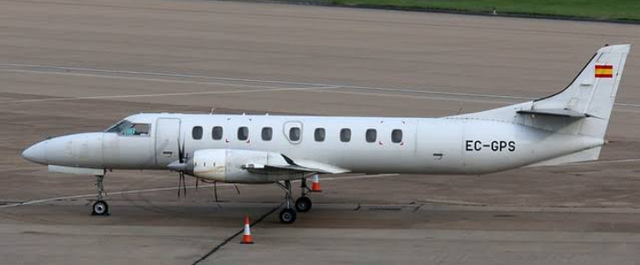 Image Credit: Flightradar24
---
Controls: Standard
---
Of course I'm going to do that!! 😎🤙
'Top Gun, Danger Zone' starts playing: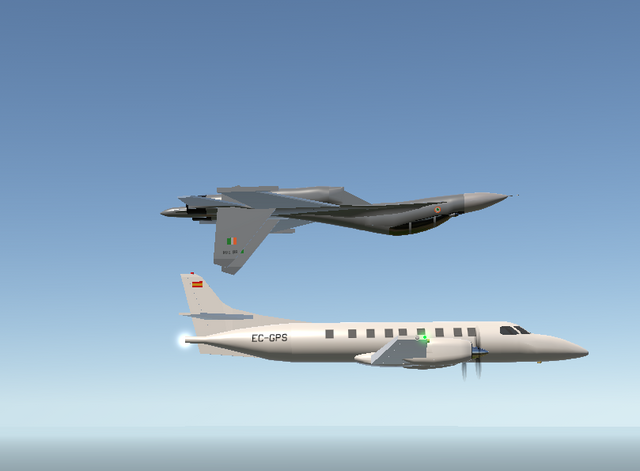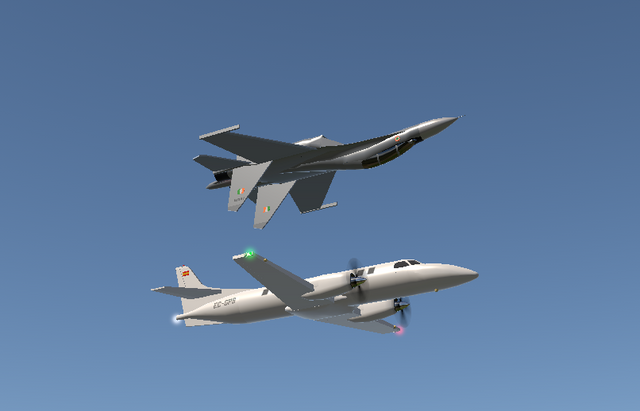 ---
Aircraft Credits in Photos:
Robinson R-44 by @OPaiTaOn
Sukhoi Su-30 by @Erc90F4RU
WINGSIRON AW-100 by @WINGSIRONDYNAMIC
Zenith II by @Timplanes
---
Thank you for your attention, Good flight!
Specifications
General Characteristics
Predecessor

Magic Form

Successors

10 airplane(s)

+555 bonus

Created On

Android

Wingspan

66.9ft (20.4m)

Length

81.4ft (24.8m)

Height

24.8ft (7.6m)

Empty Weight

15,058lbs (6,830kg)

Loaded Weight

20,563lbs (9,327kg)
Performance
Horse Power/Weight Ratio

0.097

Wing Loading

29.9lbs/ft2 (145.8kg/m2)

Wing Area

688.5ft2 (64.0m2)

Drag Points

3591
Parts
Number of Parts

76

Control Surfaces

7

Performance Cost

428
---