Arado Ar-234 "Blitz" – the first jet bomber
There are already plenty of Ar-234's on SP, so I never considered building one. Now however, with the new fuselage-cutting options, it's finally possible to make a nice & smooth version of the Arado's rather intricate glazed nose.


First of all, a bit of history. Although the Ar-234 was introduced towards the end of WW2, the design dated back to 1941; unfortunately, they had to wait almost 2 years before they received their first Jumo-004 engines for testing… even though Messerschmitt got their engines for the Me-262 much sooner. As a result, the first flight of the prototype took place only in June 1943.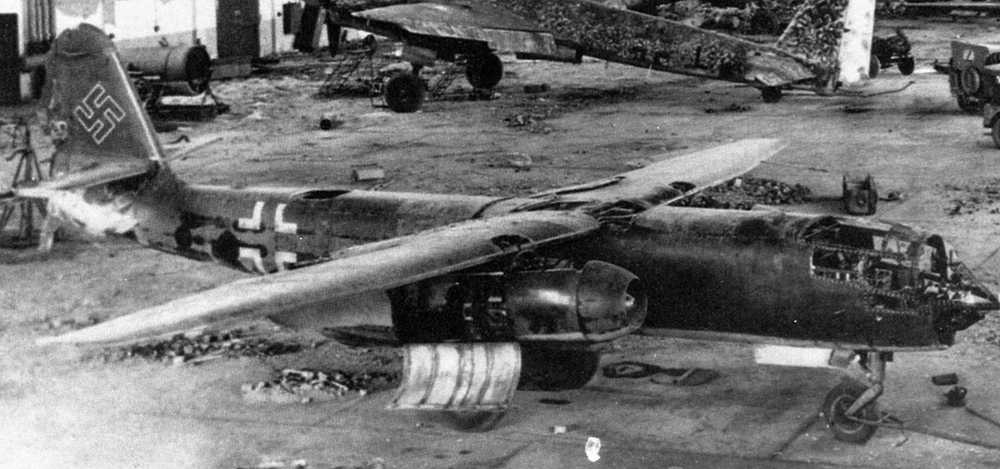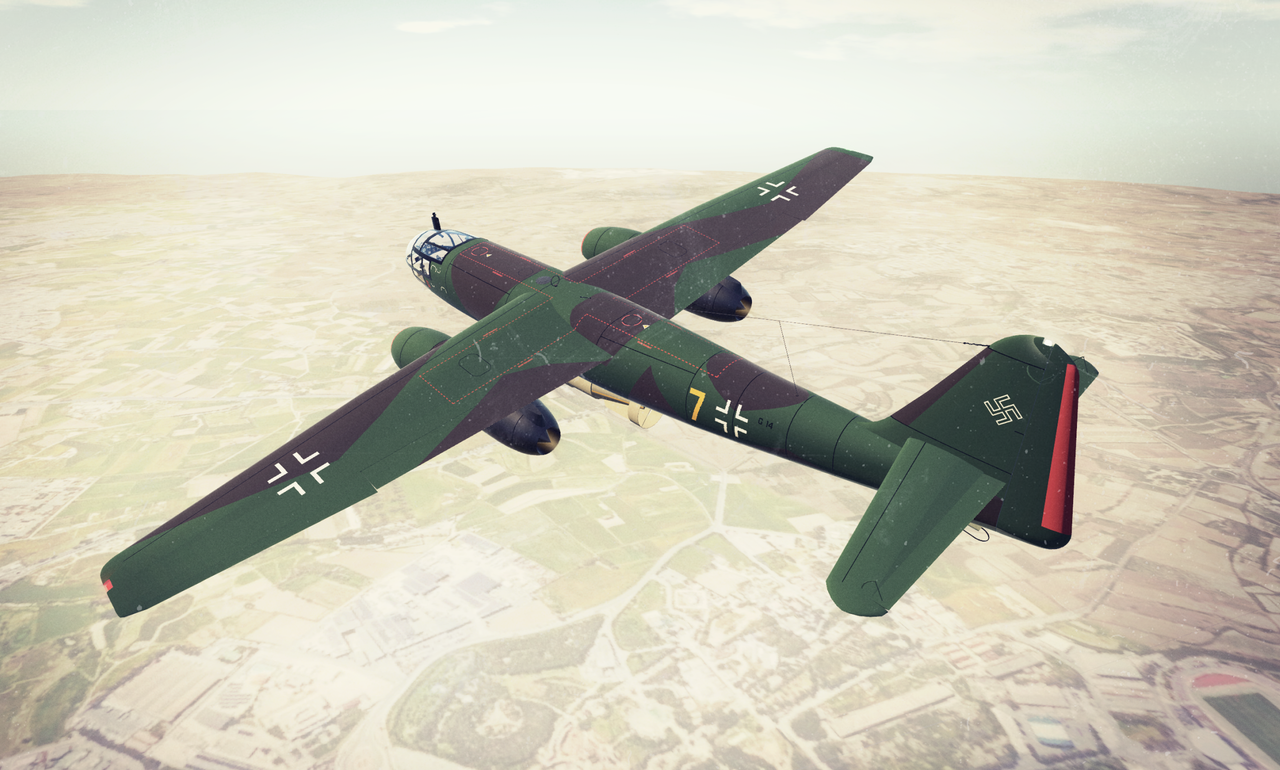 Originally, the Ar-234 was designed to use a trolley for takeoff and a skid for landing… but the latter created nothing but problems. Luftwaffe officers complained that during mass operations on a typical airfield the runway would soon be cluttered with disabled planes, which they couldn't remove because they had no landing gear.
And so, the production version of the Ar-234B Schnellbomber, or "fast bomber," introduced a widened fuselage that permitted a tricycle landing gear with a very narrow track. Because the Ar-234 was slender and entirely filled with fuel, it had no room for a bomb bay. Its bomb load had to be carried on external racks under the engines or in a recess in the center of the fuselage. The Arado could haul quite a load; it could deliver a 1000 kg "Hermann" bomb and still maintain a speed advantage. A fully loaded 234 was a bit cumbersome on takeoff though, so often a pair of Walther RATO units were added to provide some extra boost.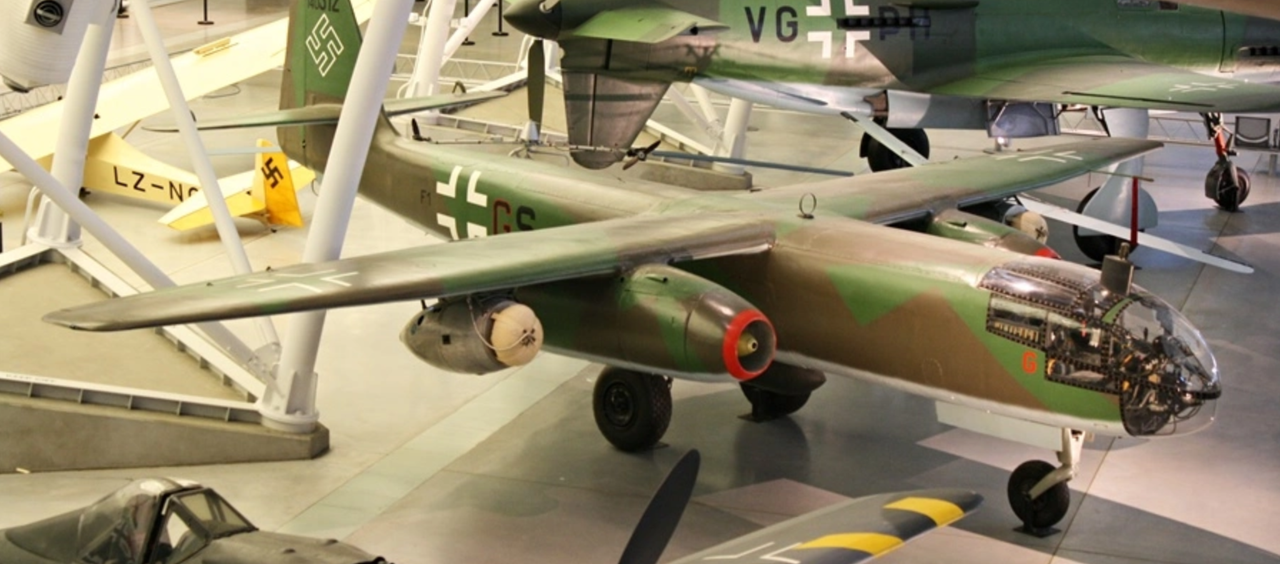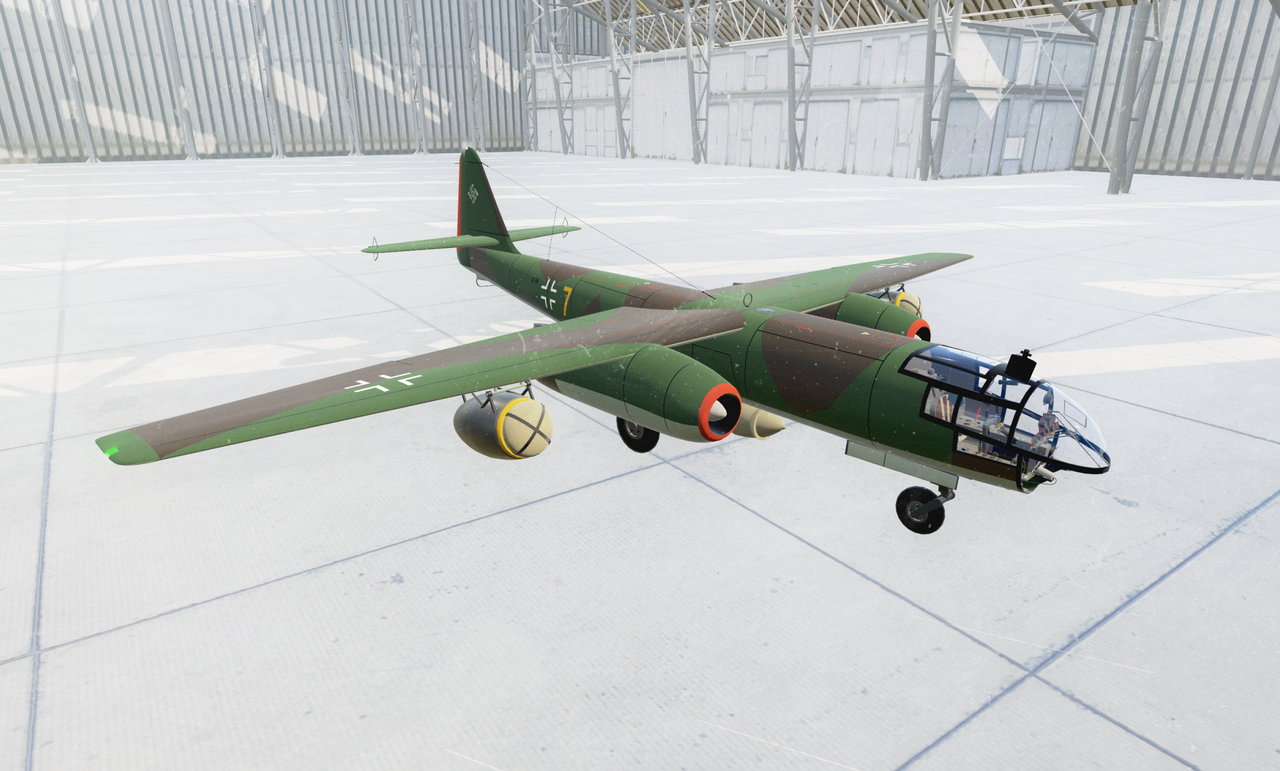 The added weight and drag of a full bomb load reduced the speed, so initially two 20mm MG 151 cannon were added in a remotely controlled tail mounting to give some measure of defense. But since the cockpit was directly in front of the fuselage, the pilot had no direct view to the rear, so the guns were aimed through the periscope –which basically made it impossible to hit anything. The guns were therefore usually removed, since they added weight and served no purpose at all.
The first operational Ar-234's weren't delivered until June 1944 –too little and too late. In all, only 224 of these planes were built; had they been available sooner and in greater numbers, they could have had a serious impact since they were considerably faster than the allied fighters who had to intercept them. Today, the only surviving aircraft is an Ar-234B-2 displayed at the Smithsonian.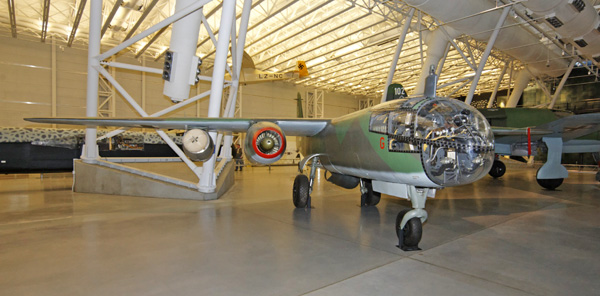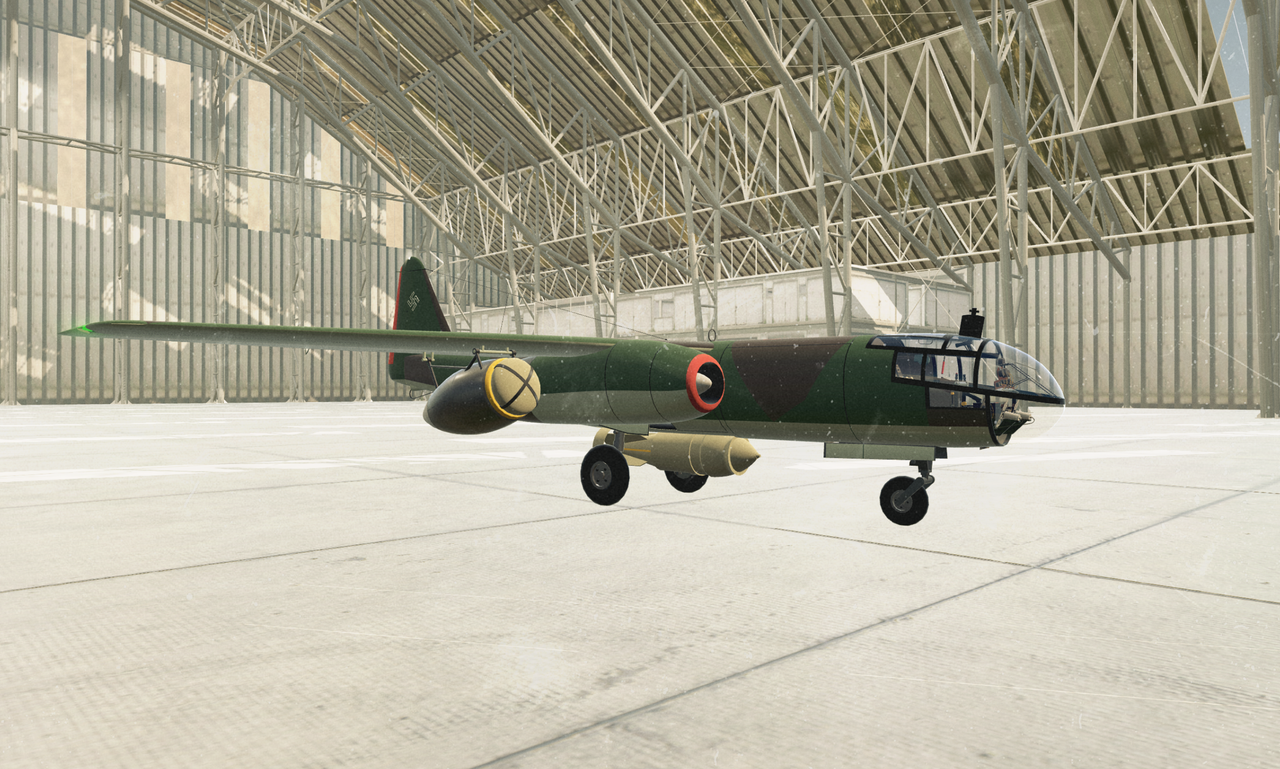 The build
Nothin fancy, and nothing special to tell; the build depicts a rather standard Ar-234 bomber in its also very standard RLM 81/82 splinter camo. It carries a single SC1000 bomb, and is equipped with Walther RATO units for takeoff assistance. It features a passable custom landing gear, opening canopy, and silly details like an extending access ladder.
Controls
I made an attempt to get the plane VR-ready, but I have no idea how to test that since I don't have VR gear myself. Controls are otherwise pretty standard; Roll, pitch and yaw work much like they should, as do the flaps and trim. Special controls/Activation groups are;
AG1 : open/close the canopy
AG2 : drop the bomb
AG3 : ignite the RATO units
AG4 : (spare)
AG5 : (spare)
AG6 : blows the canopy
AG7 : drogue chute
AG8 : nav lights toggle
There are camera views for the cockpit/pilot's view, the rear view periscope, an unobstructed view which you can use in a bomb run, and a chase cam for the bomb.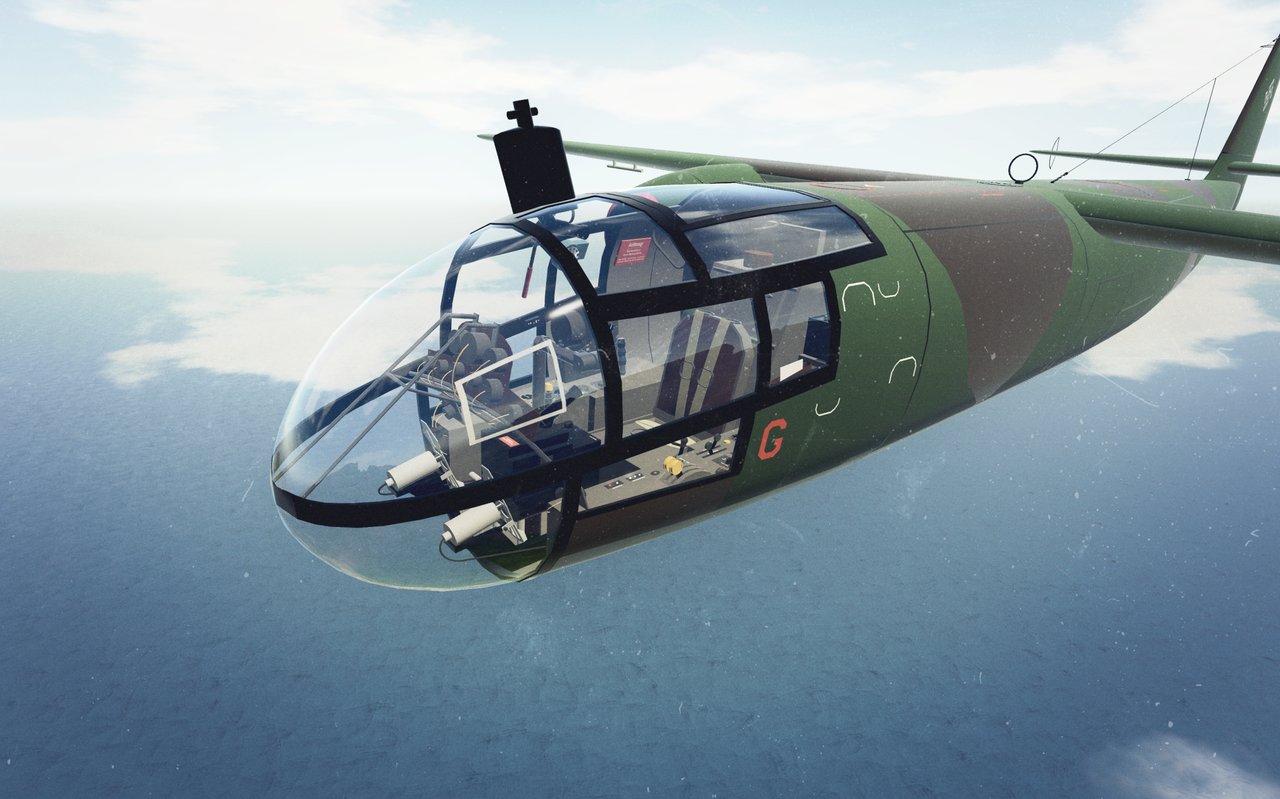 For takeoff: close the canopy (AG1), throttle up to 100%, and get rolling. Once you pick up some speed, hit AG3 for the RATO units; they will burn themselves out gradually in about 30 seconds, and will then automatically detach and parachute down. The plane can take off without them just fine -it just needs more runway.
To land, simply throttle back and use full flaps. The Ar-234 lands at relatively high speed, but that's easily remedied by deploying the drogue chute (AG7) after touchdown.
Don't like bombers?
For those who don't like bombers, there's a (unlisted) night fighter version of the plane at this link. That one's equipped with a pair of 20mm cannon and plenty of ammo, so you can use it to chase down bombers or to make strafing runs.
The night fighter version didn't really exist as such; as a test, a few 234's were equipped with radar and a gun sight, and got a cannon pod (called the "Magirusbombe") fitted under the fuselage. They didn't have much success though, so the night fighter version never went into production anyway. I think the test itself was rather strange; Hitler was always pressing Messerschmitt to use the Me-262 –which was designed as a fighter- as a fast bomber, and now they were considering to turn their purpose-built fast bombers into fighters. The idea was more than a bit silly. Still, in SP it's good fun; in this version I added a camera view for the gun sight, and the bomb release button is now the cannon trigger. Otherwise, the plane is identical to the bomber version.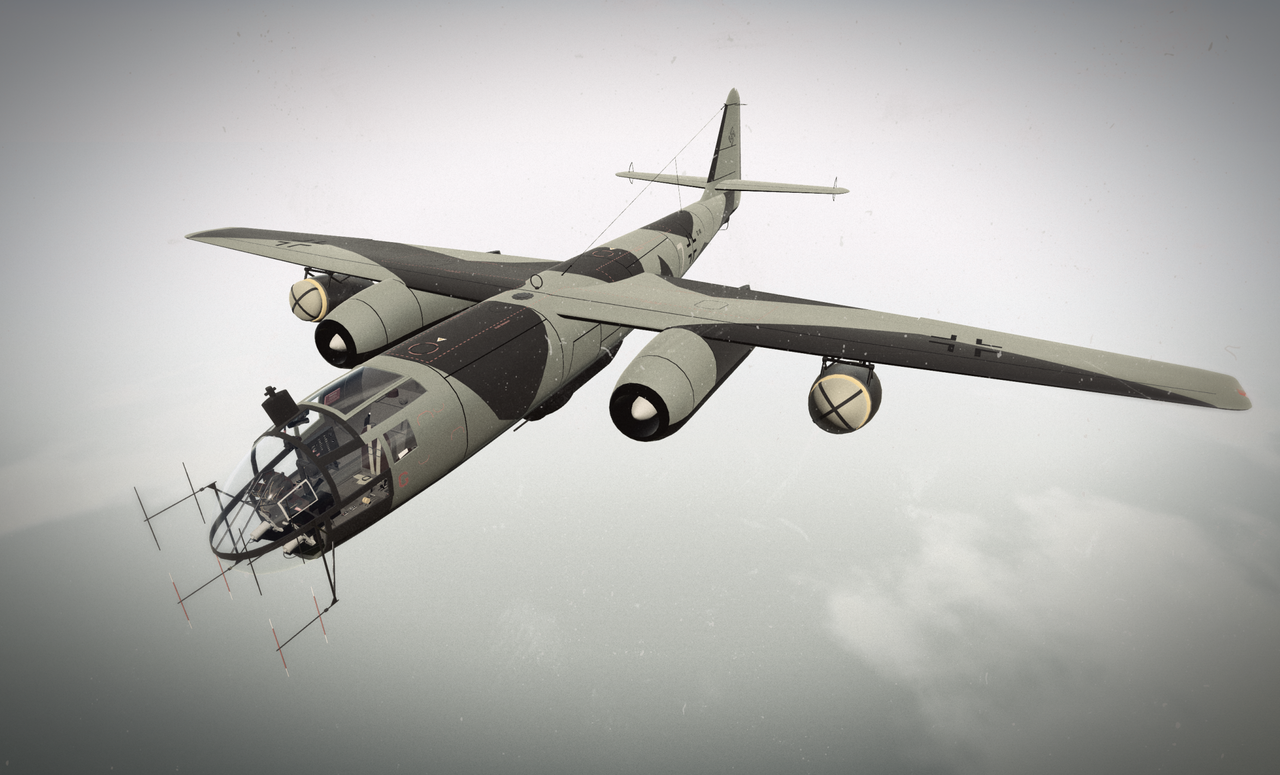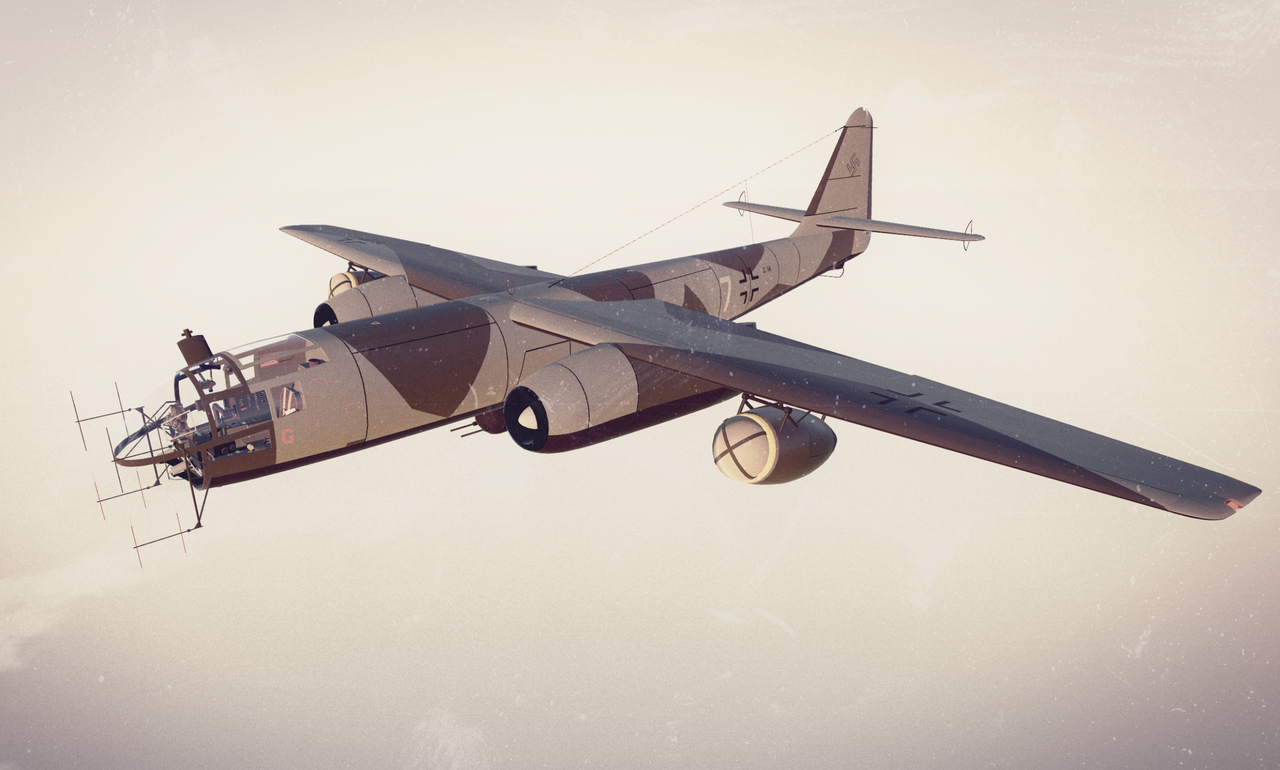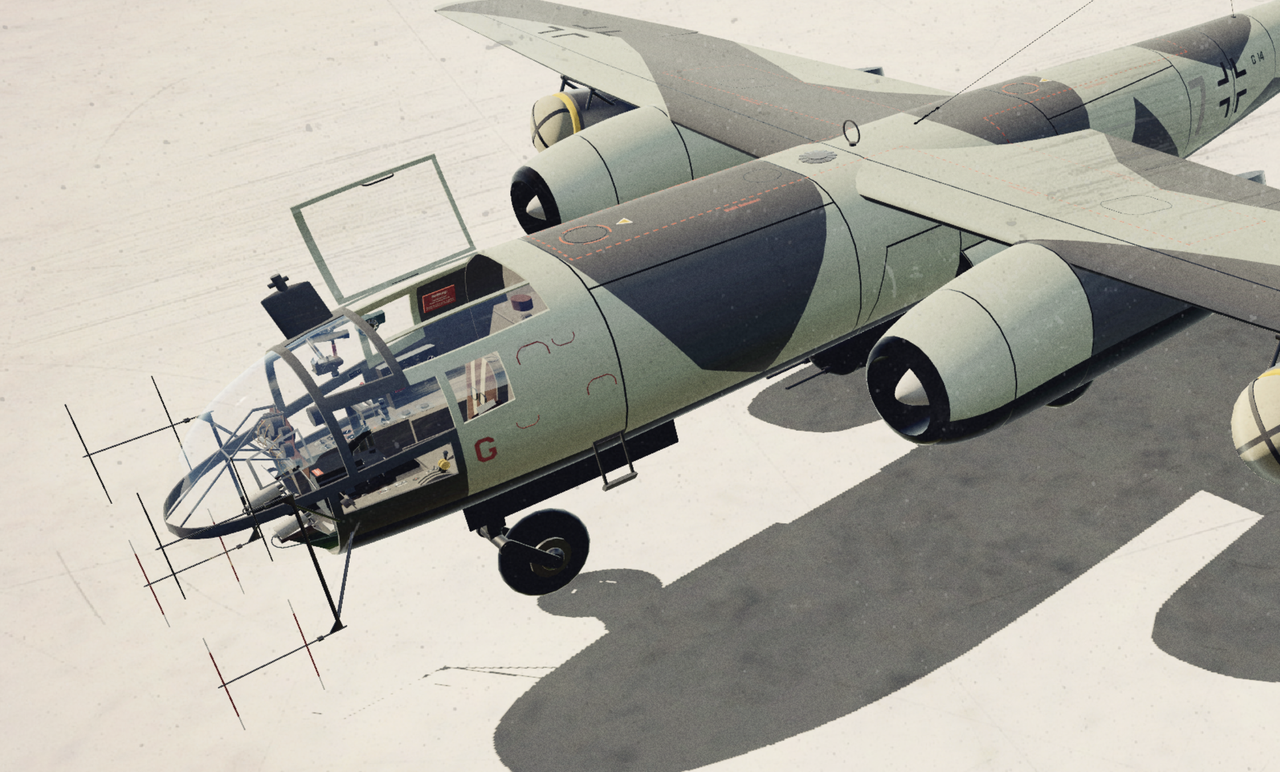 Anything else?
Yes –if there are VR users around, I would love to get some feedback on whether or not the controls work properly, so I can get some pointers.
Have a good flight!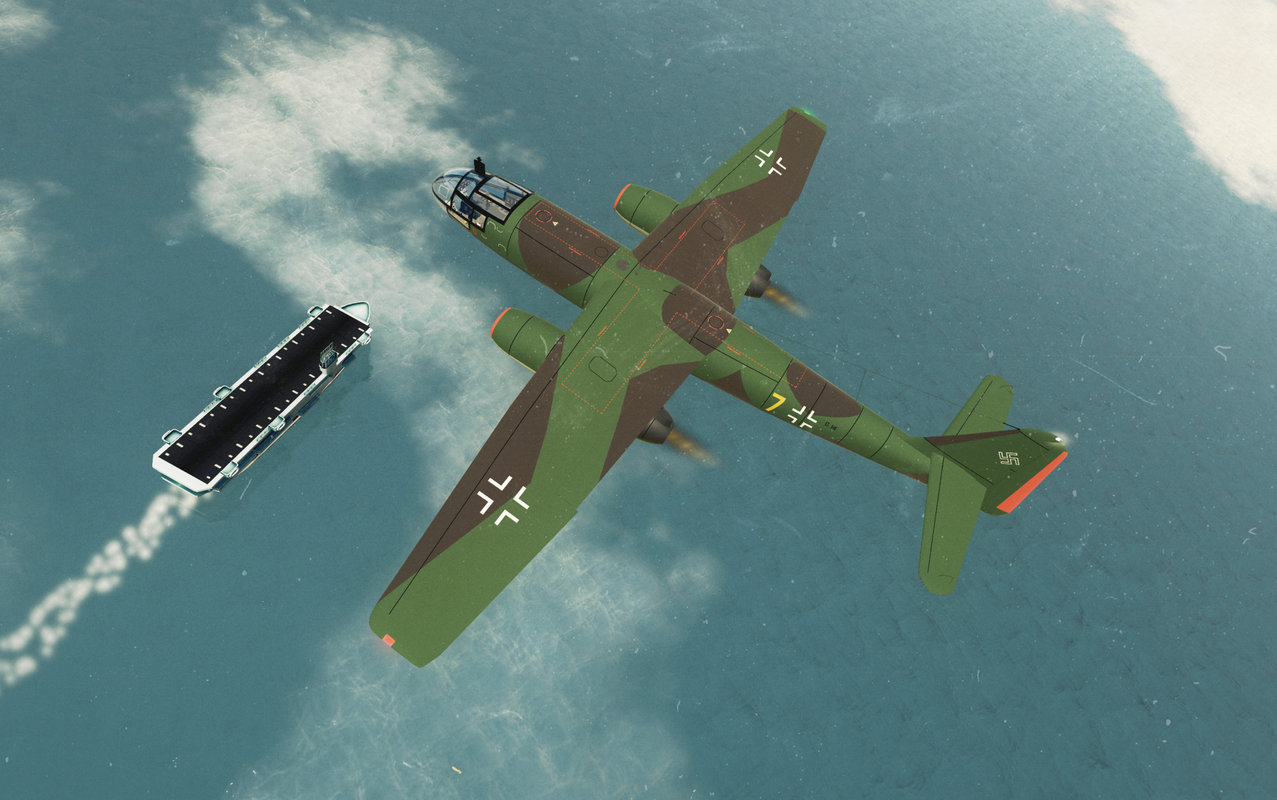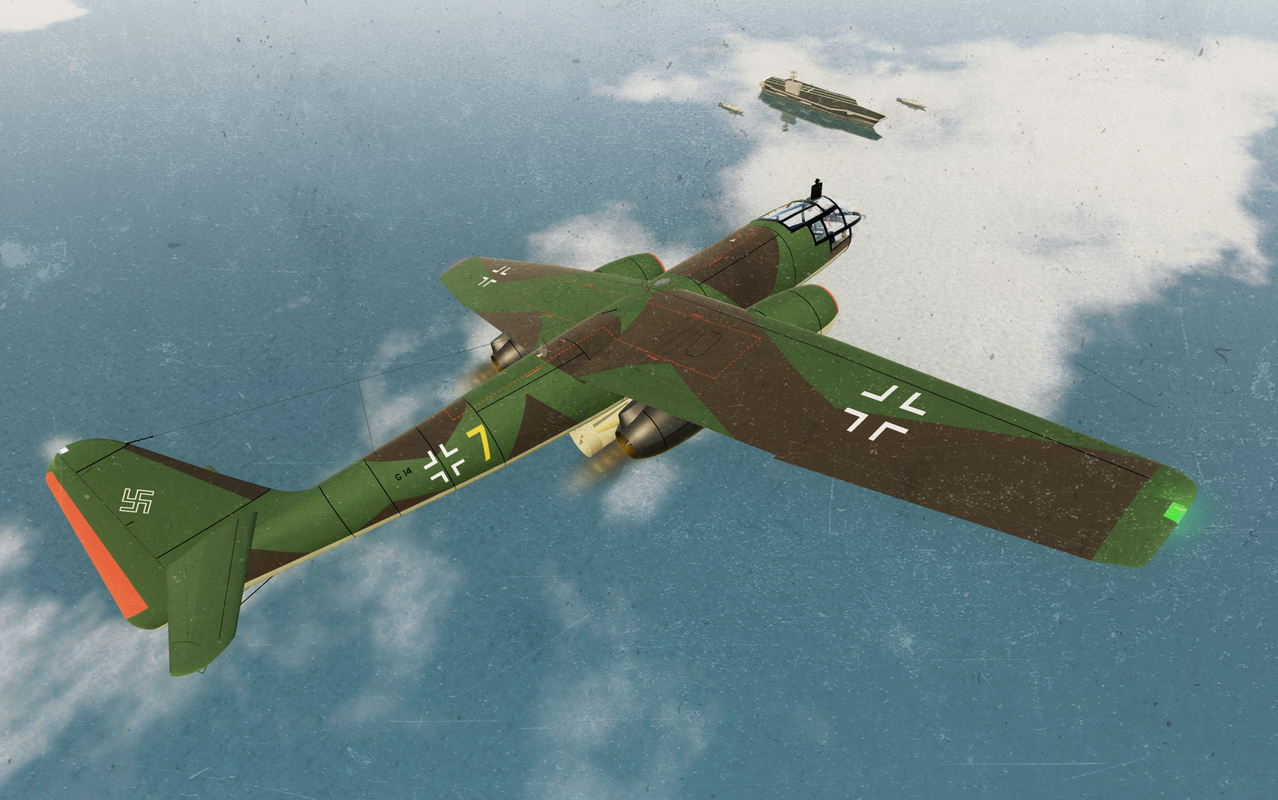 Specifications
General Characteristics
Successors

1 airplane(s)

+7 bonus

Created On

Windows

Wingspan

47.9ft (14.6m)

Length

40.3ft (12.3m)

Height

13.6ft (4.1m)

Empty Weight

13,855lbs (6,284kg)

Loaded Weight

20,591lbs (9,340kg)
Performance
Power/Weight Ratio

0.982

Wing Loading

47.1lbs/ft2 (229.7kg/m2)

Wing Area

437.6ft2 (40.7m2)

Drag Points

3140
Parts
Number of Parts

1641

Control Surfaces

0

Performance Cost

5,157
---