A-29 (EMB-314) Super Tucano in a Brazilian Air Force Livery
You love the Super Tucano but you run Simple planes on a potato? Low Performance Version
As promised the A-29 in a Brazilian Livery. Special thanks to @BogdanX @FlyingHueman @Random40 @SaintNPC @TheFantasticTyphoon and the rest of the Simple PLanes community for helping me with this built! Hope you enjoy it! Feel free to modify and reupload the aircraft and share any thoghts, questions or suggestions for improvements!
CONTROLS:
AG1: EJECTION SEAT
AG2: PARACHUTE AFTER EJECTION
AG3: OPEN/CLOSE CANOPY
AG4: AUTOPILOT FOR GUIDED BOMBS
AG5: JETTISON FUEL TANKS
AG6: JETTISON WEAPON STORES
AG7: CLUSTER BOMB
AG8: LIGHTS
VTOL: FLAPS
v: FLARES
WEAPONS (left to right, see pictures below)
Save weapons as assemblies to duplicate them and then attach them with the pylons to the marked positions under the wing and the fuselage (FLIR must be removed).
MK-83: Simple unguided 500lbs bomb
GBU-12: Laser guided 500lbs bomb
(AUTO-Mode: Lock Target as with normal A/G missile
MANUAL-Mode: use cameras (F5, F6...), press AG4 to activate bombsteering and steer GBU as any aircraft after dropped)
BLG-252: Cluster bomb, must be dropped with AG7, drop in 30° dive at 3000ft AGL recommended
AGM-65: Standoff long range heavy A/G missile
EQ-LMF-70/19: rocket pod with 19 70mm unguided rockets in rapid fire configuration
Giat M20A1: 20mm Cannon with explosive shells
Drop Tank: 82gal drop tank
AGM-176: Short range A/G missile against armoured targets
AIM-9L: Heatseeking short range A/A missile with off-boresight capability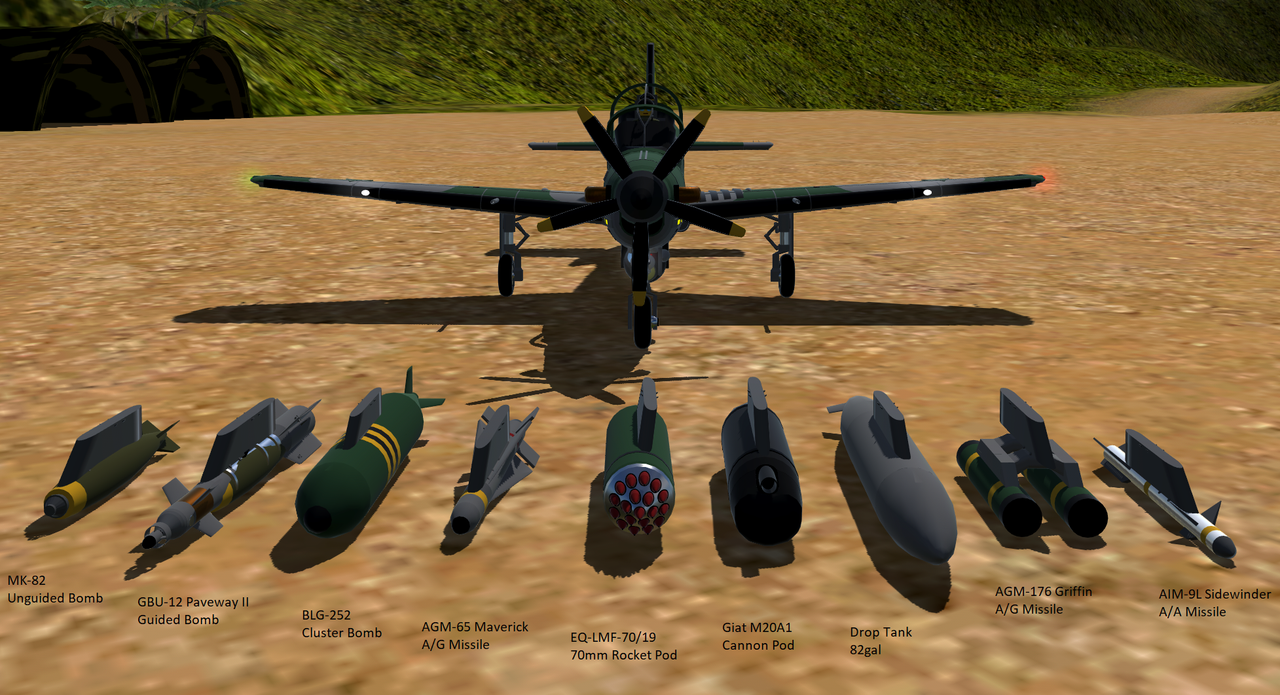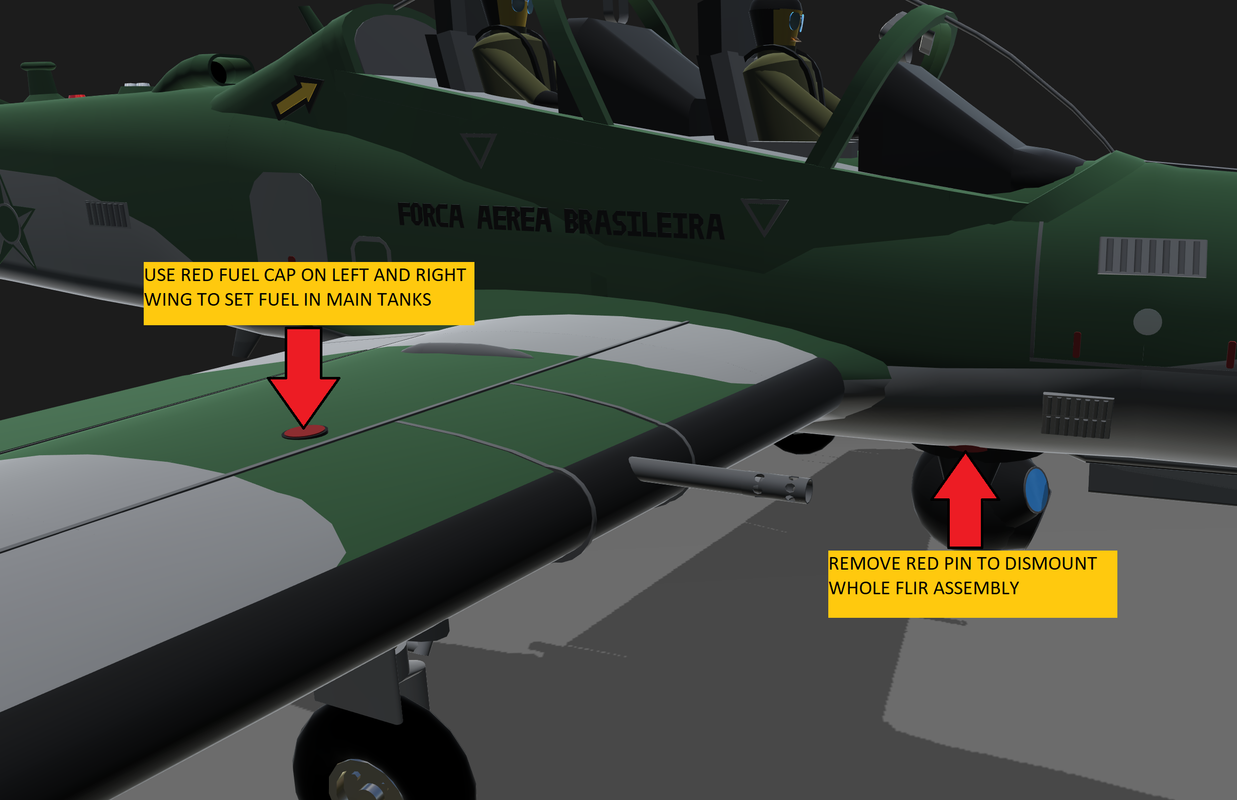 SPECIFICATIONS:
Vmax: 370 mph
Vstall: 92 mph
Vapp: 120 mph
Range: 720 nm
Service Ceiling: 35,000ft
Emptyweight: 7055 lb
MaxTOweight: 11,905 lb
Powerplant: P&W PT6 with 1604 hp
Sensors: FLIR Pod AN/AAQ-22
Some impressions (USAF-version):
Weapons:

Ejection Seats: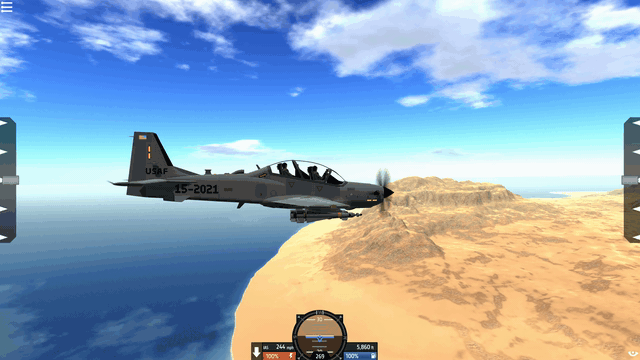 Animated Landing Gear: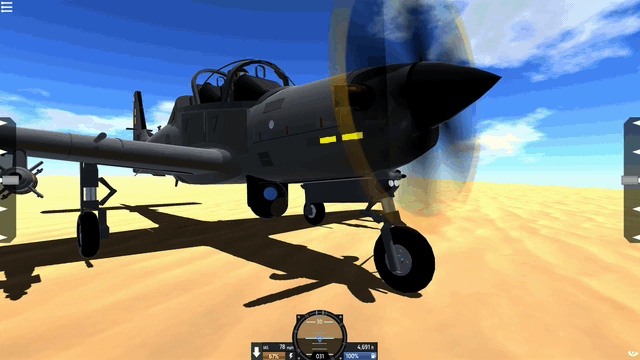 FLIR:

Specifications
General Characteristics
Predecessor

A29 Brazilian Air Force (Beta)17

Created On

Windows

Wingspan

38.3ft (11.7m)

Length

61.5ft (18.8m)

Height

15.1ft (4.6m)

Empty Weight

7,298lbs (3,310kg)

Loaded Weight

8,480lbs (3,846kg)
Performance
Power/Weight Ratio

4.769

Horse Power/Weight Ratio

0.153

Wing Loading

22.7lbs/ft2 (110.6kg/m2)

Wing Area

374.3ft2 (34.8m2)

Drag Points

1666
Parts
Number of Parts

1300

Control Surfaces

7

Performance Cost

5,458
---