First of all, Thanks to all of my followers and supporters for helping me reach 100k! As this is one of the greatest milestones in SP, I always wanted to make something special to celebrate it. So, here it is. I proudly present to you the iconic plane from my country's air force!
The Chengdu J-7 is a People's Republic of China license-built version of the Soviet Mikoyan-Gurevich MiG-21. Though production ceased in 2013, it continues to serve, mostly as an interceptor, in several air forces, including the Bangladesh Air Force.
The F-7BGI has better functionality than MiG-21. Reportedly more maneuverable than most of the MiG-21s and many of the other contemporary fighters. It also looks a little different than a MiG-21 as its wings are a little swept.
I'm not good at making replicas but still tried my best here, making it my most detailed plane so far (although it is not so decent a replica by performance but I guess I upgraded the real plane here, XD!).
FEATURES
Realistic Camo and Stickers!
Fully Custom and Realistic Landing Gears!
Retractable Landing Lights (Retracts along with LG)
Realistic Custom Airbrakes!
Flaps and Slats
Realistic Size
Realistic Flight Model (Best performance at top speed)
No cockpits again (XD, Sorry!)
ARMAMENTS
2 x 30mm Type 30-1 Autocannons (with 60 rounds in each)
4 x Sidewinders (Guardians)
Flares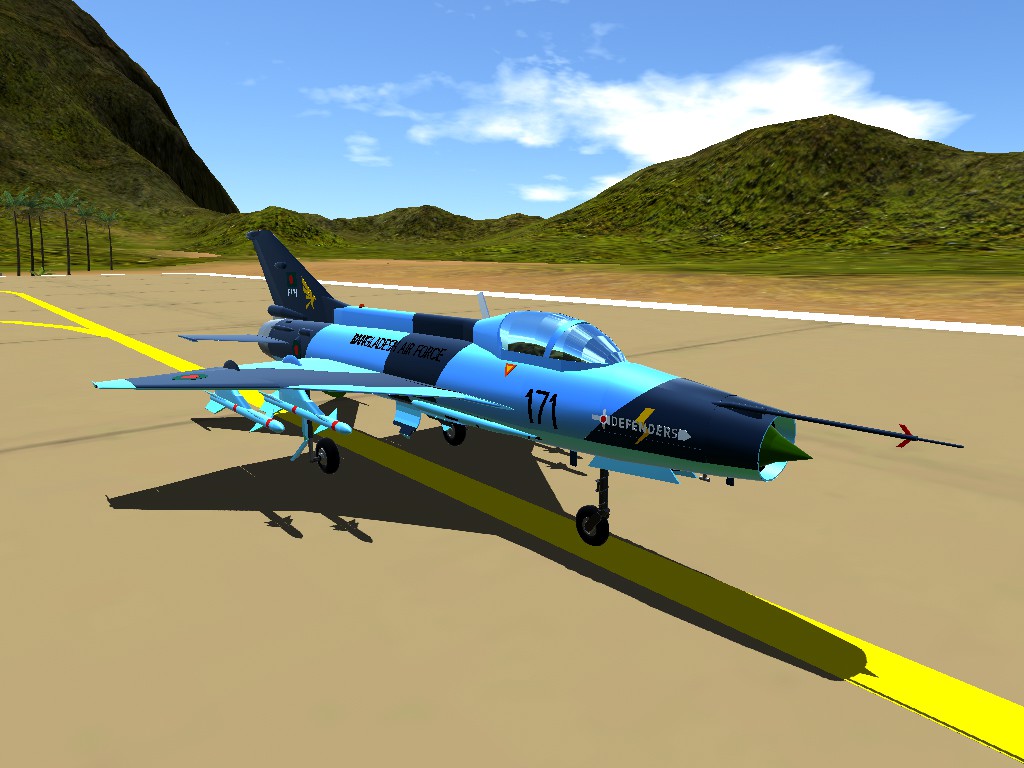 CONTROLS
Normal Flight Controls
VTOL Down to deploy Flaps
VTOL Up for Afterburner. VTOL Neutral to turn off
AG1 for Brakes
AG2 for Nav Lights
AG3 to deploy Chutes
AG4 to jettison all missiles
Camera 1 to look at the tail
Here are some more Camos
Dark Camo

Light Camo

Enjoy! Have a nice flight!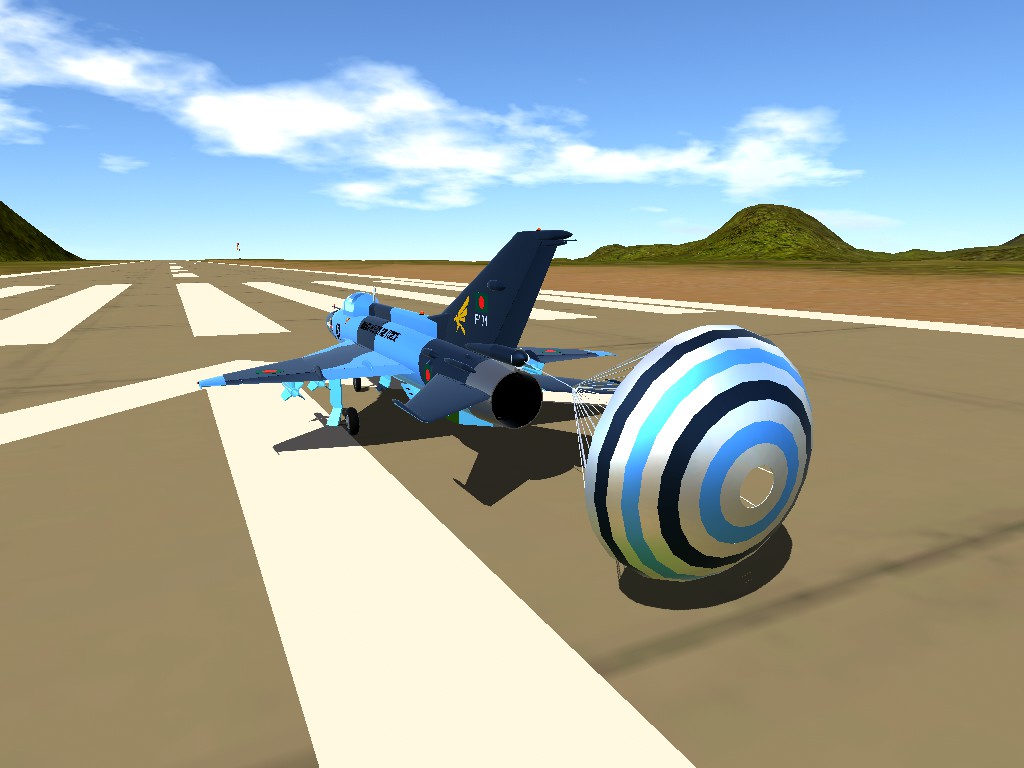 CREDITS
EternalDarkness for some of the LG FunkyTrees
DarthAbhinav for making it fly like a dream and creating a cool thumbnail
BogdanX for testing and fixing important issues
THANKS GUYS!
Specifications
General Characteristics
Created On

Windows

Wingspan

26.8ft (8.2m)

Length

48.7ft (14.8m)

Height

13.5ft (4.1m)

Empty Weight

108lbs (49kg)

Loaded Weight

21,681lbs (9,834kg)
Performance
Power/Weight Ratio

6.374

Wing Loading

70.6lbs/ft2 (344.9kg/m2)

Wing Area

307.0ft2 (28.5m2)

Drag Points

2727
Parts
Number of Parts

747

Control Surfaces

5

Performance Cost

2,484
---