In a parallel universe somewhen
His Majesty's Aircraft
Clear Resolve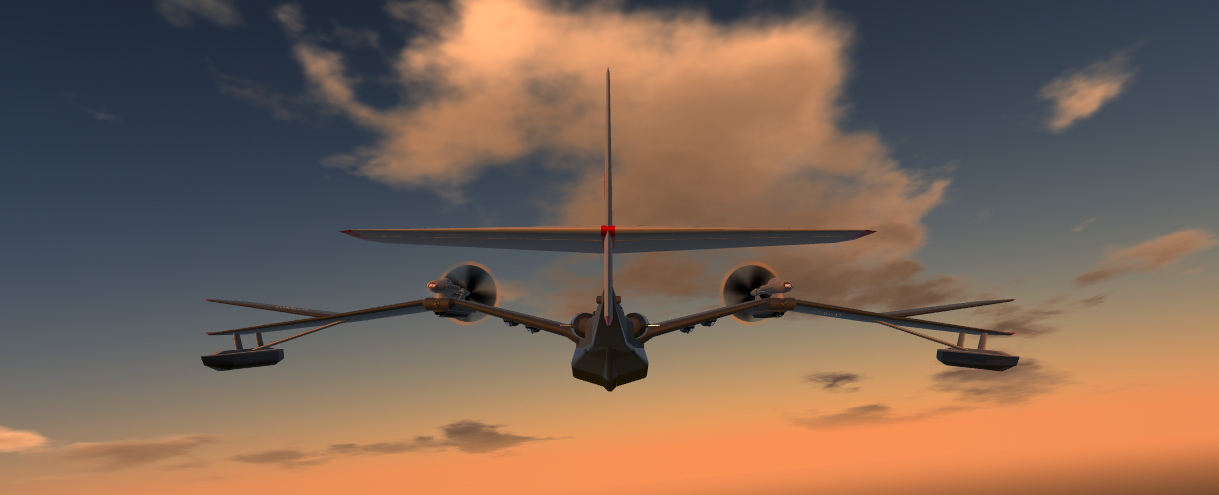 Take-off
AG1 on to enable propulsion. AG2 on to set Lift-Canards for take-off. Apply full throttle and pull up during take-off run; unstick occurs at 180mph. Once airborne, allow the craft to get to 260mph with a positive climb, then AG2 off to centre Lift-Canards.
Maintain full throttle for climb or reduce and set trim as required.
Combat
AG4 enables front turret; use VTOL & Yaw.
AG5 enables Port Gun Blister; use VTOL & right Yaw.
AG6 enables Starboard Gun Blister; use VTOL & right Yaw.
2 torpedos and 4 bombs always available.
Landing
Use 10% throttle for final descent and AG2 on to set Lift-Canards. Maintain 10% throttle for flare and touchdown. Once landed, throttle off.
Taxiing
AG1 off, AG3 on. Use Pitch for forward & reverse, use Roll to steer left & right.
Crew 4
Pilot in upper cockpit, Second Pilot in lower cabin for flight engineer duties when not at the controls.
Front Gunner/Radio.
Rear Waist Gunner/Navigation.
AG1 Main Propulsion enabled.
AG2 Lift-Canards.
AG3 on, AG1 off Taxiing Thrusters; Use Pitch for forward & reverse, Roll to steer left and right.
AG4 Front Turret; use VTOL & Yaw.
AG5 Port Gun Blister; Use VTOL & right Yaw.
AG6 Starboard Gun Blister; Use VTOL & right Yaw.
AG7 Landing Lights.
Built by Langston-Wellings.
Sponsored by Nordsund Port Authority.
Computerised Gun-Sight Provided and fitted by Salvage Squad 9, source unknown.
His Majesty's Aircraft "Clear Resolve" is a small, fast patrol flying boat, operating from our North Western ports. The craft is armed with 2 torpedos and 4 bombs for attack. Front defense is provided by a compact turret. Rear defense is provided by 2 remote controlled blisters operated from the observer's dome, using a computer gun-sight. Like all of His Majesty's flying boats, an important defense strategy is to fly as low as possible and fire upwards when under attack.
Footnote
Did I mention I like building flying boats? This is what 14 jet engines and 4 props look like flying in close formation. The "lift-canard" thingy is a bit of a flawed concept but fitted the look of the build. The overall shape is based on a picture I saw while browsing for ideas but of course I have heavily Treadified it. The master cockpit is on the centre line of the fuselage so view is obscured.
Specifications
General Characteristics
Created On

iOS

Wingspan

87.4ft (26.7m)

Length

79.7ft (24.3m)

Height

18.3ft (5.6m)

Empty Weight

-4,734,385lbs (-2,147,483kg)

Loaded Weight

15,614lbs (7,082kg)
Performance
Power/Weight Ratio

56.995

Horse Power/Weight Ratio

0.128

Wing Loading

17.2lbs/ft2 (84.0kg/m2)

Wing Area

907.7ft2 (84.3m2)

Drag Points

5587
Parts
Number of Parts

452

Control Surfaces

4
---