This is a pack of AIM-9s (Air Intercept Missiles) including, from worst to best, the B, D, L, P & X variants. They are all pretty much accurate in scale and mass. I tried making them all behave relatively realistic while also being balanced. Tried keeping them relatively simple, 15-25 parts each, while having a somewhat accurate resemblence to the real ones.
How to use?
Simply remove the attachment points inbetween each missile's detacher and its respective pylon, then save each missile as a sub-assembly. Mounting them onto your plane is just as easy- Simply use multi-edit mode in FineTuner to move the missile into the desired position, then attach the top of the detacher to a pylon located on your plane.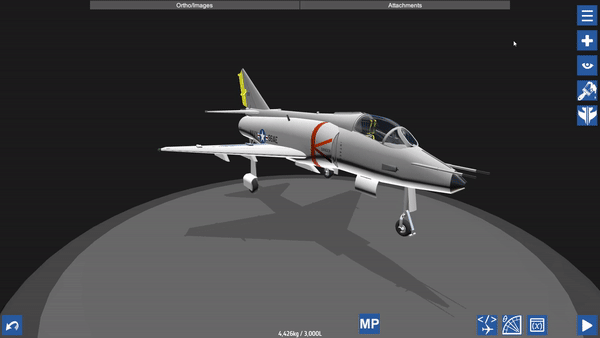 Note: Be careful if mirroring a missile, the attachment points inbetween the missile itself and its detacher tend to get messed up, so you will have to redo them.
Specifications
General Characteristics
Created On

Windows

Wingspan

15.6ft (4.8m)

Length

9.9ft (3.0m)

Height

4.5ft (1.4m)

Empty Weight

939lbs (426kg)

Loaded Weight

939lbs (426kg)
Performance
Wing Loading

N/A

Wing Area

0.0ft2 (0.0m2)

Drag Points

0
Parts
Number of Parts

98

Control Surfaces

0

Performance Cost

262
---