Twice the Speed of Sound: The Convair B-58 Hustler!
---
Yes I know I have a typo in the last pic. I type sloppy. Not sorry
---
Please use High Physics.
---
As recommended by YourCrush, I've brought the B-58 Hustler to life. This hundred-foot plane was used by Strategic Air Command for a short life of 10 years but came with many advanced features for its day. It's massive delta wing, four engines and unique bomb pod make for an interesting aircraft.
---
Despite the size of this aircraft, CalculateDrag=False on most parts. It should run smoother on most mobile devices.
---
Brief History
The B-58 was Convair's entry for GBEO II, a program for the development of a long-range supersonic bomber. Boeing's submission was of about equal performance, but the Convair model was partially selected in favor due to Boeing already attaining contracts for the B-52. The B-58 Hustler, as it was soon known, entered service on March 15, 1960. It served with the 43rd and 305th Bombardment Wings until its retirement in 1970.
---
This Model
Like my Voodoo, this aircraft was designed with realism. Thrust to Weight is somewhat accurate, and wing load is just about 44 pounds per square foot. It has to use a large portion of the runway to take off properly. Landing requires the drogue chute and dumping fuel. It even has a rear gun turret to ward off those Migs, which it does nicely.
---
Controls
AG1- Afterburner
AG2- Dump Fuel
AG3- Drogue Chute
AG4- Activate Cannon and Lock Aircraft Controls
AG5- Activate and Arm Mark 15 Nuke
AG6- Open for Customization
AG7- Open for Customization
AG8- Open for Customization
---
Landing Notes
Landing without dumping fuel usually results in snapping the front gear off and ripping the wheels off the back gear. Not good. So it is highly recommended to follow proper landing procedures.
1. Dump Fuel AG2 starts the dump fuel process. It is recommended to land with less than 70% fuel. To calculate how much fuel to dump, start by finding the % of fuel you want to land with. Add 6% to that number to factor in landing approach and fuel dump shutdown. Dump fuel until that new number
2. Start Approach The B-58 is not an agile plane, so staring out 10 miles from the runway gives enough time to line up. Bandit Airport is a little short, so avoid landing there.
3. Deploy Gear C'mon, you should know this.
4. Land Touch down gently, then deploy drogue chute and full brake. This plane does take a while to slow down
---
Weapons Notes
Rear Gun
The rear gun is activated by AG4. It locks all plane control surfaces, so it is important to trim out the plane before use. Pitch and Roll for controls, Mouse as Joystick is not needed because this turret uses the (sum(Input*1) Funky Tree expression
Mark 15 Nuke
This is a two-stage WMD. AG5 arms and activates it. To deploy, click Mark 15 Nuke. This drops the weapon. Once it is the general area of the target (<0.25 mile) press !! Mark 15 Nuke Detonator !!. This will detonate the nuke. Will cause lag or crash the game on some (most) devices. Don't look at it to avoid most lag. I already got a picture of it going off for you.
---
Gear Notes
The landing gear was the worst part of building this plane. Complete nightmare. A strange bug (I tried to fix it, but nothing worked) where the gear pops out of its bays happens when it is rolled more than 90* to the side or is flying inverted. Sorry about that.
---
Credits
Thanks to YourCrush for recommending this plane. Was a fun build for the most part
Thanks to TheCatBaron for recommending how to learn the "triangle wing technique"
Thanks to F104DeathTrap for allowing me to use your flight model from the TU-22. I modified it of course to fit the B-58.
Thanks to ChiChiwerx for the USAF decals. I know said credit isn't necessary, but those are a lifesaver.
Thanks to Mikoyanster for the new Aero Club map, which I used for screenshots.
And, Thanks to SnoWFLake0s for help on the Funky Trees inputs.
---
Gallery
Big thanks to @KnightOfRen for providing fixed image links.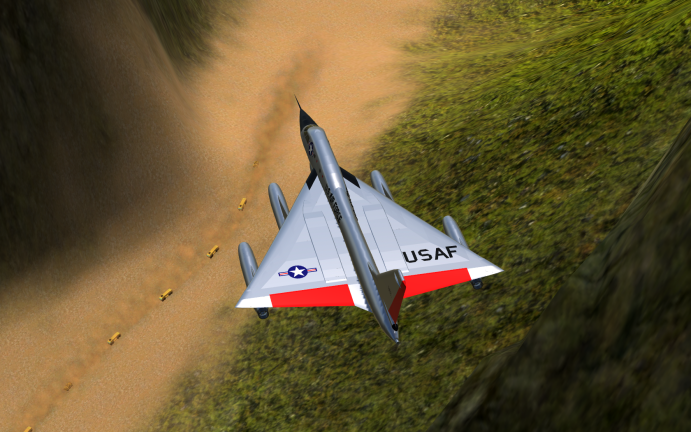 Convoy Flyover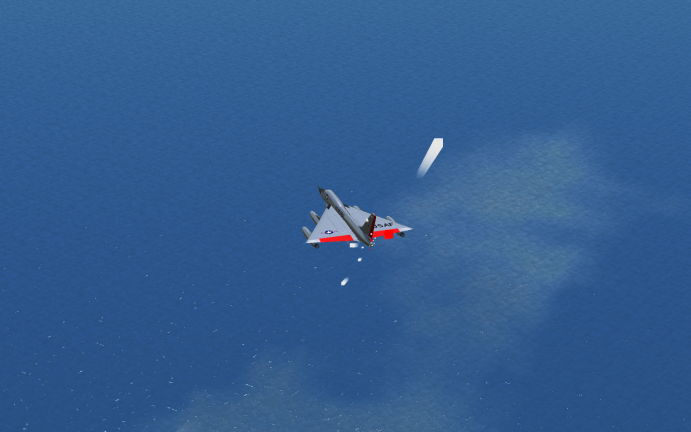 No MiGs!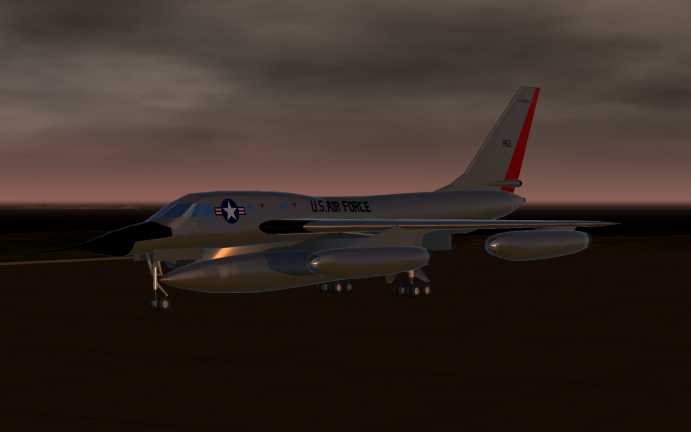 Stormy Day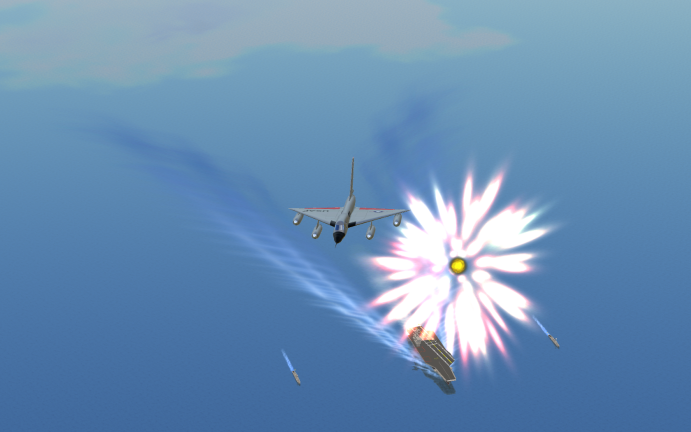 Nuke!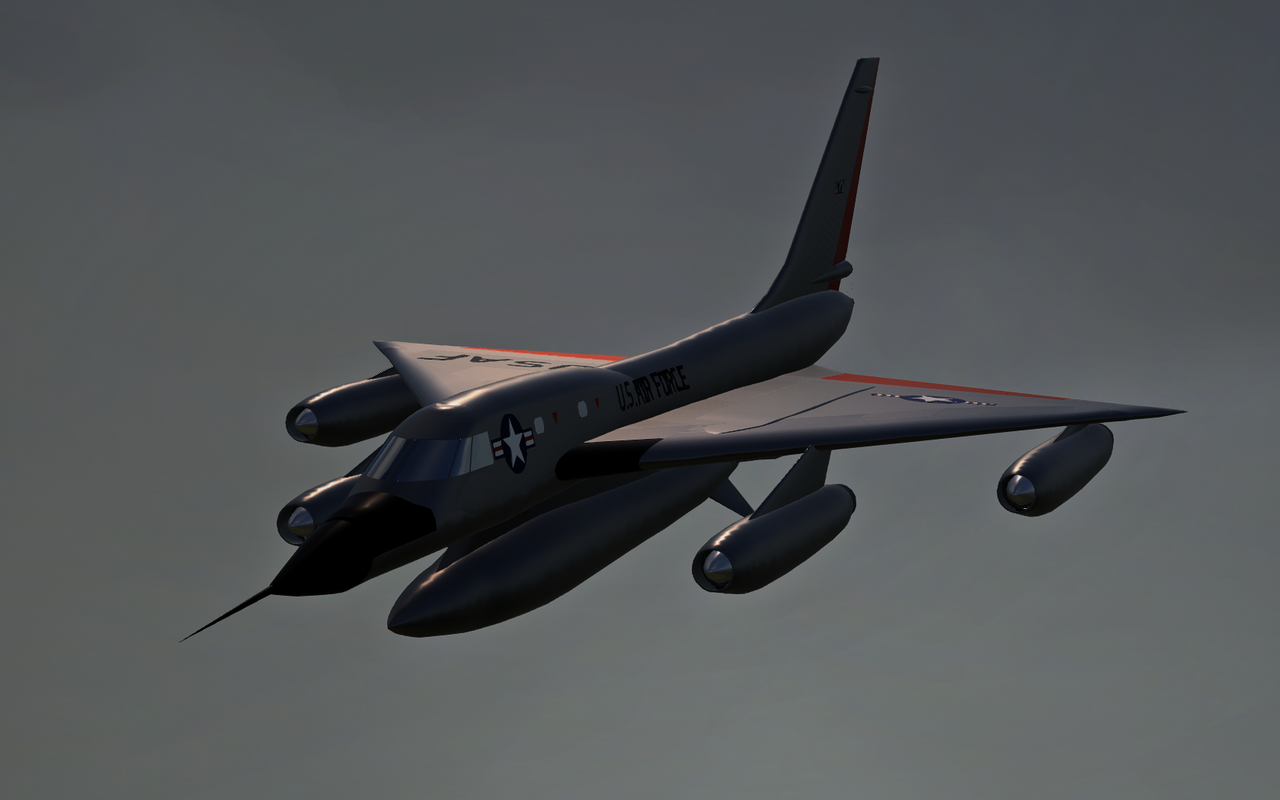 ---
Thanks for making it to the end! Questions, comments, and criticism is welcome! Enjoy the plane!
Specifications
General Characteristics
Created On

Windows

Wingspan

56.3ft (17.1m)

Length

106.5ft (32.5m)

Height

31.1ft (9.5m)

Empty Weight

119,446lbs (54,180kg)

Loaded Weight

179,889lbs (81,596kg)
Performance
Power/Weight Ratio

0.787

Wing Loading

43.9lbs/ft2 (214.5kg/m2)

Wing Area

4,095.0ft2 (380.4m2)

Drag Points

20649
Parts
Number of Parts

862

Control Surfaces

4

Performance Cost

3,099
---