In a parallel universe somewhen
His Majesty's Aircraft
Western Progress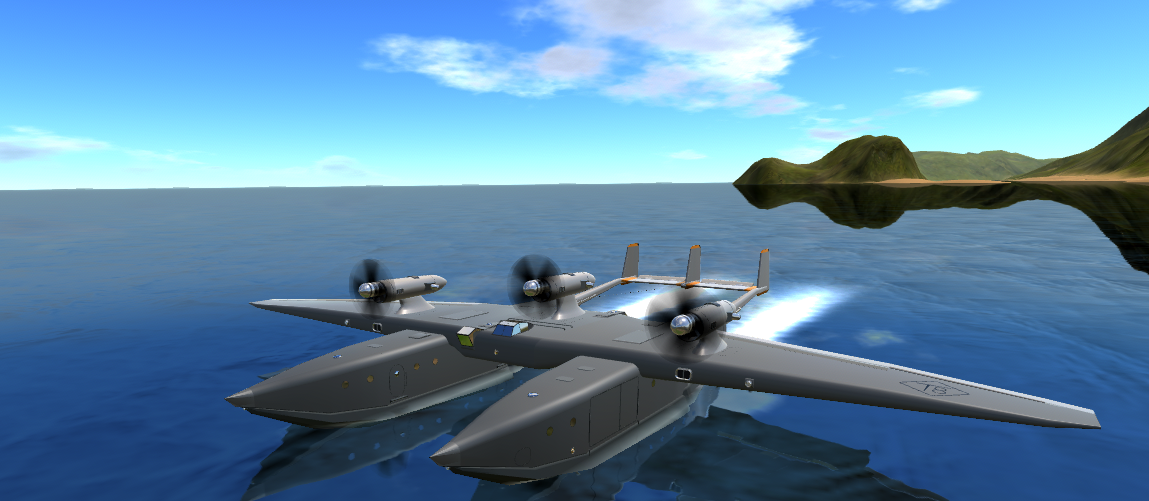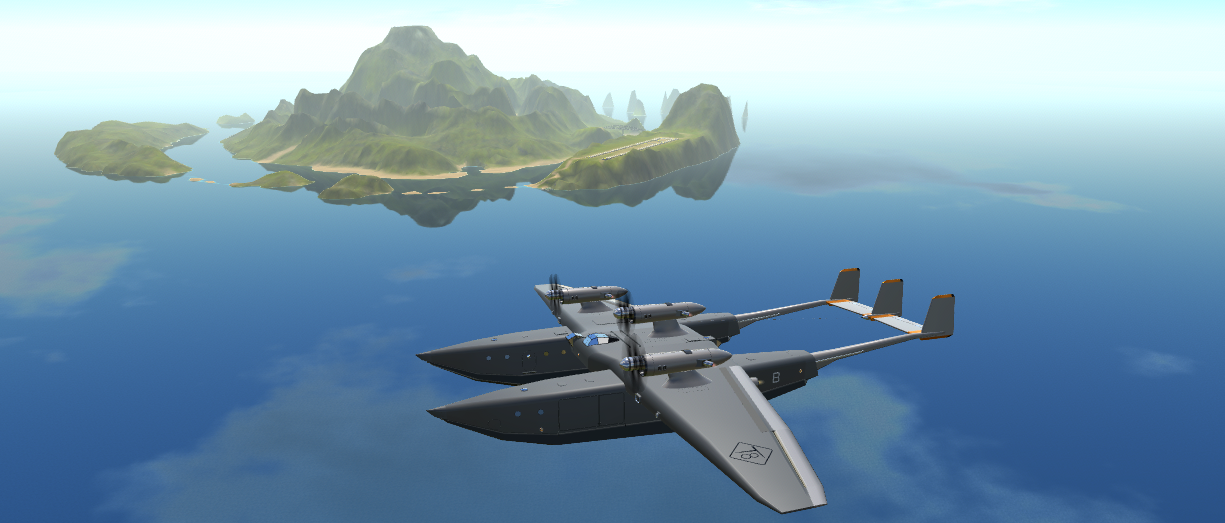 Take-off
AG1 on to enable main propulsion. VTOL down half way to set take-off flaps. Apply full Throttle and pull up during take-off run; Unstick occurs at 200mph TAS. Once airborne, VTOL centre to raise flaps. Maintain 100% throttle for climb then throttle back and apply trim as required.
Note that Pitch authority is strong for take-off and landing so use gentle inputs for normal flight.
Landing
For final approach, use 10% throttle and half to full flaps. On touchdown, cut power; hydrodynamic drag will slow the craft.
Water Taxiing
AG2 on, AG1 off. Use Pitch for forward and reverse, use Roll to steer left and right.
Crew
Pilot & Second Pilot in central cockpit. Navigator/Radio in forward observation position. Flight Engineer in rear observation position. Cabin crew varies according to mission type.
AG1 Main Propulsion. (Ensure AG2 is off)
AG2 Taxiing Thrusters. (Ensure AG1 is off)
AG3 Landing Lights.
Built by Tillman Fabrication
Sponsored by Western Outpost Traders Guild, Frontiersmen Coastal Defense, and Western Slopes Reclamation Project.
His Majesty's Aircraft "Western Progress" provides, as part of the 8th Transport Wing, a vital long range air-link to our Westernmost outposts, carrying passengers, mail and cargo in its twin cabins.
Tillman Fabrication were tasked with ensuring that the craft could operate with minimum ground support, so the craft carries all necessary cargo handling gear internally and can taxi into and out of small areas using its thruster system.
Footnote
Lots of fakery in this build. The props on this build are large so the animation looks a bit wrong at low speeds. Hopefully the Devs will improve this in future. On the take-off run, bear with it at 145mph: I wanted to give the impression of it lifting on to the step and getting faster as it does so before reaching Unstick speed.
Specifications
General Characteristics
Created On

iOS

Wingspan

166.9ft (50.9m)

Length

141.8ft (43.2m)

Height

32.4ft (9.9m)

Empty Weight

-4,734,385lbs (-2,147,483kg)

Loaded Weight

50,057lbs (22,705kg)
Performance
Power/Weight Ratio

11.852

Horse Power/Weight Ratio

0.03

Wing Loading

16.9lbs/ft2 (82.7kg/m2)

Wing Area

2,954.0ft2 (274.4m2)

Drag Points

22951
Parts
Number of Parts

611

Control Surfaces

4
---