AIRCO DH22W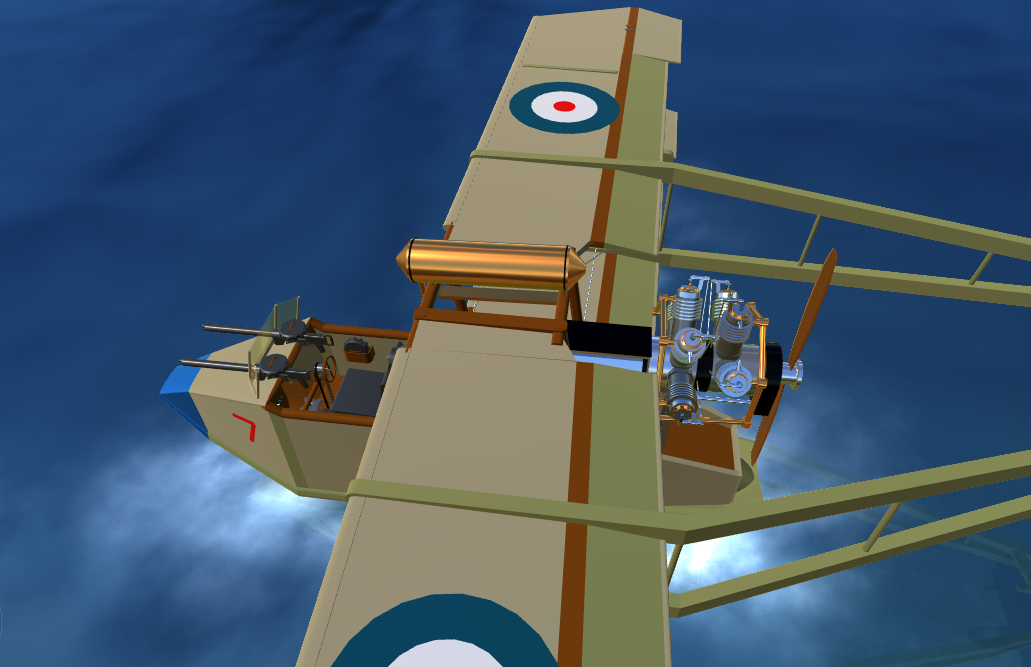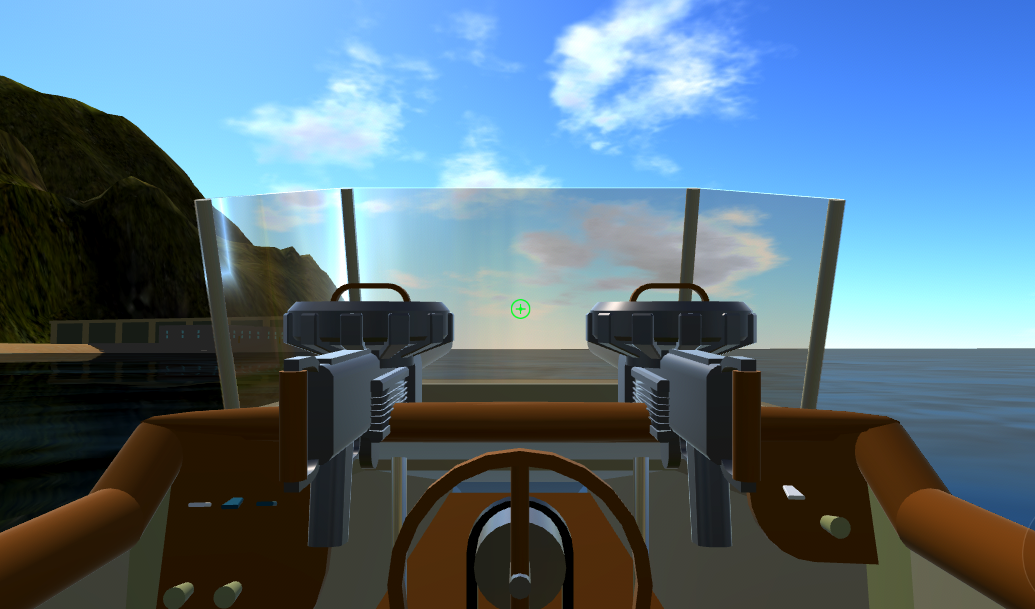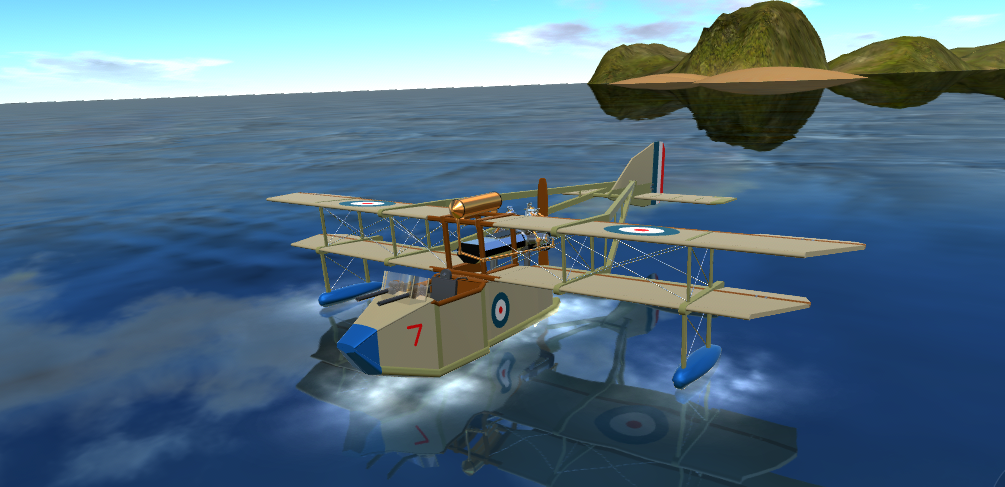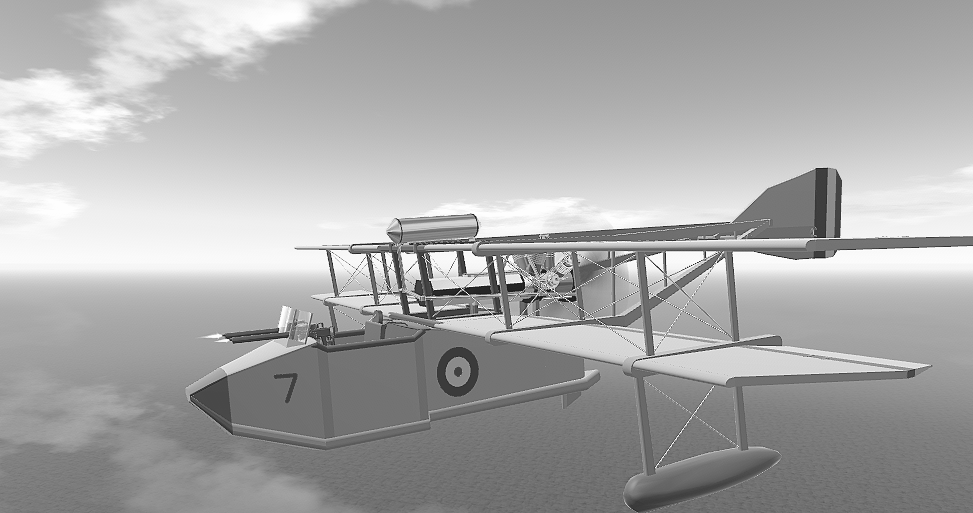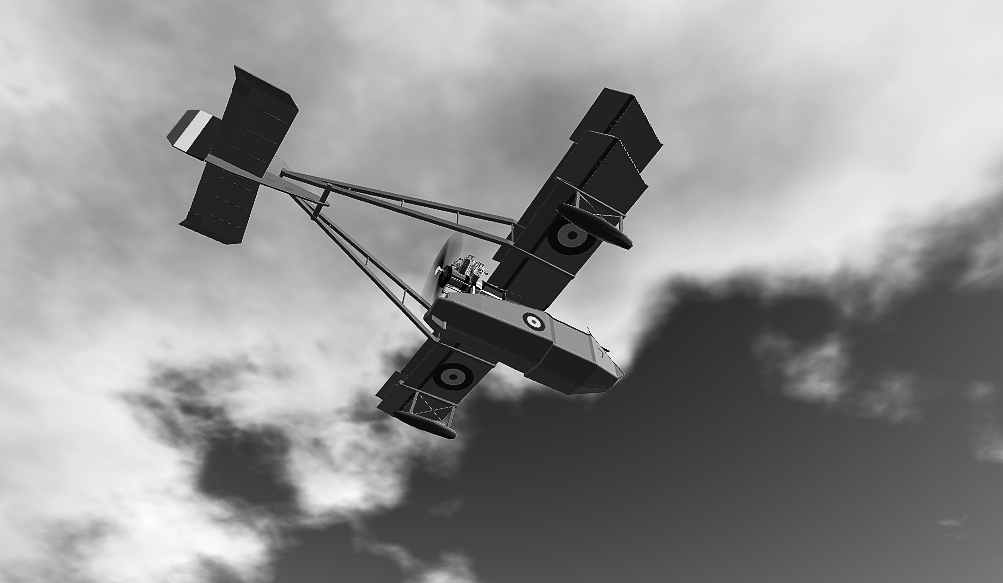 FLIGHT
Take-off
AG1 on to start engine: Engine runs constantly at full power. When speed reaches 70mph, pull up gently and almost fully to lift the nose out of the water; rear of hull will unstick as speed builds further. Once safely airborne, level out and let the speed build before climbing.
Landing
Landings are made with engine off. For descent, AG1 can be toggled on and off as required. At about 100 feet, AG1 off then glide in to land.
Taxiing
Blip engine (AG1 on and off) to move, use Yaw to steer.
HISTORY
The aircraft manufacturer Airco was famous for building many planes for both the British and allied air wings throughout WW1, most of which were designed by the legendary Geoffrey de Havilland.
One notable aircraft was the Airco DH2 which, due to its pusher configuration, gave its pilots good forward fire-power before the advent of Sychronisation Gear.
The Airco DH22W was a radical and ambitious concept whose origins remain something of a mystery. The original basic design was said to be the idea of Fenniston Treadmill, one of Airco's draughtsmen, who presented a series of sketches to Airco's design team.
Several of Airco's senior staff had been watching the development of seaplanes and flying boats and saw Treadmill's design as a possible 'way in' to that aspect of aviation, particularly as the Royal Navy had shown interest in those types.
After some months, the go-ahead was given to build a prototype, now designated DH22W, and work proceeded apace using standard DH2 parts and the adaptable skills of Airco's carpenters and panel beaters.
After a series of test flights, a small production run of 20 aircraft was built and these entered service in the spring of 1916, flying from calm coastal waters, inland lakes and even, when required, from rivers and canals.
In times of war, accurate records, if any, are seldom kept, so how well the DH22W performed in combat is not clear. Anecdotes and diaries from pilots at the time tell of the craft having good performance but, having to take off and land back on water meant that time in combat was sometimes limited. Pilots also described how, once airborne, they often feared landing as much as they feared actual combat; something many seaplane pilots in the future would also attest to.
History now tells us that very small flying boats have limited uses and do not perform well in rough waters, so the debate around the Airco DH22W remains: was it a flawed concept with limited potential? Was it a visionary concept that met the needs of war? Had the war continued, would it have become obsolete, or could it have been developed further?
And what of Fenniston Treadmill? Practically nothing is known of this gentleman, beyond this small contribution to British flying boat aviation. It's possible that this draughtsman went on to help in the design of later aircraft but then so did many others, on so many different aircraft, none of whose names appear in our history books.
DATA
Speed
Speeds of 128mph in level flight are said to have been achieved, making the craft very formidable for the period. Average speed at low altitude in full combat trim was timed at 114Mph during trials before deployment.
Engine
Exact engine type unknown; thought to be a 7 cylinder semi-radial unit.
Armament
2 standard machine guns with 4 magazines of 97 rounds each, more magazines sometimes carried at Pilot's discretion.
FOOTNOTE
So a WW1 challenge comes along and me being me, I couldn't resist trying for a flying boat, albeit a small one. Challenging indeed!
For flight, I decided to try the idea of an un-throttled engine that has to be "blipped" on and off to provide some power when descending, although in practice, it can glide to land from any altitude over open water.
Getting the thing to take off from water but still have a realistically slow overall speed was also challenging but great fun, as was building to a WW1 aesthetic, unlike the Dieselpunk monstrosities I usually concoct where just about anything goes!
Yaw authority on the water is limited with that tiny bottom rudder and the game physics; it's more for aesthetics. Problems with the centre of lift moving wildly when I scaled down the tail meant I had to leave them full size and build the tail assembly around them. Not sure if it's bug as this has never happened so noticeably before. Ho hum.
Specifications
General Characteristics
Predecessor

WWI Challenge

Created On

Windows

Wingspan

33.7ft (10.3m)

Length

34.6ft (10.5m)

Height

10.4ft (3.2m)

Empty Weight

-4,734,385lbs (-2,147,483kg)

Loaded Weight

3,433lbs (1,557kg)
Performance
Horse Power/Weight Ratio

0.091

Wing Loading

9.5lbs/ft2 (46.4kg/m2)

Wing Area

360.9ft2 (33.5m2)

Drag Points

4390
Parts
Number of Parts

503

Control Surfaces

5
---