A quick build to try to refine an old concept of mine. It probably requires high physics.
Controls
Throttle: Altitude
Roll: roll (10 degree max)
Yaw: Yaw
Trim: pitch orientation
VTOL: heavy airbrakes
Landing
Hover over the landing pad, then bring the throttle down to zero.
Activate the heavy airbrakes, then orient the nose down a little bit.
The airbrakes should slow the vehicle to a peaceful fall.
Tips
- Sometimes 100% throttle will cause the pistons to move too slowly. In that case, use 99%.
- Roll can help you with precise lateral movement.
- This aircraft is a mix of a plane and a helicopter, and therefore flies accordingly.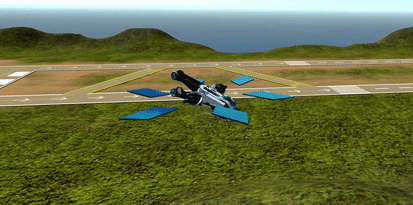 The Anisoptera was the result of collaboration between a small SPEcorp research team and an independent contractor who developed the first instance of piston-induced lift systems. Conceptually, it is nearly identical to its predecessor, but a gyro allows for more precise movements. Only a few units were manufactured, but they sold at a high price to wealthy collectors - resulting in a healthy profit for SPEcorp and involved associates.
Specifications
Performance
Wing Loading

7.8lbs/ft2 (38.2kg/m2)

Wing Area

433.2ft2 (40.3m2)

Drag Points

9889
Parts
Number of Parts

50

Control Surfaces

1
---