Before and after: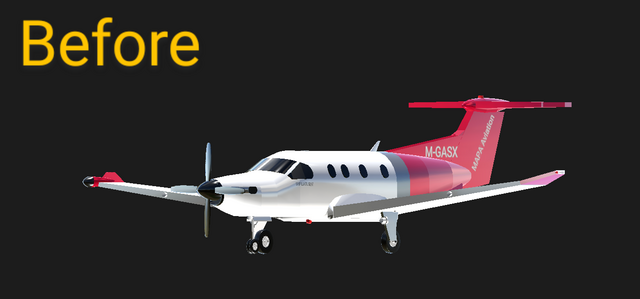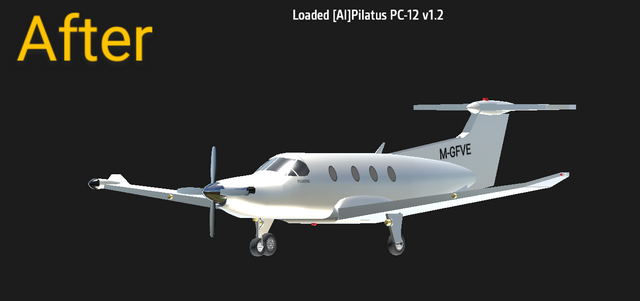 ---
This aircraft follows all the basic AI requirements. It is specially designed for Artificial Intelligence [AI] to simulate air traffic, it is able to land and take off with extreme precision at the main airports in the game, it is also a playable aircraft, you can enjoy air collisions, target shooting or just enjoy of a more realistic air traffic.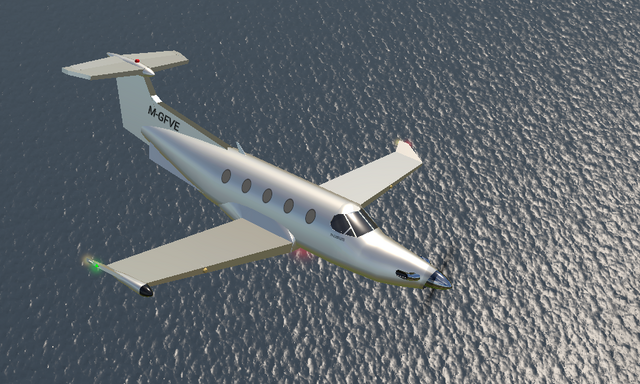 MAPA Aviation · 2023
---
Wiki:
The Pilatus PC-12 is a pressurized, single-engined, turboprop aircraft, manufactured by Pilatus Aircraft of Stans, Switzerland, since 1991. It was designed as a high-performance utility aircraft that incorporates a large aft cargo door in addition to the main passenger door. Due to its efficient, high-utility design, the PC-12 is used by a large variety of operators. The main use for the aircraft is corporate transportation, but it is also used by fractional and small regional airlines, air-ambulance operators, and many government agencies, such as police departments and armed forces. The PC-12 has been the best-selling pressurized, single-engined, turbine-powered aircraft in the world for several consecutive years, with 1,800 deliveries made as of April 2021.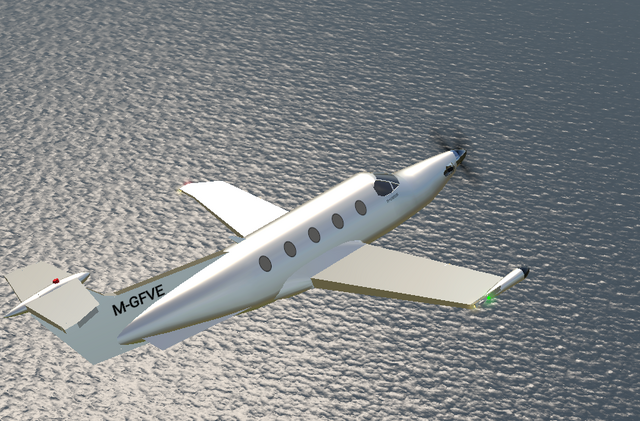 In October 1989, Pilatus announced the development of the PC-12 at the annual convention of the National Business Aviation Association (NBAA).? Prior to the 1989 announcement, the PC-12 project had been worked on for some time under high levels of secrecy; by the time of the announcement, assembly of the first prototype had already commenced. Pilatus believed that the PC-12 would fit a new market not served by existing aircraft and that the type would be the first single-engined aircraft, with a large cabin, that would be capable of flying at high speeds across long distances. The two prototypes were completed on 1 May 1991, with the first flight taking place on 31 May 1991. Swiss certification of the type had been originally planned for mid-1991,? but a redesign of the wings (increase of wingspan and addition of winglets to ensure performance guarantees were met) delayed progress. On 30 March 1994, the Swiss Federal Office of Civil Aviation issued the type certificate for the PC-12; Federal Aviation Administration approval in the U.S. followed on 15 July 1994.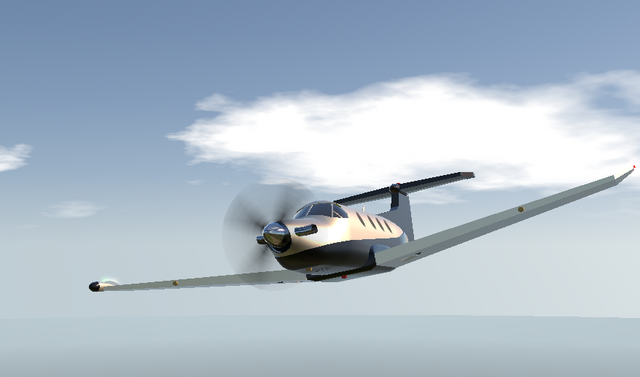 Since entering service, Pilatus developed a large number of improvements and options upon the original PC-12 model; changes include increases in the maximum takeoff weight, the use of increasingly powerful engines, the adoption of new avionics, noise-reduction measures, new propellers, speed and range increases, additional interiors, and new inflight entertainment systems. Other aviation firms, such as Finoff Aviation Products, have also produced their own independent products and aftermarket enhancement packages for the PC-12.
Pilatus announced the PC-12NG (Next Generation) at the 2006 NBAA meeting in Orlando and officially launched it during the NBAA 2007 in Atlanta. The NG features a more powerful Pratt & Whitney PT6A-67P engine with better climb performance and an increase in maximum cruise speed to 280 knots true airspeed (TAS). The NG also features a Honeywell Primus Apex glass cockpit; prior to this, the PC-12 had been one of the few high-end models to lack flat-panel avionics. The revised cockpit includes automatic pressurization control, as well as cursor controlled inputs to the navigation system. The PC-12 NG winglets have also been modified from the original version. Within two years of launch, over 200 orders reportedly had been placed for the PC-12 NG. In May 2008, the first PC-12 NG was delivered.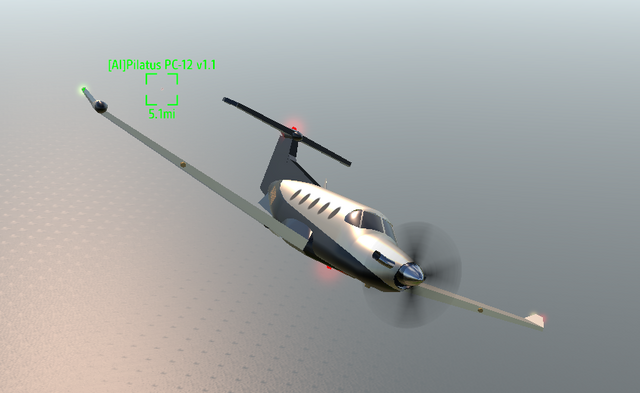 The PC-12M (Multipurpose) is based on the PC-12 NG, but equipped with a more powerful electrical generation system that allows installing additional power-consuming equipment. This enables the PC-12M to perform missions such as flight inspection, air ambulance, aerial photography, and aerial surveillance. An optional utility door accommodates parachute drops of people and cargo. This version is marketed in the United States as the PC-12 Spectre paramilitary special-missions platform.
On 18 December 2012, Pilatus officially opened its Chinese headquarters in Chongqing Liangjiang and announced future manufacturing of the PC-12 for Asia-Pacific customers on the production line at this site. In September 2014, it was announced that the production for various aerostructures for the PC-12 NG would be performed by Tata Aircraft Systems in India from 2016 onwards, these parts having previously been manufactured by PZL-Swidnik in Poland.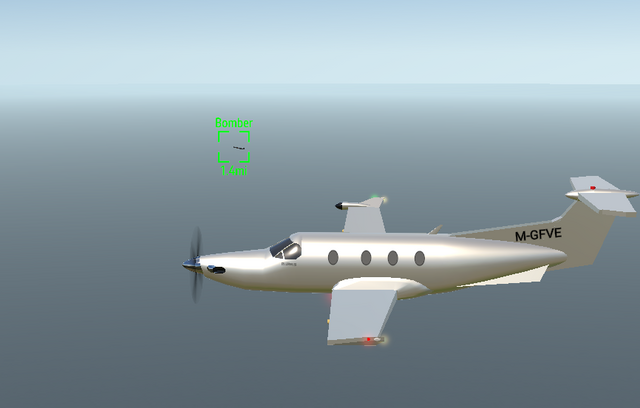 PC-12NGX
At the October 2019 NBAA convention, Pilatus announced the already certified PC-12NGX. Its PT6E-67XP includes a full-authority digital engine control and a low-speed propeller mode to lower cabin noise. It reaches a 290 kn TAS (537 km/h) cruise. Updated Honeywell avionics with autothrottle feature both cursor control device and touchscreen. Adapted from the PC-24, the cabin windows are 10% larger and the redesigned cabin include new seats. Scheduled maintenance is extended to 600 flight hours and time between overhaul increases from 4,000 to 5,000 hours. Deliveries should start in the second quarter of 2020 at a US$4.39 million base price, up to 5.369 million typically equipped as an executive aircraft. In 2021, its equipped price was $5.443M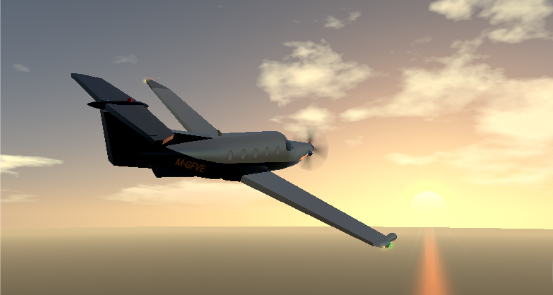 Real Photo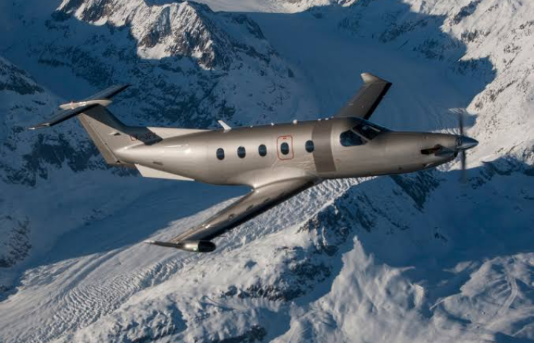 Credit: Cavok
---
Controls: Standard
Thank you for your attention, Enjoy it!
---
Variants:
PC-12 M-GFPE Livery (96 Parts)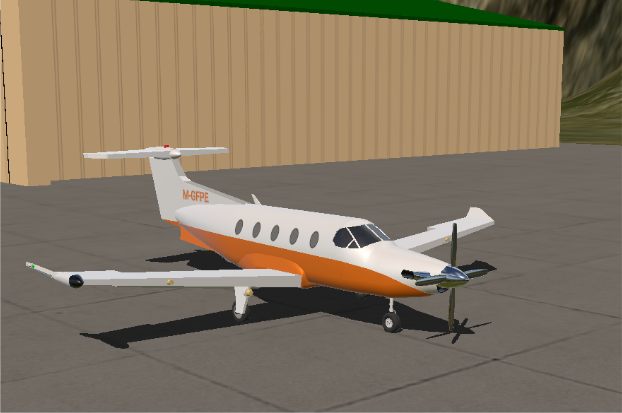 [AI] Deluxe Version (92 Parts)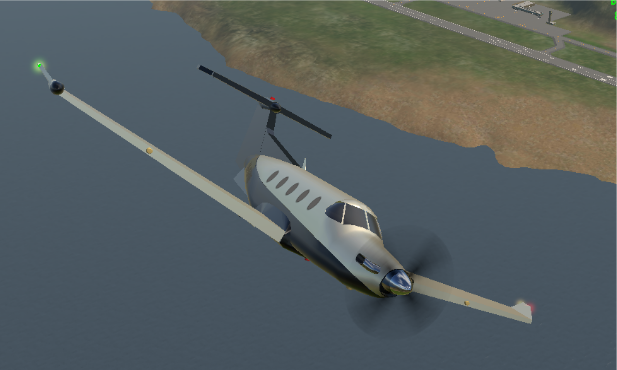 Specifications
General Characteristics
Predecessor

Pilatus PC-12

Created On

Android

Wingspan

65.0ft (19.8m)

Length

59.0ft (18.0m)

Height

18.0ft (5.5m)

Empty Weight

8,245lbs (3,739kg)

Loaded Weight

12,266lbs (5,563kg)
Performance
Horse Power/Weight Ratio

0.163

Wing Loading

23.1lbs/ft2 (112.7kg/m2)

Wing Area

531.5ft2 (49.4m2)

Drag Points

4503
Parts
Number of Parts

90

Control Surfaces

7

Performance Cost

446
---