In a parallel universe somewhen
His Majesty's Aircraft
Broken Shadow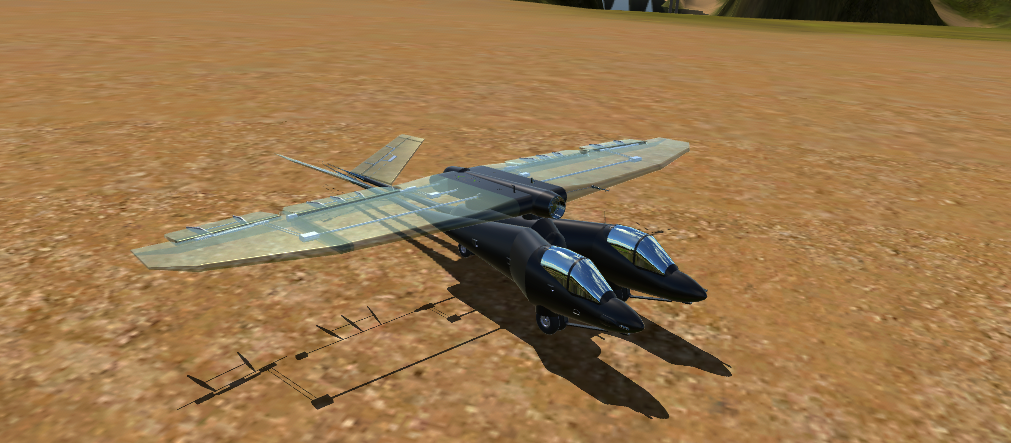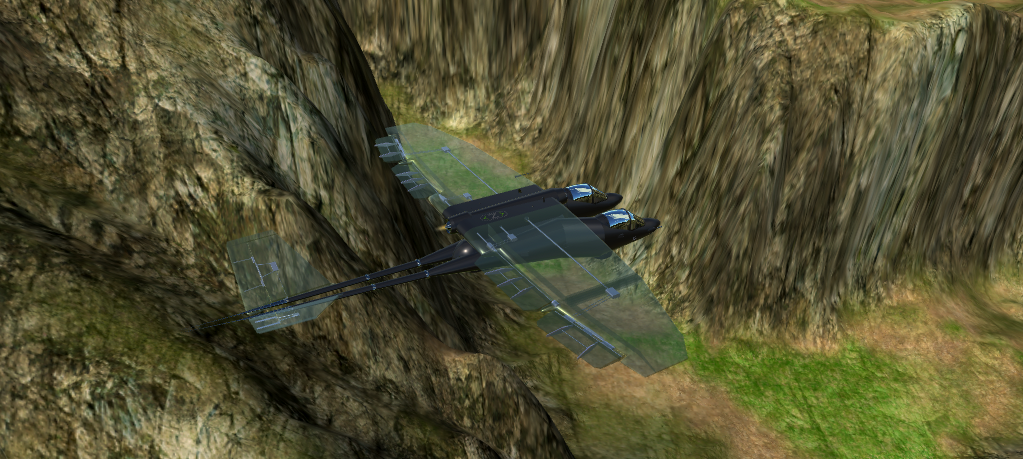 Take-off
VTOL down half way to set flaps. Apply full throttle; the craft will self launch at 160mph TAS. Once airborne, VTOL centre to raise flaps then raise undercarriage. Maintain full throttle for gentle climb/fast turns, otherwise throttle back and set trim as required.
Landing
Use 10% throttle for final descent. When speed drops to 170mph, VTOL down half way to set flaps. On touchdown, throttle off and brake gently.
Use full flaps for deadstick landings.
Taxiing
Low throttle and Yaw.
Crew: 2; configuration of cockpits and roles of crew not published.
Built by: Not published.
Sponsored by: Not published.
AG1 Centre-line Cannon.
AG2 Nose Machine Guns.
AG3 Landing Lights.
His Majesty's Aircraft "Broken Shadow" is a small, 2 seat scout aircraft tasked with artillery spotting, low level visual reconnaissance and, when opportunity presents, ground attack/interdiction using its cannon.
Because of the craft's unique and secret construction, sorties are carried out from remote airfields and its crew never interact with other H.M.A. Or other High Guard personnel. Missions are planned and transmitted to the crew either by coded radio or by special courier.
The craft is armed with a single cannon mounted on the centre-line for ground attack, and has defensive machine guns on the outside front of each cockpit nacelle.
The Craft and crew are thought to be currently assigned to the Northern Zenith Regiment as the craft has been seen overflying matériel convoys and troop deployments in that region.
Footnote
Glass……but with health increased to 100..! The master cockpit is on the centreline because reasons.
Specifications
General Characteristics
Created On

iOS

Wingspan

54.0ft (16.4m)

Length

51.2ft (15.6m)

Height

9.4ft (2.9m)

Empty Weight

-4,734,385lbs (-2,147,483kg)

Loaded Weight

6,754lbs (3,063kg)
Performance
Power/Weight Ratio

22.958

Wing Loading

15.0lbs/ft2 (73.3kg/m2)

Wing Area

450.1ft2 (41.8m2)

Drag Points

5360
Parts
Number of Parts

323

Control Surfaces

4
---