In a parallel universe somewhen
His Majesty's Aircraft
Shaken Ground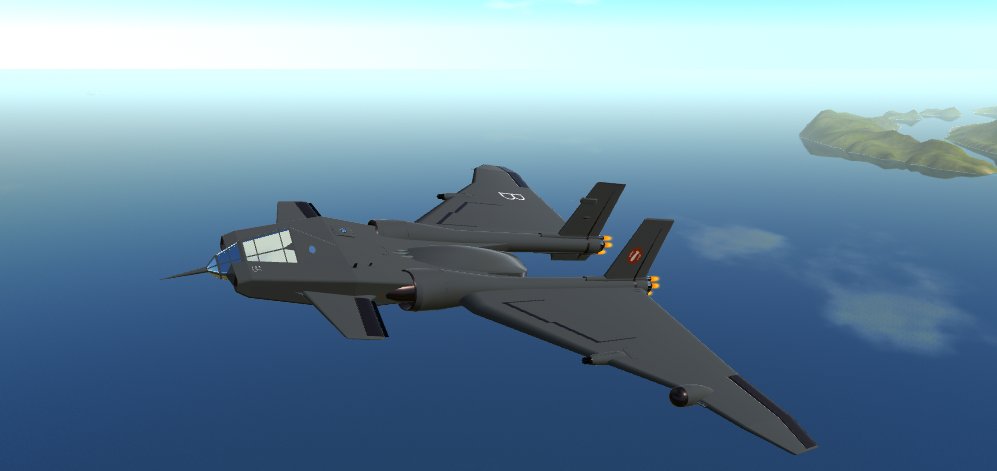 Take-off, normal flight
Apply full Throttle; rotate at 300mph. Once airborne and gear up, maintain full Throttle for gentle climb and normal flight, or throttle back and apply Trim as required.
Boosted flight
Once airborne and gear up, AG1 to enable Booster Jets. Ag1 off before landing.
Bombing Run
The craft's single Bomb is extremely powerful; Bomb should be dropped from as low an altitude as possible for accuracy, but not lower than 4,000ft with full throttle and booster jets.
Bombing runs can be made with or without Booster Jets, the Pilot and Bomb-Aimer having decided the best speed and altitude for the mission.
After bomb release, adjust Throttle and Trim as required.
Landing
Use 15% Throttle for final approach and landing, with VTOL down fully for Lift Assist on canards. On touchdown, Throttle off and apply full brakes.
Taxiing
Low throttle and Yaw: keep speed below 40mph to have steering.
Crew
4: Pilot/Gunner, Second Pilot, Radio/Navigation, Radar/Bombardier.
Built by: Tillman Fabrication.
Radar: Electric Eye.
Sponsored by: Central Command for the new role's modifications. Original sponsor(s) undisclosed.
AG1 Booster Jets.
AG2 Arm Bomb.
AG3 Wing Rotary Cannon.
AG4 Landing Lights.
His Majesty's Aircraft "Shaken Ground" has been re-tasked and re-fitted from its original role as a strategic bomber, to that of Tactical Strike, using a single, heavy gravity bomb.
The craft's original bomb dropping gear has been replaced with a single large carrier so that the ordnance is held in a semi-recessed position. A Bombing radar has been fitted to the port wing, although the craft retains the original bomb-aimer's window.
4 booster jets have been fitted to enable a fast dash into and out of the drop-zone.
Defensive rotary cannon have been fitted in each wing.
As part of 55 Squadron, the craft flies missions deep into enemy territory, usually accompanied by diversionary sorties and electronic warfare craft flying at higher altitudes.
Footnote
For this build, I increased the Bomb's ExplosionScale to 10, to give it that "MOAB" look on impact. Your frame-rate may slow down for a few seconds.
I messed around with Yaw on this build but couldn't get a satisfactory result.
Procedural undercarriage from the Devs? Maybe one day but I will continue to build my own weird landing gear; much more challenging and fun!
Specifications
General Characteristics
Created On

iOS

Wingspan

109.7ft (33.4m)

Length

94.2ft (28.7m)

Height

26.5ft (8.1m)

Empty Weight

-4,734,385lbs (-2,147,483kg)

Loaded Weight

60,017lbs (27,223kg)
Performance
Power/Weight Ratio

3.332

Wing Loading

31.5lbs/ft2 (154.0kg/m2)

Wing Area

1,903.2ft2 (176.8m2)

Drag Points

19183
Parts
Number of Parts

558

Control Surfaces

4
---