Not a replica plane this time; just a silly, nostalgic toy I made for fun. Don't expect even the least bit of realism; this thing comes straight outta some videogame made a long time ago in a galaxy far away…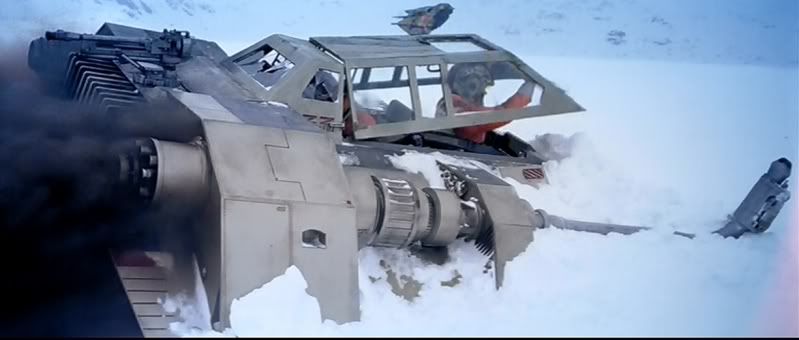 "The T-47 airspeeder, also known as the T-47 light airspeeder, was a model of low-altitude vehicle manufactured by Incom Corporation. When the Alliance to Restore the Republic was stationed on the icy planet of Hoth, a contingent of T-47 airspeeders were modified to become ground attack, low-altitude fighters called snowspeeders. A small, wedge-shaped vehicle, the Alliance snowspeeder was a two-person craft, with a pilot and a rear-facing tailgunner with a max speed of 1100 kph. It had two forward-facing heavy laser cannons and a harpoon cannon and light laser placed ahead of the tailgunner." -wookieepedia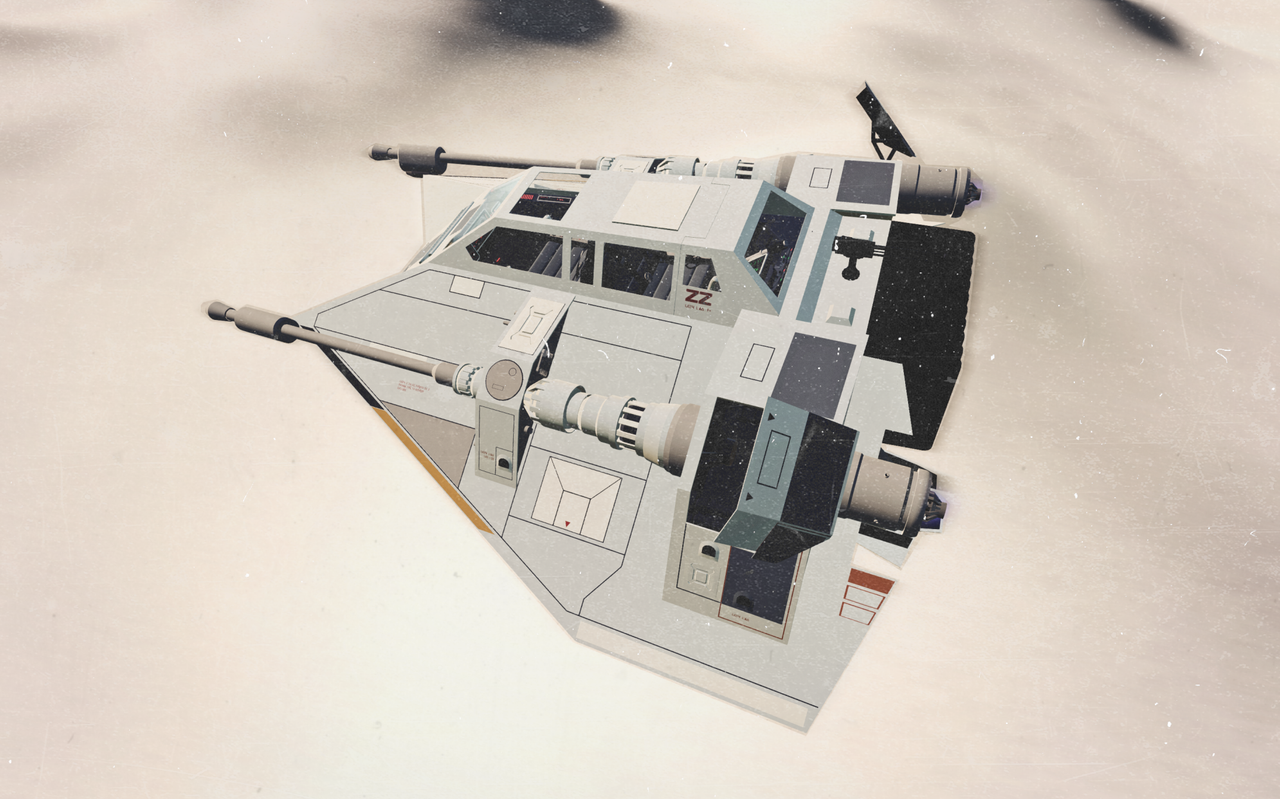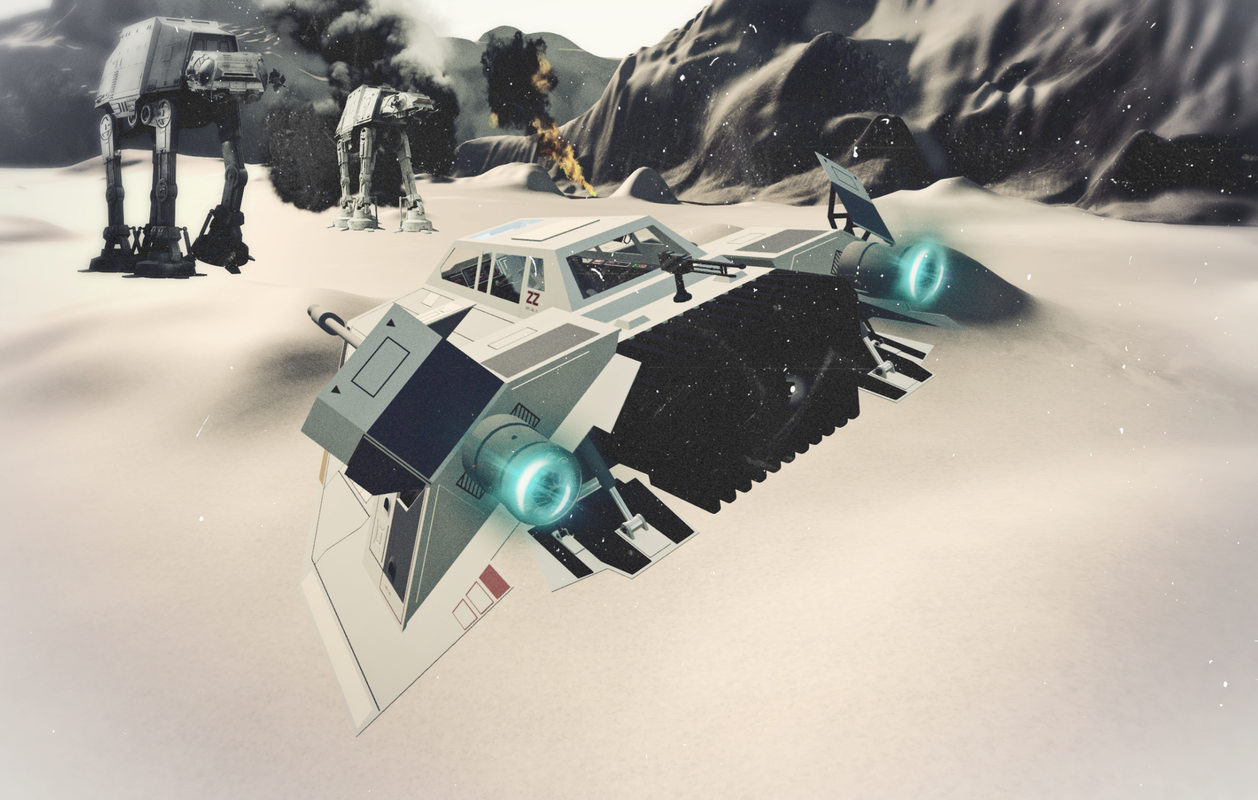 The build
As I already said: scrap the realism. I couldn't find a sufficiently snowspeeder-esque one on SP, so I decided to cobble something together myself. It's supposed to be Luke Skywalker's speeder; in the old movie, you'll notice his speeder doesn't have the red striping of his squadron, but rather some blue-grayish faded striping. Doesn't look quite as flashy as the red, but hey –I didn't design it.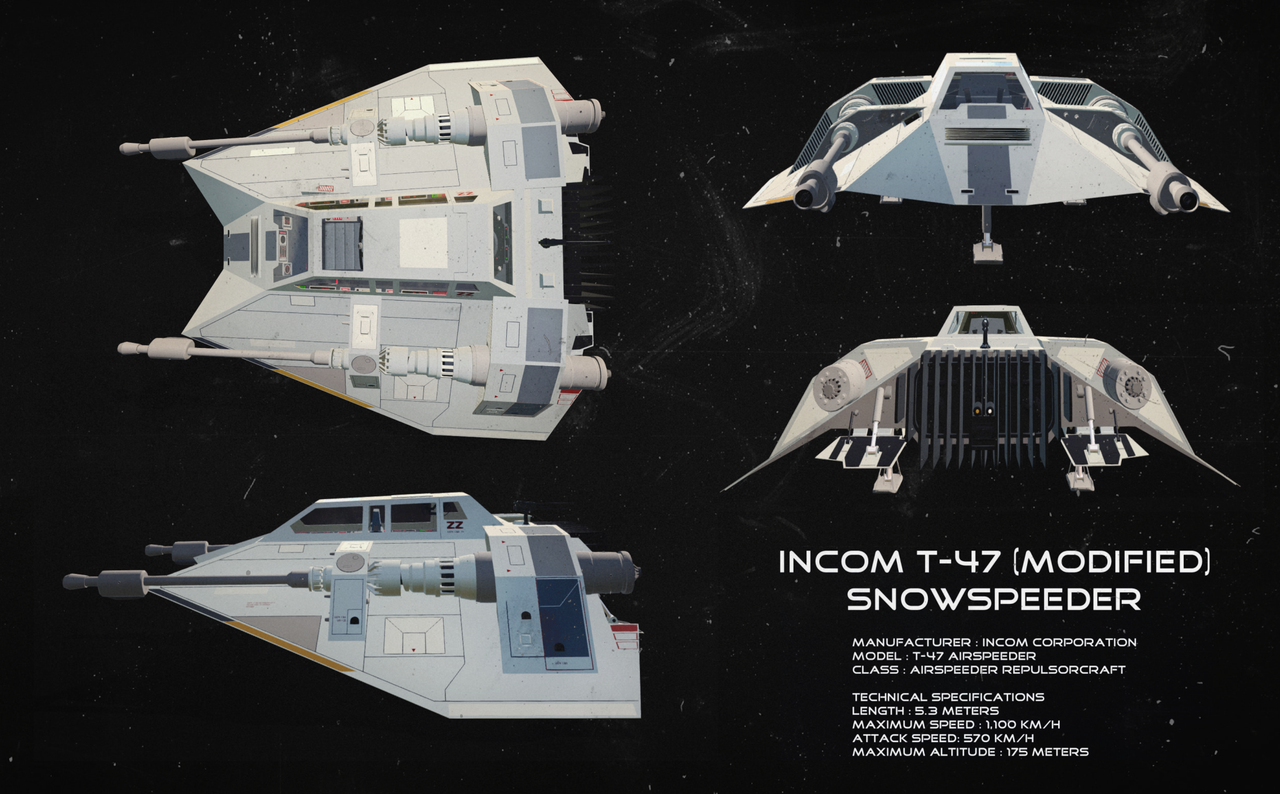 Why no realism? Well, even though this should be a pretty accurate and detailed rendering of the "T-47 modified airspeeder", nobody can possibly have any idea about the supposed handling characteristics… and so it gets videogame-handling, based on gyroscopes rather than aerodynamics. It was still fun building it though…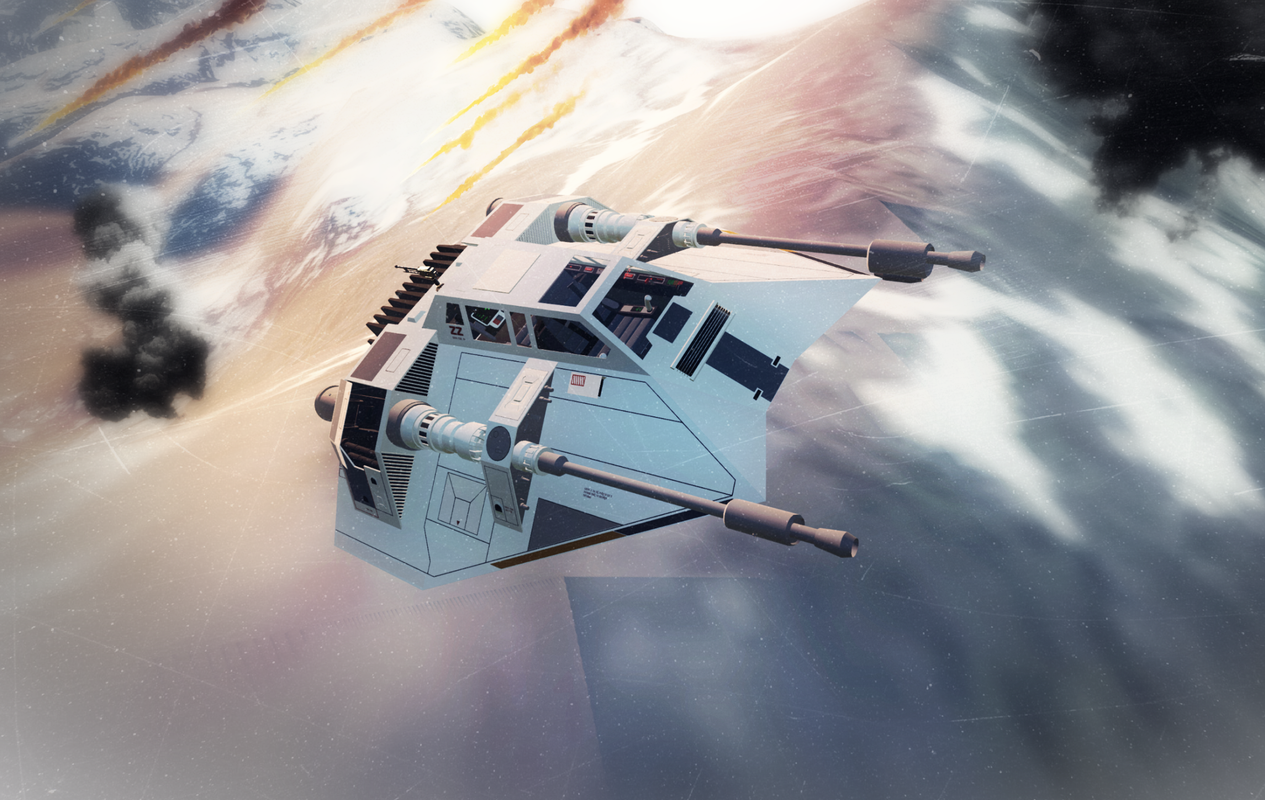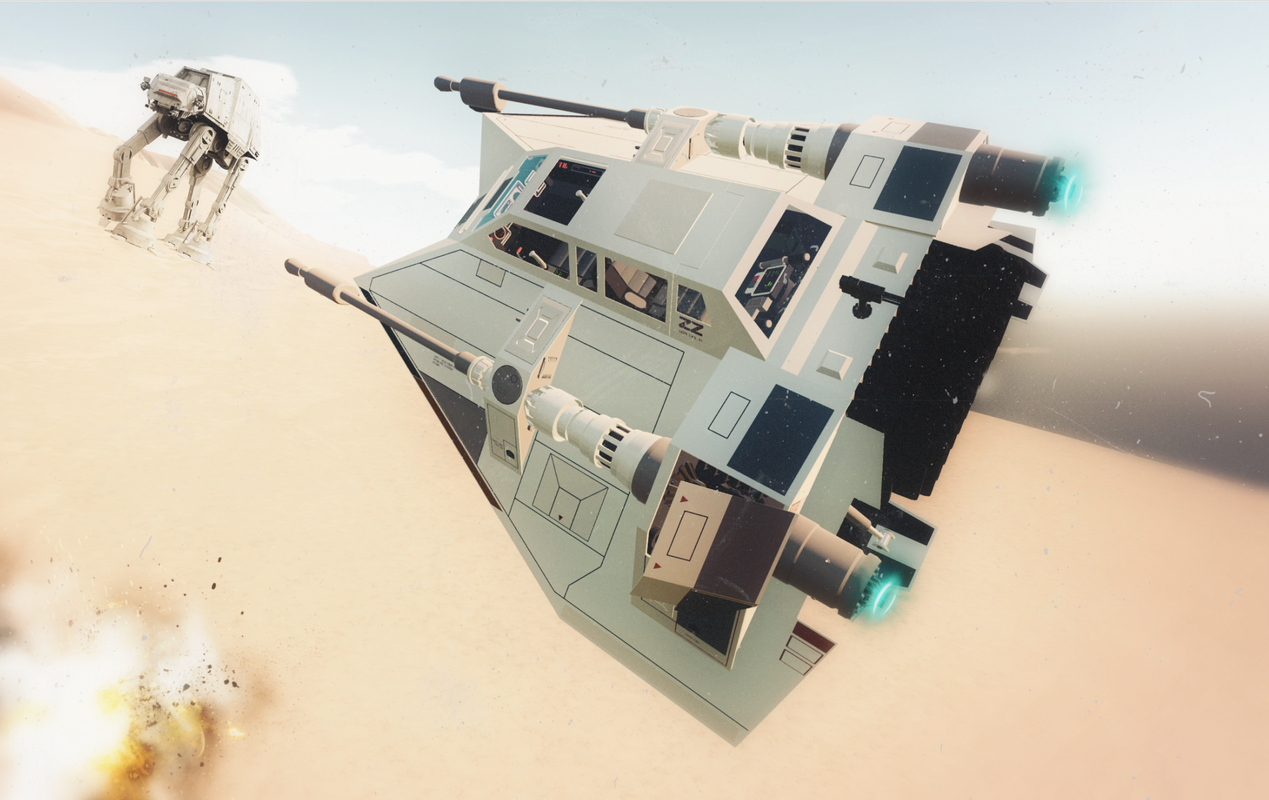 Flying it
You don't actually "fly" it. It's a speeder, not a plane; it doesn't even have wings or tailplanes. It's supposed to have some kind of anti-gravity generator (a "repulsor drive" I believe it's called) to let it hover, a pair of engines for forward motion, airbrakes for slowing & turning, and two strange flippers for limited pitch & roll. In the movie it kinda flies of course, though not very high. The speeder is described as being essentially a vehicle that has to stay close to the ground for best performance, with a max of 175 m, although excursions to up to 250 m should be possible. So, gyroscopes then; this should feel more like "Star Wars Battlefront" than "War thunder-with-a-snowspeeder-skin" anyway.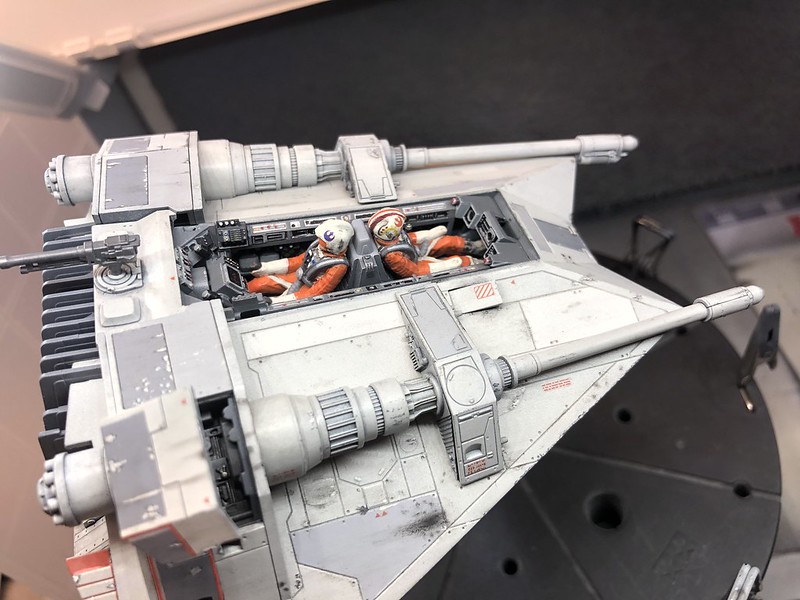 To start, press AG3 (or the VR power button in the cockpit); VTOL up slowly (VR: push the "repulsor handle" at your left forward) to lift off & hover. Then trim up (VR: push left joystick forward) for throttle. Yes, trim: when using the actual throttle, the engines would cut out when braking. The trim slider is a workaround; in VR, it doesn't matter anyway.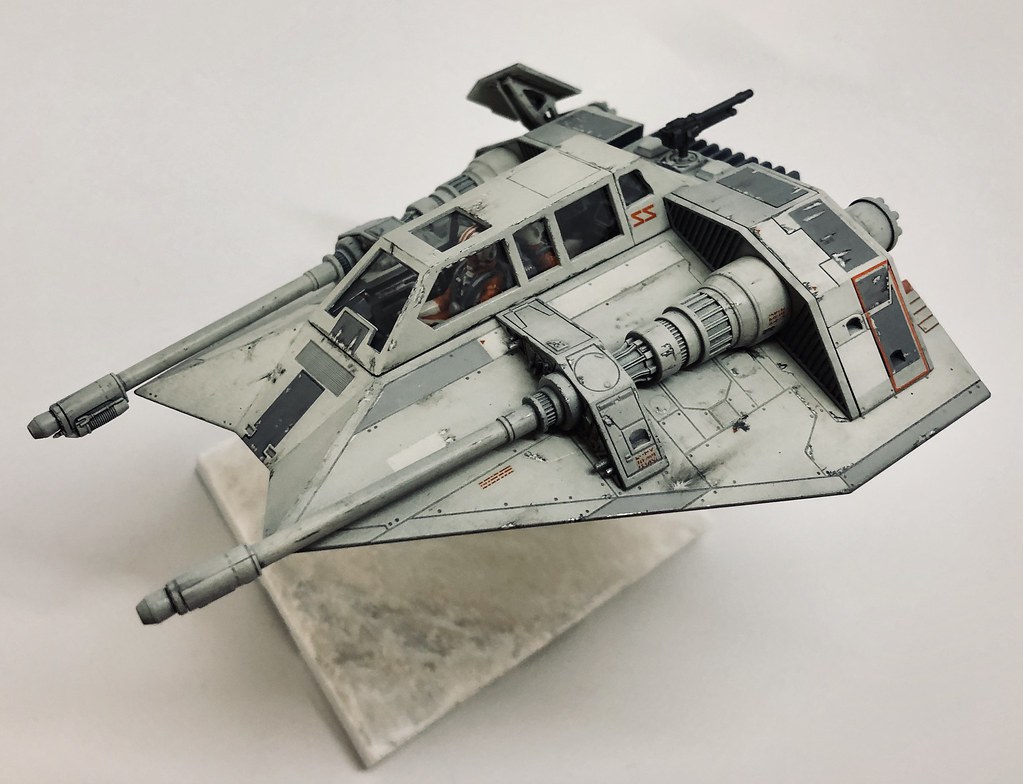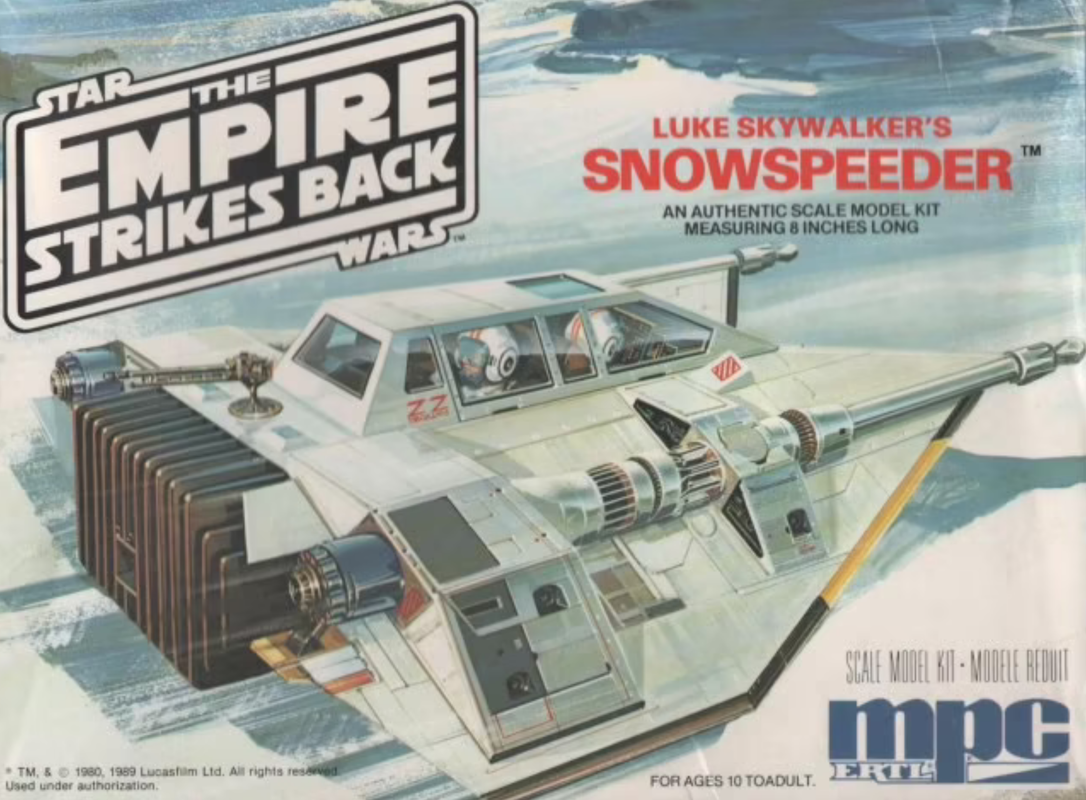 Keep the speeder hugging the deck as much as possible; the repulsor lets it follow the terrain at low or moderate speeds, but at "attack speeds" you can still easily run your speeder into the ground or slam into a hill or rock… so don't count on the repulsor to save your bacon; you actually have to grab hold of the stick and stay in control. The higher up you go, the slower and more difficult to handle the speeder gets; anything upwards of 250 m and you'll have little or no control. You can "jump" between hills, but try to avoid going over any sheer cliffs.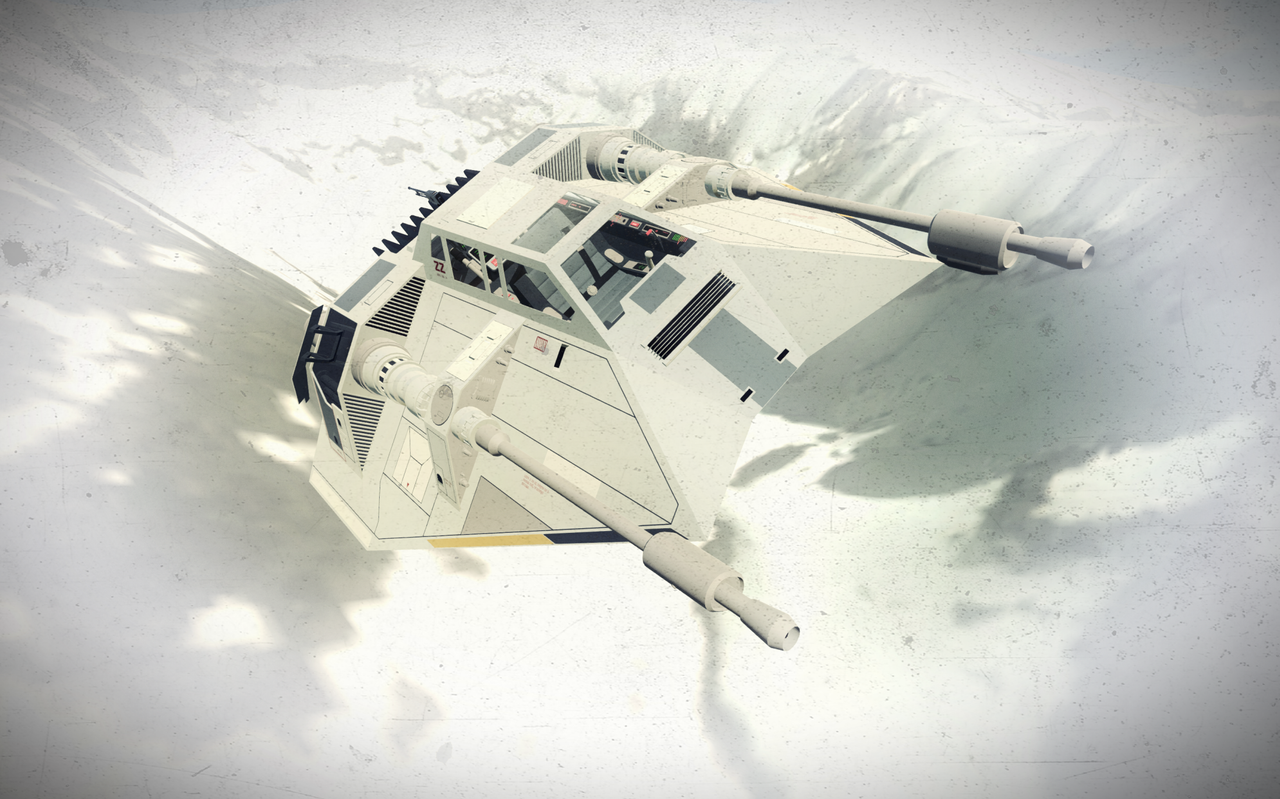 It turns relatively well, and you can even do some silly slipping & sliding once you get the hang of it. The speeder accelerates quite decently; use the airbrakes (Brake, or in VR squeeze the left joystick's trigger) to reduce your speed temporarily without throttling back.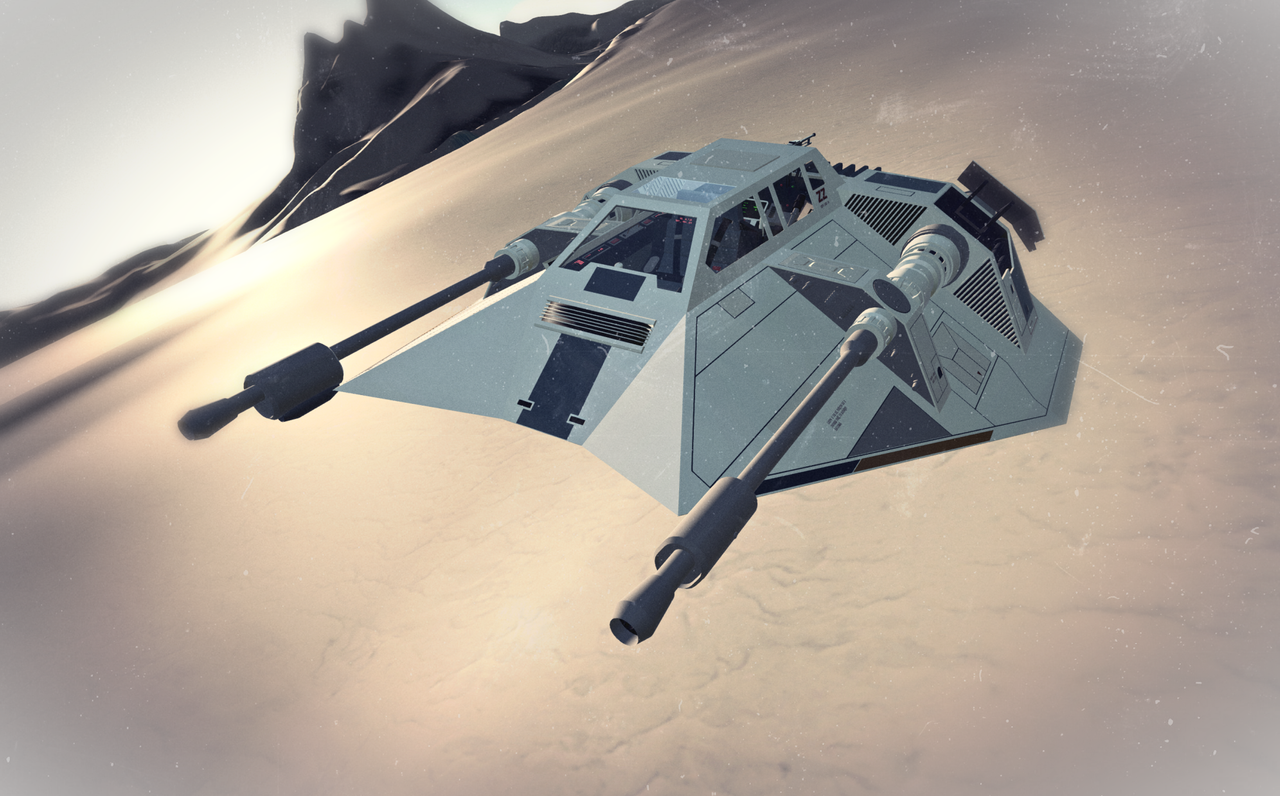 For landing: trim slider down (VR: pull back on the left joystick) not only throttles down your engine, but also makes the repulsor drive act as a brake. This works very, VERY well: don't be too brutal about it, the G-forces would be ridiculous. Once the speeder has all but stopped and is hovering at 5-10 kph, slowly reduce repulsor power until you're resting on your landing skids. Don't try landing at any kind of speeds; the speeder has no wheels, so you'll just end up killing yourself.
Weapons
Another tricky bit, that. I have no idea how powerful (or weak) the forward-firing lasers are supposed to be; I simply made something with a laser-ish effect, making sure the forward firing lasers actually use energy (fuel, of course) rather than rounds of ammo.
The rear gunner's weapon of choice in the movie was a harpoon with a cable, which they used to bring down AT-AT "walkers". My build does have a harpoon gun and a winch; it's not used as such though, since in SP you'll end up dead every time trying to use it (yep, I tried). Instead, the harpoon gets a single explosive charge and is not connected to the winch -makes a bit more sense in SP gameplay. As a secondary weapon, the rear-facing harpoon gun also incorporates a light laser.
To use the rear gunner's station, press AG2 (or the VR button) for "autopilot" -meaning, your speeder will keep going straight on and the controls won't work, allowing you to concentrate on shooting stuff on your six. Doesn't work all that well though, unless you're on terrain where you can't slam into anything. Try the sea ;)
Controls
The build should be suitable for VR, and on a PC I would recommend a joystick or mouse. It doesn't work very well with a keyboard, I'm afraid. I tried to give the cockpit a seventies-sci-fi-movie-feel, based on some photographs of a model kit. You get some useful (and many useless) buttons, lamps and displays, as well as a kind of head-up display with warning messages, all looking thoroughly outdated.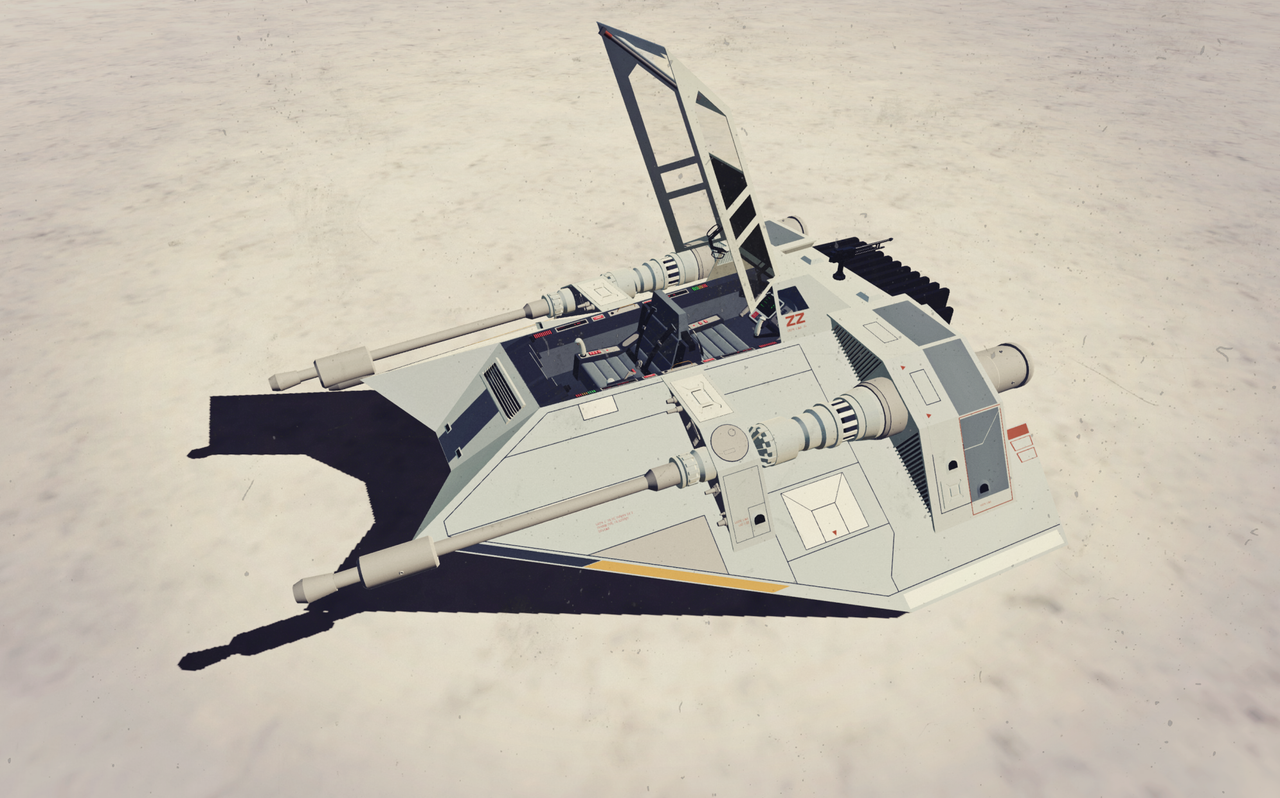 Pitch, roll and yaw work normally; in VR, use the right stick for pitch & roll and the left joystick for yaw.
Trim up (0 to 1) : throttle 0-100% (VR: left joystick forward)
Trim down (0 to -1) : repulsor brake (VR: left joystick back)
Brake : air brakes (VR: left joystick trigger)
VTOL up : repulsor setting/hovering height (VR: repulsor handle forward)
AG 1 : open canopy (VR: buttons)
AG 2 : autopilot/control lockout (VR: button)
AG 3 : power on (VR: button)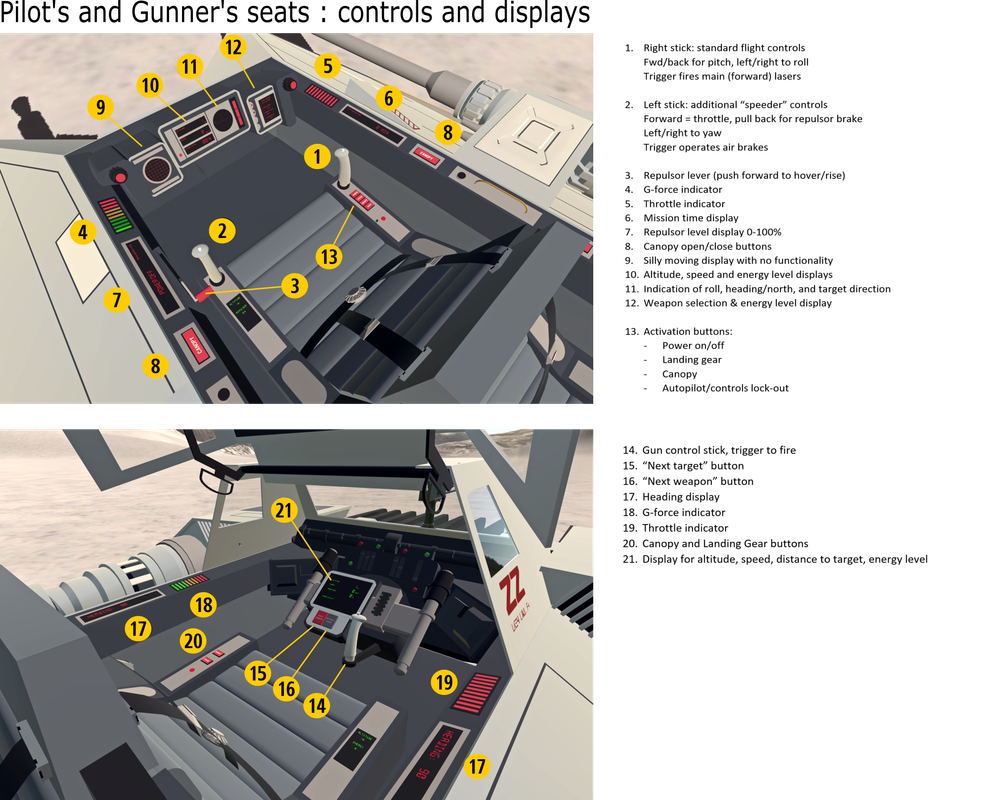 THE END OF THIS EPISODE
I ran out of things to tell; it's a Star Wars contraption, and you're either into this kind of stuff or you're not. I'm not, really -just thought it would be fun to do. Judge for yourselves, and may the force be with you or something along those lines…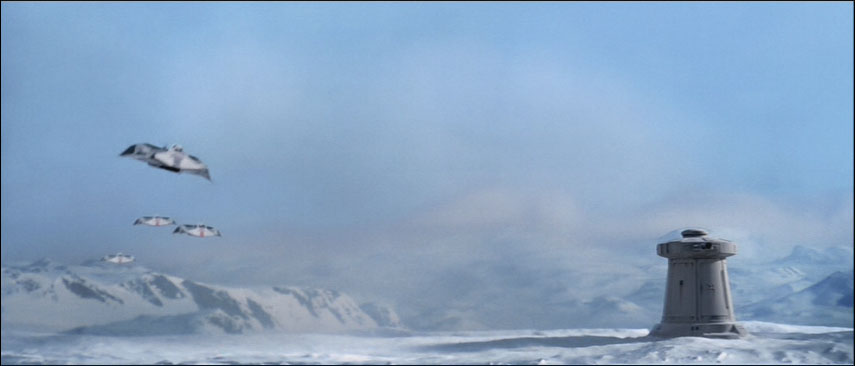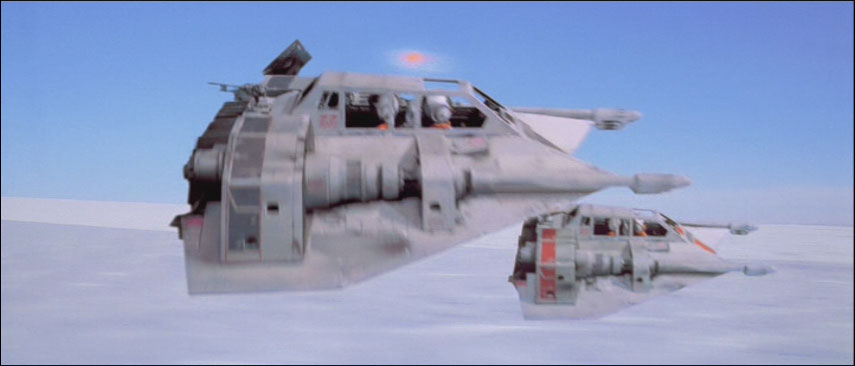 Specifications
General Characteristics
Created On

Windows

Wingspan

15.6ft (4.7m)

Length

17.2ft (5.2m)

Height

5.0ft (1.5m)

Empty Weight

15,479lbs (7,021kg)

Loaded Weight

17,517lbs (7,945kg)
Performance
Power/Weight Ratio

118.024

Wing Loading

87.7lbs/ft2 (428.1kg/m2)

Wing Area

199.8ft2 (18.6m2)

Drag Points

1530
Parts
Number of Parts

1322

Control Surfaces

0

Performance Cost

5,242
---