MAKE A PLANE STUPIDER THAN THIS ONE.
Top prize is 25 upvotes.
Second place is 20 upvotes.
Third place is 15 upvotes.
Rules:
1. It has to be stupid. Anything rational is disqualified. A good entry should make me want to slap myself in the face, a great entry should make me want to slap you in the face.
2. No mods. Mods are too smart for my device.
3. Must be your own work created specially for this challenge. You are allowed to heavily modify your own crafts, as long as the modifications are extensive and stupid.
4. PLANES MUST BE SUCCESSORS.
5. You may use any type of parts, including XML, to make the stupidest thing possible. Your creation must show almost as much imagination as stupidity.
6. Multiple entries are allowed, as long as they are significantly different from each other. Do not make different variations of the same concept. Your best entry will be judged.
7. Effort is optional.
8. ALL ENTRIES MUST BE SOME FORM OF FUNCTIONING VEHICLE. MEMES CAN BE FUNNY, BUT THEY ARE NOT THE POINT OF THIS CHALLENGE. Non-functioning entries are okay as long as they are hilariously stupid.
9. These rules are mandatory. Unless you can figure out the stupidest way to break them possible.
Scoring:
LOWEST SCORE WINS!!!
-10 To +10 points for looks.
Does it look stupid?
-10 To +10 points for flight capability.
Does it fly stupid.
-10 To +10 points for stupidity.
Is it stupid?
-15 To +15 points for reaction.
How does this make me react?
-25 for every "Downvote" comment.
-50 for over 300 downloads.
-100 for every follower you lose for posting this.
I will stop accepting entries in February 2022 and hopefully compile the results by the end of the month.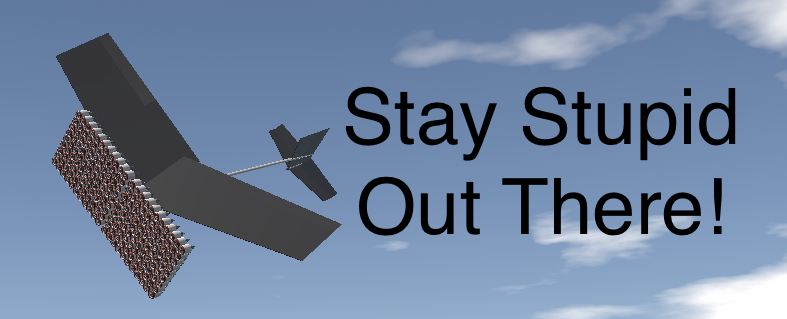 -BeastHunter
Specifications
General Characteristics
Successors

117 airplane(s)

+3591 bonus

Created On

iOS

Wingspan

198.2ft (60.4m)

Length

169.0ft (51.5m)

Height

54.3ft (16.6m)

Empty Weight

887,078lbs (402,372kg)

Loaded Weight

1,049,927lbs (476,239kg)
Performance
Power/Weight Ratio

12.714

Wing Loading

99.2lbs/ft2 (484.5kg/m2)

Wing Area

10,579.6ft2 (982.9m2)

Drag Points

295723
Parts
Number of Parts

221

Control Surfaces

5

Performance Cost

3,524
---