X-02S Strike Wyvern ''Archange''
With fully functional cockpit and FT HUD.
---

---
649 parts version (full cockpit, low part plane) here.
512 parts version (only HUD, potato cockpit, potato plane) here.
---
HI
After countless hours of building, coding in both FT and rtf, watching AC gameplay, an undisclosed amount of iced coffee, a can of glu- I mean jet fuel and some sweat and tears.
Finally it is done!!!
The signature plane of Mihaly Dumitru Margareta Corneliu Leopold Blanca Karol Aeon Ignatius Raphael Maria Niketas A. Shilage.
X-02S Strike Wyvern!!!
Sorry it took me almost 2 months from start to finish because of a long list of features I want to add on top of an already time consuming PID flight control.
And please keep in mind that I made this plane with semi-realistic performance in mind so it'll fly nothing like AC counterpart but it's will surely out-perform my F-22 and SU-57 for sure.
This plane can function with both in-game hud on or off, it doesn't matter and it won't interfere with the plane's HUD. Also, all of the AG is accessible from the cockpit.
Finally, big thanks to @PlanariaLab and the 1-part-HUD they made.
My HUD is basically a modified PlanariaLab's HUD with added gun and EML targeting system.
Also, thanks to WIZARD2017 for smoke generator, it maybe noisy buy the visual is definitely worth it.
Ps. Sorry Ace Combat fans, this is not 100% copy because I want to add some realistic element in it and/or ease of use reasons.
---
Features:
3D thrust vectoring
post-stall maneuvers and supermaneuvrability.
Relaxed stability flight model.
PID Fly-by-funky-tree system.
Custom landing gear and landing gear sequence.
G-force simulated cockpit view
Gun smoke and tracer effect.
Wing bending under g load.
Wing fluttering under high speed.
Interactive semi-realistic cockpit.
Gun lead calculator.
EML aim assist.

Custom weapons bay and rotary magazine.

Wings folding mechanism.



---
Controls:
AG1: Supermaneuvrability mode. (Disable aoa limiter to be able to do PSM.)
AG2: Arm missiles.
AG3: Flaps.
AG4: Fold wings. (Also useful for PSM and extreme side slipping. This mode have no yaw stability when use with AG1)
AG5: Arm railgun.
AG6: No function.
AG7: Open canopy.
AG8: Toggle navigation lights.
Trim: Trim.


---
Supermaneuverability
When AG1 is activated, the plane will ignore angle of attack and angle of slip and will turn aggressively until it is stall when it slow enough. (about 300 km/h)
When you press AG1 There is visual indication that aoa limiter is off in the cockpit.
---
Gun lead calculator
The reticle will appear automatically when target is selected
and the target is in the firing zone.
To hit the target you need to bring the reticle to the target box and gently squeeze the trigger.
For railgun, a thick green circle will appear once railgun is armed and will turn red when the target is in aim-assist zone.
---
Gallery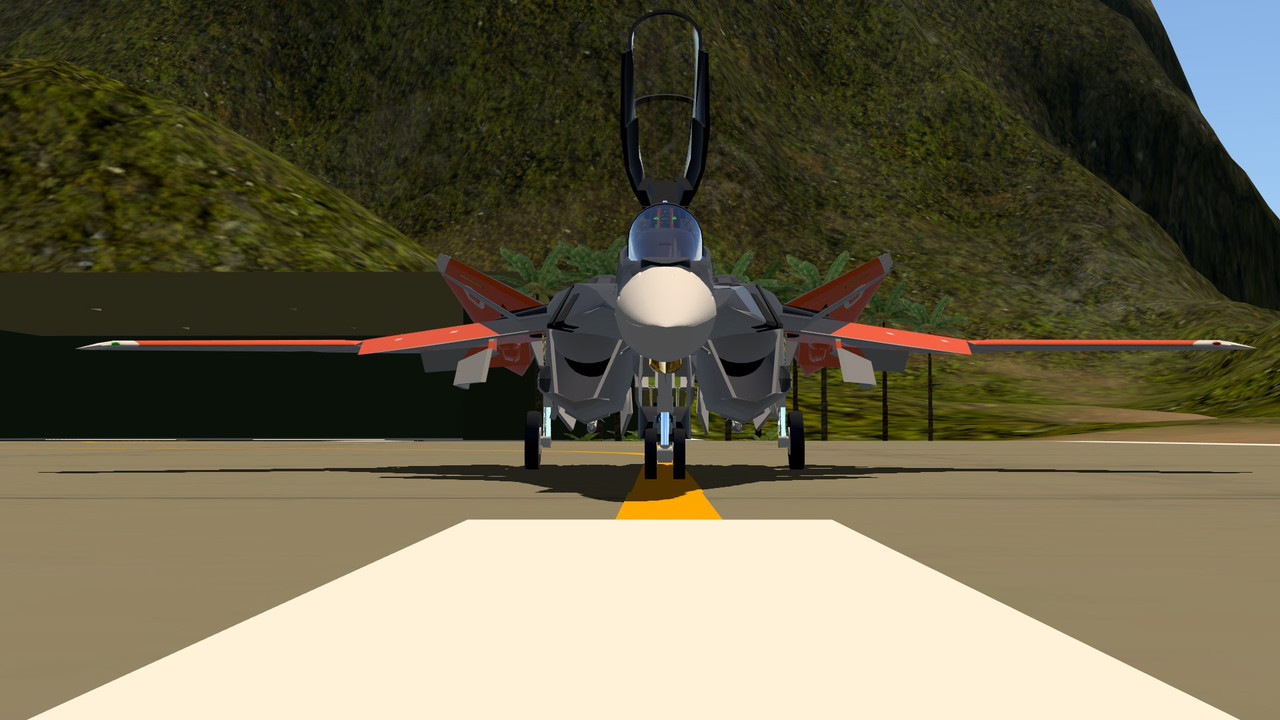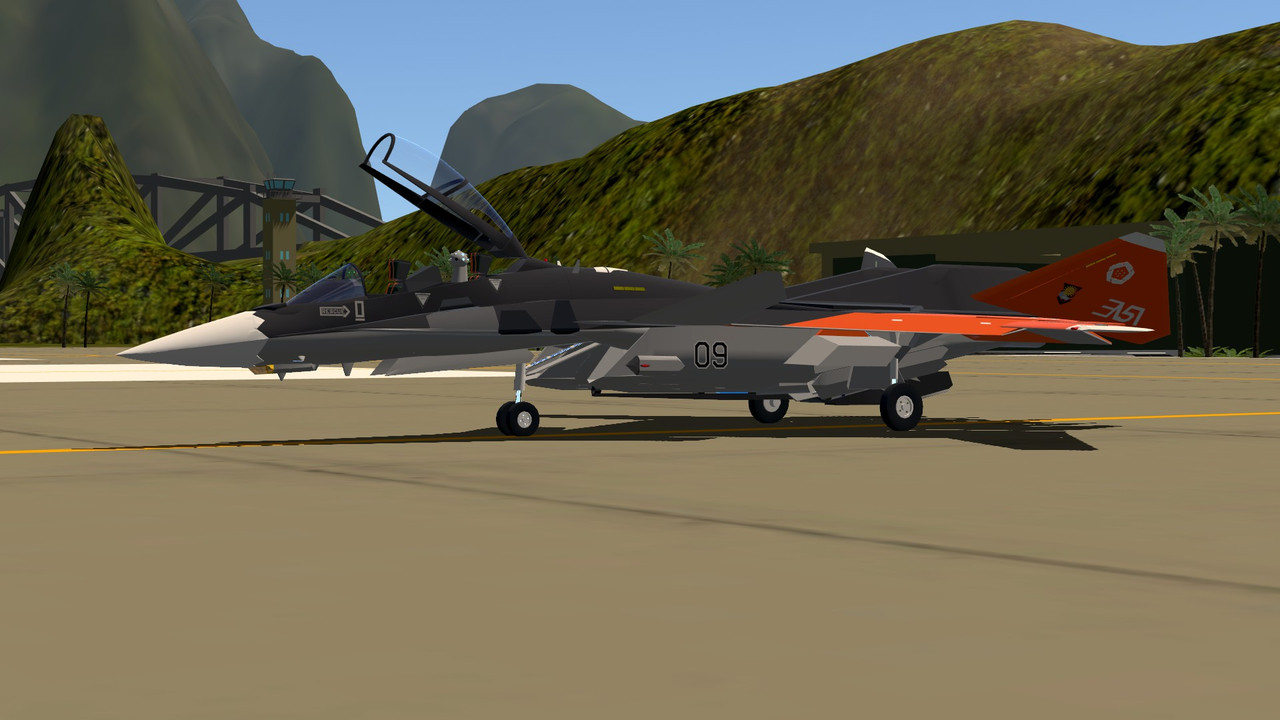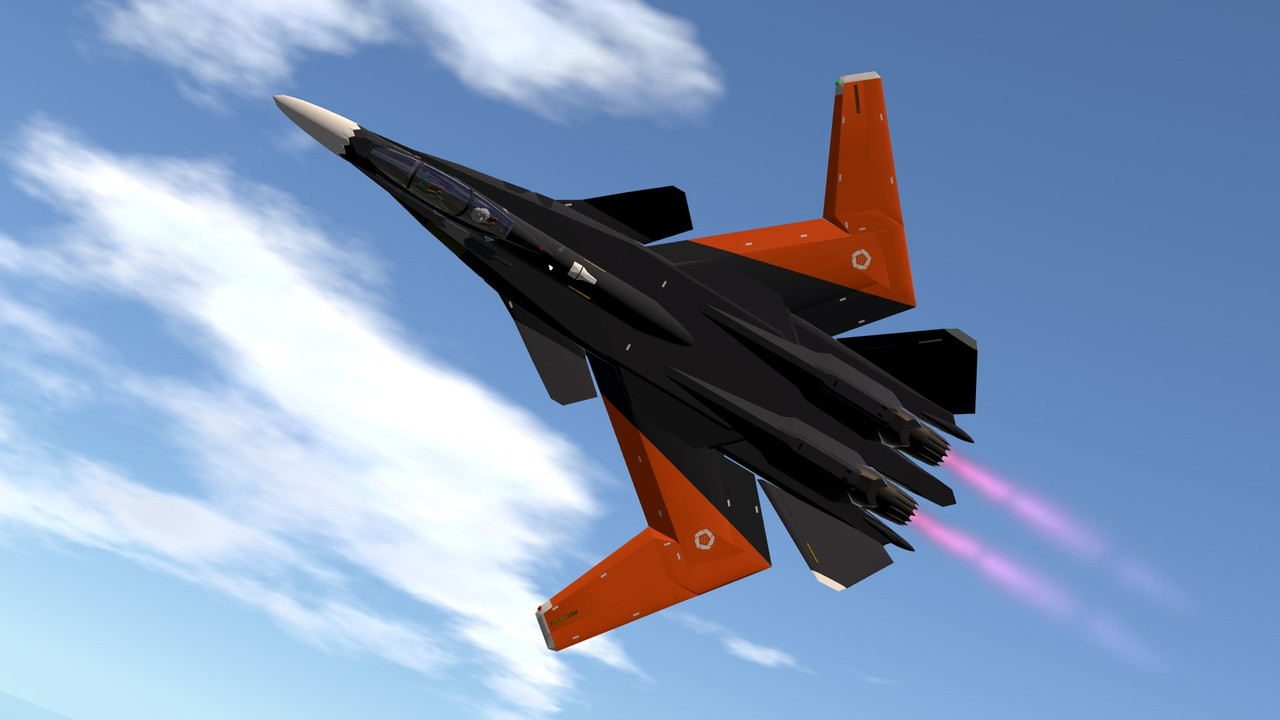 - Cobra maneuver.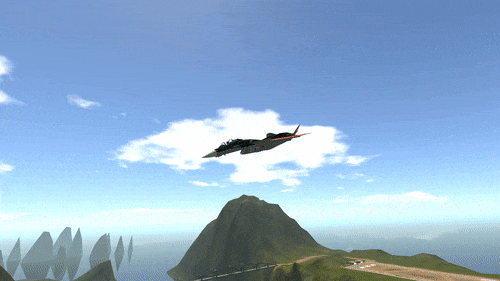 - Kulbit maneuver.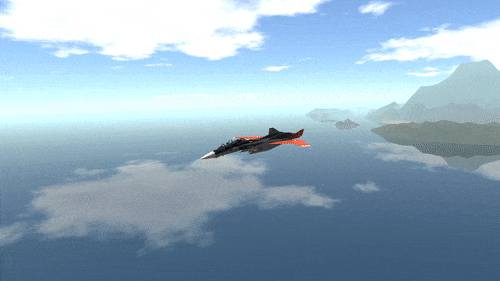 - My signature maneuver.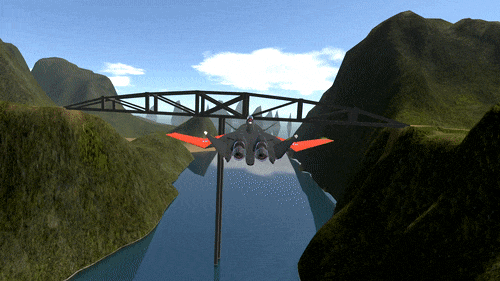 ---
There are pilots like you in every generation.
And I felled every last one of them.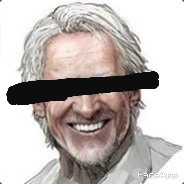 Specifications
General Characteristics
Successors

6 airplane(s)

+112 bonus

Created On

Windows

Wingspan

60.4ft (18.4m)

Length

73.0ft (22.3m)

Height

11.5ft (3.5m)

Empty Weight

20,948lbs (9,501kg)

Loaded Weight

39,353lbs (17,850kg)
Performance
Power/Weight Ratio

2.398

Wing Loading

77.5lbs/ft2 (378.3kg/m2)

Wing Area

507.9ft2 (47.2m2)

Drag Points

298
Parts
Number of Parts

943

Control Surfaces

6

Performance Cost

4,612
---