Thanks for all precious Upvotes and Spotlights! ;-)
RX-78GP03S Gundam GP03S "Stamen", from Japanese anime Mobile Suit Gundam 0083: Stardust Memory (1991-1992), the attack use prototype mobile suit of E.F.S.F., also the core unit of the monster weapon GP03D Dendrobium, developed by Anaheim Electronics for Gundam Development Project.



It's the famous mecha designer Hajime Katoki's first Gundam design for anime (S Gundam is earlier but not made into anime till today lol). Started from Gundam 0083 till now, Ka has already designed mechas for Gundam series for more than 30 years. Though Unicorn Gundam may be his most popular work, this classic and elegant GP03S will never lose its place as the very beginning of the legend.
btw, congrats on MG Ver.Ka 20th Anniversary, Mr. Katoki! ;)
ps.
however Bandai released MG Zeta Ver. Ka instead of GP03S, why can't Katoki make his own original designed Gundam at his own glorious anniversary? damn you Bandai! ;(
---
And about this build, it's the first craft I build on my powerful PC which I bought last year, cause I've been busy at school for a long time.
I took the blueprint of old MG GP03S plastic model and my own ROBOTSPIRITS GP03S action figure as reference, but the head is based on Katoki's original manuscript sketch, which I think is the most handsome version.
Thanks to 1.11 Update, Fuselage fill has made building smooth curves much more easier and better than before, Label has made detailed text-marks within few parts possible, and Variable Setters has made it much more convenient to code ft.
Controls
Just follow the in-game instruction, finally no need to write them down here lol.
Features&Equipments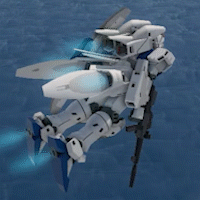 Flight system based on my Tsugumori, but easier to handle this time. It accelerates fast (official data is 2.69G, but looks not cool enough in SP so I plus the power, never mind lol), and because of nearly no drag, you can reach an extremely high speed. Please slow it down yourself when you need, or just don't challenge the limit of your device lol.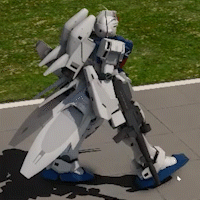 Walking function is not so necessary for GP03S as it's actually born only for space, but I still add an improved version to it. Not perfect but enough for stroll at 50km/h (actually the new fts allow it to go even beyond 120km/h, but why don't you just choose to hover-fly if you are hurry lol)
BOWA XBR-M-82A Beam Rifle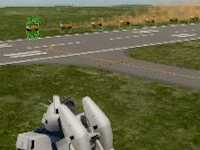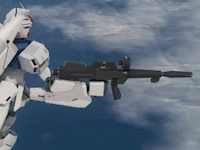 the same type to GP01's, but I made a completely new one. you can use both minigun bullets and tracered cannonballs as beam. Auto-aim with a pose cooler than my early posts.
Folding Shield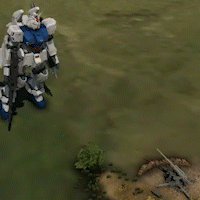 the structure using rotators are not so strong for SP, but still enough for most common attacks. It is possible for you to defense missle hits for times if lucky lol. (but it usually goes trembling after being explosive hit, so I suggest you dodge missles with incredible mobility.)
Beam Saber & Beam Jitte (lengthened for convenience)
Foldable Manipulator Arms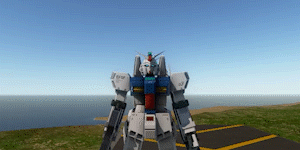 prepared for complete Dendrobium, now not function as they designed for, just for fun. (but actually you can use them to whip enemies lol, you can have a try, it looks really funny.)
---
Thanks to:
PlanariaLab for Auto-aiming ft and the panoramic monitor MOD, also, his build touhoku_kiritan has let me know how to make dynamic label, his build INGRAM has inspired me of the "Fake Drawing out" structure of beam saber.
wybz1997 for using Solidwork to help me get the accurate angles I need for the arm joints when the Gundam aim.
NewmanSTAR for testflight and some good advice.
realluochen9999 for checking the text of marks from his MG GP03S plastic model and telling me.
*MisterT for his build Spitfire Mk Vb letting me know some extreme skills to reduce parts more efficiently.
---
I will come back finishing the whole Dendrobium after I get my postgraduate offer years later, now I have to prepare as much&early as possible for my urban planning major so surely less time for SP. Wishing me good luck at university is much more wiser than continuously asking me "finished?" ;D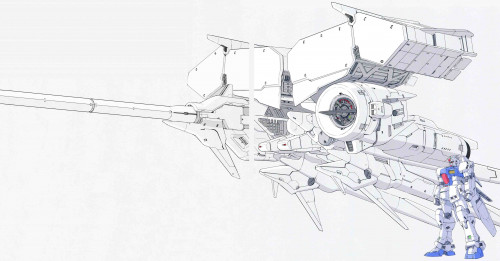 plz don't ask me, I'll share the progress HERE(click) by myself as soon as I finish some parts. (maybe the I-Field generator in this year.)
---
feel free to express your reasonable opinion in the comment.
I'll do improvement and fix the possible bugs then update xml as soon as possible.
Enjoy it~
ps.
Video coming soon
The version with panoramic cockpit (2022/10/22) for VR needs MOD, I'm still working on it, not finished yet. but welcome to have a try, I'll formally publish it later this year until it is close to perfection.
Specifications
General Characteristics
Created On

Windows

Wingspan

39.8ft (12.1m)

Length

43.7ft (13.3m)

Height

60.0ft (18.3m)

Empty Weight

49,709lbs (22,548kg)

Loaded Weight

51,482lbs (23,352kg)
Performance
Wing Loading

N/A

Wing Area

0.0ft2 (0.0m2)

Drag Points

48
Parts
Number of Parts

952

Control Surfaces

0

Performance Cost

3,459
---