Pantsir Missile System
[Pantsir-S1 missile system] on a tracked [GM-352 chassis] (wiki links)
---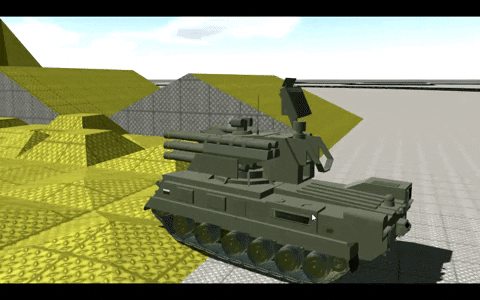 ---
[Download GM Chassis Amphibious HERE]

Controls:
1 2 3 4 Activate Missile Arms
5 Activate Guns
VTOL UP / TRIM Elevate Weapons/Rotate Turret
ROLL / PITCH Vehicle controls
8 Road Lights/Deactivate Optics
[Alternative control scheme, Roll/Pitch for guns mouse aiming] (Link to unlisted)
---
Features:
New tracks concept (upgrade). Tracks follow terrain and can take any curb (even those nasty yellow Yeager curbs) head-on, max speed with no damage
Missiles ( 8+ miles range, accurate trajectory/speed, auto-ejecting protections)
Guns (build by Specs: 60 rounds/sec, 980m/s velocity, 120 burst count, 1 sec between bursts, green tracers slower, but synchronized). Cockpit aiming.
Engines (for steering/accelerate) exposed on the rear right section. Different torque in reverse. Vehicle has enough power to climb (barely) the Yeager Ramp (from docks to runaway).
Specs/Blueprints/Performances are acceptable accurate. Max speed is 5 miles higher, to challenge those tracks a little.
---
---
Custom parts

Specifications
General Characteristics
Predecessor

Air Defence Challenge [CLOSED]

Successors

2 airplane(s)

Created On

Windows

Wingspan

15.8ft (4.8m)

Length

36.3ft (11.1m)

Height

23.8ft (7.3m)

Empty Weight

56,084lbs (25,439kg)

Loaded Weight

58,122lbs (26,364kg)
Performance
Wing Loading

21,599.2lbs/ft2 (105,456.7kg/m2)

Wing Area

2.7ft2 (0.3m2)

Drag Points

10703
Parts
Number of Parts

503

Control Surfaces

0
---