In a parallel universe somewhen
His Majesty's Aircraft
Focused Talent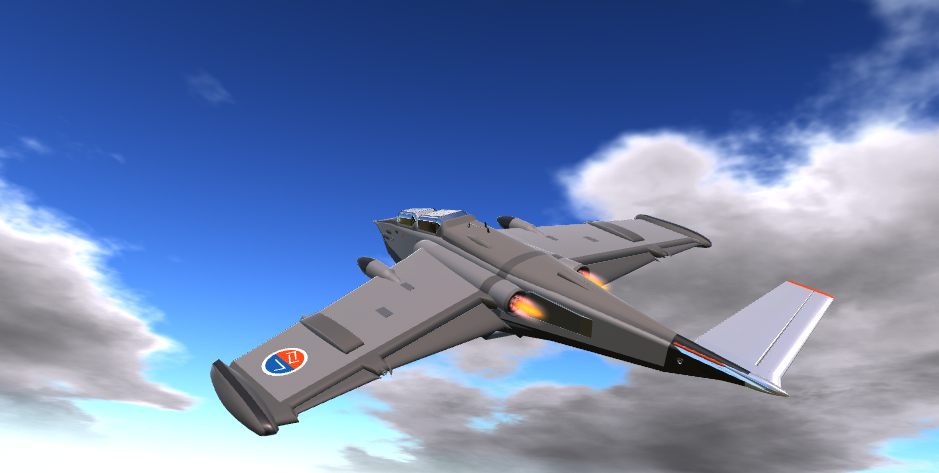 Land Take-off
AG1 on. VTOL half down to set flaps. Apply full throttle and rotate at 250mph. One airborne, gear up then VTOL centre to raise flaps. Set throttle and trim as required.
AG2 for re-heat.
Torpedo run, bombing run
Use 50% throttle with no reheat; torpedo should be dropped from low altitude.
Parameters for bomb run will vary according to target.
Landing
AG2 off. For final approach, use 10% throttle and VTOL down fully for flaps. Reduce throttle to 8% when wheels are just above runway. On touchdown, cut throttle and brake gently.
Taxiing
Low throttle and yaw.
Water Take-off
Gear up. AG1 on. VTOL half down to set flaps. Apply full throttle and pull up during take-off run. Unstick occurs at 250mph. Once airborne, VTOL centre to raise flaps.
Water Landing
AG2 off. Use 10% throttle and VTOL down fully for flaps. Reduce throttle to 8% when just above the water. On touchdown, cut throttle; hydrodynamic drag will slow the craft.
Water Taxiing
AG3 on, AG1 off. Use pitch for forward & reverse, use roll to turn.
Crew 2
Pilot: Radio and weapons.
Rear Position: Radio, Radar, Navigation, rudimentary flight controls.
AG1 Main Propulsion.
AG2 Re-heat.
AG3 Enable RCN system for water taxiing.
AG4 Nose Machine Guns.
AG5 Wing Rotary Cannon.
AG6 Nose Cannon.
AG7 Landing Lights.
Built by Lensing-Jung Flight.
Sponsored by Capital City Guild
Radar system Salvaged and fitted by Northern Slopes "No Sparrow" Scavengers.
His Majesty's Aircraft "Focused Talent" is an amphibious multi-role platform, operating from land bases and smaller shoreline bases that have the necessary slipways for launch and recovery from calm waters.
The ability to operate from land allows a mix of ordnance to be safely loaded: the craft can operate from a conventional runway or from calm water, depending on the base facilities and location.
Originally a single seat, gun only flying boat, the craft has been extensively modified for its new
Roles as a fighter/bomber, Naval strike and radar platform:
Engines upgraded with re-heat equipment.
Undercarriage installed.
Radar installed in wing-pods.
Second large crew position installed for radar operator and associated equipment.
Weapons racks fitted for gravity bombs and/or torpedos.
Footnote
Ordnance, flaps and undercarriage box too close to the water, but hey, it's a parallel universe!
I published an amphib way back in my early days on the site; really I just slapped some stock undercarriage on it just before I posted it so this is the first time I set out to build an amphibian, albeit a conceptually flawed one, from the get-go. It made for an interesting challenge getting the undercarriage telescoping elements right but at least it has a "Tready" look to it.
Specifications
General Characteristics
Created On

iOS

Wingspan

67.1ft (20.5m)

Length

62.1ft (18.9m)

Height

16.3ft (5.0m)

Empty Weight

-4,734,385lbs (-2,147,483kg)

Loaded Weight

15,184lbs (6,887kg)
Performance
Power/Weight Ratio

11.248

Wing Loading

18.5lbs/ft2 (90.5kg/m2)

Wing Area

819.4ft2 (76.1m2)

Drag Points

6593
Parts
Number of Parts

455

Control Surfaces

4
---