About the 727
The Boeing 727 is an American narrow-body airliner that was developed and produced by Boeing Commercial Airplanes. After the heavier 707 quad-jet was introduced in 1958, Boeing addressed the demand for shorter flight lengths from smaller airports. On December 5, 1960, the 727 was launched with 40 orders each from United Airlines and Eastern Air Lines. The first 727-100 rolled out on November 27, 1962, first flew on February 9, 1963, and entered service with Eastern on February 1, 1964.
The only trijet aircraft to be produced by Boeing, the 727 is powered by Pratt & Whitney JT8D low-bypass turbofans below a T-tail, one on each side of the rear fuselage and a center one fed through an S-duct. It shares its six-abreast upper fuselage cross-section and cockpit with the 707. The 133 ft (40.5 m) long 727-100 typically carries 106 passengers in two classes over 2,250 nautical miles [nmi] (4,170 km; 2,590 mi), or 129 in a single class. Launched in 1965, the stretched 727-200 flew in July 1967 and entered service with Northeast Airlines that December. The 20 ft (6.1 m) longer variant typically carries 134 passengers in two classes over 2,550 nmi (4,720 km; 2,930 mi), or 155 in a single class. Besides the airliner accommodation, a freighter and a Quick Change convertible version were offered.
The 727 was used for many domestic flights and on many international flights within its range. Airport noise regulations have led to hush kit installations. Its last commercial passenger flight was in January 2019. It was succeeded by the 757-200 and larger variants of the 737. As of February 2022, a total of 38 Boeing 727s were in commercial service. There have been 118 fatal incidents involving the Boeing 727. Production ended in September 1984 with 1,832 having been built.
About Eastern Airlines

Eastern Air Lines, also colloquially known as Eastern, was a major airline in the United States that operated from 1926 to 1991. Before its dissolution, it was headquartered at Miami International Airport in an unincorporated area of Miami-Dade County, Florida.[1]
Eastern was one of the "Big Four" domestic airlines created by the Spoils Conferences of 1930, and was headed by World War I flying ace Eddie Rickenbacker in its early years. It had a near monopoly in air travel between New York and Florida from the 1930s until the 1950s and dominated this market for decades afterward.
During airline deregulation in the late 1970s and early 1980s, labor disputes and high debt loads strained the company under the leadership of former astronaut Frank Borman.[2] Frank Lorenzo acquired Eastern in 1985 and moved many of its assets to his other airlines, including Continental Airlines and Texas Air Corporation. After continued labor disputes and a crippling strike in 1989, Eastern ran out of money and was liquidated in 1991.[3]
American Airlines obtained many of Eastern's routes from Miami International Airport to Latin America and the Caribbean, while Delta Air Lines, Eastern's main competitor at Hartsfield–Jackson Atlanta International Airport, acquired many of Eastern's Lockheed L-1011 TriStar aircraft. USAir acquired 11 of Eastern's 25 Boeing 757-225 aircraft.
Eastern pioneered hourly air shuttle services between New York City, Washington, D.C., and Boston in 1961 as the Eastern Air Lines Shuttle. It took over Braniff International's South American routes following Braniff's closure in 1982[5] and served London Gatwick in 1985 via its McDonnell Douglas DC-10-30 "Golden Wings" service. Although Eastern announced on its March 2, 1986 timetable that it intended to initiate service to Madrid, effective May 1, 1986, it never commenced. The only scheduled transatlantic service Eastern provided was Miami to London Gatwick, commencing on July 15, 1985 and discontinuing the following year, in 1986, replaced with codeshare flights from Atlanta on British Caledonian Airways.
About Eastern airlines flight 980
Eastern Air Lines Flight 980 was a scheduled international flight from Asunción, Paraguay, to Miami, Florida, United States. On January 1, 1985, while descending towards La Paz, Bolivia, for a scheduled stopover, the Boeing 727 jetliner struck Mount Illimani at an altitude of 19,600 feet (6,000 m), killing all 29 people on board.
The wreckage was scattered over a large area of a glacier covered with snow. Over the decades, several search expeditions were only able to recover a small amount of debris, and searches for the flight recorders were unsuccessful. The accident remains the highest-altitude controlled flight into terrain in commercial aviation history.
Eastern Air Lines Flight 980 had departed President Stroessner International Airport in Asunción, Paraguay, at 17:57 on January 1, 1985, with a passenger contingent of nineteen and a crew of ten. The passengers were from Paraguay, South Korea and the United States. Among them was the wife of the then-U.S. Ambassador to Paraguay, Arthur H. Davis, and two Eastern pilots flying as passengers.
At 19:37 the flight crew of Flight 980 (Captain Larry Campbell, first officer Kenneth Rhodes and flight engineer Mark Bird) told air traffic controllers at El Alto International Airport in La Paz, Bolivia, that he estimated landing at 19:47. The crew was cleared to descend from 25,000 feet to 18,000 feet. At some point after this exchange, the aircraft veered significantly off course for unknown reasons, possibly to avoid weather. The accident occurred 25 miles from runway 9R at El Alto airport.
Real Photo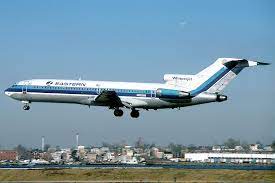 The Accident Aircraft!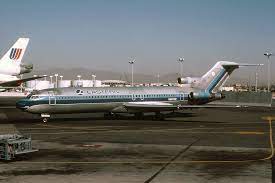 Specifications
Performance
Power/Weight Ratio

0.803

Wing Loading

55.3lbs/ft2 (270.0kg/m2)

Wing Area

3,642.9ft2 (338.4m2)

Drag Points

22979
Parts
Number of Parts

315

Control Surfaces

17

Performance Cost

1,553
---