"All the world I've seen before me, passing by."


SP's first true starfighter.
Basic controls:
Activator 1: Missiles online
Activator 2: Space flight mode/landing mode
(When in ag 2) VTOL: pitch orientation
(When in ag 2) Yaw: Yaw
(When in ag 2) Pitch: Thrust
Activator 7: Police lights
Taking off:
1. Activate group 2
2. VTOL about half way down
3. Throttle up
4. De-activate group 2
Normal flight has normal controls.
Space flight:
- Have activator 2 on. This activates a control gyro.
- Orient yourself with VTOL and yaw. VTOL controls pitch.
- Use pitch to activate RCN engines, which provide you with thrust!
How to get to space:
1. Begin your ascent with activator 2 on.
2. Ascend with 100% throttle.
3. When you are high enough, you will begin to slow down. This means that you are too high from normal engines.
4. Now use RCN
Landing:
- Activate group 2, then set throttle to 1%. Fly straight, and yaw to a landing pad.
- When you are over a landing pad, cut the throttle.
- The plane will slowly fall onto the landing pad.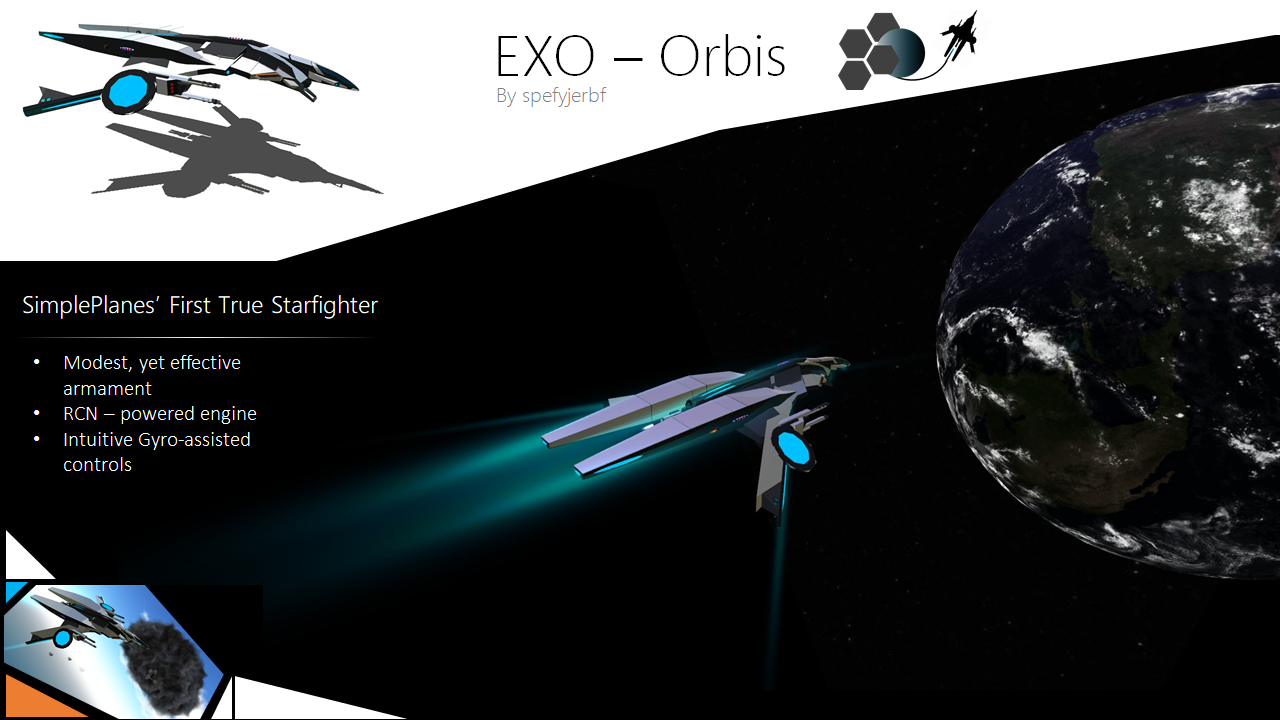 EXO – Orbis refers to a highly versatile starfighter designed by SPEcorp's experimental PROJECT division. The starfighter is regarded as the first true starfighter to ever be designed after an event known as the Grounding, in which all impulse drives suddenly became obsolete, grounding humanity for months. SPEcorp's first response to the Grounding was PROJECT: Orbitas, a hefty SSTO that would allow humanity to deliver supplies to the space stations and planets in need. Next, SPEcorp saw a new necessity caused by the Grounding – defense. After the Grounding, there was no spaceworthy vehicle in existence that could adequately fill a combat role. Therefore, a few months after the release of Orbitas, SPEcorp's PROJECT division unveiled its next design, EXO – Orbis.
The EXO- Orbis starfighter was engineered to be easy to use, as well as effective. Its exemplary mobility in space, as well as its ease of operation, makes it a common asset of governments and corporations alike. Central to the design is an RCN-based engine, in which control nozzles are repurposed to provide thrust. The engine does not require air, and is easy to power. With RCNs providing thrust, RCNs could not be used for attitude control. This constraint yielded another defining feature of the starfighter. A gyroscope controls EXO – Orbis's attitude, which, surprisingly, made the spacecraft easy to handle. The hull is also a point of interest. EXO – Orbis is an AGRAV vehicle, and is therefore quite light. This attribute enables it to re-enter at any speed, and gives it greater acceleration in space. In the atmosphere, the starfighter's AGRAV design gives it exemplary maneuverability. Combat, then, is fast-paced and evasive. The starfighter can only take minimal damage, but can punish an enemy with its heavy pulse shotgun, as well as missiles that have been tailored for space combat.
The starfighter has a prevalent role in law enforcement and anti-piracy operations. This model is SPEcorp's corporate police variant, and comes with traditional white livery, as well as police warning strobes.
Specifications
General Characteristics
Predecessor

Starfighter

Successors

10 airplane(s)

+56 bonus

Created On

Windows

Wingspan

44.9ft (13.7m)

Length

63.1ft (19.2m)

Height

10.5ft (3.2m)

Empty Weight

N/A

Loaded Weight

143lbs (64kg)
Performance
Power/Weight Ratio

94.095

Wing Loading

3.7lbs/ft2 (17.9kg/m2)

Wing Area

39.0ft2 (3.6m2)

Drag Points

15517
Parts
Number of Parts

265

Control Surfaces

5

Performance Cost

918
---