In a parallel universe somewhen
His Majesty's Aircraft
First Sight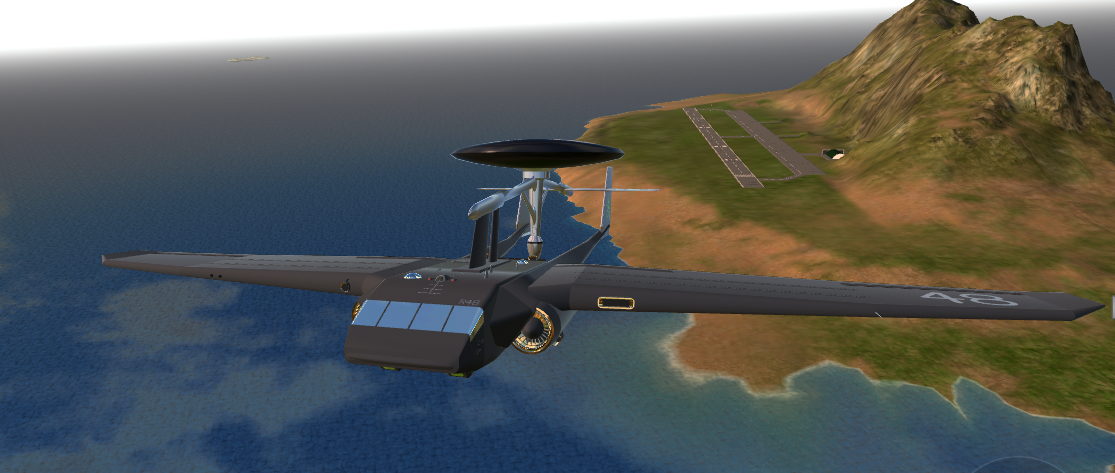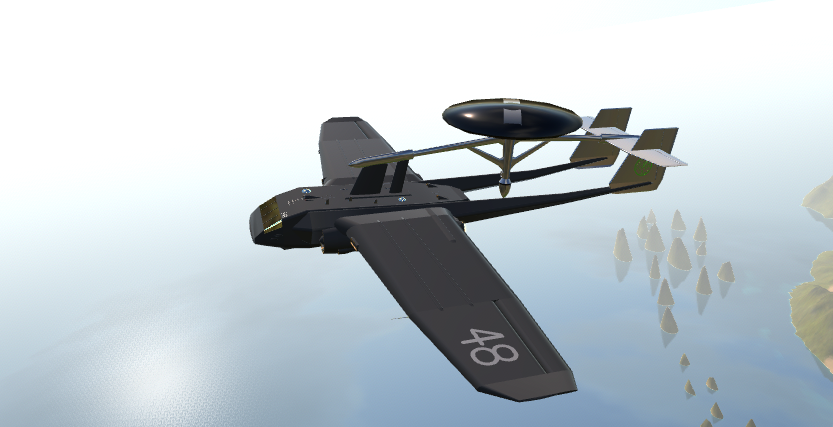 Take-off
VTOL half way down to set flaps. Apply full throttle and rotate gently at 300mph TAS. Once airborne, raise gear then VTOL centre to raise flaps. Note that Pitch authority is strong for landing; use gentle inputs in flight or just use throttle and trim.
Climb and high altitude flight
Once airborne and ready to climb, apply slight pitch up Trim then throttle back to 85%; the craft will pull up into a steady ascent. As altitude and speed increases, reduce throttle to maintain speed below 750mph TAS.
Typical radar sorties are made at between 45,000ft and 55,000ft: use 40% throttle and apply Trim as required. AG1 on to operate Radome.
Landing
Use 10% throttle and VTOL down fully for full flaps. When over runway threshold, reduce throttle to 5% for flare and touchdown. When down, throttle off and apply brakes.
Taxiing
Low throttle and Yaw.
Crew
4 Flight crew consisting of Pilot, Second Pilot, Flight Radio/Navigation & Flight Engineer.
Radar crew/Command crew varies according to mission requirements.
AG1 Operate Radome.
AG2 Refuelling night guide lights.
His Majesty's Aircraft "First Sight" carries out high altitude, long endurance radar sorties providing "large area" radar coverage for real time intelligence and, when required, command and control. The craft operates as part of Squadron 48, but is often be assigned to other areas as required.
Footnote
I thought I would ramp up the weirdness for this build; I had this ridiculous shape in my head for the radar-mount and kind of "double-dared" myself into building it. Publish and be damned.
2 ways to think of the radar mount:
You can think of it as a mechanically mass-dampened system tuned to be stable at all flight conditions.
Or....
You can just pretend you didn't see it.
The front view of the build was inspired by a picture I saw while browsing for ideas, the rest is just me being me. I guess as this build has a refuelling receptacle, a tanker needs to be built at some stage.......
Specifications
General Characteristics
Created On

iOS

Wingspan

139.8ft (42.6m)

Length

95.6ft (29.1m)

Height

33.0ft (10.1m)

Empty Weight

-4,734,385lbs (-2,147,483kg)

Loaded Weight

35,235lbs (15,982kg)
Performance
Power/Weight Ratio

5.931

Wing Loading

17.7lbs/ft2 (86.5kg/m2)

Wing Area

1,989.6ft2 (184.8m2)

Drag Points

18189
Parts
Number of Parts

476

Control Surfaces

6
---