//CameraTarget>>Camera.backgroundColor 0.5,0.5,0.5,1
>>CameraManagerScript..SetCameraFov 40
Challenging ultra heavy build, huge wheels, complex specs.
[Off-highway, rigid dump trucks specifically engineered for use in high-production mining and heavy-duty construction environments]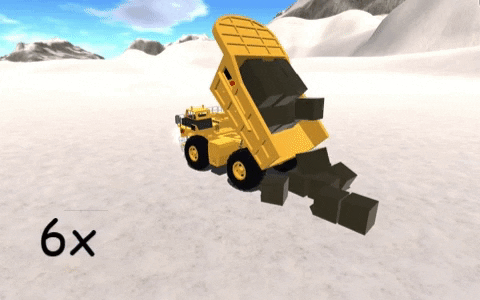 [Download loaded version here]
Controls:
PITCH UP - Accelerate
ROLL - Steering
PITCH DOWN - Brake
BRAKE - Power Brake
VTOL UP - Elevate DUMP BOX
5 - Fog Lights
6 - Warning/Emergency Lights (Auto deploy with dumpbox)
7 - Switch between Registration and Loading Order Numbers
8 - Front/Rear Lights ON/OFF
YAW - Directional Lights (just tap)
Features:
400,000 lbs Empty, Cargo Capacity 100-200,000 lbs (current setup)
517 parts only
Special formula for engine. Slow acceleration, high torque at low speed (allowing you to climb 30 ° slopes with 100k lbs cargo. Unrealistic, but FUN).
Also engine brake, normal braking, restricted reverse speed etc...
Directional Lights advanced formula (based on Leehopard input), outside and inside, plus switcher inside cabin. Activate on YAW, deactivate when turn is complete or wheels rotate on opposite direction
Interior digital screens (DumpBox Elevation and Artificial Horizon)
Interior led lights based on Moving Forward, Reverse, High Pitch/Roll Angle and DumpBox activity.
43 is the Truck Registration Number, while 17 is (Un)Loading Cargo Code. LCC auto activates on dumpbox elevation
Speed and RPM Dials (RPM indicator goes to red zone if you climb slopes)
Access Stairs Auto-Retract/Fold when vehicle moves
Engine exposed (next to cabin). If you want a more realistic/less fun approach or just more power for heavier load feel free to adjust the engine HP
Btw, in real life these things are surprisingly agile, moving faster than expected. But they are not allowed on public roads, they travel in pieces.
                          Credit to Leehopard 
                for help with Directional Lights formula

Specifications
General Characteristics
Successors

3 airplane(s)

+14 bonus

Created On

Windows

Wingspan

26.5ft (8.1m)

Length

39.2ft (11.9m)

Height

24.4ft (7.5m)

Empty Weight

396,644lbs (179,914kg)

Loaded Weight

399,999lbs (181,436kg)
Performance
Wing Loading

37,161.2lbs/ft2 (181,436.9kg/m2)

Wing Area

10.8ft2 (1.0m2)

Drag Points

683637
Parts
Number of Parts

517

Control Surfaces

2

Performance Cost

1,889
---