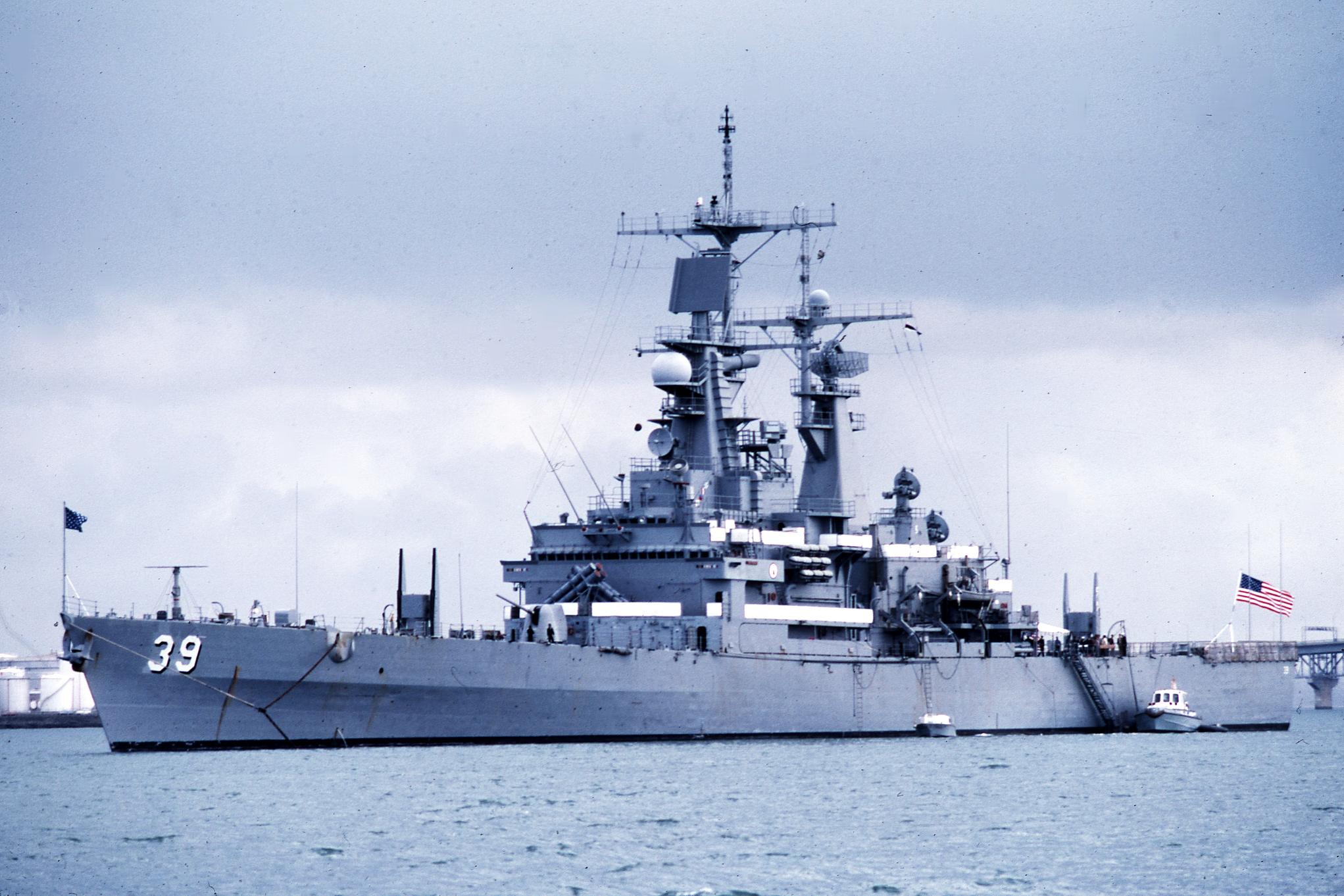 USS Texas (DLGN-39/CGN-39) was the United States Navy's second Virginia-class nuclear guided missile cruiser. She was the third ship of the Navy to be named in honor of the State of Texas. Her keel was laid down on 18 August 1973, at Newport News, Virginia, by the Newport News Shipbuilding and Drydock Company. She was initially designated a guided missile destroyer leader (DLGN), but was reclassified as a guided missile cruiser and given the hull classification symbol CGN-39 on 30 June 1975, as part of the Navy's ship reclassification plan. She was launched on 9 August 1975, sponsored by Mrs. Betty Jane Briscoe, wife of Texas Governor Dolph Briscoe, and commissioned on 10 September 1977.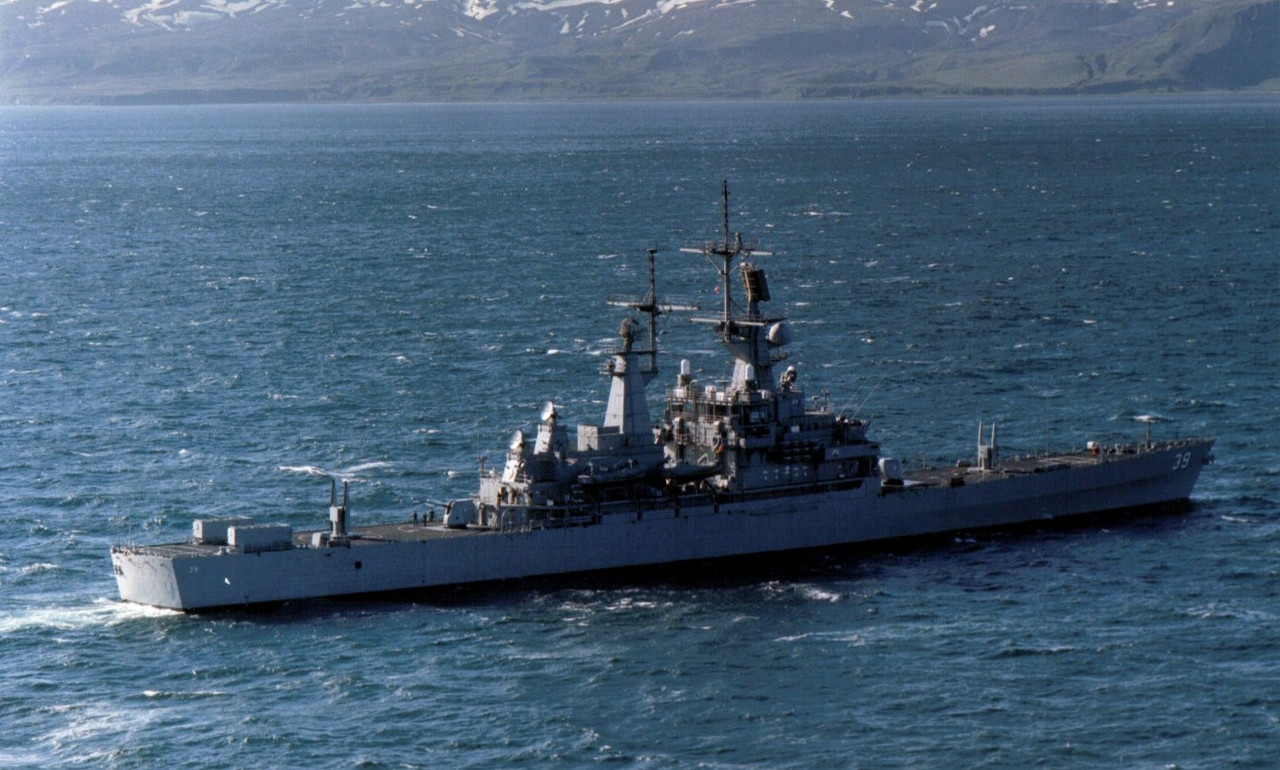 The maiden deployment of Texas was with the USS Nimitz Carrier Battle Group in the Mediterranean and North Arabian Seas during the Iranian hostage crisis in support of Operation Eagle Claw. She also served as flagship for Commander, Cruiser-Destroyer Group One. In 1980–81, during a maintenance period she received two 4-cell Harpoon anti-ship missile batteries and two CIWS gun mounts for anti-missile defense. Her second deployment was again with the Nimitz CBG, followed by operations in the Mediterranean. During this period, Texas saw combat for the first time, as she responded to Libyan aggression in the Gulf of Sidra.
Texas was halfway through her mid-life refueling and New Threat Upgrade overhaul and work had just begun on the installation of her new reactor cores in early May 1993, when the decision was made to cancel the work on her and also the planned refueling of her Virginia-class sister-ships. Texas was placed in reserve commission on 31 May 1993, then decommissioned and stricken from the Naval Vessel Register on 16 July 1993 after just 15 years of service. Texas entered the nuclear Ship-Submarine Recycling Program at Puget Sound Naval Shipyard on 1 October 1999.
Controls:
Throttle: Drive cruiser
AG1+Throttle: Drive cruiser reverse
AG2+VTOL+Trim: Activate and control forward RIM-66 Standard launcher
AG3+VTOL+Trim: Activate and control aft RIM-66 Standard launcher
AG4+Pitch+Roll: Activate and control Mk.15 Phalanx CIWS guns
AG5: Activate left RGM-84 Harpoon launcher
AG5+VTOL+Trim: Activate and control forward Mk.45 gun
AG5+Trim: Activate and control left torpedo launcher
AG6: Activate right RGM-84 Harpoon launcher
AG6+VTOL+Trim: Activate and control aft Mk.45 gun
AG6+Trim: Activate and control right torpedo launcher
AG7: Activate and arm RGM-109 Tomahawk missiles
Yaw: Steer cruiser
Credits to @MintLynx for the Mk.45 gun, Mk.15 Phalanx CIWS, RGM-84 Harpoon launcher, RIM-66/67 missile launcher, and RGM-109 Tomahawk launcher.
Specifications
General Characteristics
Successors

1 airplane(s)

+35 bonus

Created On

Windows

Wingspan

63.2ft (19.3m)

Length

585.6ft (178.5m)

Height

193.0ft (58.8m)

Empty Weight

N/A

Loaded Weight

1,183,657lbs (536,898kg)
Performance
Horse Power/Weight Ratio

0.016

Wing Loading

287.6lbs/ft2 (1,404.1kg/m2)

Wing Area

4,115.8ft2 (382.4m2)

Drag Points

229
Parts
Number of Parts

860

Control Surfaces

0

Performance Cost

2,706
---