"The mountain? Surmounted. Now I return to the pavement - a wanderer, once again."



My first heli! I hope you like it. Criticism is welcome, but please be gentle!
Misc. Controls
Activator 1 – Night vision (in camera 1)
Trim – Gun orientation
Activator 3 – AA missiles online
Basic Flight
Throttle controls the propeller speed. Best to keep it at 100%.
VTOL controls propeller pitch. Use it to adjust altitude.
Pitch and roll for forward and lateral movement.
Yaw for yaw.
Activator 2 for cruising mode (You will pitch a bit, and that's OK!).
Land at 75% throttle, and VTOL slightly above center.
Misc. Tips
If you are losing altitude for no apparent reason, try putting the VTOL bar to center, and bringing back up again.
Camera 1 is more useful than the cockpit view. It has optics that will help you aim, and even night vision!
Aim guns by changing the heli's yaw orientation, as well as using the trim bar.


All weapons aim at whatever camera 1 is aiming at!
Tandem Repeater
Fires two heavy rounds in rapid succession. Fire it like any gun. Destroys naval ships in 5 shots.
Vortex Cannon III
Fires warheads that yield oscillating explosions. Fire it by launching a boom 50.
Quantitas Rockets
Dumbfire cleaver rocket pods. Max range is 1.2 miles. When a target is within range, a lock will be made. Launch a cleaver, and it will travel to whatever you were aiming at.
REFLEX Missiles
Augmented infernos and guardians. 360-degree range, and instant locking. Activator 3 will bring the AA ones online.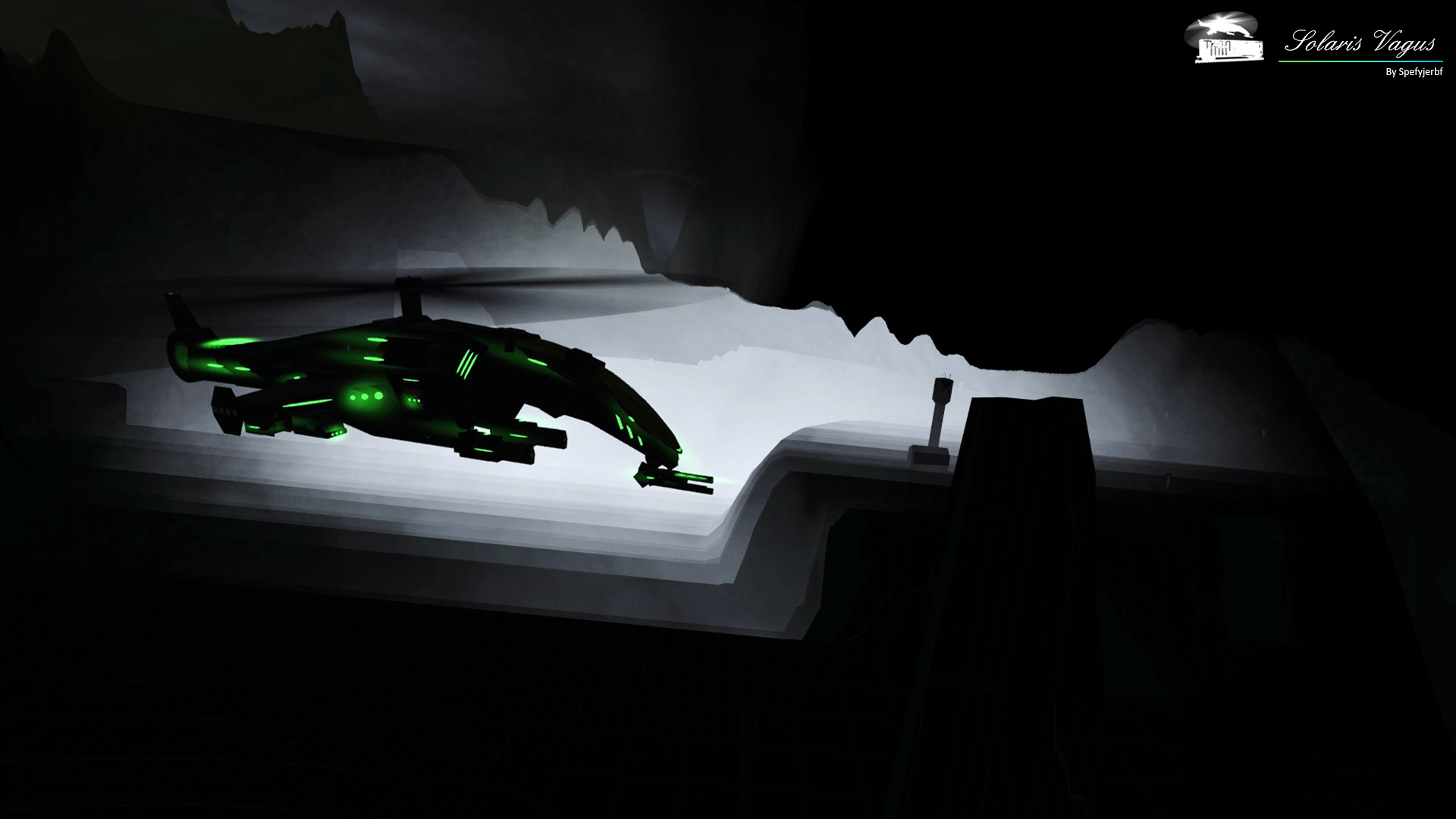 The Solaris Vagus helicopter was the second aircraft to come from New Portum's innovative private aerospace sector. Aspects of the helicopter's design were inspired by, and are related to, the H-Class "Lumenidon" Multipurpose VTOL, which was the first aircraft to be sold by the colony's aerospace market. Such similarities designated the Solaris Vagus as H-Class, which was the colony's predominant classification for multipurpose VTOL aircraft. At the time, the designation was unanimous, as when the helicopter was in its early stages of development, its similarities to its Lumenidon counterpart were apparent, if not blatant. Eventually, though, the Solaris Vagus helicopter defied its classification by becoming a dedicated attack helicopter. Even with controversy, the classification remains due to the helicopter's versatile combat options.
Such combat options were made possible by the helicopter's specialized armament. A new development, the Tandem Repeater, was engineered for use on the helicopter. Quantitas Rockets and REFLEX arrays were also used. Together, the weapons allow for decisive conflict at a short range. Long range confrontation, however, is executed exclusively by a next-generation weapons system that was designed specifically for the helicopter. This weapon was the Third-Generation Vortex cannon – a 6-round system that renewed the efficacy of vortex cannons and related weapon systems.
The Government of New Portum is the primary buyer of Solaris Vagus units, but private entities may also purchase them. Heavy background checks are used to ensure that the buyer can be trusted, and then, for a hefty price tag, the customer can purchase a Solaris Vagus helicopter. In the private sector, the Solaris Vagus is operated by corporations for self-protection, as well as paramilitary organizations that share values with the Government of New Portum. Individuals also use the helicopter, but such instances are rare, as few pass the required background checks. New Portum's rigorous vetting process has ensured that only a few well-qualified individuals own a Solaris Vagus helicopter. Selling the helicopter to a violent individual would yield fatal consequences on a potentially massive scale.
Specifications
General Characteristics
Predecessor

Solaris Vagus H-Class Heli

Successors

2 airplane(s)

+7 bonus

Created On

Windows

Wingspan

56.0ft (17.1m)

Length

65.5ft (20.0m)

Height

17.2ft (5.3m)

Empty Weight

-4,734,385lbs (-2,147,483kg)

Loaded Weight

17,154lbs (7,781kg)
Performance
Power/Weight Ratio

1.31

Horse Power/Weight Ratio

0.233

Wing Loading

4,249.8lbs/ft2 (20,749.6kg/m2)

Wing Area

4.0ft2 (0.4m2)

Drag Points

14198
Parts
Number of Parts

437

Control Surfaces

0
---