In a parallel universe somewhen
His Majesty's Aircraft
Raised Awareness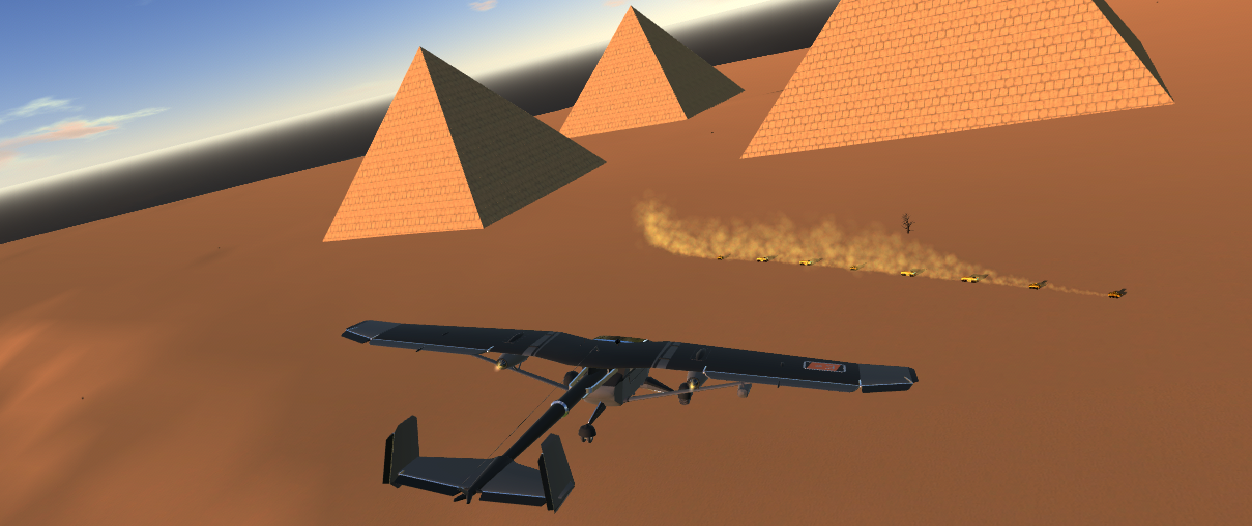 Take-off
VTOL down half way to set take-off flaps. Apply full throttle and rotate at 80mph. Once airborne, VTOL centre to raise flaps; maintain full throttle for climb or combat manoeuvring; throttle back to 85% or less for standard flight and set trim as required.
Landing
For final descent and landing, use 10% to 15% throttle and VTOL down fully for full flaps. On touchdown, throttle off and apply brakes as required.
Taxiing
Max 2% throttle and Yaw. (All-wheel steering)
Crew
Pilot and Co-Pilot in front, 2 crew in rear handling radio, navigation, camera and observation duties.
For clandestine operations, the co-pilot acts as navigator/radio operator leaving the rear seats empty for passengers.
AG1 Landing Light.
Built by Pilot, crew and Zone 23 Volunteers.
Sponsored by Factory Leaders Consortium Zone 23.
His Majesty's Aircraft "Raised Awareness" Is a medium sized STOL aircraft and will be assigned to the Eastern Battle Group (A.K.A. "The Einsteinians") to carry out various "Eye-in-the-sky" army co-operation missions such as Artillery Spotting, Photo-recon and Liaison as well as Clandestine night sorties into enemy territory.
For its usual missions, the craft has good visibility for pilots and crew, has a tight turning rate that enables it to stay over the area being observed, is equipped with a compact camera pod for low altitude recon, and has 2 machine guns for defense.
For its Clandestine missions, the craft's high-lift wings, relatively quiet engines and short wheel base enable it to land, turn round if required and get airborne again in a matter of seconds, thus minimising the chances of detection.
Footnote & credit
Hidden quiet engine by @SledDriver.
For this build I wanted two main things; decent STOL capability and wings that folded up and back. Oh well, 1 out of 2. I gave up trying to compensate for the weak & wobbly rotators and so abandoned the folding wing idea in the end.
Specifications
General Characteristics
Created On

iOS

Wingspan

77.5ft (23.6m)

Length

61.2ft (18.7m)

Height

16.2ft (4.9m)

Empty Weight

-4,734,385lbs (-2,147,483kg)

Loaded Weight

6,944lbs (3,150kg)
Performance
Power/Weight Ratio

24.269

Wing Loading

12.7lbs/ft2 (61.9kg/m2)

Wing Area

547.9ft2 (50.9m2)

Drag Points

5371
Parts
Number of Parts

358

Control Surfaces

5
---