In a parallel universe somewhen
His Majesty's Aircraft
Lethal Tide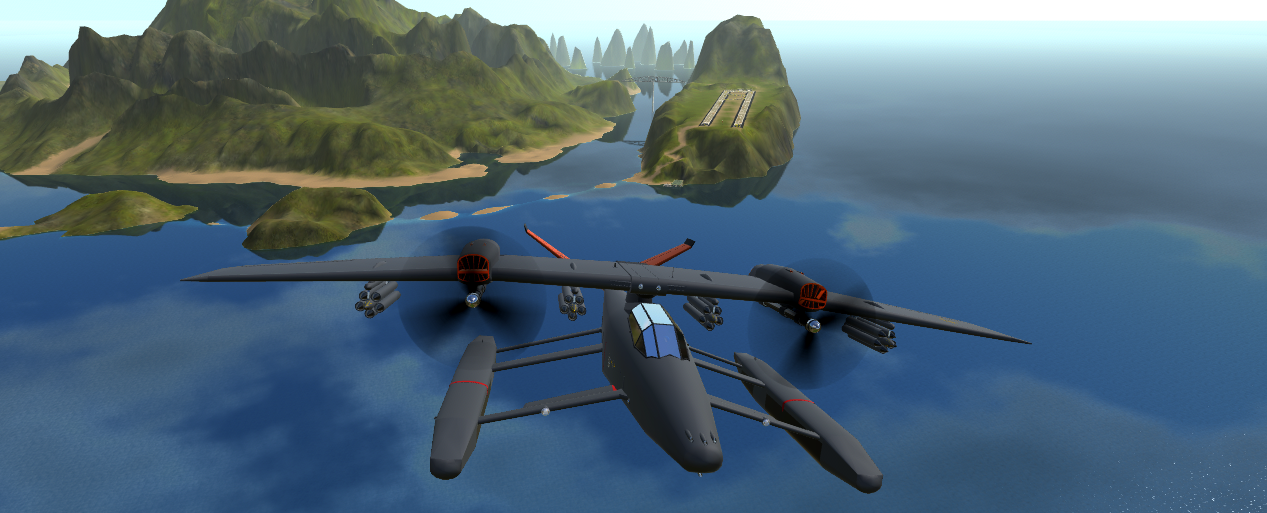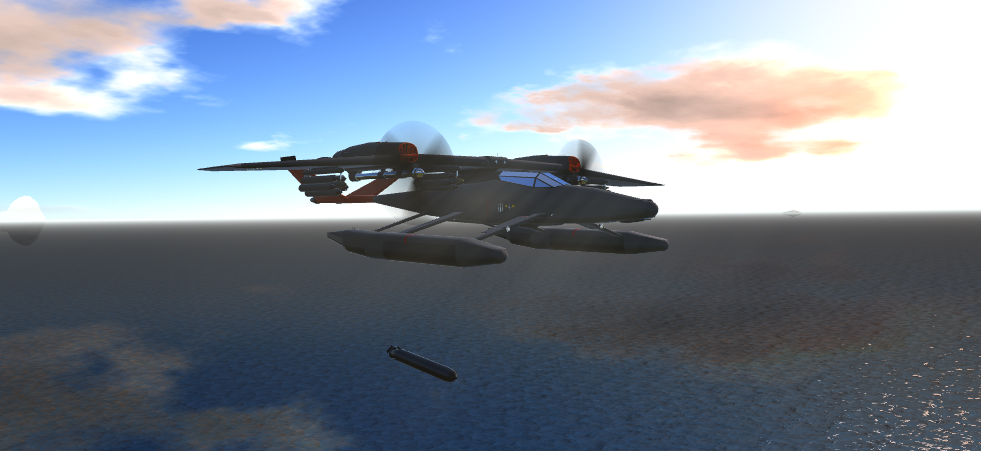 Take-off
AG1 on, AG2 off. VTOL down half way to set Lift Canards for take-off. Apply full throttle and pull up during take-off run; Unstick occurs quickly at 160mph. Once airborne and climbing, VTOL centre to raise Lift Canards.
Maintain full throttle for gentle climb and maximum speed, otherwise throttle back and apply Trim as required.
Landing
Use 10% Throttle for final approach and landing: on approach, when speed drops below 180mph, VTOL down fully to lower lift canards. On touchdown, Throttle off.
Water Taxiing
AG1 off, AG2 on. Use Pitch for forward and reverse. Use Roll to turn.
Crew 1
Built by: Pilot and crew, using the salvaged fuselage of a land-based fighter.
Sponsored by: Cortland Ropewalks, Cortland Traders' Guild and Slyvan Freight.
AG1 on, AG2 off Main Propulsion.
AG2 on, AG1 off Taxiing Thrusters; use Pitch and Roll.
AG3 Cannon.
AG4 Rockets.
AG5 Torpedo.
AG6 Landing Lights.
AG7 Detach outer rocket pods (inner pods remain attached for safety)
Nose machine guns always available at speeds over 60mph.
His Majesty's Aircraft "Lethal Tide" is a heavily armed, medium speed Naval Strike aircraft.
The craft fulfills the need to fly fast and low towards its targets, and to attack using a variety of weapons.
The craft's short take-off run allows it to operate from lakes and rivers if required.
Footnote
Tail is close to the water. Call it a Treadmill Feature!
Apologies for the Torpedo behaviour; tinkering with size and mass seems to upset it: it just skims along the surface of the water for some reason. Still goes boom though…..
Specifications
General Characteristics
Created On

iOS

Wingspan

61.8ft (18.8m)

Length

59.6ft (18.2m)

Height

12.2ft (3.7m)

Empty Weight

-4,734,385lbs (-2,147,483kg)

Loaded Weight

10,137lbs (4,598kg)
Performance
Power/Weight Ratio

23.941

Horse Power/Weight Ratio

0.13

Wing Loading

17.2lbs/ft2 (84.2kg/m2)

Wing Area

588.0ft2 (54.6m2)

Drag Points

4243
Parts
Number of Parts

478

Control Surfaces

4
---