Auto Credit
Based on Jundroo's
Wasp
Entering the new year of 2022, Andrew Garrison, the founder of Jundroo Aerospace aircraft company has been release the new early development stealth experimental aircraft prototype. By combining some airplane parts from the existing aircraft, creating the unique hybrid chimera-like aircraft.
Based from Wasp, The NI-174 is an early development prototype stealth experimental aircraft. Larger, slower and less maneuverable than other prototypes, it is principally defined by its huge weapons payload, which may include Anti-Ship Missiles, Remote Detonation Burst Missiles and even the Experimental Uranium Freefall Bomb. It's Jundroo code is "Tucker".
During the first time of development, the NI-174 was created by a mashup of multiple designs of an existing planes. The disadvantages of this plane is located at the handling abilty. Poor handling ability of this proto-plane pressumably because the designer mixing a random plane parts which is actually having a different tier and level at each parts.
Features:
Interactive Cockpit.
Arresting hook. Based from Wasp, carrier capable.
Parachute. (use this while landing, to make your landing process much easier).
Disadvantages:
Poor handling ability, the contol also seems to be not very good.
Since this is an early developed prototype-aircraft, failures, malfunctions, and hard to controls is commonly occured.
Weapons:
12x Multirole Interceptor.
2x Guardian.
30mm Swoop machine gun.
Controls:
Normal flight control.
VTOL = Flaps.
Trim = Trim.
Miscellaneous:
AG1 = Open/close canopy.
AG2 = Drag-chute.
AG3 = Arresting Hook
AG4 = Lights
AG5 = Refuel Probe
AG6 = Jettison fuel tank (Non functional)
AG7 = Jettison weapons.
AG8 = Start/stop engine (Not really functional).
Trivia:
•The tailmarking A.GR identifies and corresponds to its originator pf the aircraft itself, Andrew Garrison.
•The Tucker's design were inspired from ACG-01 Chimera from the game called "Project Wingman".
•The Chimera's design resembles the Su-57, the F-16XL, and the Tempest. The name is likely a reference to the fact that this plane is a mashup of multiple designs.
•Talking about Chimera, the namesake of NI-174 Tucker were taken from "Nina Tucker" (Number 17 is resembly to letter N and number 4 is resembly to letter A), a character from "Fulmetal Alchemist". It seems likely a reference to the fact that this poor little girl and her pet dog has being turned into a terrific creature with the same name, while the Codename Tucker is taken from the character's last name.
Gallery: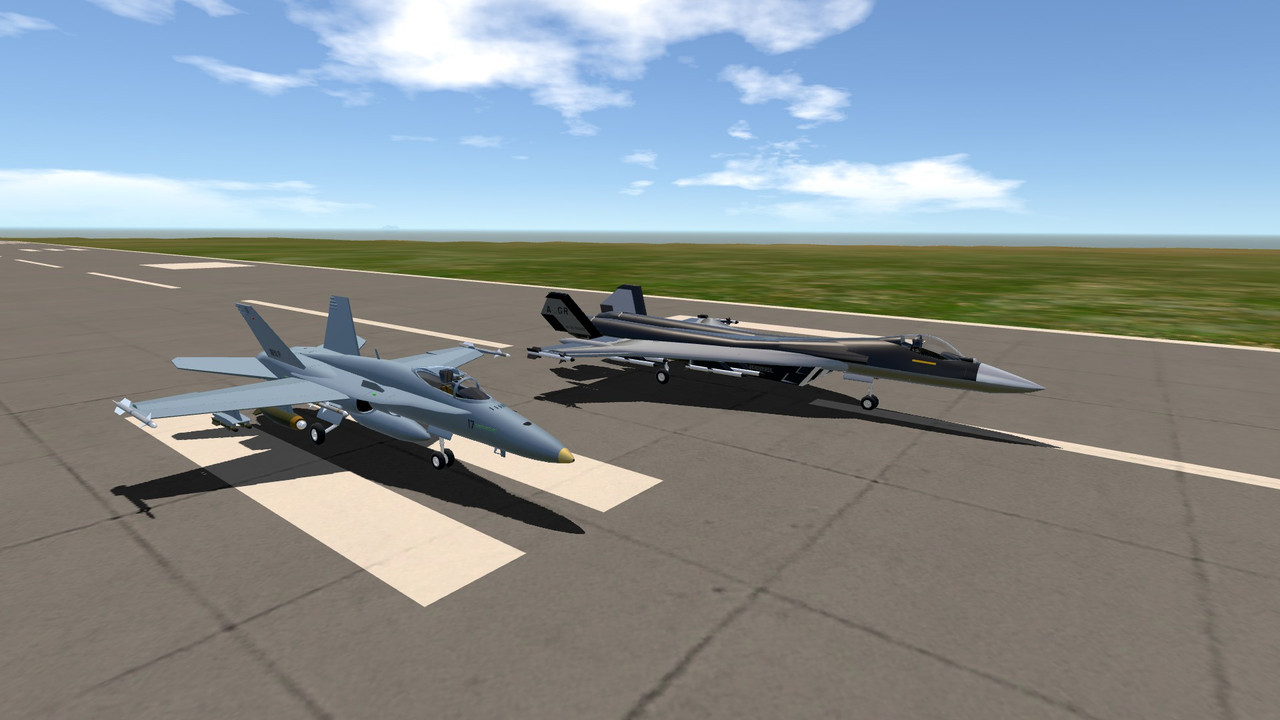 The Tucker and her predecessor, the Wasp.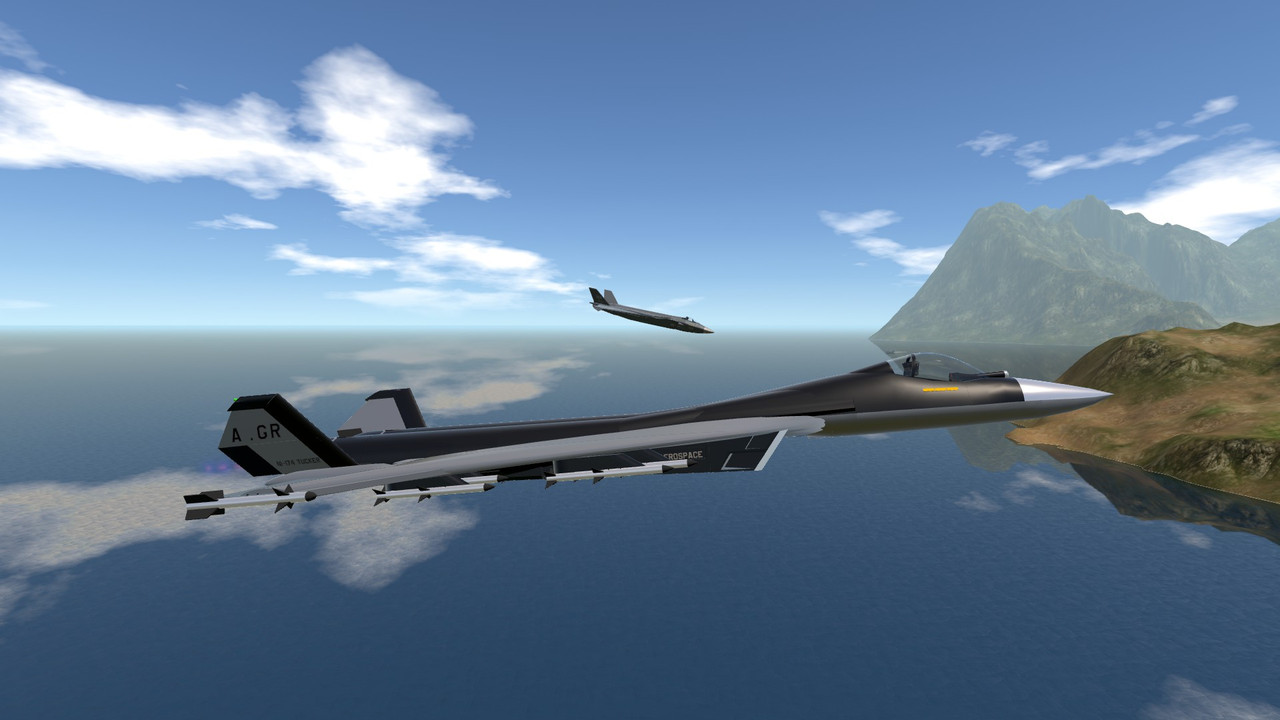 NI-174 Tucker with Stealth-Pen Proto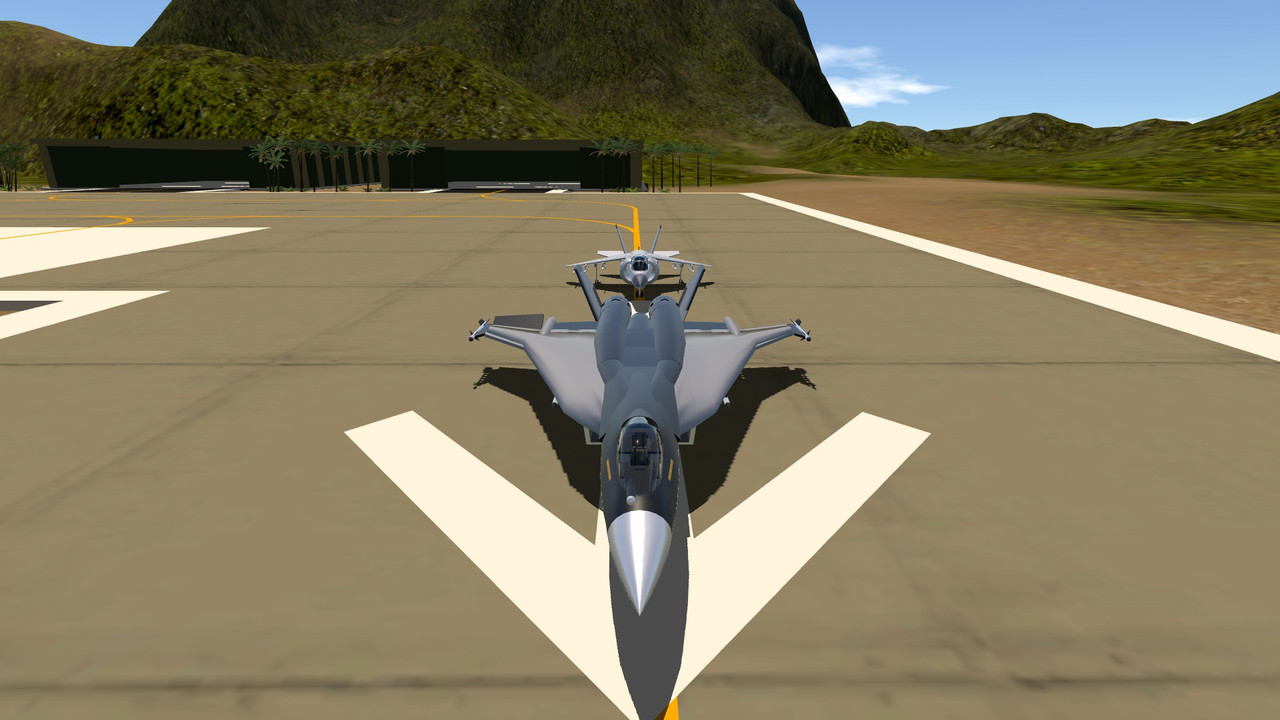 At Yeager Airport, with Vertigo Stealth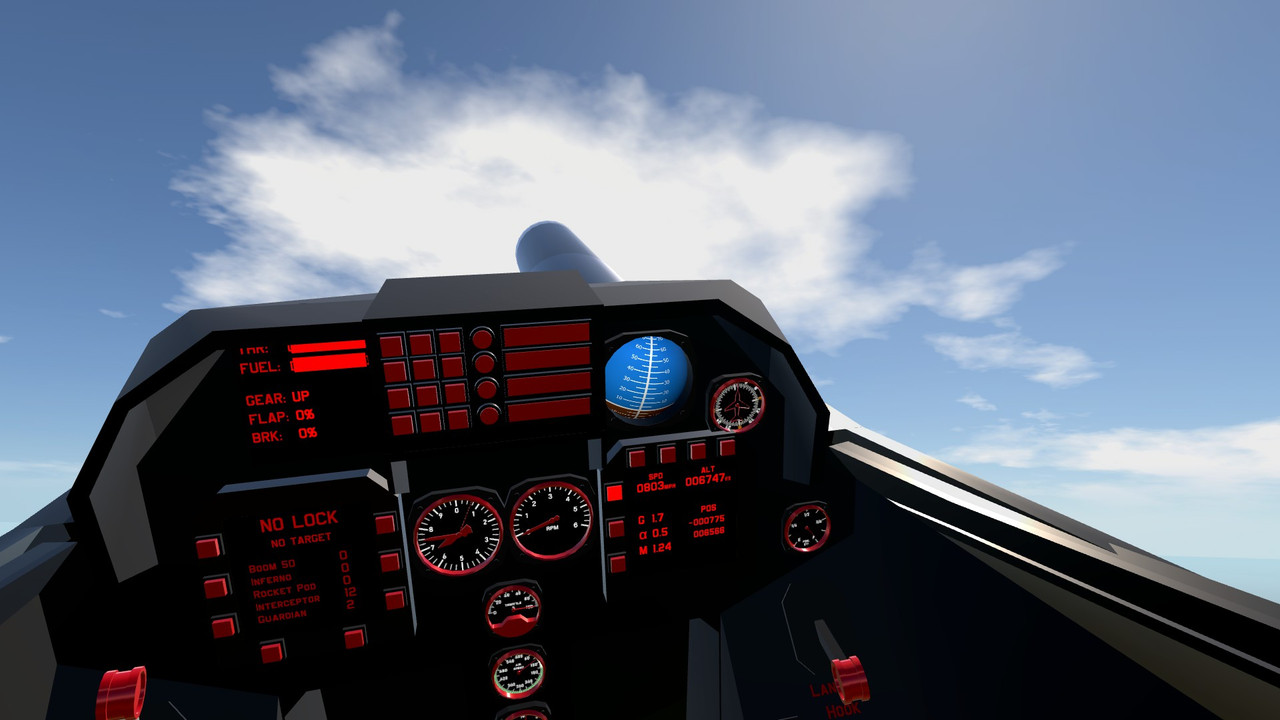 Tucker's Cockpit.
Specifications
General Characteristics
Predecessor

Wasp

Created On

Windows

Wingspan

46.3ft (14.1m)

Length

75.7ft (23.1m)

Height

14.1ft (4.3m)

Empty Weight

31,540lbs (14,306kg)

Loaded Weight

45,869lbs (20,806kg)
Performance
Power/Weight Ratio

16.167

Wing Loading

75.9lbs/ft2 (370.7kg/m2)

Wing Area

604.1ft2 (56.1m2)

Drag Points

10574
Parts
Number of Parts

296

Control Surfaces

8

Performance Cost

1,516
---