Messerschmitt Bf-109 G-6 RHAF
Note:
This is now the final upload. Landing gears are fixed and work perfectly.
I also added two lights in the cabin (not shown on the screenshots) to indicate if the landing gears are retracted or extended
Hey everyone, it's been a while since I last uploaded a plane... or anything at all. I was/am pretty busy with my university studies, but I decided to sit down and put together a little build before the New Year, so enjoy! :D
This is a Messerschmitt Bf-109 Gustav-6 of the Royal Hungarian Air Force from WWII.
History
In WWII, Hungary (the Kingdom of Hungary back then, despite not having an actual monarch) was part of the Axis powers. As such, it had to help Germany in its conquest against the Soviet Union. The Hungarian military had very poor numbers and especially poor, outdated equipment. Because of this, Hungary started to produce German designs, such as the Messerschmitt Bf-109's Gustav subversion (The G-6 to be exact) in the city of Gyor. Hungary not just produced these but also used some of them in its airforce. This build is a replica of one of those planes.
Now let's talk about my build:
The plane features accurate size, authentic camo and decals, somewhat worked out cockpit with a gunsight and a functioning pilot inside. That's right, I did the same thing as with my Willy's MB Jeep, the little guy inside actually moves like he is controlling the plane.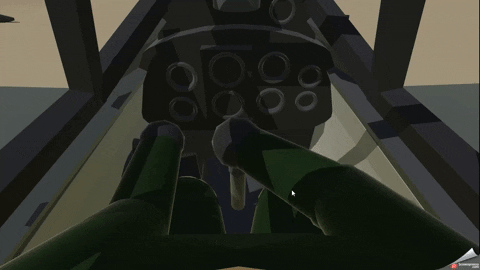 Controls:
Pitch-Roll-Yaw - Plane controls
VTOL - Flaps
Trim - vertical adjustment
Cockpit view and CAM1 - both are the pilot's view
Well that would be it, I hope you'll enjoy this little build.
Have fun and Happy New Year!
Specifications
General Characteristics
Successors

3 airplane(s)

Created On

Windows

Wingspan

31.5ft (9.6m)

Length

29.4ft (9.0m)

Height

10.8ft (3.3m)

Empty Weight

5,637lbs (2,557kg)

Loaded Weight

9,339lbs (4,236kg)
Performance
Horse Power/Weight Ratio

0.267

Wing Loading

11.7lbs/ft2 (57.1kg/m2)

Wing Area

798.2ft2 (74.2m2)

Drag Points

2100
Parts
Number of Parts

287

Control Surfaces

8
---