Hello all, this is Snow back from a long period of inactivity. As I've explained in my forum post earlier, there just was a lot of stuff I had to deal with, albeit I continued to build stuff offline.
Today I bring you guys an beginning of my experiment with the impactForce attribute on the guns of this game. I know that @Minecraftpoweer has made a "recoiling gun" a long time ago using similar mechanics, albeit it wasn't the kind that I bring you today. Heavily influenced by the Bofors 40mm, I created an AA gun with the following features:
Main features
A fully reciprocating barrel with gun smoke, complete with an casing ejection effect, and also with a unique metallic gun firing sound instead of typical MG firing sound. Note that this has "burst mass" modeled and will produce actual backwards force. I may also bring to you guys a modified version for aircraft with the same concept. I've tried placing the gun on an aircraft; the gun smoke effect is perfect for aircraft guns and realism enthusiasts.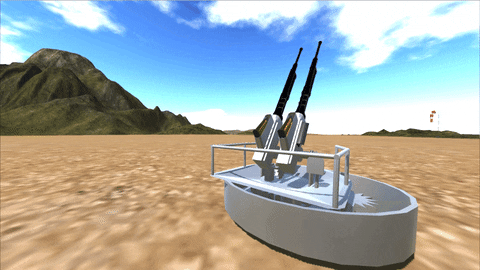 Details
A gear-controlled, hand-crank, adjusted elevation up to about 60º complete with a simple gunner's seat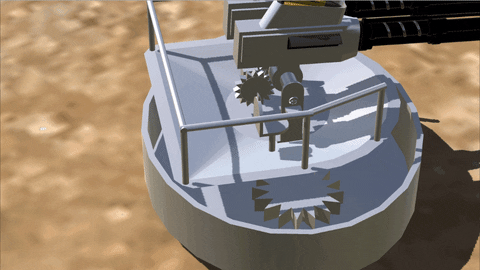 A gear-controlled traverse, with a range of about 270º
If you look closer, you will see there are little pump/dampener things on the barrel assembly besides the recoil spring itself. Although this piece of AA does not do as well as an actual AA piece in the game, this concept of impactForce used to power pumps has given me an idea for a cool build that will get to your local SimplePlanes supplier as soon as testing is complete.
Have fun with this one-
Specifications
General Characteristics
Successors

1 airplane(s)

Created On

Mac

Wingspan

9.0ft (2.7m)

Length

12.8ft (3.9m)

Height

6.0ft (1.8m)

Empty Weight

13,346lbs (6,054kg)

Loaded Weight

13,346lbs (6,054kg)
Performance
Wing Loading

6,613.2lbs/ft2 (32,288.4kg/m2)

Wing Area

2.0ft2 (0.2m2)

Drag Points

3432
Parts
Number of Parts

243

Control Surfaces

0
---