Auto Credit
Based on Mattangi2's
BMW M1
The BMW M1 was a supercar made by BMW in 1978, and manufactured from 1978-1981. It was one of BMW's only wedge shaped cars, and colored in bright orange, it was stunning.
The interior wasn't so grand, so I made my own. I think the blue in the interior was a nice touch.
Credit to @QingyuZhou as inspiration for the engine. Also, apparently I am using his steering wheel too (long story) so credit to him for that.
here is a video of SP user @Caveman999 testing this car out. Go give him some love!
IRL Car Specs
0-60 time: 4.9 seconds
Top speed: 164 mph
Power: 273 bhp
Transmission: 5-speed manual
Wheelbase: 102.4 inches
Length: l7l.7 inches
Width: 71.8 inches
Hight: 44.9 inches
Weight: 2866 lbs
It's hard to call this a supercar, but the design is great, so it passes.
Controls In-Game
Yaw: Steering
Pitch: Gas/Acceleration
VTOL Up + AG4: Doors
VTOL Up + AG5: Engine Hood
Trim Up: Pop-Up Headlights
AG1: Lights
AG2: Left Blinker
AG3: Right Blinker
Here are some screenshots and some gifs I took.
A good view of the simple, yet effective, interior

The engine hood up to reveal the engine

The doors wide open to let all the farts out

Starbucks Coffee Cup

A GIF showing off the car's dance moves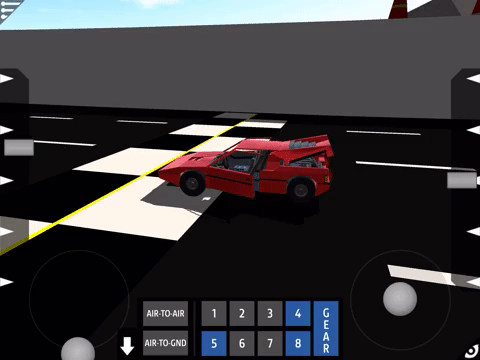 The pop up lights

No pop up lights

Note: This is a realistic REPLICA! It doesn't go 500mph for a reason.
Most people end with a "enjoy:)". I think this is pointless and will end with a meme:
Specifications
General Characteristics
Predecessor

BMW M1

Successors

15 airplane(s)

+126 bonus

Created On

iOS

Wingspan

9.6ft (2.9m)

Length

24.3ft (7.4m)

Height

7.2ft (2.2m)

Empty Weight

3,278lbs (1,487kg)

Loaded Weight

3,278lbs (1,487kg)
Performance
Wing Loading

439,839.3lbs/ft2 (2,147,483.6kg/m2)

Wing Area

0.0ft2 (0.0m2)

Drag Points

4548
Parts
Number of Parts

466

Control Surfaces

0
---