This aircraft follows all the basic AI requirements. It is specially designed for Artificial Intelligence [AI] to simulate air traffic, it is able to land and take off with extreme precision at the main airports in the game, it is also a playable aircraft, you can enjoy air collisions, target shooting or just enjoy of a more realistic air traffic.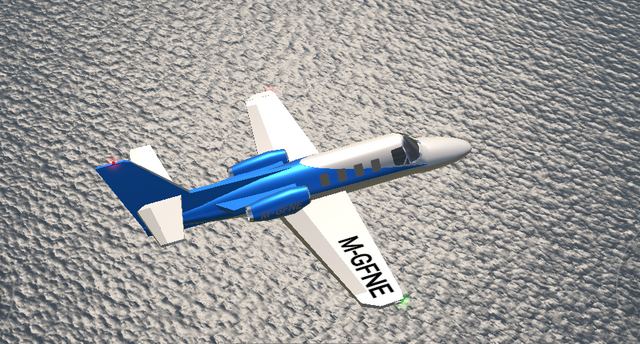 MAPA Aviation · 2023
---
Wiki:
The Cessna 500 Citation I is a small business jet produced by Cessna, the basis of the Citation family. The Fanjet 500 prototype was announced in October 1968, first flew on September 15, 1969, and was certified as the 500 Citation on September 9, 1971. It was upgraded in 1976 as the Citation I, and the 501 Citation I/SP single-pilot variant was introduced in 1977. Production ended in 1985 with 689 of all variants produced. The straight wing jet is powered by JT15D turbofans. The aircraft was developed into the Citation II.
In the early 1960s, the three major American general aviation aircraft manufacturers—Beechcraft, Cessna and Piper–faced a competitive challenge in the form of two newly-developed light business jets, the Learjet 23 and the Aero Commander 1121 Jet Commander, which were much less expensive to buy and operate than previous business jets such as the North American Sabreliner and Hawker Siddeley HS.125. Previous efforts by Beechcraft and Cessna to market small jets had not met with success: the Cessna 407, a proposed civil version of the T-37 Tweet jet trainer, had not proceeded past the mockup stage due to insufficient customer interest, while an effort by Beechcraft to market the Morane-Saulnier MS.760 Paris in North America had ended with only two aircraft sold. However, the runaway success of the Learjet caused the two companies—which only manufactured piston engined aircraft at the time—to reconsider turbine engined aircraft, and Beechcraft launched two simultaneous efforts: the development of the turboprop-powered King Air 90 and an agreement to market the HS.125 in North America.
Cessna quickly found that its premium twin piston-engine aircraft were uncompetitive with the King Air, which was substantially faster, yet could be flown by pilots with similar skills and licensing qualifications. However, the company also saw a broad gap between the King Air and existing light jets such as the Learjet, which were far faster but also relatively unforgiving to fly, requiring highly skilled pilots and long runways. Cessna reasoned that a market existed for a light jet that was faster than the King Air but similarly easy to fly, relatively inexpensive to buy and maintain, and able to access small airports with shorter runways. This type of aircraft would appeal to traditional Cessna buyers: amateur owner-pilots who intend to fly the aircraft themselves.
In October 1968 Cessna announced an eight place business jet capable of operating from airfields accessible to light twins. The Fanjet 500 prototype first flew on September 15, 1969. By then its unit cost was $695,000, $5.14M today. The renamed 500 Citation had a relatively long development program with a longer forward fuselage, repositioned engine nacelles, a larger tail and more dihedral to the horizontal tail. It was FAA certified on September 9, 1971.
In early 1976, its wing span grew from 43.9 to 47.1 ft (13.4 to 14.4 m). It also gained thrust reversers and higher gross weights. The enhanced 500 Citation I was introduced later in 1976 with higher weights, JT15D-1A engines and an increased span wing. The 501 Citation I/SP, certificated for single pilot operations, was delivered in early 1977. Production ended in 1985, it was developed into the Citation II/Bravo and the Citation V/Ultra/Encore. Over 690 Citations, Citation Is and I/SPs were built between 1971 and 1985.
By 2018, used 1970s model 500s were valued at $300,000, Citation ISPs at $695,000 to $1.25 million with the Eagle II package.
---
Galery: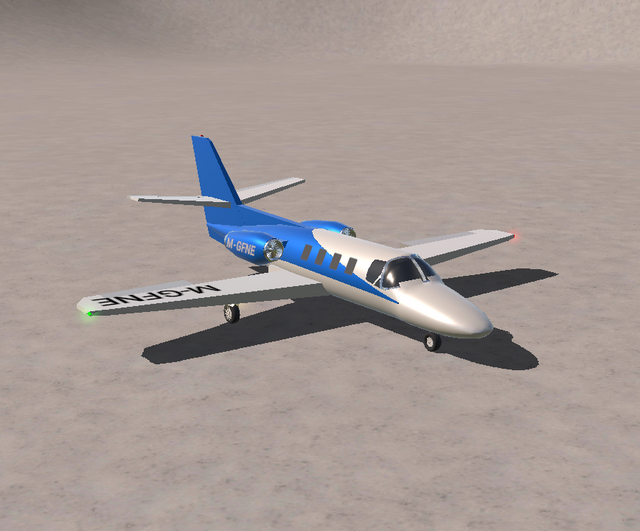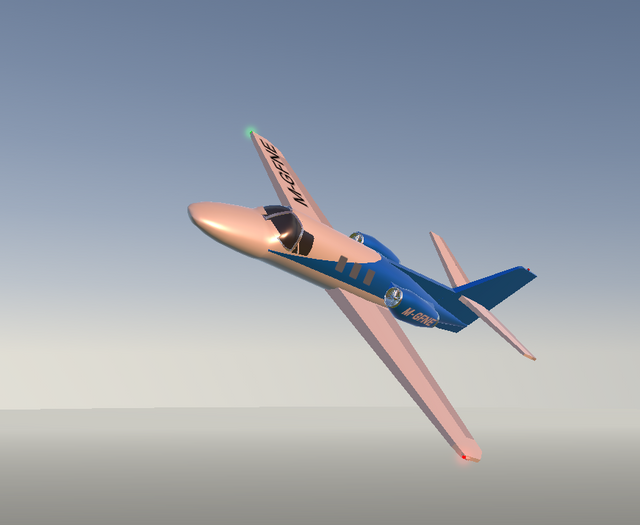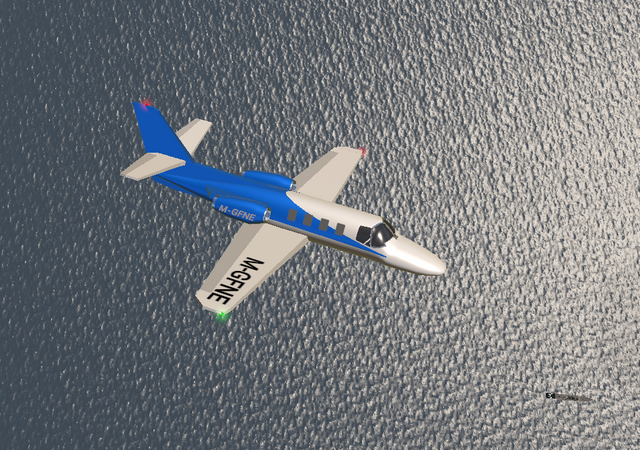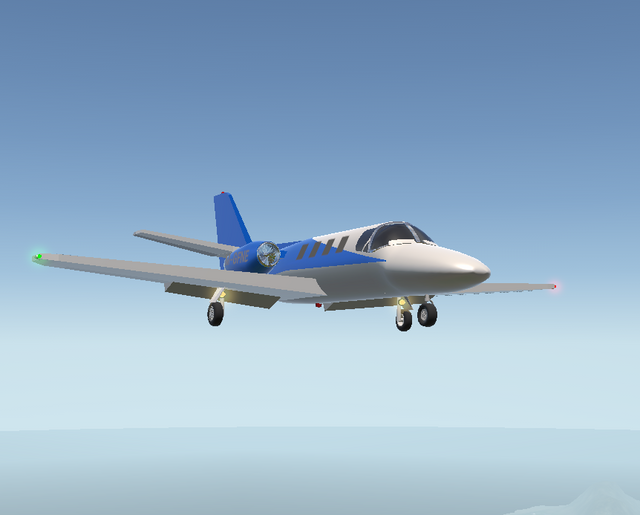 Actual Sample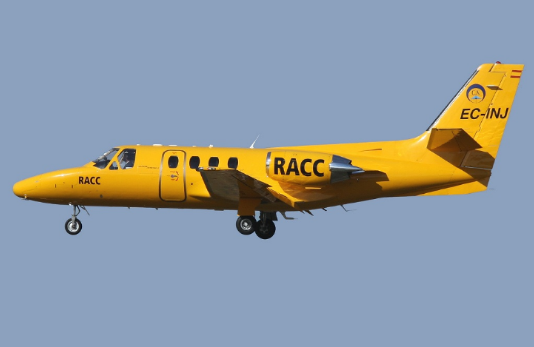 Credit: Wikipedia
---
Controls: Standard
Thank you for your attention, Good flight!
Specifications
General Characteristics
Predecessor

Cessna 525 Citation CJ1+

Successors

3 airplane(s)

+56 bonus

Created On

Android

Wingspan

62.6ft (19.1m)

Length

59.1ft (18.0m)

Height

19.0ft (5.8m)

Empty Weight

9,200lbs (4,173kg)

Loaded Weight

15,238lbs (6,912kg)
Performance
Power/Weight Ratio

8.848

Wing Loading

21.0lbs/ft2 (102.5kg/m2)

Wing Area

725.8ft2 (67.4m2)

Drag Points

3849
Parts
Number of Parts

87

Control Surfaces

7

Performance Cost

464
---