Auto Credit
Based on Avro683Lancaster's
Ship-12
US Navy Seaplane Tender
VP-40 "Fighting Marlins", Operation Market Time, Viet Nam, 1965
---
History
Seaplane Tenders
Pre-War
Seaplane Tenders have existed since the first seaplane. In 1912, La Foudre was armed as the first seaplane carrier (similar to the modern aircraft carrier but without provisions for launching and recovering), and began trials with converted Canard Voisin and Nieuport biplanes. During exercises, the ship managed to foil multiple surprise attacks with the Nieuport. Shortly after, in 1913, the Royal Navy converted HMS Hermes (1898) for a similar purpose, and then in 1914, designed and constructed the first purpose-built seaplane carrier, HMS Ark Royal.
First World War
In 1914, the IJN Wakamiya, a converted freighter, conducted the first naval air raids, against the Germans in Jiaozhou Bay, striking targets and damaging a minelayer. Later that year, the RN attacked Heligoland Bight with seaplanes carried within range. During the war, aircraft improved, leading to seaplane carriers becoming less effective, and, although HMS Ark Royal had provisions to launch aircraft, were mostly superseded by proper aircraft carriers.
Inter-War
The benefits of the seaplane carrier transferred over to cruisers and battleships, and many were fitted with provisions for scout and reconnaissance seaplanes (all of the final battleship classes had catapults), and two ocean liners, the SS Europa and SS Bremen, which carried mail aircraft, allowing for a faster mail service without the need for long range aircraft. True inter-war Seaplane tenders, built or converted, included the USS Langley (AV-3), converted from (CV-1), the IJN's Chitose class, converted to aircraft carriers, the MS Schwabenland, which participated in a nazi Antarctic expedition, and the Regia Marina's Giuseppe Miraglia, among others.
Second World War
The USN and IJN constructed numerous seaplane tenders to augment their aviation capabilities, especially with the long ranges in the Pacific, tending to aircraft such as the Kawanishi H6K and H8K, Mitsubishi F1M, Consolidated PBY and PB2Y, and the Martin PBM.
The concept of the seaplane carrier and seaplane carrying warship was taken to the extreme with the IJN Mogami-class Aircraft Carrying Cruisers, able to carry 11 fighters or scout planes.
The USN constructed a number of new tenders, including the Curtiss and Currituck- class tenders, and the 35-strong (but only 30 commissioned as seaplane tenders) Barnegat-class.
Post-War
Due to the increase in the number of airstrips constructed during the war and the improvement of land based aircraft, the seaplane grew rarer in civilian and military service, and, without a purpose, so did the seaplane tender. Some tenders, mainly those of the US Navy, continued in service until 1987. These Tenders served in Korea and Vietnam, and assisted in OP Highjump, another Antarctic expedition.
The USS Albemarle (AV-5), was modified in order to service the Martin P6M Seamaster, the only USN jet seaplane, and was later handed off to the Military Sealift Command, renamed the USNS Corpus Christi Bay (T-AVRH-1), and converted into a helicopter repair ship.
Another ship, the USS Norton Sound (AV-11/AVM-1), was converted to a missile test vessel, testing equipment including the Aegis VLS and participated in the discovery of the Van Allen radiation belts.
VP-40 and the Martin P5M Marlin
The second VP-40 was established in 1951at NAS San Diego, a year after the first VP-40 was disestablished, and equipped with the Marlin PBM Mariner. Later that year, it was deployed to MCAS Iwakuni and flew combat patrols during the Korean War. In 1953, After returning from deployment to NS Sangley point, VP-40 was re-equipped with the P5M-1 Marlin, and re-equipped with the P5M-2/P-5B in 1957. In 1958, six P5M-2s visited Bangkok, and in 1959 relocated home port to NS Sangley Point, although changed to NAS North Island in 1964 due to WestPac patrols being returned to 6-month deployments. In 1965, 1966 and 1967, they were again deployed to NS Sangley point, operating out of Sangley and Cam Ranh Bay , supported by the USS Salisbury Sound (AV-13), USS Pine Island (AV-12) and the USS Currituck (AV-7), the latter conducting the last combat zone seaplane tender operation. During this period, VP-40 participated in OP Market Time, a USN and South Vietnam effort to stop supplies entering North Vietnam, for which the three tenders served as flagships, patrolling for cargo vessels attempting to enter North Vietnam.
---
Pictures
Historic

VP-40 P5M-2 takes off from Cam Ranh Bay, 1967

VP-48 P5M-2 and the USS Pine Island (AV-12) in San Diego Bay, 1963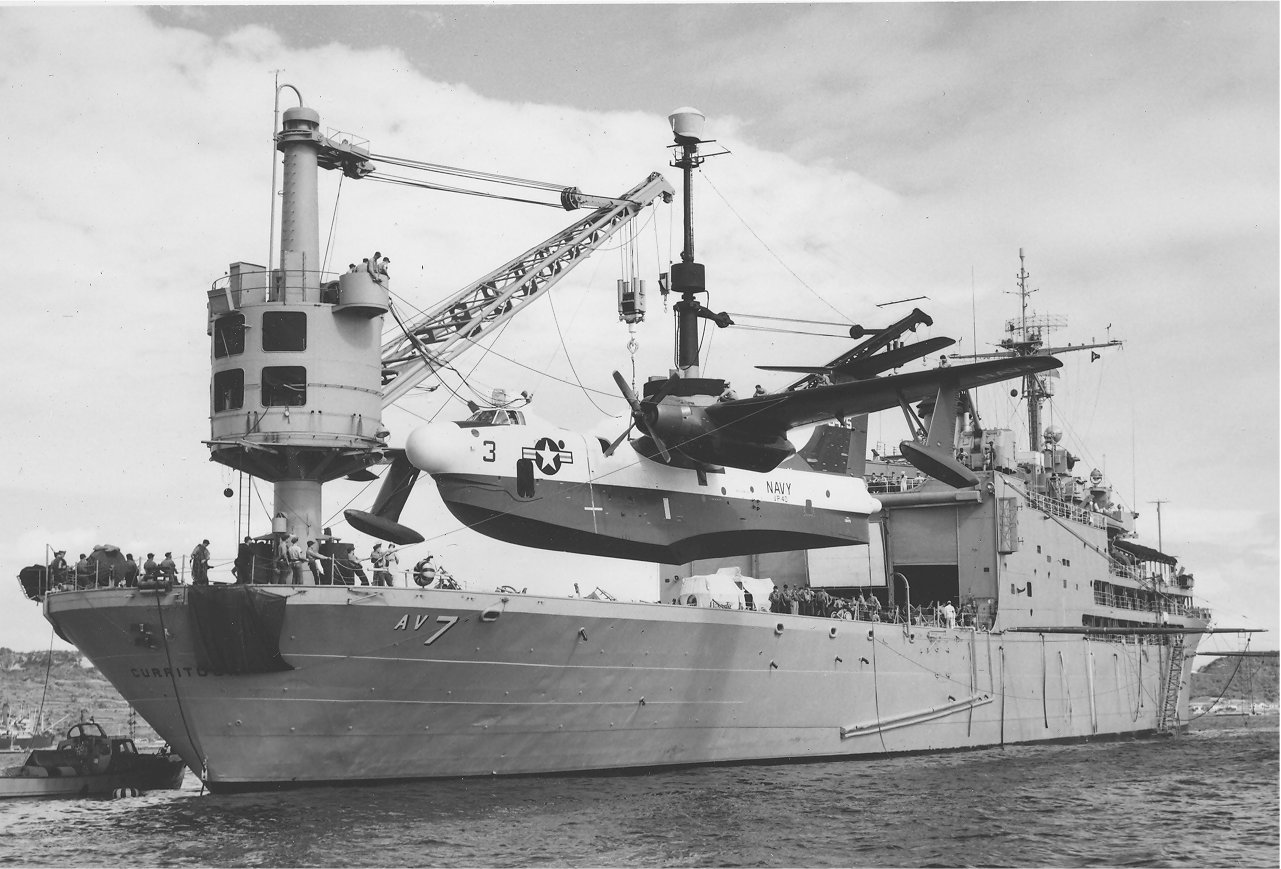 VP-40 P5M-2 on the USS Currituck (AV-7), WESTPAC, 1961-62

VP-42 P5M-2 on the USS Pine Island (AV-12), date & location unknown
Screenshots
---
Operating Manual
Activation Groups
AG1: Marlin Control (Control surfaces, Throttle, Trim, Torpedoes)
AG2: Marlin Manœvering and autopilot gyro
AG3: Stern aircraft crane
AG4: Forward aircraft crane
AG5: Crane Magnet (both)
AG6: 5" Turret
AG7: Ship Reverse
AG8: Ship Control (Throttle, Steering, Reverse), Marlin Deck Magnets
(based on this and the Surcouf, I have a thing for activation groups)
Controls
Ship
AG8
Throttle: Engine power
Trim: Steering
AG7: Reverse
Marlin
AG1
Standard Flight Controls
Brake: Speedbrakes and Reverse Thrust
AG2
YAW: Water Steering
Cranes
AG3
VTOL: Aft Crane Elevation
Trim: Aft Crane Traverse (180° either side)
Throttle: Aft Crane Magnet Height
AG4
VTOL: Fore Crane Elevation
Trim: Fore Crane Traverse (90° either side)
Throttle: Fore Crane Magnet Height
5" Turret
VTOL: Elevation (30° either way, 60° total)
Trim: Traverse (100° either side)
Notes and Procedures
Technical Information
Ship Top Speed: 26mph
Marlin Top Speed: Who knows
Ship Range: Too far to calculate
5" Turret Ammunition: 20 shells
Marlin Armament: 4 750lb Torpedoes
Cameras
1: Port Upper Deck
2: Stbd Lower Deck
3: Marlin Flyby
4: Marlin Cockpit
5: Marlin Chase
6: Marlin Orbit
7: Marlin Homing (lookAtCockpit = true)
Notes
Marlin can be used to lay 5" Turret
Marlin Slow Speed approx. 50% Throttle
Marlin Cruise approx. 75% Throttle
Marlin Manœvering gyro used for cruising, water taxiing, levelling and control on Crane
Ship Fastest Turn Rate ±1/2 Trim
Use Forward Crane for first Crane Off of Marlin (Aircraft must point towards Crane)
Procedures
Craning Off Marlin
Ship must be stationary (it is far easier to Crane on/off when not moving). Extend Crane so magnet is positioned over middle of wings. Extend Magnet and attach to aircraft. Lift aircraft up, allowing clearance for tail and hull. Swing aircraft out, keeping nose pointing towards Crane. Once Crane is stationary, lower aircraft into water, detach Magnet and return Crane to original position. Push back Aircraft and taxi to takeoff run.
Recovering Marlin
Ship must be stationary. Taxi aircraft to within reach of Crane. Manœver Crane so Magnet is positioned over middle of wings. Extend Magnet and attach to aircraft. Lift aircraft up, allowing clearance for tail and hull. Swing aircraft onto Deck, and lower so aircraft rests on deck. Detach Magnet and return Crane to original position.
---
Notes
Ship construction heavily inspired by @Feanor
Marlin weapon system based off @MintLynx's ?-400's Seiran method (thanks @Thefalkenreich for suggesting it)
A multiplayer variant (sans Marlin) may be posted unlisted, depending on how a multiplayer test would go




To be compatible an aircraft needs a gyroscope able to keep the aircraft level, effective water taxiing, and deck magnets so as not to fall off


Specifications
General Characteristics
Predecessor

Ship-12

Successors

1 airplane(s)

This plane has been featured

Created On

Mac

Wingspan

117.1ft (35.7m)

Length

592.2ft (180.5m)

Height

173.1ft (52.8m)

Empty Weight

-4,734,385lbs (-2,147,483kg)

Loaded Weight

-4,734,385lbs (-2,147,483kg)
Performance
Horse Power/Weight Ratio

0.006

Wing Loading

71.1lbs/ft2 (347.3kg/m2)

Wing Area

100,410.1ft2 (9,328.4m2)

Drag Points

998150
Parts
Number of Parts

988

Control Surfaces

12
---