"Take a listen. Relax, in position... and crank up the system."

Lore-wise and design-wise, I think it fits pretty well with the challenge. It's a little different from my usual. That's why I like it, and, well, I hope that you like it, too. Custom theme and no infinite fuel! No bomb bay doors though. Sorry!
Controls:
Activator 1: Reverse Thrust online – Reverse thrust is activated by brake input. Mind the delay!
Activator 2: "Backburner" defensive system online
Activator 8: De-Activate "Conflictus" long-range AA guns
Trim: Trim
Miscellaneous Tips
- Max engine output is 50% throttle. It conserves fuel, which is nice.
- Watch out for sideslip/Dutch roll. It is very helpful for moving around, but it can be a nuisance for landing.
- Some random yaw when taking off/landing. I couldn't figure out how to fix it, but it isn't too bad. When you start to slip, pitch up!


Backburner System
Leave a trail of dangerous energy in your wake! Activate group 2, and then fireGuns to use it!
Conflictus Guns
Long Range AA cannons. Front-mounted in a compact package. Select Interceptor missiles, face your target, and fire.
REFLEX Missiles
Close-Range missile clusters. 360-degree locking, but they might take a little while to approach their target. Select guardian missiles, allow your enemy to venture within range, and then fire.
Bombs
Lots of bombs. Carpet bombing is easy with practice. Enough said here!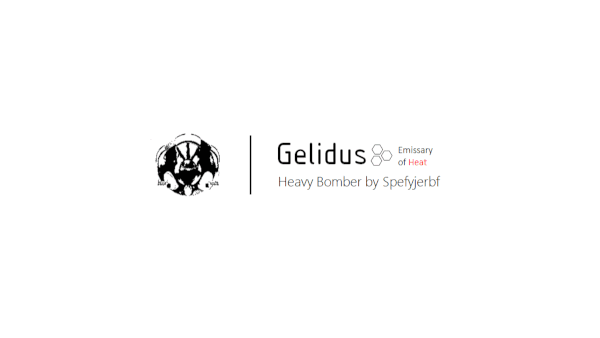 Beginning as a fairly obscure aircraft produced by SPEcorp, the Gelidus heavy bomber was perhaps one of the most successful PR moves of the company. The bomber fills a niche role. It is, essentially, plan B, or perhaps Z, for pummeling ground targets. An orbital strike, or advanced attack aircraft such as the SPE Soulreaper, might be more efficient for such tasks, but the Gelidus bomber is fairly cost-effective, and it is fairly useful for evoking fear in enemy ranks. The design, which was derived from comparatively ancient technology, was rumored to come from a SPEcorp employee that had a "time travel" incident. While such rumors are only allegations, the design did revive an old form of combat in an imposing, and stylish fashion.
The design itself, however, wasn't what pushed the Gelidus bomber into the public eye. The bomber, in the modified form that is included, is heavily used by a group of mercenaries on Sanctum 6, a relatively uncivilized planet near New Portum. A group of blundering imbeciles who coincidentally preform extremely well in combat, the mercenary group named themselves "Heat's Envoy", and ordered a large sum of Gelidus units from SPEcorp. After acquiring the bombers, the mercenaries painted the bombers with odd, yet vaguely relevant insignia (as shown), and outfitted the bombers with extra AA weapons – thus eliminating the need for escorts in many situations. A stabilizing force on Sanctum 6, Heat's Envoy became famous through overthrowing informal corporatist regimes, dictators, and various bandit organizations. Such deeds, while certainly profitable, elevated the mercenary group, and consequently, their humorously painted Gelidus bombers, to a position of fame.
Specifications
General Characteristics
Predecessor

Time Travel Challenge [CLOSED]

Successors

2 airplane(s)

+7 bonus

Created On

Windows

Wingspan

144.8ft (44.1m)

Length

123.4ft (37.6m)

Height

29.4ft (9.0m)

Empty Weight

110,977lbs (50,338kg)

Loaded Weight

176,416lbs (80,021kg)
Performance
Power/Weight Ratio

0.802

Wing Loading

69.0lbs/ft2 (336.9kg/m2)

Wing Area

2,556.4ft2 (237.5m2)

Drag Points

49018
Parts
Number of Parts

485

Control Surfaces

2
---