"You're going far away, aren't you?"

SP's first warp-capable space freighter. I tried a slightly different style here, and I think it looks great.
Miscellaneous Controls
Activator 8: De-activate REFLEX missile arrays
Trim: Pitch (Only useful for warping)
FireGuns: Forward Deflectors
Flight Controls (2D VTOL)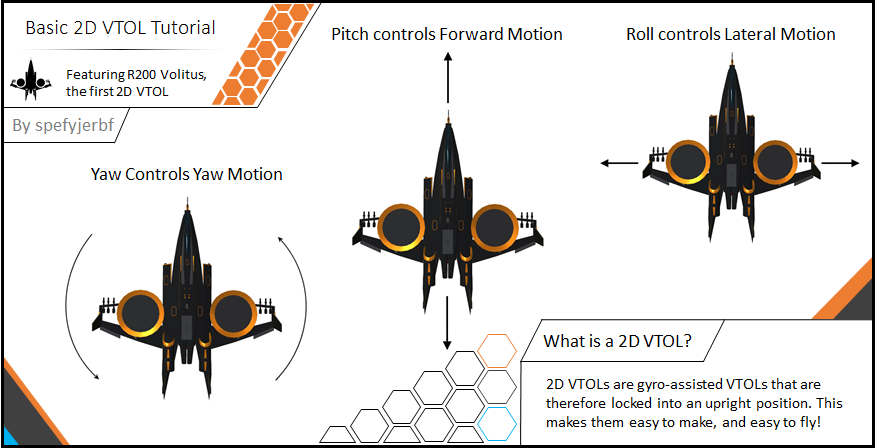 Throttle: altitude
Pitch: Forward Movement
Roll: Lateral Movement
Yaw: Yaw


This is the best part. Ascend and descend with ease. If you want to go to space, go straight up, and then straight down… that is, if you don't want to find yourself a few hundred (or thousand) miles from your launch site. Instructions will be in text and gif form!
The Ascent
1. Bring Trim Up SLOWLY.
2. Press activator 1 to warp upwards.
The Descent
1. Trim Down SLOWLY
2. Press activator 2 to warp downwards
3. Put VTOL up (Airbrakes)
4. Bring Trim to center
Re-Entry
1. Wait until you are around 100,000 feet
2. Press activator 3 to avoid slamming into the ground!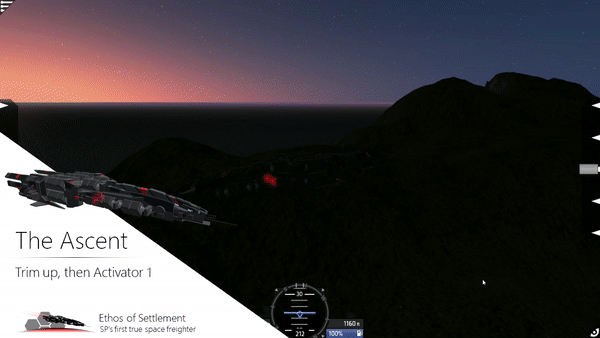 Interplanetary travel is an exhilarating process. To travel to another planet, high speed is necessary, and that high speed is accomplished with the Repulse-Based Warp Drive. When a warp jump occurs, the drive imparts a massive force on the spacecraft, and therefore sends it hurtling across the cosmos. The ship then, if its trajectory has been correctly calculated, will enter an orbit around its destination planet.
The Ethos of Settlement is an example of such a ship. In fact, it was the first heavy-duty warpship to enter the public market. A highly capable cargo ship, the Ethos's design allowed it to be the main workhorse of humanity's interplanetary colonization effort. Strong hull, rugged construction, and effective weaponry all factor into the spacecraft's commercial success. A versatile warp drive finalized the design's success. The drive has, perhaps, the smoothest jumps of any modern warpship. Standard warping reaches speeds of 90,000 mph, and elite captains can opt for faster warp jumps.
Specifications
General Characteristics
Predecessor

Ethos of Settlement

Successors

1 airplane(s)

Created On

Windows

Wingspan

87.5ft (26.7m)

Length

253.5ft (77.3m)

Height

28.6ft (8.7m)

Empty Weight

-4,734,385lbs (-2,147,483kg)

Loaded Weight

312,510lbs (141,752kg)
Performance
Power/Weight Ratio

0.053

Wing Loading

58,066.4lbs/ft2 (283,505.1kg/m2)

Wing Area

5.4ft2 (0.5m2)

Drag Points

178761
Parts
Number of Parts

830

Control Surfaces

0
---