Ladies and Gentleladies, say hello to th- wait...
someone yells "cut!" followed by muffled sounds of anger and laughing
Anyway-
Ladies and Gentlemen, say hello to the Birchwood Behemoth, an AceCombat themed SuperWeapon Aircraft. Inspired by the AceCombat Fandom, this aircraft is based on the concept of AceCombat's main plot taking place in WWI-WWII Era of mankind, and before you say that's unrealistic, this is absolutely something that Belka would create, given the time and resources.
Image Gallery: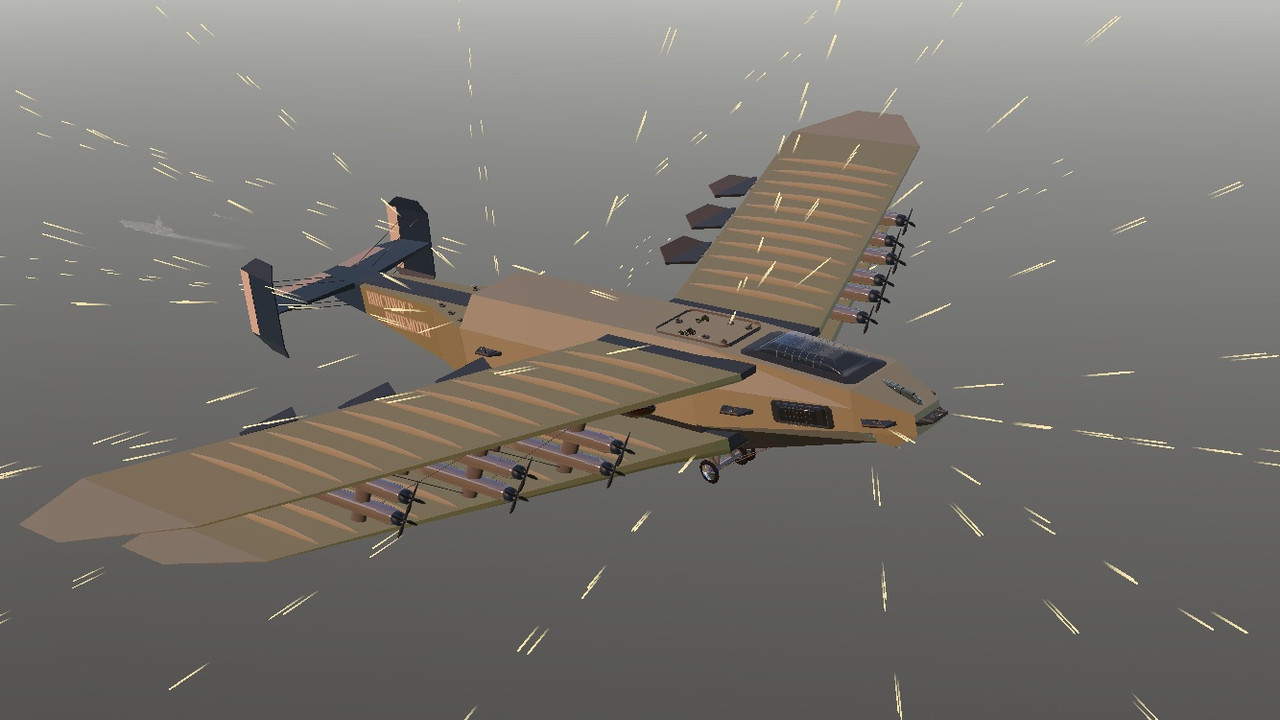 ---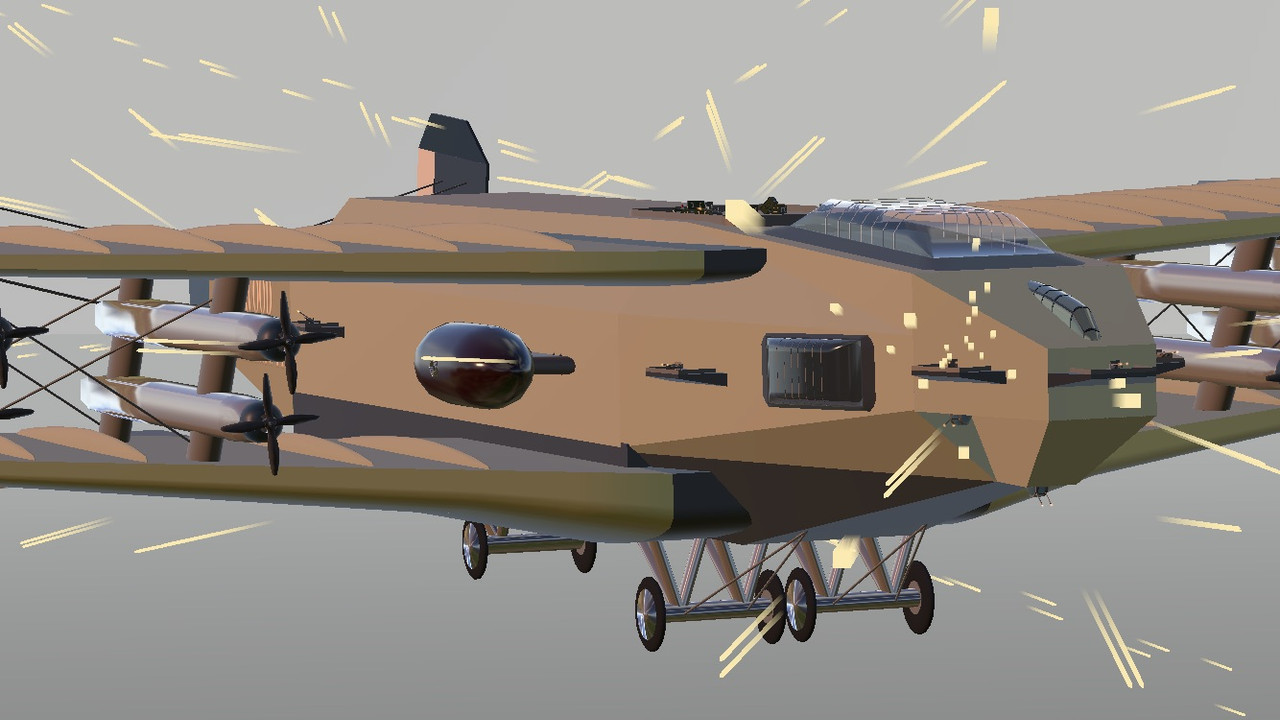 ---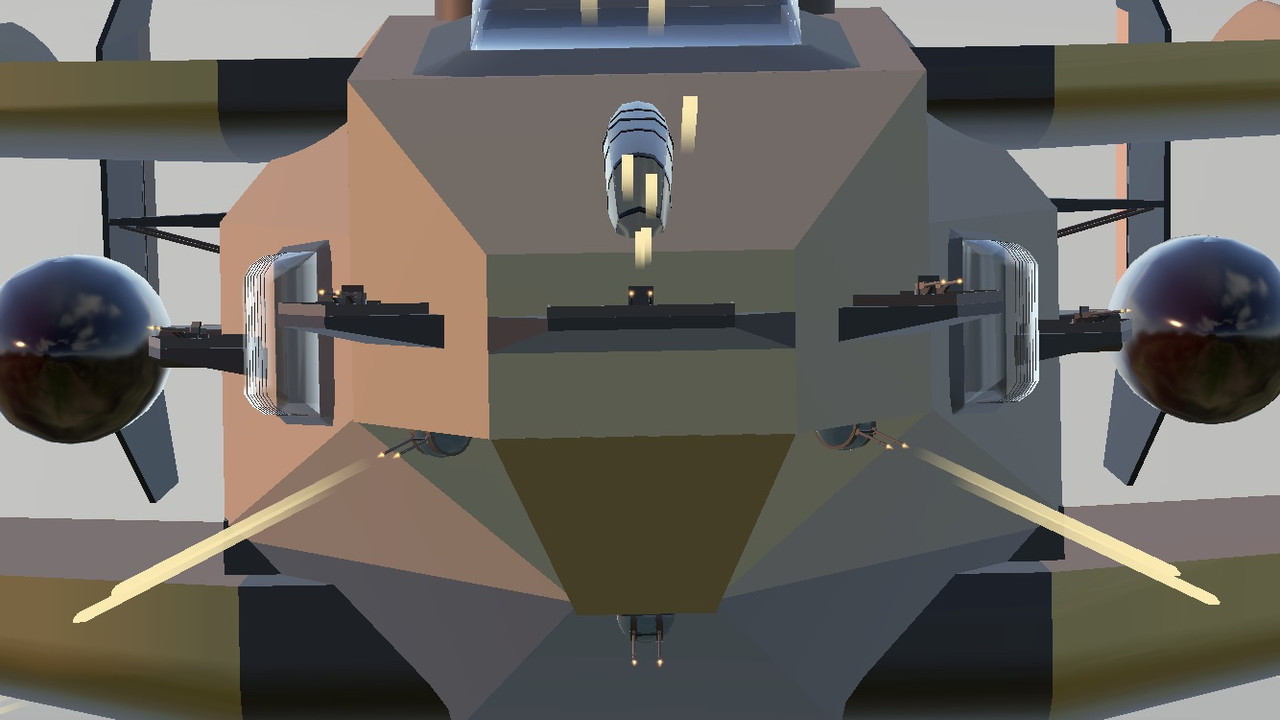 ---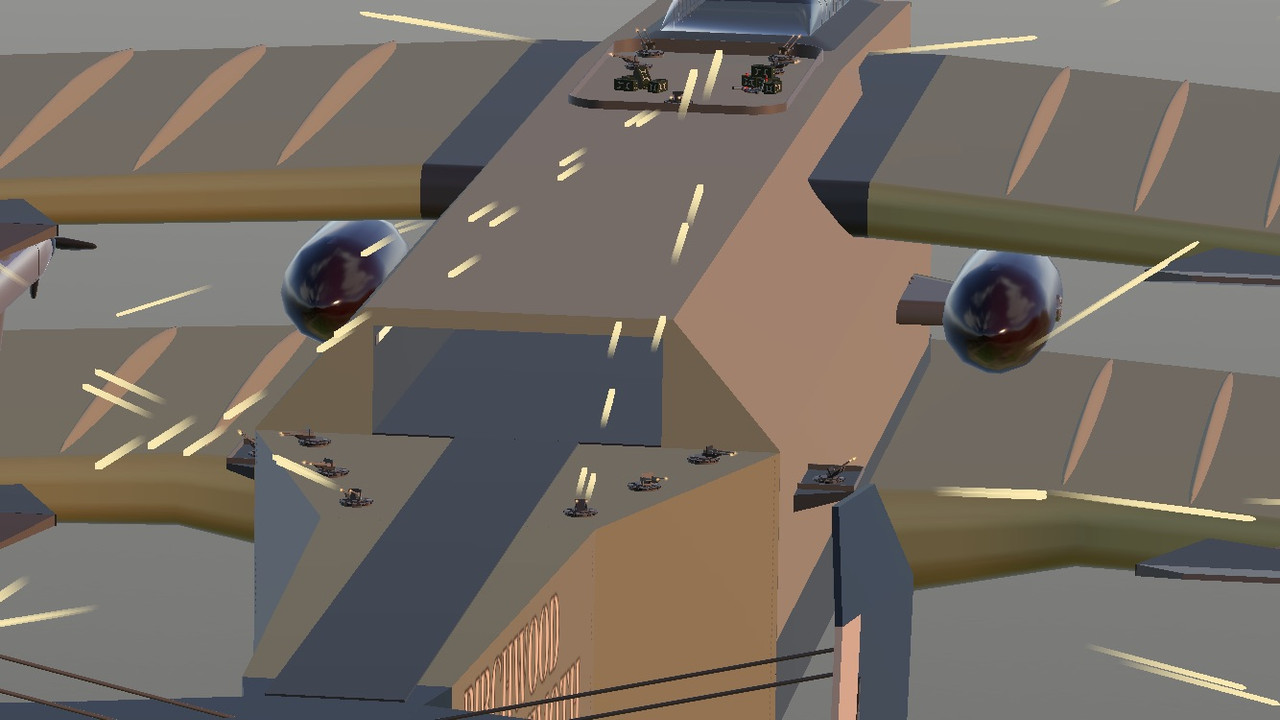 ---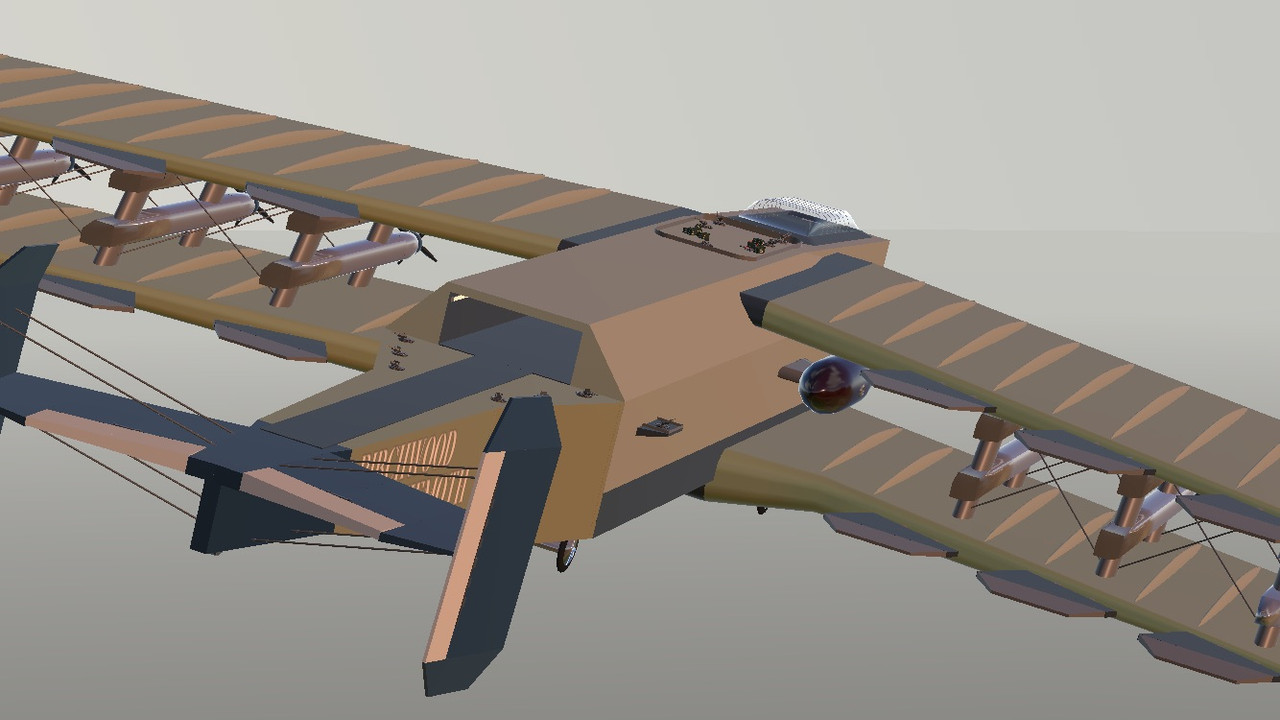 ---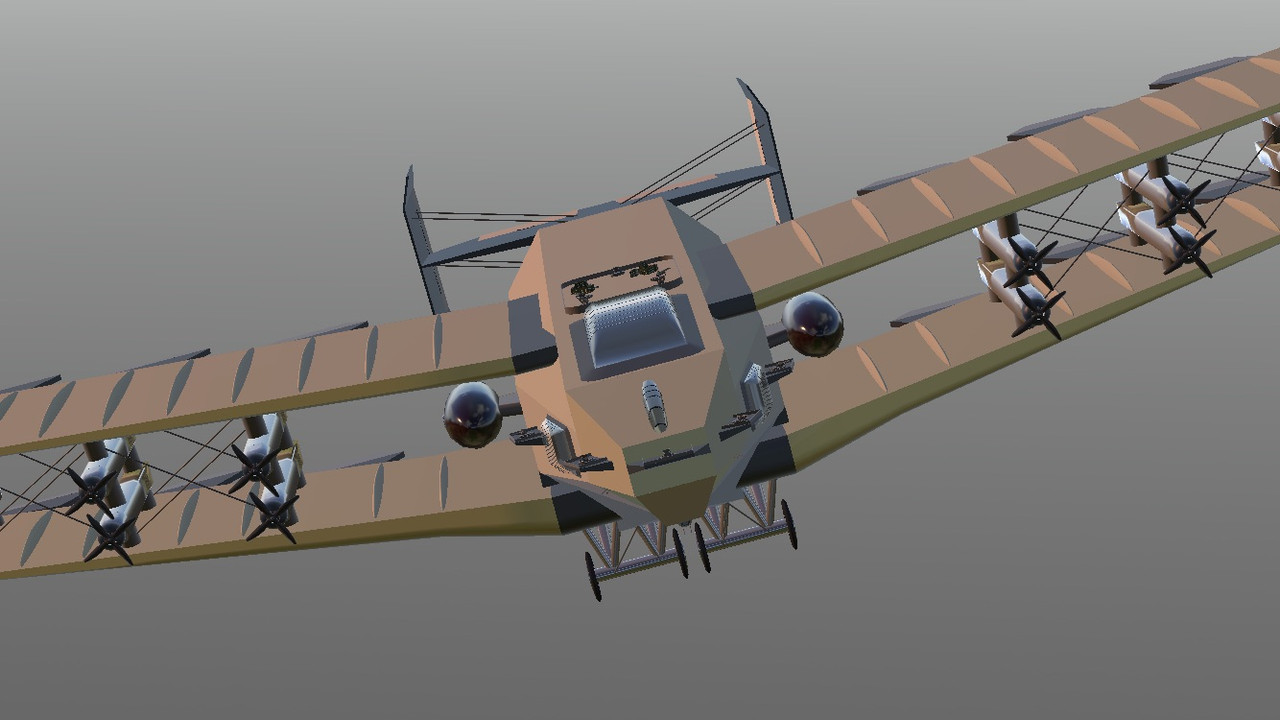 ---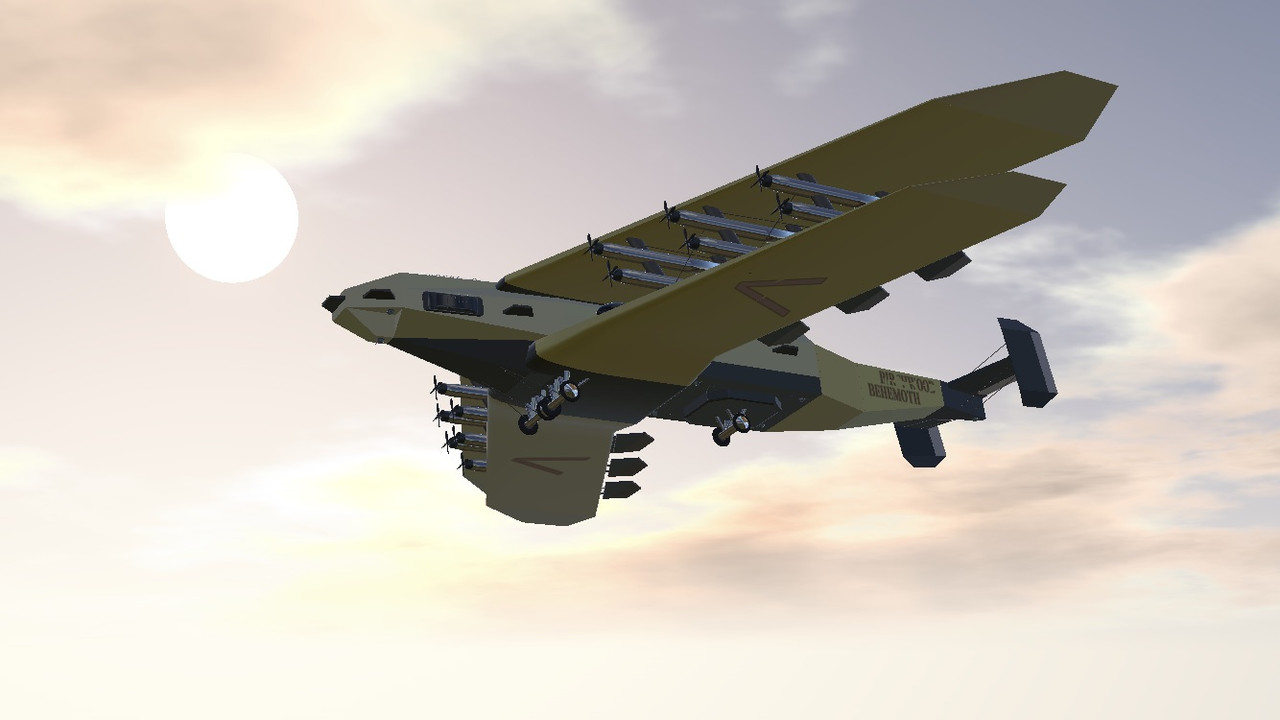 If you want to skip the story, speed scroll to the bottom where it says "Controls:" in large letters
Regardless, the Birchwood Behemoth is of course absolutely massive, with a wingspan of nearly 1,000ft, and an internal storage bay capacity of 50-75 fighter aircrafts, ranging from small WWI Era Fighters, to larger WWII Era fighters. These aircrafts may take off from the inside of the runway, located on the back of the Behemoth. From there, they can sortie and perform missions, along with protecting the Behemoth as well. When finished, they may land back on this runway, and once inside the internal section in the back, they will be lowered by an elevator and stored back inside the Behemoth.
The runway need not be large, seeing that the speed of the Behemoth itself greatly reduces the needed speed for landing on the runway; if the Behemoth is traveling at 160mph, and a landing aircraft is traveling at 175mph, the landing aircraft is technically only moving 15mph in comparison to the Behemoth, if we classify the Behemoth's movement as 0mph. This of course, makes landing almost comically easy, much like with the Actias, a previously built PyrhPan Flying Attack Carrier.
As one can tell from the outside of the Behemoth, the entire thing is completely riddled with AA Gun Turrets, all of which are controlled by a skilled gunner of course. These turrets include both Ball Turrets armored with bulletproof glass for their operator's comfort and safety, along with normal turrets covering the majority of the Behemoth's weaponry.
The Behemoth is a Flying Aircraft Carrier, and it does not carry bombs; it's weight was already questionable, and bombs would end up being too heavy in the long run. Of course, this is why almost the entire aircraft is made out of Birchwood, as it paves way for a light, yet somewhat durable construction. In regards to the Landing Gear, these massive fixed gear wheels became slightly primitive over time as technology improved, but there was no need to replace them with retractable gear, seeing how the aircraft already performed well with them. And hey, if the JU-87 Stuka can perform greatly with fixed gear, then why can't anything else?
Coming back to the usage of birchwood, this design choice proved to be quite effective and useful in it's earlier years of combat, seeing how the guns on the typical "knitted planes" of WWI weren't much of a high caliber, and could barely do minimal damage. But as the years went on, and technology got more advanced, the stronger guns fitted on the metal fighters of WWII proved to be more effective. Thus, more sections of the aircraft were reinforced with metal, concrete, and anything to make it stronger at weak-points.
Additionally, the Behemoth was fitted with stronger radial engines, all of which would've been powerful enough to singlehandedly propel a large bomber, such as the B-29, B-24, or even the B-36. Of course, this wouldn't have worked, seeing that the engines were much too large to install on said bombers in an orderly fashion. But hey, it's atleast fun to think about.
Arriving in late WWII, the Birchwood Behemoth had certainly proved both its worth, and its longevity in combat. Having served for over 50 years, not once had it been damaged too severely, the aircraft was seemingly indestructible. She's met and dealt with multitudes of different kinds of fighters throughout her life so far; small biplane fighters, occasionally a mono or triplane here and there. High speed metal fighters, and even the early jet fighters whose speed outperformed anything before them. All of which haven't succeeded in taking out the Behemoth.
Arriving in the would-be Cold War Era, the Behemoth's action in combat was coming to a close. Nations were for the most part, ceasing fire, and aerial combat was becoming less and less common. Occasionally during reconnaissance missions, the Behemoth would fly alongside her large bomber friends, B-52's and TU-95's, and on one occasion, a pair of old YB-49 Flying Wings. Sometimes Fighters would intercept, but not attack, and occasionally you could see the pilot inside taking a photo of the Behemoth to share with their friends back home, likely in awe at its size.
Speaking of friends, the Flying Aircraft Carrier now had new friends to meet and greet, fighters ranging from F-5 Tigers and F-104 Starfighters, MiG-21's, F4 Phantoms, F-86 Sabre's, MiG-31's and MiG-25's, and all the latest and greatest jets. Over time however, jets only got stronger and faster, and the Behemoth's radial engines were starting to feel outdated.
Decades later, the Behemoth made it's last flight. To honor its incredible time serving for nearly 100 years since its date of completion, and all the pilots, gunners, maintenance workers, engineers, and everyone who ever served on the Behemoth, it took one last flight, flying in a massive Heritage-Flight style performance, with fighters and bombers of all sizes, eras, and nations. Some flight groups volunteered to be in the formation as well, painting the skies with their smoke trails of many colors. For her final performance, the Behemoth was fitted with Flare Dispensers, to create a massive, beautiful angel of death over the crowd below, as the burning magnesium pellets' smoke was whipped and swirled around in the wind vortices.
Landing at her final destination, public opinion suggested she be a monument of war, of dedication, of courage, and ingenuity. Grounded for now, she rests outside an Aviation History Museum, where all can schedule tours aboard the aircraft, to learn about its history, the battles it's been through, and countless other tidbits of information.
The Birchwood Behemoth's story need not end here however. Despite being grounded, if push comes to shove, she may be remilitarized once more, but who's to say her physical prowess will compare to that of modern day jet fighters...
Controls:
This aircraft is of course massive, so treat it as such; the aircraft maneuvers slowly, but is still somewhat capable of "agile" turns, despite its size. Takeoff speed and landing speed are also quite slow, due to the unnaturally low weight for its size, and absolutely massive wingspan.
In regards of armaments, the Behemoth has a shiteload of AA Gun Turrets, both normal turrets and ball turrets. These all fire via FireGuns input, and are in a fixed position, and cannot be turned. Of course on the actual Behemoth, they are very capable of turning as they're operated by a gunner or two. But to make the creation less laggy here, this function was left out on all but one turret; On the back of the aircraft lies a platform with five turrets, and the one at the back of this platform is controlled by the player, via camera movement FunkyTree code. The turret can be moved and aimed with relative ease, and when paired with the other fixed guns here, there's almost no chance of any AI plane coming close to you!
However, like all AceCombat planes, it has but one weakness: The Fuel Tanks. Located on the sides of the aircraft in between the primary wings, these massive auxiliary fuel tanks provide the Behemoth with more than enough fuel to keep it flying for hours on end, paired with the internal fuel tanks of course. They are however, more susceptible to enemy fire, and if shot at enough, may combust. This of course would result in a large fuel explosion, potentially downing the entire aircraft in one fell swoop. The task of shooting these fuel tanks is not easy however, with AA fire coming at you from every direction in a thick wall of lead. (it's actually quite easy in game since the turrets are fixed)
So anyway, I think that about wraps up the Behemoth, if anyone has any other questions then feel free to ask! So without further ado,
Have Fun!
Specifications
General Characteristics
Successors

1 airplane(s)

+7 bonus

Created On

iOS

Wingspan

940.5ft (286.7m)

Length

734.5ft (223.9m)

Height

132.4ft (40.4m)

Empty Weight

N/A

Loaded Weight

56,731lbs (25,733kg)
Performance
Power/Weight Ratio

1.584

Horse Power/Weight Ratio

0.035

Wing Loading

4.9lbs/ft2 (24.1kg/m2)

Wing Area

11,514.1ft2 (1,069.7m2)

Drag Points

3078
Parts
Number of Parts

580

Control Surfaces

6

Performance Cost

2,099
---