Focke-Wulf Ta "Krokodilwächter" a.k.a. Dw. Nr. 0310.025-1006 (JV44 "Red 8")
This is the Focke-Wulf Drawing Number 0310.025-1006 fighter aircraft.
I named it "Krokodilwächter" (Crocodile Bird).
Features:
- Excellent combat capability
- Authentic AFN2 Radio Direction Finder navigation equipment
- Realistic MW50 Methanol-Water injection system
- Semi-historically accurate livery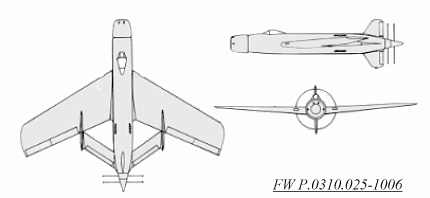 (Picture from Luft '46)
The aircraft was designed in 1944, supposed to be an all-weather fighter, powered by a single Argus As 413 H-24 engine, and armed with two MG213/20 autocannons (125 rounds per gun) and two MK103 30mm autocannons (46 rounds each). I added a pair of R4M "Orkan" rocket racks and three SC250 bomb hardpoints.
The aircraft bears JV44 (44th fighter squadron) markings, with individual designation "Red 8". It has five kill marks.
The JV44 was a late-war fighter squadron created to operate Me 262s, but it also operated a few Fw 190Ds.
This aircraft has a few notable funky trees systems, namely:


a. a MW-50 methanol/ water injection system. Activated by AG2, it adds 20% power boost to the engine. In real life an aircraft would usually carry 20 minutes of MW50, but for the timeframe of simpleplanes I reduced it to 2 minutes. The remaining MW50 is shown by the orange gauge in the cockpit.
b. an AFN2 automatic radio direction finder (ARDF) navigation system, located on the lower right of the 6 biggest instruments on the instrument panel. It has two indicators: The vertical one indicates direction deviation. If it drifts left, you need to turn right, and vice versa. The horizontal one indicates distance, there are three readings to the left of the gauge, respectively means (top to bottom) near signal source, 50km from signal source and 100km from signal source.
The system will automatically switch channel to the closest "station". There are three navigation stations: Avalanche airport, Yeager airport and Wright Airport.
c. working ammunition counter, it is located on the bottom left of the instrument panel. Four stripes indicates the two MK103s (outer stripes) and the two MG213/20s (inner stripes).
d. fully automatic ejection seat. Activate AG7 to eject. Parachute will open after 2 seconds.
The cockpit layout is based on Dornier Do 335.
Controls:
AG1: Flap
AG2: MW50 injection
AG3: R4M rocket salvo (zeroed at 1.2km, when attacking head-on targets try to shoot at about 1.5 km)
AG4: SC250 bombs release (Due to connection issues, bombs does NOT drop with normal FireWeapon command)
AG5/AG6: Reserved in case someone wants to drop the three bombs independently. The actual pylon is hidden in the fuselage/wing above the cosmetic pylon.
AG7: Eject
AG8: Engine Ignition.
VTOL: Propeller pitch
Specifications
General Characteristics
Created On

Windows

Wingspan

60.1ft (18.3m)

Length

47.5ft (14.5m)

Height

16.4ft (5.0m)

Empty Weight

10,907lbs (4,947kg)

Loaded Weight

14,736lbs (6,684kg)
Performance
Horse Power/Weight Ratio

0.278

Wing Loading

21.5lbs/ft2 (104.8kg/m2)

Wing Area

686.7ft2 (63.8m2)

Drag Points

3309
Parts
Number of Parts

590

Control Surfaces

8

Performance Cost

2,458
---