Has Jesus mode (Confirmed by Bogdan)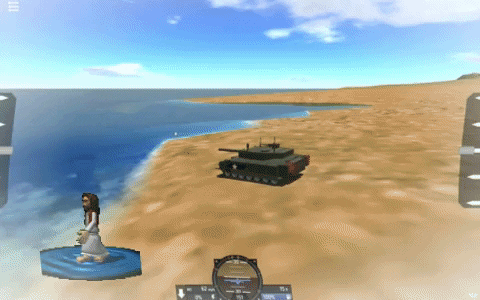 The SMT Tiger (Indonesian: SMT «Harimau»; industrial designation "Sang Harimau") is a next-generation Indonesia Main battle tank based on the PT.Pindad and FNSS Medium Tank—the first series-produced next-generation tank. The Indonesian Army initially planned to acquire 2,100 SMT's between 2015 and 2020. Production and fiscal shortfalls delayed this to 2025, and then to the cancellation of the main production run. The test batch of 100 is to be delivered and deployed to the 3rd Guards Sancaya Motors, with delivery expected in 2020 or later; tanks will be transferred only after the completion of all state tests.
In August 2019, the Indonesian Military-Industrial Courier reported that out of a contractually agreed 132 vehicles over three years to 2022.
---
Controls:
AG1: Activate Main turret
AG2: Activate MG
AG4: Activate Smoke Launcher
---
Russian Camo Version
Type:
: Main Battle Tank
Place of Origin:
: Indonesia
Used by:
: Indonesia Armed Force
Designer:
Uralvagonzavod, PT.Pindad, FNSS
Unit Cost:
: $4.1 Million
No.Built:
: 23
Crew:
3 Crew
Main Armanment:
2A82-1M 125 mm (4.92 in) smoothbore cannon with 45 rounds
Secondary Armantment:
12.7 mm (0.50 in) Kord machine gun (6P49), 7.62 mm (0.30 in) PKTM machine gun (6P7?)
Specifications
General Characteristics
Created On

Windows

Wingspan

14.8ft (4.5m)

Length

35.3ft (10.8m)

Height

12.7ft (3.9m)

Empty Weight

53,185lbs (24,124kg)

Loaded Weight

54,350lbs (24,652kg)
Performance
Wing Loading

80,788.7lbs/ft2 (394,445.2kg/m2)

Wing Area

0.7ft2 (0.1m2)

Drag Points

10335
Parts
Number of Parts

316

Control Surfaces

0
Required Mods
Tracks 2

by MOPCKOE_DNISHE




Version 0.81 (9/8/2019 1:50:14 PM)




View Mod Page
---