In a parallel universe somewhen
His Majesty's Aircraft
Faithful Progress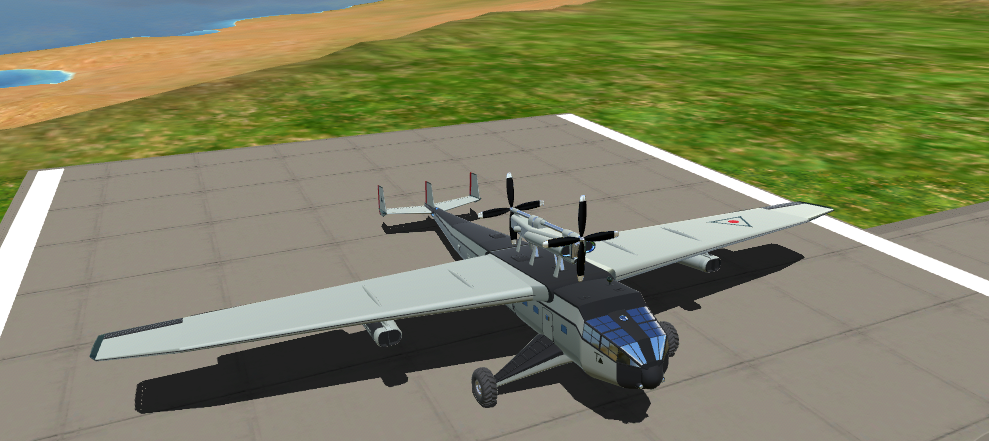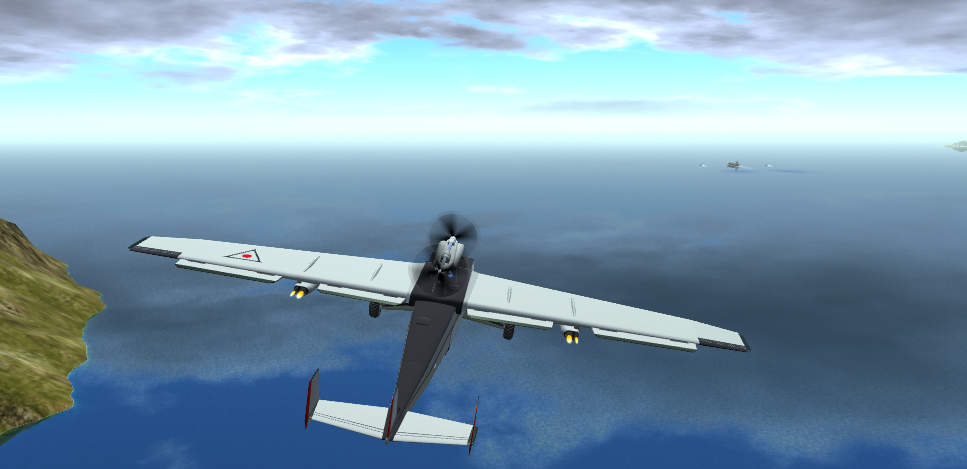 Take-off
VTOL down half way to set take-off flaps. Apply full throttle and rotate gently at 150mph TAS. When speed reaches 240mph, VTOL centre to raise flaps. Maintain full throttle for gentle climb or throttle back and set trim according to need. Note that pitch authority is strong for landing; use gentle inputs in normal flight.
Landing
Use 10% to 15% throttle for final approach and landing, with VTOL down fully for maximum flaps. On touchdown, throttle off and apply brakes for reverse thrusters.
Taxiing
Use 10% throttle and Yaw; all-wheel steering.
Reversing
Throttle off, AG1 on to start reversing engine; use yaw to steer. Reverse engine runs constantly at low power.
Flight Crew
Usually 4: Pilot, Co-pilot, Navigator/Radio, Flight engineer. Extra crew sometimes on board for long flights.
Cabin Crew
Varies according to mission type.
AG1 Reversing engine.
AG2 Landing lights.
Built by
Langston-Wellings with help from Salvage Squad 13.
Sponsored by
Unknown benefactor.
His Majesty's Aircraft "Faithful Progress" joins the Transport Fleet to provide a vital air-link between Port 17 and the 3 Forward Bases; 'Echo', 'Echelon' and 'Egress'. The craft can be quickly adapted to carry a mix of passengers, troops or cargo according to need.
Originally a light passenger plane, the craft has undergone extensive modifications for its new roles:
Roofline and engine mounts raised to increase cabin space and fuel capacity.
Fuselage and cabin floor strengthened.
Cargo doors fitted.
2 extra booster jets, 2 reverse thrusters and 1 reversing engine supplied and fitted by Salvage Squad 13.
Larger flaps fitted.
Although sometimes used for civilian passengers, the craft's main role is military flights and as such, the crew are military, and flights are often undertaken with a fighter escort.
Footnote
I balanced this build to try and achieve a heavy looking flight profile so in cruise flight, best to use throttle, trim and gentle elevator inputs for altitude control. It's a freighter, not a fighter!
Front undercarriage was originally more complicated, but thanks to a nasty attack of the wibble-wobbles when using rotators and hinges, I abandoned it and went for a simple design.
Specifications
General Characteristics
Created On

iOS

Wingspan

174.7ft (53.3m)

Length

116.4ft (35.5m)

Height

38.4ft (11.7m)

Empty Weight

-4,734,385lbs (-2,147,483kg)

Loaded Weight

48,531lbs (22,013kg)
Performance
Power/Weight Ratio

5.603

Horse Power/Weight Ratio

0.03

Wing Loading

17.0lbs/ft2 (83.2kg/m2)

Wing Area

2,846.7ft2 (264.5m2)

Drag Points

25365
Parts
Number of Parts

485

Control Surfaces

5
---