This aircraft follows all the basic AI requirements. It is specially designed for Artificial Intelligence [AI] to simulate air traffic, it is able to land and take off with extreme precision at the main airports in the game, it is also a playable aircraft, you can enjoy air collisions, target shooting or just enjoy of a more realistic air traffic.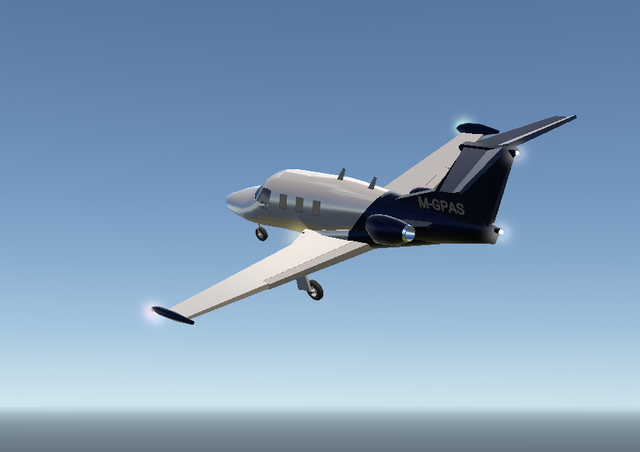 MAPA Aviation · 2023
---
Wiki:
The Eclipse 500 (model EA500) is a very light jet (VLJ) originally produced by Eclipse Aviation of Albuquerque, New Mexico, United States. The company was founded in 1998 to develop the 1997 Williams V-Jet II demonstrator. The prototype first flew with Williams EJ22 turbofans on August 26, 2002. The engines were replaced by Pratt & Whitney Canada PW610Fs in 2004 and Eclipse Aviation won the Collier Trophy in February 2006 for the design. A provisional FAA type certification was received on 27 July 2006 and the first delivery occurred on 31 December 2006.
The six-seat aircraft has an all-metal airframe with a T-tail and straight wings. It is powered by two turbofan engines in aft fuselage-mounted nacelles.
Production of the Eclipse 500 was halted in October 2008 due to lack of funding, after 260 aircraft had been delivered. On November 25, 2008, Eclipse Aviation entered Chapter 11 bankruptcy, then Chapter 7 liquidation on 24 February 2009. In August 2009, Eclipse Aerospace bought the Eclipse Aviation assets, and announced the Eclipse 550 update in October 2011. Eclipse Aerospace was merged into One Aviation in April 2015, which entered Chapter 7 bankruptcy liquidation in February 2021.
AML Global Eclipse maintains support for all Eclipse aircraft.
The Eclipse 500 is based on the Williams V-Jet II, which was designed and built by Burt Rutan's Scaled Composites in 1997 for Williams International as a testbed and demonstrator for their new FJX-2 turbofan engine. The aircraft and engine debuted at the 1997 Oshkosh Airshow.
The V-Jet II had an all-composite structure with a forward-swept wing, a V-tail, each fin of which was mounted on the nacelle of one of the two engines. Williams had not intended to produce the aircraft, but it attracted a lot of attention, and Eclipse Aviation was founded in 1998 to further develop and produce the aircraft. The prototype and sole V-Jet II aircraft in existence was obtained by Eclipse Aviation, along with the program. The prototype was donated to the Experimental Aircraft Association AirVenture museum in Oshkosh, Wisconsin in 2001.
Originally Eclipse selected a pair of Williams International EJ-22 engines (a production variant of the FJ22/FJX-2) for the Eclipse 500, but as the aircraft's weight increased, performance was not satisfactory. The prototype Eclipse 500 first flew with the Williams FJ22 engines on August 26, 2002.
Pratt & Whitney Canada agreed to participate in the project, and modified the design of their PW615 engine, designating it the Pratt & Whitney Canada PW610F. The redesign to incorporate the new engines resulted in a significant delay to the development program. The first flight of the Eclipse 500 with the PW610 engines occurred on December 31, 2004. Eclipse claims that its aircraft is "the quietest jet aircraft" and that it is "quieter than virtually all multi engine turboprop and piston aircraft".
United States
The Eclipse 500 received provisional type certification from the FAA on 27 July 2006, shortly after the aircraft's PW610F engine was certified by Transport Canada. FAA Administrator Marion Blakey presented Raburn with the provisional certificate in a special ceremony at the 2006 Oshkosh Airshow. Full certification was not granted at that time because the composite wing tip fuel tanks did not meet FAA lightning strike criteria. As a result, Eclipse started testing an improved wingtip fuel tank made from aluminum. Eclipse also started production of the 500, so aircraft could be released to customers once full certification was achieved.
Full type certification was eventually achieved on 30 September 2006. At that point, in addition to the five flying prototypes, 23 aircraft were in production and two had already been completed. The 500 type certificate allows the aircraft to be flown under IFR with a single pilot.
Eclipse received its FAA production certificate on 26 April 2007. Serial numbers 1 through 11 were produced prior to the production certificate being granted and these aircraft were subject to individual FAA inspection. Serial numbers 12 and higher were built under production certificate No. 500.
The aircraft received its certification for flight into "known icing conditions" on 25 June 2008.
The Eclipse 500 was given an initial airframe life of 10,000 hours, 10,000 cycles or 10 years, whichever came first. By carrying out additional fatigue testing, in June 2013 Eclipse Aerospace was able to have the FAA raise this limit to 20,000 hours or 20,000 cycles with an unlimited calendar life.
Europe
European Aviation Safety Agency certification for private use was achieved on 21 November 2008. It requires the aircraft to be equipped differently from the FAA certification, including the Avio NG 1.5 avionics system, a third attitude indicator and dual Mode S transponders.
On 24 June 2009 EASA issued a statement suspending the Eclipse 500's type certificate, saying, "the current Holder of the EASA Type Certificate EASA.IM.A.171 has been notified on 10 June 2009, of the Agency's decision to suspend the EASA Type Certificate EASA.IM.A.171 with effect from 12 June 2009." No reason for the suspension was announced at that time. On 28 October 2009, EASA changed the name of the holder of the type certificate for the EA500 to Eclipse Aerospace.
Modifications
In early December 2006 and in March 2007, Eclipse announced in letters to customers a number of changes to the initial specifications, including new fairings for the landing gear, wheel covers, and tail; control surface hinge covers; extended rudder and elevator, to eliminate Gurney flaps; improved lower engine nacelle panel aerodynamics; extended wingtip fuel tanks (adding 12 U.S. gallons (45 L; 10.0 imp gal) on each side); changes to engine FADEC software to increase cruise thrust above 25000 ft altitude; overall weight increase of 79 lb (36 kg) with no change to full fuel payload or max useful load. Together, these measures were expected to increase the cruise speed from 360 to 370 kn TAS and increase NBAA IFR range from 1,055 to 1,125 nmi (1,954 to 2,084 km). All aircraft, including the already delivered initial deliveries, were to be upgraded to this new standard.
Total Eclipse refurbished aircraft
In March 2010 Eclipse Aerospace began offering refurbished EA500s under the brand name Total Eclipse. Company president Mason Holland explained: "In their rush to deliver the aircraft, the former manufacturer of the EA500 [Eclipse Aviation Corporation] delivered to owners an aircraft that was only about 85 percent complete. These aircraft were great performers, but still lacked several important features. We now have completed the design and engineering of the EA500." The used airframes now feature GPS-coupled autopilots and the Flight Into Known Icing equipment package and retail for US$2.25M.
Eclipse Special Edition refurbished aircraft
In June 2015 the Eclipse Aerospace division of One Aviation discontinued the Total Eclipse refurbishment program and started a new program, designating it the Eclipse Special Edition (SE). The SE upgrades the production model Eclipse 500 to near-Eclipse 550 standards. Installed are dual Avio integrated flight management systems, anti-skid braking system, standby display unit, PPG glass windshields, improved interior and a new two-tone paint scheme. The SE upgrade package includes a three-year factory warranty and maintenance program, at a price of US$2.2M, including the provided base airframe to be upgraded.
---
Galery: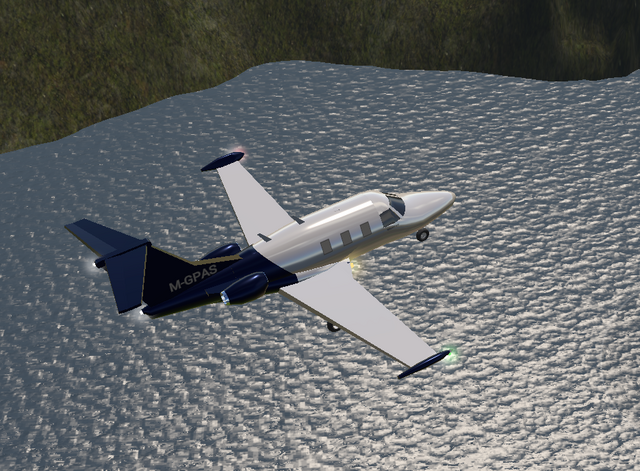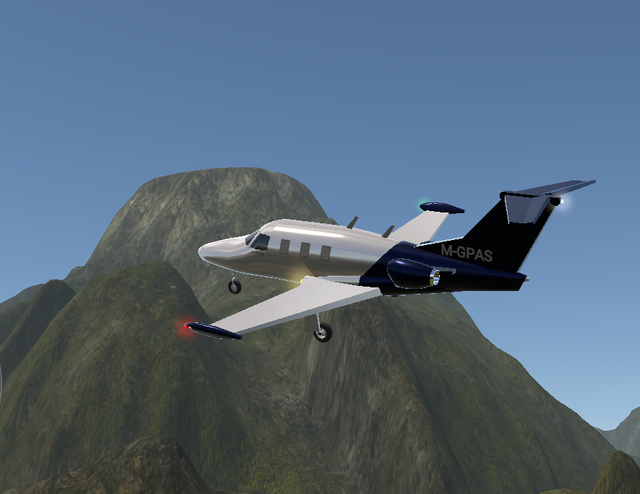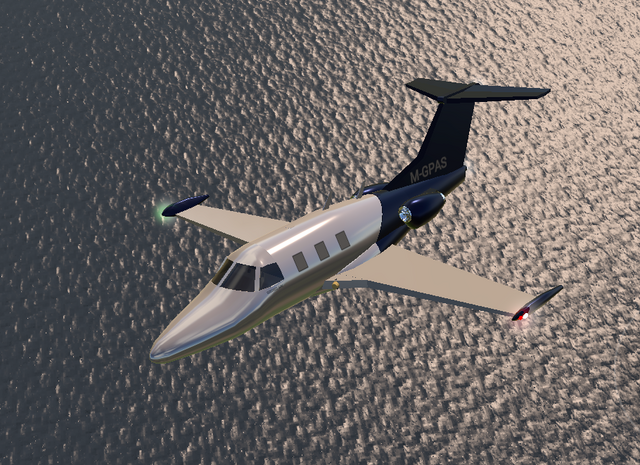 Real Photo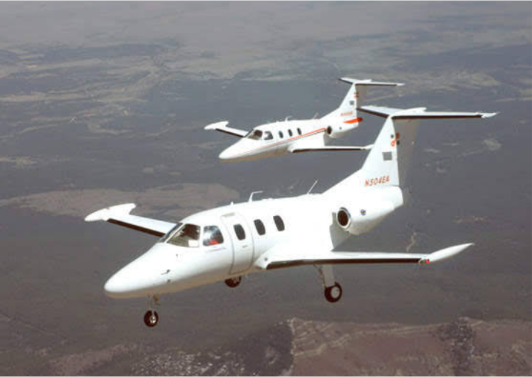 Credit: Aerospace Technology
---
Controls: Standard
Thank you for your attention, Enjoy it!
---
Variants:
There are currently no variants
Specifications
General Characteristics
Created On

Android

Wingspan

52.4ft (16.0m)

Length

48.7ft (14.8m)

Height

17.4ft (5.3m)

Empty Weight

11,075lbs (5,023kg)

Loaded Weight

19,882lbs (9,018kg)
Performance
Power/Weight Ratio

6.781

Wing Loading

49.3lbs/ft2 (240.5kg/m2)

Wing Area

403.6ft2 (37.5m2)

Drag Points

3475
Parts
Number of Parts

86

Control Surfaces

7

Performance Cost

434
---