Introduction:
After being an otaku for one week. (I guess) I made this but got mad after i fail several times to make the top turret and the interior so I took help of @Ergithe go follow, upvote him. 50% credit goes to him, no infact 70% credit goes him.
---
Watch the ©inematic here:
---
Type-76 S.P.A.A.G
The Type-76 S.P.A.A.G was made jointly by South Korea and Japan for the JSDF (Japan Ground Self-Defence Force) in response to their soviet counterpart and played an important role throughout the Cold War. It can carry upto 8 troops. The crew consist of three people sitting in the turret, driver, mechanic and a commander. Sitting on the front side.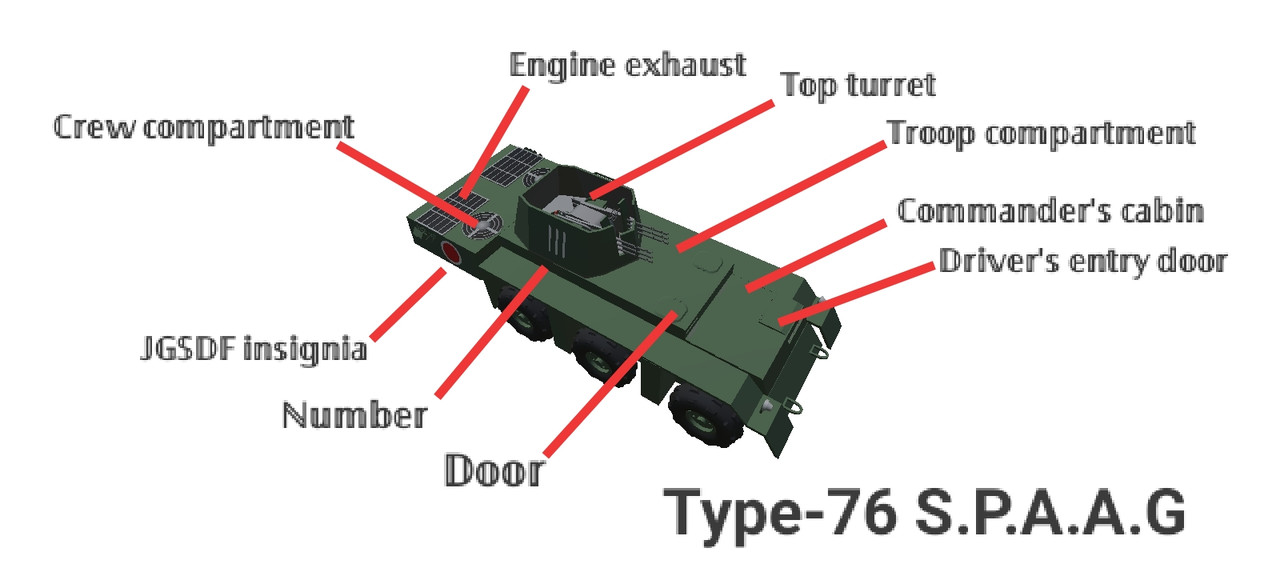 ---
©ontrols
•Roll+Pitch for the turret
•AG: 1 for lights.
•AG: 8 for the doors.
---
Some screenshots:
By @Krmo, go cheak out this next level builds.
---
This build features.
•Interior.
• Working detail thingy on the top.
•Can be driven in rough terrain.
•Only 313 parts.
---
PS: This vehicle can't reverse (hell no) and there is not much details left in the interior cuz I was busy and kinda lazy to do so. I might work on it in future.
---
Bye have a nice time and listen to this song.
---
Specifications
General Characteristics
Predecessor

[Challenges] Advanced Land Combat System

Created On

Android

Wingspan

12.2ft (3.7m)

Length

30.4ft (9.3m)

Height

10.6ft (3.2m)

Empty Weight

24,421lbs (11,077kg)

Loaded Weight

25,900lbs (11,748kg)
Performance
Wing Loading

439,839.3lbs/ft2 (2,147,483.6kg/m2)

Wing Area

0.0ft2 (0.0m2)

Drag Points

9359
Parts
Number of Parts

313

Control Surfaces

0
---