Class : Trainer
Bahasa Indonesia

Di akhir tahun 1950-an, Angkatan Udara Uni Soviet mencari pengganti bagi pesawat latih bermesin piston mereka dengan pesawat latih (trainer) bermesin jet, dan segera permintaan ini diperluas untuk mencari pesawat jet latih (trainer) yang dapat digunakan secara umum bagi angkatan udara Blok Timur. Aero menjawabnya dengan purwarupa XL-29 yang dirancang oleh Z. Rublic dan K. Tomáš dan terbang pertama pada 5 April 1959, ditenagai dengan mesin Bristol Siddeley Viper asal Britania Raya. Purwarupa ke-dua ditenagai dengan mesin rancangan Cekoslowakia sendiri yaitu M701, yang terus digunakan pada pesawat-pesawat jet berikutnya.
Pada awal 1960an USSR mengusahakan sebuah jet latih (trainer) dasar. Desain telah disampaikan dari beberapa negara satelit. Ceko memenangkannya dengan desain L-29, dan produksi pertama pesawat jet ini dikirim pada April 1963. Sebagai tambahan untuk model standar, dua model lain telah diproduksi dalam jumlah kecil, yaitu L-29R yang mempunyai kamera pada hidung dan tempat penyimpanan/senjata di bawah sayap, serta L-29A yang merupakan versi aerobic kursi tunggal. Secara keseluruhan, sekitar 3.600 pesawat jet telah dibuat oleh Aero's Vodochody di dekat Praha, dan dihentikan pada 1974. Sekitar 3.000 pesawat jet dikirimkan untuk Uni Soviet; selebihnya untuk konsumen lainnya termasuk AU Ceko, Republik Demokratik Jerman, Romania, Suriah, Bulgaria, Hungaria, Mesir, Indonesia, Nigeria, Uganda, Irak.
Beroperasi di Indonesia

TNI AU atau AURI pada paruh tahun 1960-an memiliki banyak pesawat-pesawat tempur pancar gas dan dirasakan pesawat latih yang dimiliki tidak memenuhi kriteria sebagai pesawat latih lanjut. Sehingga AURI mencari kandidat pesawat latih lanjut di bulan Januari 1964.
English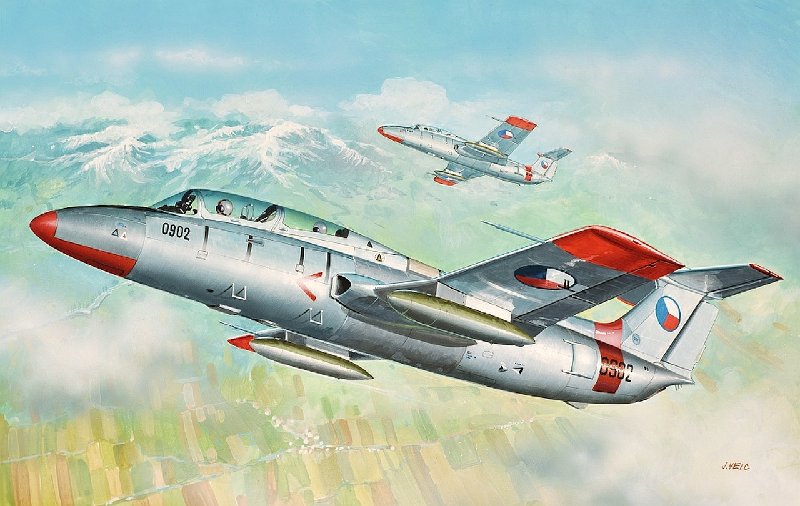 In the late 1950s, the Soviet Union Air Force sought a replacement for their piston-engined trainers with jet-engined trainers, and soon this request was expanded to find trainers that could be used generally for Block air forces East. Aero responded with the XL-29 prototype designed by Z. Rublic and K. Tomáš and first flew on 5 April 1959, powered by Bristol Siddeley Viper engines from the United Kingdom. The second prototype was powered by Czechoslovak's own design engine, the M701, which continued to be used on subsequent jet planes.
In the early 1960s the USSR attempted a basic trainer jet. The design has been submitted from several satellite countries. The Czechs won it with the L-29 design, and the first production of this jet was delivered in April 1963. In addition to the standard model, two other models have been produced in small quantities, namely the L-29R which has a camera on the nose and a storage area / weapon below wing, as well as the L-29A which is a single seat aerobic version. In all, about 3,600 jets were made by Aero's Vodochody near Prague, and were stopped in 1974. About 3,000 jets were sent to the Soviet Union; the rest for other consumers includes the Czech Air Force, the German Democratic Republic, Romania, Syria, Bulgaria, Hungary, Egypt, Indonesia, Nigeria, Uganda, Iraq.
Operate in Indonesia

The Air Force or Air Force in the mid-1960s had many gas-transmitting warplanes and it was felt that the training aircraft they owned did not meet the criteria for advanced training aircraft. So Airforce sought out advanced training aircraft candidates in January 1964.
Galery

Specifications
General Characteristics
Created On

Windows

Wingspan

39.0ft (11.9m)

Length

35.7ft (10.9m)

Height

11.4ft (3.5m)

Empty Weight

3,856lbs (1,749kg)

Loaded Weight

6,630lbs (3,007kg)
Performance
Power/Weight Ratio

10.168

Wing Loading

31.3lbs/ft2 (153.0kg/m2)

Wing Area

211.6ft2 (19.7m2)

Drag Points

7242
Parts
Number of Parts

153

Control Surfaces

5
---