In a parallel universe somewhen
His Majesty's Aircraft
Willing Strength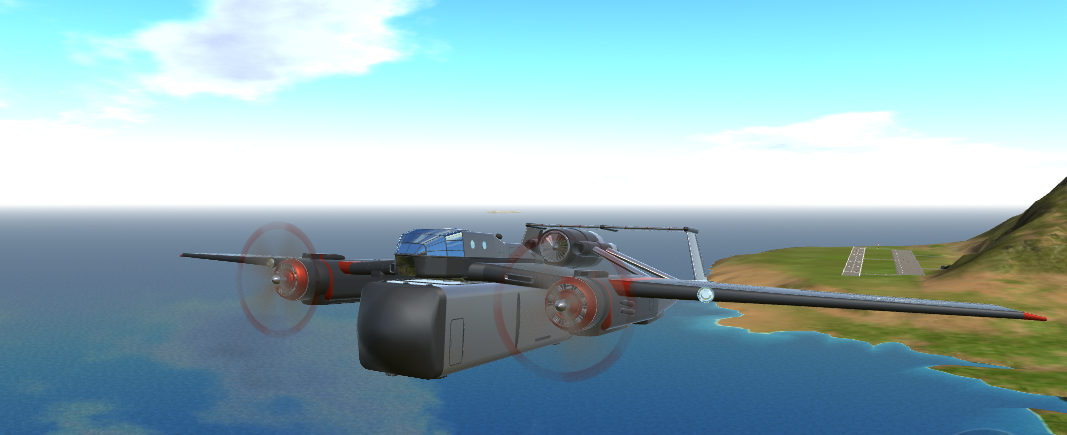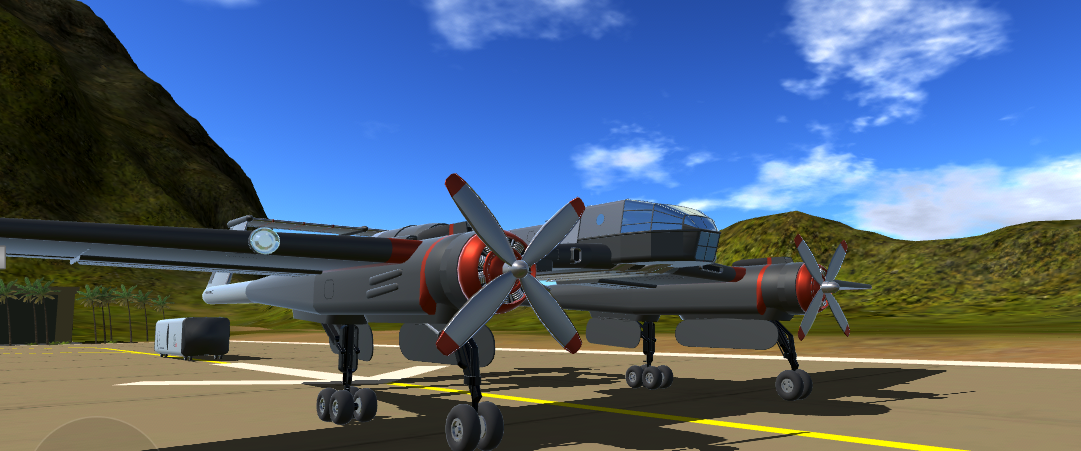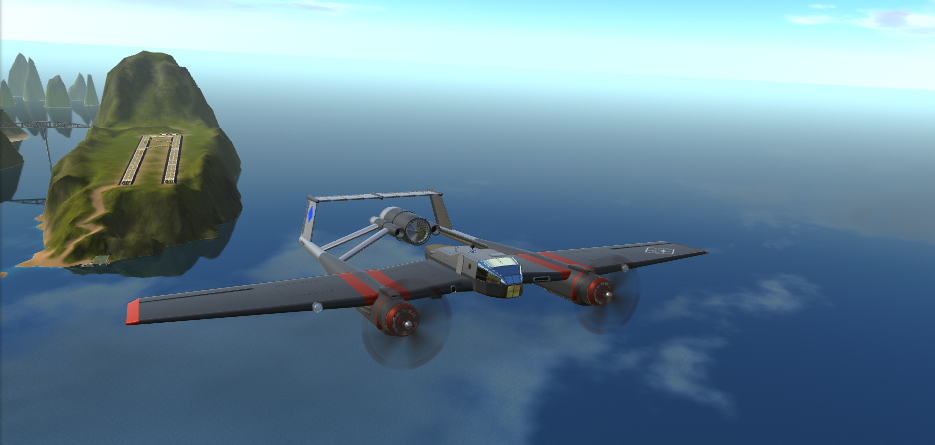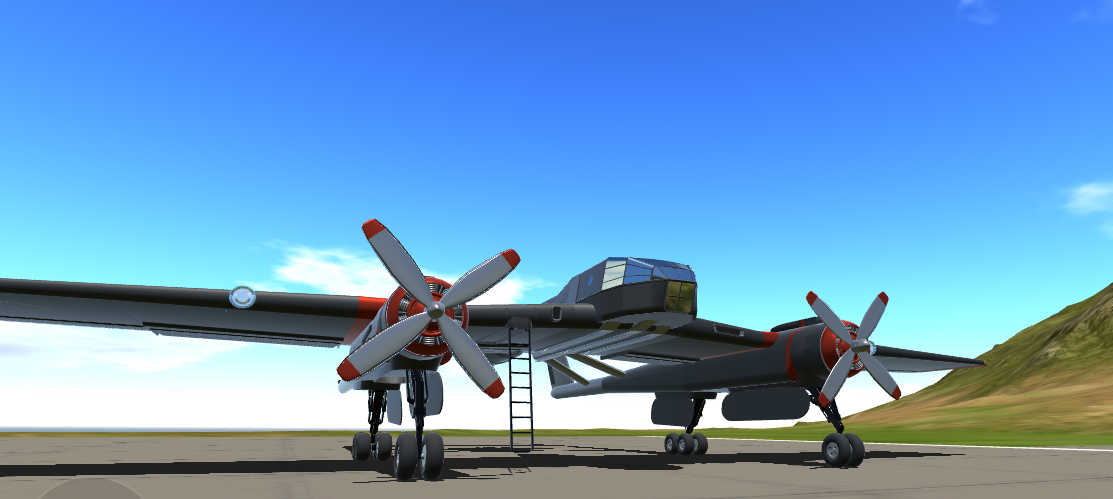 Take-off with Cargo Container
AG1 on to enable centre booster jet. VTOL slider quarter way down to set flaps. Trim slider quarter way down.
Apply full throttle and rotate gently at 180mph. Once airborne, VTOL centre to raise flaps then raise undercarriage. Maintain full throttle with desired trim for climb then throttle back to 85% or less, adjusting trim as required.
Note that pitch authority is strong for take-off and landing; use gentle inputs in flight, or use trim and throttle for altitude control.
Landing with Cargo Container
Use 30% throttle and VTOL down fully for flaps. Maintain 30% throttle during landing flare. On touchdown, throttle off and brake gently.
Taxiing
Low throttle and yaw.
Detaching Cargo Container
AG1 off. AG2 on to lower Cargo Container wheels.
AG3 on to initiate crouch operation: undercarriage will "scissor" to lower the entire plane. When crouch movement stops, AG4 on to release Cargo Container.
AG3 off to raise entire plane to flight position. Plane can now be taxied away.
Take-off, flying, landing without Cargo Container
Take-off without Crago Container does not require flaps. Flight handling is more "lifty" without the weight of the cargo container; adjust trim and throttle to suit. For landing, make a steep approach with 20% to 25% throttle and no flaps.
Crew
4: Pilot, Second Pilot, Radio/Navigation, Flight Engineer.
AG1 Enable centre booster jet: Only used when flying with Cargo Container.
AG2 Lower Cargo Container's in-built wheels.
AG3 Crouch operation: lowers entire craft ready to detach Cargo Container. Note that AG3 disables the engines; do not use when airborne.
AG4 Detach Cargo Container.
AG5 Landing lights.
AG6 Lower crew access ladder.
Built by Langston-Wellings.
Sponsored by Source One Traders' Guild.
His Majesty's Aircraft "Willing Strength" carries out transport missions from the "Source One" Cargo Hub to bases North of the Central Region. The craft has been designed to carry detachable Cargo Containers; this enables it to drop off and pick up containers within minutes, or drop off then fly "empty" to the next pick-up point.
Footnote
It's a freighter, not a fighter!
I was looking at old pictures of the XC-120 Pack Plane and wondered if I could build a similar concept here in SP. The answer for me was yes and no.
I originally wanted a way to taxi over, and pick up a cargo container from the ground: I tried winches with magnets, magnets on hinge rotators, pistons to "centre" the container relative to the fuselage and all sorts of other ideas. The result was usually either the container shaking so much that the plane exploded, collision noises or bad handling. In the end I settled on using oversized detachers to hold the container in place and gave up on lifting the container from the ground. As it stands now, the container can be detached on the ground and the plane can fly with or without it just to demonstrate the concept.
The undercarriage was challenging but fun and I might revisit this concept in future to try a bigger weight differential between the "laden" an "unladen" flight handling. The booms with those ridiculous engines are long and the relatively short undercarriage wheelbase makes it look a bit unbalanced but that's the way I like things to look! Looks can be deceptive: those prop engines are twice normal size!
Specifications
General Characteristics
Created On

iOS

Wingspan

135.4ft (41.3m)

Length

100.6ft (30.7m)

Height

27.7ft (8.4m)

Empty Weight

-4,734,385lbs (-2,147,483kg)

Loaded Weight

39,944lbs (18,118kg)
Performance
Power/Weight Ratio

7.313

Horse Power/Weight Ratio

0.106

Wing Loading

17.8lbs/ft2 (87.1kg/m2)

Wing Area

2,238.2ft2 (207.9m2)

Drag Points

32775
Parts
Number of Parts

551

Control Surfaces

6
---