After the first Tiberium war and the fall of Kane, GDI captured all resrearch and technologies made by NOD.
NOD had more advanced Tiberium technology than GDI, after unlocking the production of liquid Tiberium and Tuberium reactors.
One of these technologies was an Upgraded, more armored, Tiberium powered, The Heavy Recon Bike.
an Upgraded version of the Smaller Recon bike
GDI constructed 3 prototypes, and tests prove it to be a very capable light anti tank/ anti air vehicle.
Capable of traveling at high speeds for long ranges.
Lightly armored, but extremely fast and maneuverable for it's large size.
This monster of a bike was designed to patrol the Tiberium wastelands at high speeds, engage enemy ground and air units from far distance, and remain in cover to avoid damage.
GDI has started Military and Civilian productions to the Heavy Recon bike as the world's Tiberium wastelands are only getting bigger.
This is the Unarmed Version, made to be tested for Civilian use.
For the Armed version Click Here
Controls:
IMPORTANT!
-Use Yaw to Lean and turn the Bike when riding.
-Use Yaw+Roll For Fast High G turns!
-Use Roll Only at low speeds, and when reversing!
-Use Trim to adjust "Rider position" and stabilize the bike when climbing or going downhill.
Pitch = Throttle
AG-1=Lights
AG-7="KIckstand"
AG-8=Main reactor and Gyro stabilizing.
Fully working Cockpit with working mirrors and Speedometer!
Original NOD Recon Bike design: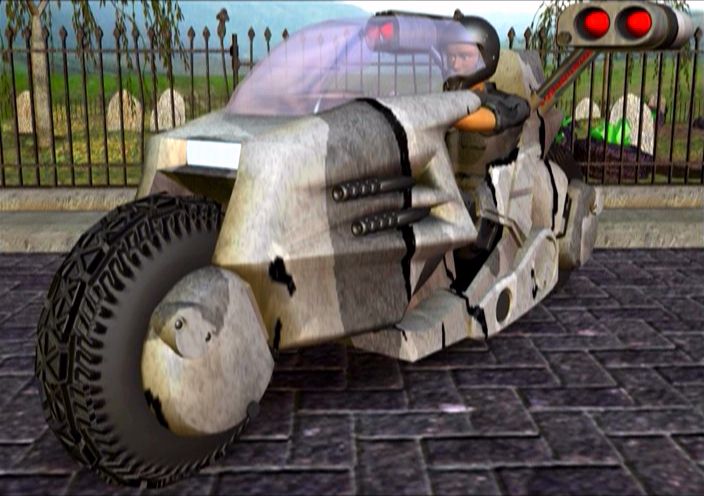 This was inspired by NOD Recon bike from C&C95 This has been a project of mine for a long time!
Specifications
General Characteristics
Successors

2 airplane(s)

Created On

Windows

Wingspan

8.4ft (2.6m)

Length

20.8ft (6.3m)

Height

7.3ft (2.2m)

Empty Weight

19,536lbs (8,861kg)

Loaded Weight

19,536lbs (8,861kg)
Performance
Power/Weight Ratio

15.529

Wing Loading

968.0lbs/ft2 (4,726.2kg/m2)

Wing Area

20.2ft2 (1.9m2)

Drag Points

4478
Parts
Number of Parts

405

Control Surfaces

0
---