Auto Credit
Based on spefyjerbf's
DragX
"Take this Promise to the End."


I present to you, Asperitas – the first DragX Vehicle on SP. This corvette has been physically modified to have some interesting flight characteristics.
Controls:
- Activator 1: Activate Gyro (Gunship mode online)
- Activator 2: Activate Intercipias PRIME CIWS (fire it like any gun – use it to intercept incoming missiles)
- Activator 8: De-activate AA weapons
- Trim: Trim (Controls pitch when in gunship [gyro] mode)
Takeoff:
- Press Activator 1, then SLOWLY bring the trim bar slightly up
- Bring the throttle up, and when you have sufficient speed, de-activate group 1
Landing:
- Bring the throttle down (25-65%), and activate the gyro (Ag 1)
- You will now be coasting slowly, kept upright by the gyro
- When you are above the landing pad, cut the engines
- The aircraft will gently fall to the landing pad below it
Tips:
- The plane is easiest to fly at 75% throttle
- The plane is only controllable (if the gyro is off) if its speed is over 220 mph.
- Do not let the throttle fall under 70%, unless if you are in Gyro (Gunship) mode
- When the gyro (Ag1) is on, the plane will enter Gunship mode. This is useful for combat against slow moving enemies, or ground enemies.
- This plane has an excellent yaw capacity. Give it a try! Maneuvering is best when yaw and pitch are used together – roll isn't as responsive on this aircraft, and using it causes minor sideslip that can be annoying.



Intercipias PRIME
A next-generation heavy CIWS weapon meant to intercept missiles.
- Activate the weapon with group 2
- Fire the weapon like any gun. Note that it may lag lower-end computers and devices.
Heavy Vortex PRIME
A next generation vortex cannon. Fires rounds that yield oscillating explosions. The blast radius has been increased.
- Fire the weapon by dropping a boom 50
Procursus Rockets
Burst-Fire Rocket pods. 3-5 rounds are fired in rapid succession before a short delay.
- Fire the weapon by firing "rocket pods".
HevGun Mx1
High damage, high rate of fire, and augmented range. The only drawback is that is gun is big.
- Fire it like any gun.
- Max range is 2 miles – double the range of a normal gun.
IMPULSE Missiles
Advanced AA missiles that brute-force their way through enemy countermeasures by re-establishing locks instantly after they are broken. Can be launched in groups for extra damage, or to take out multiple targets in quick succession.
- Fire these missiles by firing "Guardian" missiles. If a lock cannot be made due to countermeasures, hold the "launch weapons" button while the enemy is in the targeting reticle.
- These missiles are NOT fire and forget. Your sights must remain on your target(s).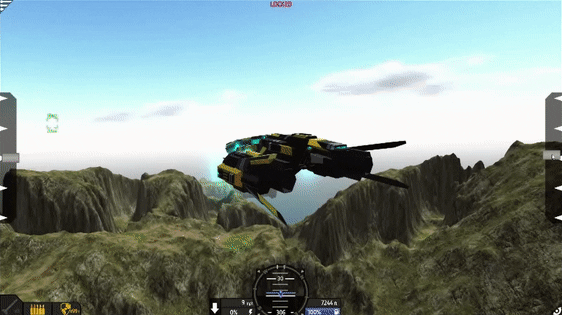 The DragX project was established to deliver a more durable alternative to AGRAV combat vehicles. These ultralight vehicles, hence the name, AGRAV, possess superior flight characteristics due to their mass-edited airframes. Superior acceleration, deceleration, and maneuverability characterize these fighters, as their low weight allows for, most notably, their drag to be significantly higher than their mass. This comparatively high drag force causes the aircraft to fall slowly in the absence of thrust, much like a feather. Yaw capacity also, in part, benefits from this drag disparity.
However, these characteristics come with high costs. AGRAV fighters cannot sustain much damage in combat, as a single broken part will render the aircraft inoperable. Such a weakness becomes especially difficult to manage when combined with how an AGRAV vehicle behaves when struck by a bullet – a collision with a bullet will throw an AGRAV vehicle several meters from the point of collision due to the fighter's extremely low mass. When combined, these factors only allow AGRAV fighters to dominate in short, decisive combat, that is exceptionally evasive. In addition, a supplemental consideration was the inability of an AGRAV fighter to possess a modular loadout, as all weapons must be mass-edited before they can be installed on an AGRAV combat vehicle.
Therefore, the DragX project was initiated under the theory that artificially induced drag, when applied to a combat vehicle, would produce flight characteristics comparable to an AGRAV mode of design. Under this theory, several variables were considered. Drag, of course, was the primary variable considered, and when combined with weight, yielded the Drag-To-Weight ratio (Drag Points/Weight – Points/lbs). This ratio was seen as the primary factor behind a resulting vehicle's drop rate (in the absence of thrust), acceleration, and deceleration. Lift, too, was an important variable, as a lift-to-weight ratio (calculated by dividing the product of wing loading and wing area by the weight) proportional to that of an AGRAV fighter was desirable in a DragX airframe. Initially, the power-to-weight ratio, too, was considered, but due to the nature of how artificially induced drag affects the top speed of an airframe, the ratio could not be artificially increased; as thrust increases, speed increases linearly, until a certain limit is reached. When this limit is reached, the artificial drag is nullified, and the aircraft accelerates uncontrollably. These variables were assumed to directly relate to each other, and that, through the editing of every variable other than mass, the aircraft would possess AGRAV characteristics while retaining a normal mass. The design process revealed that such simplicity was not the case. For example, acceleration and deceleration are influenced by both the drag-to-weight ratio and the power-to-weight ratio – acceleration is defined by the forces (thrust and drag), as well as the mass involved (weight). Still, while these variables aren't simplistic in their interactions, the one-to-one proportional model did serve as an adequate conceptual basis for the DragX project. Therefore, the Asperitas class corvette was designed without an excess of setbacks.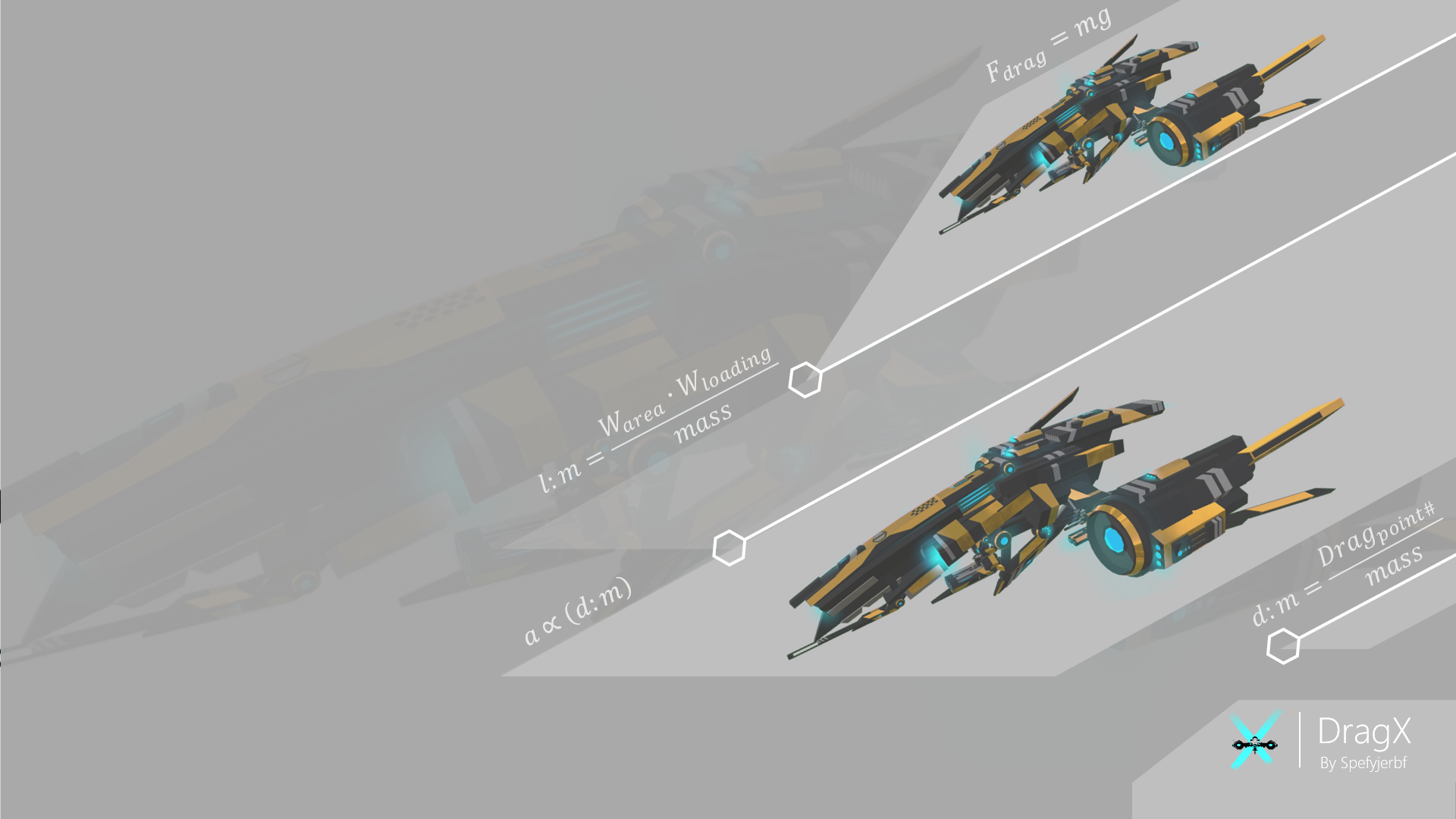 As the first DragX combat vehicle, the Asperitas corvette displays flight characteristics that cannot be explained by current interpretations of the aforementioned variables alone. Physically speaking, Asperitas is vaguely related to benchmarks set by the SUNBURN AGRAV fighter. The drag-to-weight ratios are both unnaturally high, but, as shown in the below graphic, Aperitas's drag disparity is much larger than SUNBURN's. This difference explains the superior drop rate of Asperitas, but the relationship certainly isn't one-to-one. More similar, though, were the lift-to-weight ratios of the two aircraft. Asperitas's lift-to-weight ratio (0.996) was kept extremely similar to SUNBURN's ratio (1.00). However, the maneuverability and stability of the two combat vehicles are different due to various confounding design factors (CoM placement, aircraft shape, etc).
Such characteristics, while only distantly similar, enable the Asperitas DragX combat vehicle to preform similarly to an AGRAV fighter. Slow drop rates, as well as an incredible yaw capacity, are intrinsic to Asperitas's DragX design. Maneuverability was kept exceptional, too, as the vehicle's heavy weight (100,000+ lbs) was somewhat mitigated by its drag-to-weight ratio, as well as its lift-to-weight ratio. A final component, the power-to-weight ratio, was limited due to the previously-stated speed limit phenomenon, which hindered the flight performance of Asperitas in the form of maneuverability, as well as slight drawbacks in acceleration.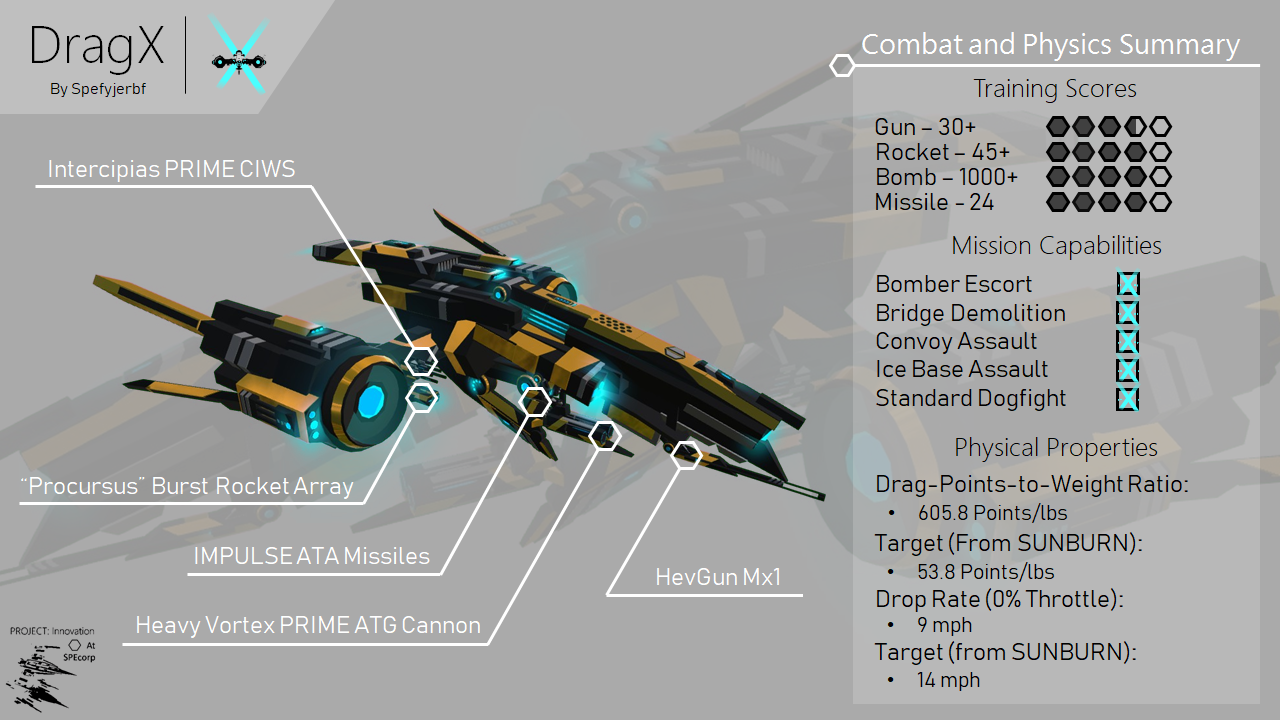 While Asperitas is physically interesting, its combat options remain intriguing due to the advanced weapon systems that were designed alongside the aircraft. Most notably, Asperitas was designed alongside two next-generation PRIME weapons derived from PROJECT: Intercipias and PROJECT: Heavy Vortex. Intercipias PRIME was modified for greater reliability by combining the bullet-scaling techniques of its predecessor with design characteristics found in the Mara CIWS, in a six-barreled package mounted onto each engine nacelle of Asperitas. Likewise, the Heavy Vortex PRIME weapon expanded on its predecessor by utilizing a pylon-detachment mechanism (for expanded ammo capacity), as well as intelligent warhead packaging that allowed the weapon to be much more compact than its predecessor. Another noteworthy weapon, the IMPULSE missile array, serves as Asperitas's exclusive ATA weapon. The array serves as a counter for flare-based countermeasures, as the system re-acquires broken locks instantly – only a CIWS can stop an IMPULSE missile. Missiles from this array can change targets, too, which allows for the system to neutralize multiple airborne targets in rapid succession. Additional weapons, including the HevGun Mx1 and the Procursus Burst Rockets, serve as streamlined versions of aging weapons with related functions. The HevGun Mx1 is a friendlier and simpler GodRender II, while the Procursus system expands on various rocket pod array designs to deliver a potent, but minimally expedient, weapon. It should be noted that these weapons do not need to be physically edited (through mass or drag properties) to be installed on a DragX combat vehicle. Therefore, alternate loadouts can be installed on Asperitas without issue.
If you read all of this, then words cannot express my appreciation for you.
Specifications
General Characteristics
Predecessor

DragX

Successors

1 airplane(s)

Created On

Windows

Wingspan

84.8ft (25.8m)

Length

114.3ft (34.8m)

Height

35.5ft (10.8m)

Empty Weight

-4,734,385lbs (-2,147,483kg)

Loaded Weight

104,598lbs (47,445kg)
Performance
Power/Weight Ratio

0.128

Wing Loading

12.0lbs/ft2 (58.8kg/m2)

Wing Area

8,686.8ft2 (807.0m2)

Drag Points

62186512
Parts
Number of Parts

814

Control Surfaces

10
---